Unique emerald engagement rings are almost a specialty at AC Silver. We have so many items that have been individually hand-crafted by incredible jewellers of the past. Today, we're going to have a little dig in the treasure trove that is our rings category to see what unique emerald engagement ring goodies we can unearth.
The Statement
This emerald and diamond dress ring is a stunner. If you like engagement rings that make a real statement, this is the ring for you. The pear-cut 3.23ct emerald sits in four yellow gold claws, while a mixture of baguette and marquise cut diamonds create a sweeping spray around the setting. This unique emerald engagement ring is perfect for anyone who wants their ring to scream to the world: 'I'm engaged!' With its size and spread, this ring may have to be a solo act. A wedding band would have to be made bespoke to fit around this gorgeous behemoth.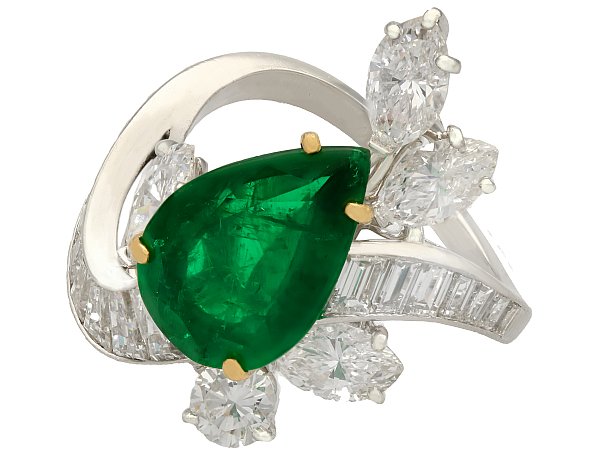 The Antique
There are antiques and then there are antiques. This Victorian ring comes right out of a treasure chest, with a 2 carat Colombian octagonal cut emerald sat proudly among 12 Old European cut diamonds. I have worn this ring numerous times during my time at AC Silver, and let me tell you: it is incredible. It's as though you are transported from modern society to the royal courts of Queen Victoria – and everyone knows the most iconic royal jewels are a look worthy of imitatation. Wearing this ring as an engagement ring would certainly be a treat for anyone; it is so sophisticated and grand in its aesthetic. If there's someone in your life who deserves to feel like the Lady of the Manor, consider this exceptional piece as an engagement ring.
The Toi et Moi
Engagement rings that are crafted in the toi et moi style are unique enough as it is, but this beauty – with a round diamond and a square emerald – is certainly a unique emerald engagement ring. The setting style of this ring gives it a delicate twist that sits wonderfully on the hand. Framing the diamond-emerald combo, two floral diamond clusters accent the ring, creating a truly romantic effect. This ring, much less ostentatious than our previous two contestants, is a more understated kind of unique. It would sit nicely with a wedding band, and might be best for someone who wants something unique enough to suit them, whilst being suitable for everyday wear also.
The Trilogy
Most trilogy rings have just three stones, sometimes with smaller accents such as pavé diamond. What makes this trilogy so unique is that it's closer to being a triple cluster ring. Three octagonal step cut emeralds are circled by a combination of modern brilliant round cut and baguette cut diamonds. This vintage Italian piece would be a stunning engagement ring. The solid, sparkling wall of diamonds and emeralds is no match for anyone's stiff upper lip. This ring would also make for an excellent contender for those looking for unique emerald engagement rings that can stack. A wedding band would sit nicely alongside this sparkler!
We have such a stunning variety here at AC Silver that I know, no matter how many times I delve into the treasure trove, I'll always find something new and exciting to talk about. What do you think of these unique emerald engagement rings? Which one's your favourite?