Anyone who considers themself a royalist can't help but follow the fashion trends set by the royal family. Whether we're watching a royal wedding or we've just seen a picture on one of the royal's Instagram accounts, we often find ourselves captivated by images of fine jewels they adorn themselves with – there seems to be an endless supply of beautiful items, steeped in rich history!
Today, we're most excited about earrings worn by royals and we're going to take a closer look at some real showstoppers. From historic pieces, passed down through the generations, to new, couture, designers, the royal earring collection is simply second to none! Here are some of our absolute favourites.
The Delhi Durbar Earrings
We fall head over heels for antique jewellery pieces with a rich history. The famous The Delhi Durbar Earrings certainly fit into this category! The stunning oval cabochon emerald earrings are part of the Delhi Durbar Parure, a jewellery set commissioned by Queen Mary for her Indian coronation alongside King George V, 1911.
Later, in 1953, the gorgeous emerald and diamond earrings were passed on to Queen Elizabeth II. Although Mary had exclusively worn the Delhi Durbar Earrings with the rest of the emerald parure, the Queen has been known to swap other pieces of her emerald jewellery collection in the complement the earrings.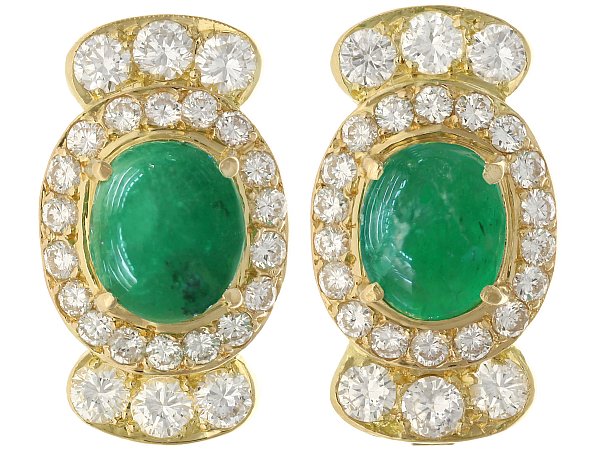 At AC Silver, we have a variety of emerald earrings that can help make us all feel that bit more royal.
Get the look with this impressive pair of vintage 5.86 carat emerald and 4.32 carat diamond, 18 carat yellow gold earrings.
Check out the Delhi Durbar earrings at Mandy's Royalty
Kate Middleton's Morganite Double Drop Earrings
Any earrings worn by Kate Middleton, Duchess of Cambridge, have understandably gone on to set fashion trends, making styles such as double drop earrings instantly coveted. One of her most magnificent earring sets is the morganite double drop earring set made by Kiki McDonough.
These earrings are described on Kiki McDonough's Instagram as "pretty and elegant", and we are inclined to agree! They are showstopping, yet dainty – perfect for a duchess!
Queen Mary's Button Studs
Next up, we have Queen Mary's button earrings, a frequent favourite of Queen Elizabeth II (after all, she's hardly ever seen without her signature pearl jewellery!) The button earrings are each made up of a simple pearl with a diamond stud mounted on top. They are quintessentially Queen Elizabeth II, and she is said to have a special connection to them as they were passed down to her from her "granny", Queen Mary.
Get the look with this impressive pair of vintage cultured pearl and 0.24 carat diamond, 14 carat white gold stud earrings.
Check out Queen Mary's Button Studs at Mandy's Royalty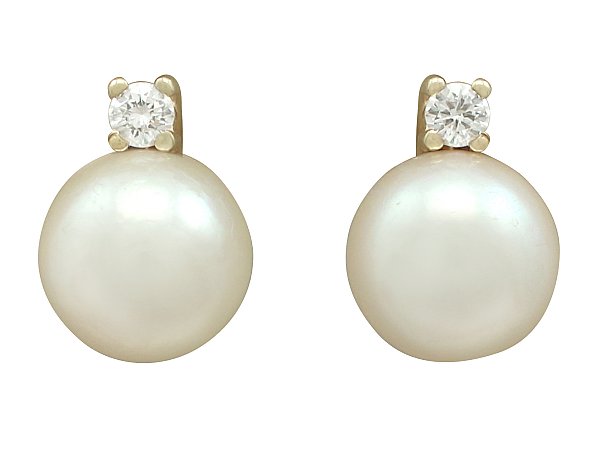 Meghan Markle's Butani White & Yellow Diamond Chandelier Earrings
They may have only been borrowed, rather than owned by Meghan Markle, but the dazzling chandelier earrings from Butani are definite showstoppers! Currently, we don't have any further information about their provenance, but what we do know, is that the duchess of Sussex looked utterly fabulous wearing these shimmering earrings, comprised of fancy yellow diamond solitaires surrounded by pavé white diamonds.
The Queens's Pear Drop Earrings
Last but by no means least, we have Queen Elizabeth II's pear drop earrings. These stunning earrings consist of small baguette-cut diamonds attached to diamond studs, set in gold. Favoured both by her majesty the Queen and her former daughter-in-law, Dianna Princess of Wales, these diamonds are straight from the personal family collection.
Get the look with this impressive pair of antique GIA certified 2.22 carat diamond and 18 carat white gold, platinum set drop earrings.
Check out the Queen's pear drop earrings at Mandy's Royalty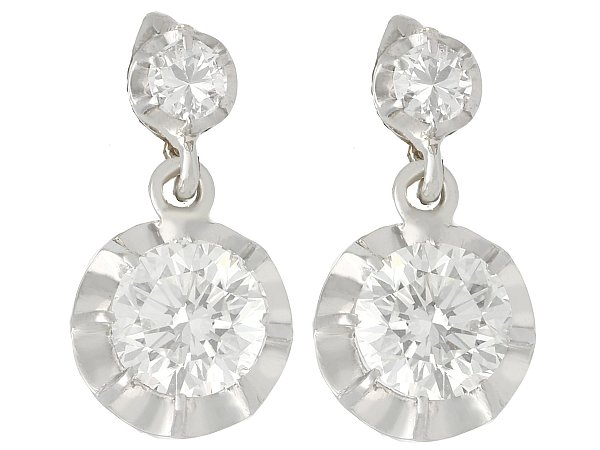 Any jewellery worn by royals is bound to pique our interest, but there is truly something special about all of these glamourous earrings. If you've been inspired by any of these designs, and are already dreaming of adding a similar set to your growing jewellery collection, head to over to our jewellery section and view our entire array of antique and vintage earrings.