There might have been a time when you thought of pearls as something big and bulky that only your grandmother would wear, but – if you've been keeping an ear to the ground – you'll notice that pearls are a jewellery trend to look out for this year. If you've inherited some pearl jewellery, or you're just wondering how to style some pearls, we've got you covered.
Layer Your Pearls
Layering is your best friend when you're wanting to update some older pearl pieces. Take a vintage pearl necklace, for example, and experiment with throwing some chains of different lengths and thicknesses into the mix.
A simple pearl choker is beautiful alongside some longer curb chains and figaro chains. Equally, pearls layer well together. A multi-strand pearl necklace paired with a more delicate pearl choker looks very contemporary and as modern as other trends on the market today.
Stacking Pearl Rings
Keeping with the trend of layering pearls with other, newer, pieces, this also works great on your hands! Stack rings have been an 'in' thing for years now, and they still look as beautiful as ever. Incorporating a few delicate pearls into your stack rings is a great way of modernising the pearl rings whilst still letting their natural lustre shine through and keep your overall look extremely modern and stylish.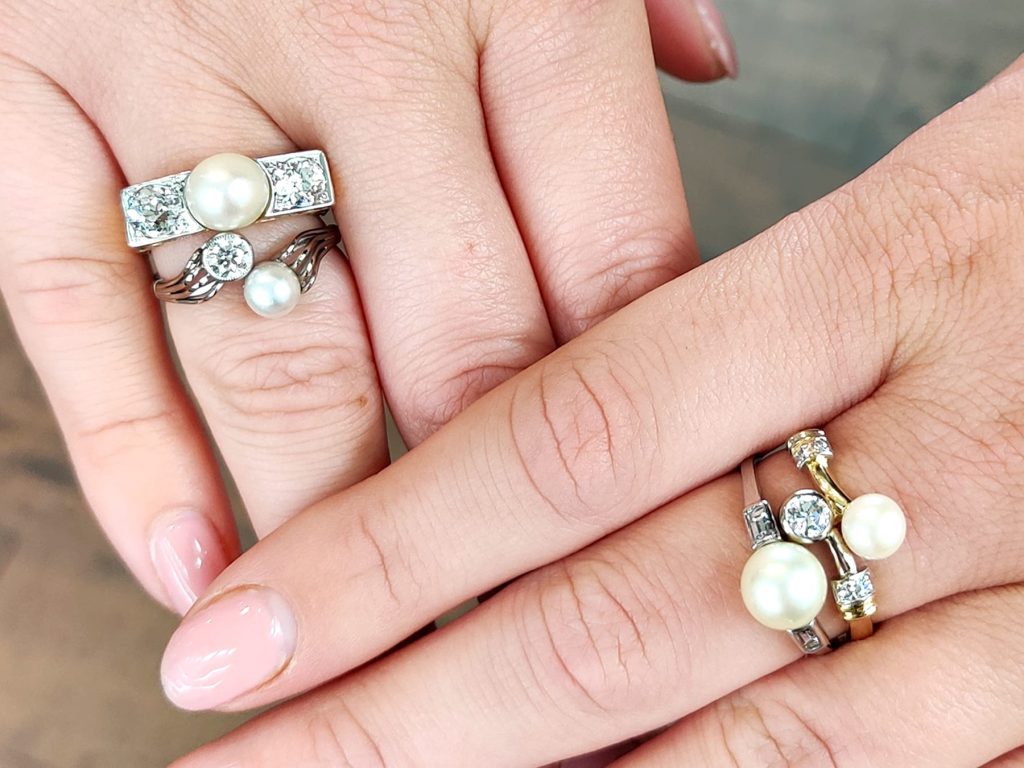 At the minute, it can seem like more is more is more when it comes to jewellery, and it's the same deal with pearl rings. Wearing multiple pearl rings stacked together looks as beautiful and elegant as you could want, without seeming outdated or old-fashioned in any way. They're such versatile gemstones that you can dress them up or down however you prefer without fear that they'll seem out of place.
Utilising Pearl Hair Accessories
Another great way of wearing pearls whilst staying modern and fresh is by utilising hair accessories. Hair clips circa late '90s/early '00s style are very much in vogue at the minute, and adding that classy touch of pearls is the number 1 way to balance cute and stylish to best suit you. If hair clips themselves are not for you, consider a head band that's beaded across its length with pearls. These accessories can make a bad hair day great in minutes!
If you're feeling particularly thrifty and cunning, you can wear a pearl necklace in your hair as an accessory. Ornament your hair ties and barrettes with delicate pearl accents, or even weave a pearl bracelet or necklace into your braids, plaits, and buns. Hair jewellery is very popular at the moment for its uniqueness as well as its sweetness; pearls are a great addition to the aesthetic.
Hoops for Days
If all else fails and you're still struggling to see pearls as the truly timeless and chic organic gemstones that they are, then hoop earrings are the way to go. The ultimate converter, hoop earrings make any and every gemstone and style appear fresh and modern. Pearl hoop earrings are a great blend of sophisticated and streetwear, culminating in a look that's perfect for day or night, casual or formal.
You can rock pearl hoop earrings at a party at the beach just as easily as you can for a day shopping in town. Pearl studs are another great way to go for something a bit more old-school since they have such a universal, timeless appeal, but hoops are the best choice for modernising the pearl as much as possible.
Whichever way you choose to wear your pearls, know that they will definitely not be old-fashioned or dated-looking. Pearls are stunning with a natural lustre that can't be matched by other gemstones, and so it's only right that they've found a new lease of life in contemporary fashion today. Angular jewellery pieces with natural pearls showing imperfect shapes are especially common today, giving you a new avenue to explore for cutting edge jewellery. How will you modernise your pearls?