Aquamarines are generally considered when it comes to a gemstone for any situation. Today, we're questioning that, as we show you some of our finest aquamarine pieces and you make the decision for yourself. Are aquamarines for every occasion?
Let's find out
Weddings
We'll start with what is quite possibly the occasion of all occasions. Weddings are a good event to begin with because they are universal. Every culture has weddings of some form, every religion, and every country has its own quirks that get thrown into the mix. Now, whether you're the one getting married, or you're simply attending, aquamarines can set the day just right for you.
For guests, aquamarines can be formal and beautiful, whilst still attaining a more subdued beauty, ensuring you don't steal the show. There's nothing more impolite than a wedding guest drawing more eyes than the bride and groom, so make sure your jewellery is in your corner.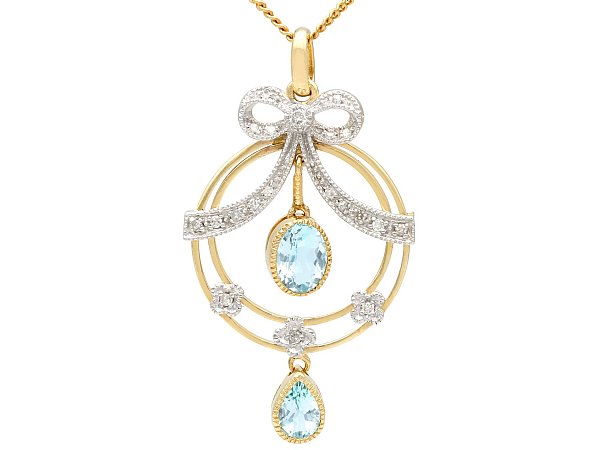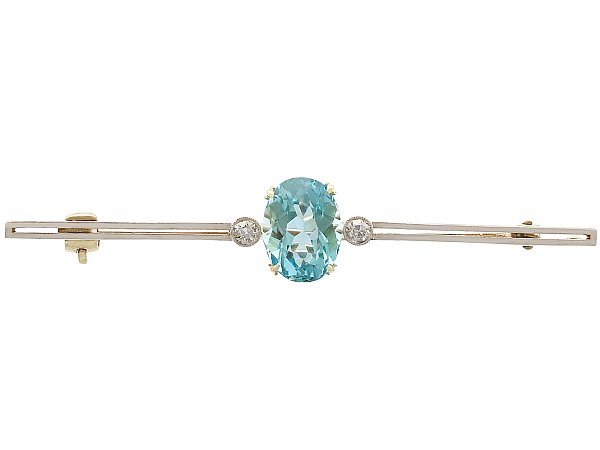 This vintage aquamarine pendant, for example, has beautiful design features. Diamonds add sparkle, while its size and delicate design ensures it doesn't make the whole day about you. Equally, if you're the one getting married and you prefer understated styles, this pendant would set off a white and blue themed wedding beautifully.
Brooches are a popular choice for wedding guests also, particularly the mother of the bride. In the last 20 years, brooches have had a resurgence with young people, going from being an outdated style to something really beautiful once more. This brooch has all the elegance needed for a wedding, without any unnecessary frills – straightforward style.
NYE
New Year's Eve is another universal celebration that's something really worth celebrating. The fresh and exciting feeling of a new year is enough to make any one want to party – this year especially! The fireworks, the champagne, anyone could feel like the Great Gatsby on New Year's Eve.
If you're thinking ahead to a big soiree next year, or you plan on going big in your own home this year, consider these stunning contenders to complement your cocktails and celebrations.
These earrings couldn't be more stunning if they tried. Clip-ons – perfect for those who don't want to irritate their skin as well as those without pierced ears.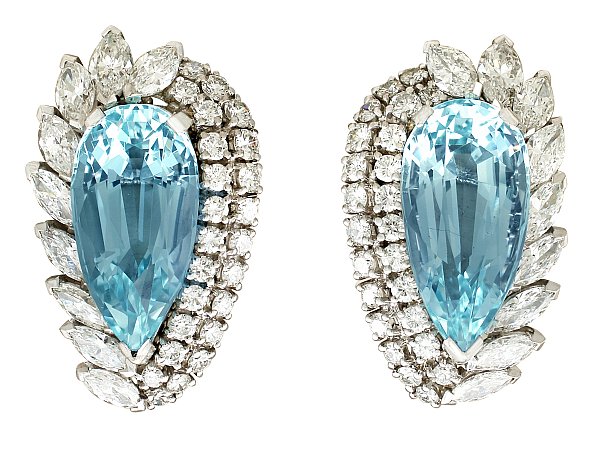 Featuring a mind-boggling 21.12cts of aquamarine and 66 diamonds! The new year won't know what's hit it when you're sporting these goodies.
If you're more into rings than earrings, you could not get grander or greater than this stunning vintage cocktail ring. A cushion cut, 45.09ct aquamarine with accenting diamonds crafted in 18ct white gold.
I don't know how a piece of jewellery could say 'decadence' better than this ring. Crafted in the 1970s but made with all the architectural beauty and structure of Art Deco jewellery. What could be better?
Black-tie Events
A formal event like a black-tie has a very different tone and feel than a New Year's Eve party or a wedding. Typically for things like charity galas or balls, black-tie events require formality and highly respectable attire. Furthermore, black-tie events are typically a Western tradition, originating in the U.K and America in the 19th century.
A black-tie event is an occasion to get out something very special that catches the eye whilst staying entirely classy and sophisticated.
Check these out.
This pendant has all the style and beauty it needs to complement a proper gown, without being a 'party piece'.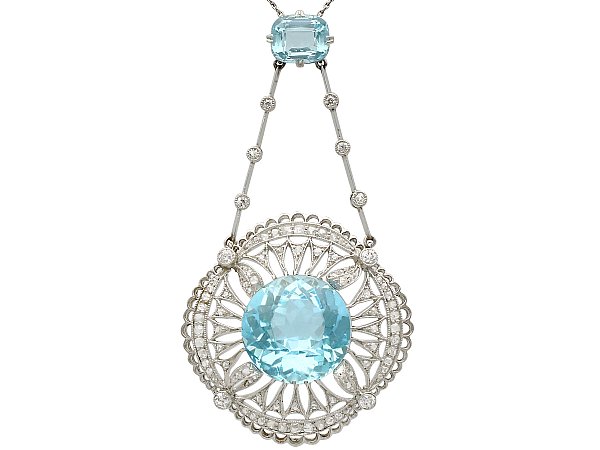 An antique item, dating to the 1920s, this stunning hundred-year-old necklace features aquamarine, alongside topaz and diamond, all set in platinum. Nothing could be more regal than that.
If you prefer yellow gold and a vintage touch, these 1950s earrings are phenomenal. The sweeping shape of the multi-strand gold arrangement is begging to be paired with a formal up-do hairstyle. A French twist would be the perfect 1950s style complement to these beauties.
Everyday
Last but not least, possibly the most important occasion of all: every day! If you're interested in aquamarine jewellery, you should definitely have one or two pieces that will work for you on any day you might need them.
At AC Silver, we are clearly more versed in truly stand-out pieces, but that doesn't mean we don't have one or two gems socked away (pun intended) that suit Sunday morning just as much as Saturday night.
Meet the contestants for everyday beauty, but be warned – they look good enough to eat!
This marquise aquamarine ring may look like it's hot off the presses, but it's actually a Victorian piece, dating to the 1890s!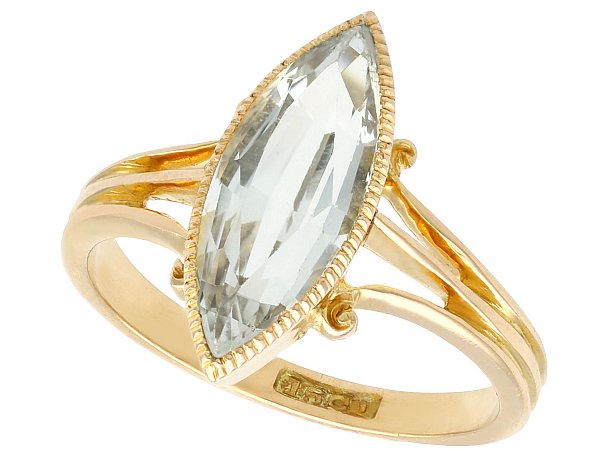 The marquise cut couldn't be more on style today, however, and it's colouring is so delightfully subtle that you could wear it with anything and it's sure to match.
Not large enough to get in the way or make you feel overdressed, but certainly a piece that makes every day a little more special.
Gate bracelets are a brilliant piece of everyday jewellery. They're beautifully elegant without having to work too hard, they suit the workplace just as well as the high-street, and they really are timeless. This antique 1920s aquamarine and pearl gate bracelet is made with 15ct yellow gold, and it's practically begging to come home with you.
Learn more about the history of the aquamarine gemstone
If you needed any more proof that aquamarines really are for every occasion, remember that the beauties featured here today are just a handful of the wonderfully unique antique and vintage aquamarine pieces we have in our stock. Check them out for yourself and see which piece will be the crowning glory of your next outfit. Happy browsing!