A diamond brooch is the perfect luxury gift for Christmas. As a sophisticated touch to any outfit or a more glamourous means to a practical item, the diamond brooch might be just what you're looking for when it comes to your Christmas list.
Why Gift Diamond Brooches
There is something about jewellery and especially precious gemstones that are is so rare and precious that it can carry more weight than other presents. It symbols commitment and adoration for the gifted whether that be as a friend, family member or partner. The amazing thing about diamonds is their durability and strength. A gift such as a diamond brooch will last not only your lifetime but many more, as they are passed down from generation to generation or repurposed into alternate diamond jewellery. After all, diamonds are forever!
Who To Gift a Diamond Brooch
A diamond brooch is can be a thoughtful and sophisticated gift for a multitude of recipients, such as a loved one, friend or family member. Diamond brooches come in a variety of styles and are not limited to gender, more personal taste.
If Christmas is fast approaching and you're googling 'what to get someone who has everything', try an unusual but impressive brooch. Antique and vintage brooches are rare and unique, so gift them the gift of something no one else has! Take a look at these more unusual brooches in the form of a ship, a tennis racket or a dolphin that might be perfect for your Christmas gift receiver.
Diamond Brooches for Him
It's been said that diamonds are a girl's best friend but they can be a man's mate too. In recent times, plenty of male actors and celebrities have been spotted wearing brooches; adorning suit lapels with impressive brooch designs or pinning diamonds to the knot of a tie.
Try explore our antique and vintage brooches and consider what he might like. If he would like something on the subtler side try a pin or a bar brooch. Something more outrageous? Maybe a diamond encrusted bird or large diamond floral brooch. We have a multitude of options and styles so there is sure to be something perfect for the man in your life.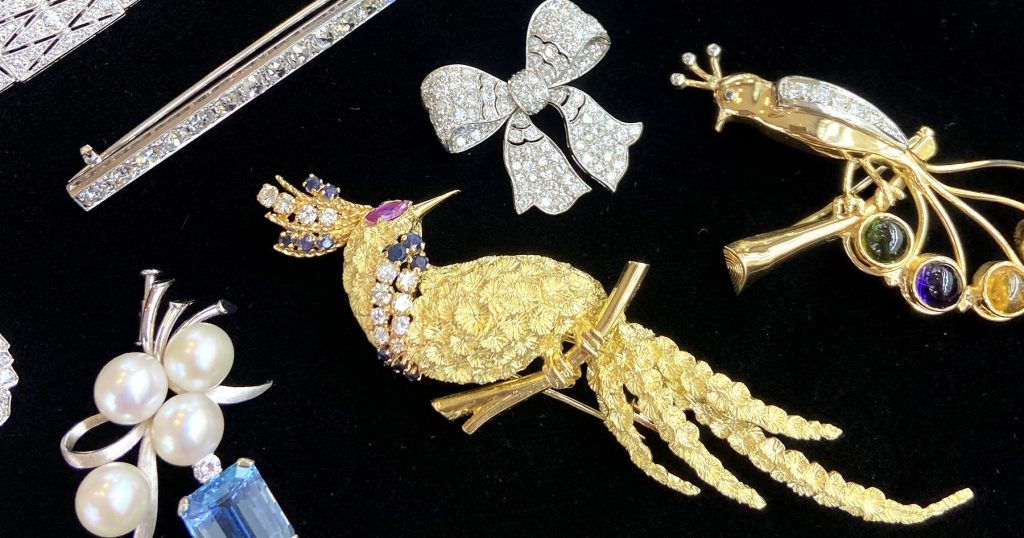 Diamond Brooches for Her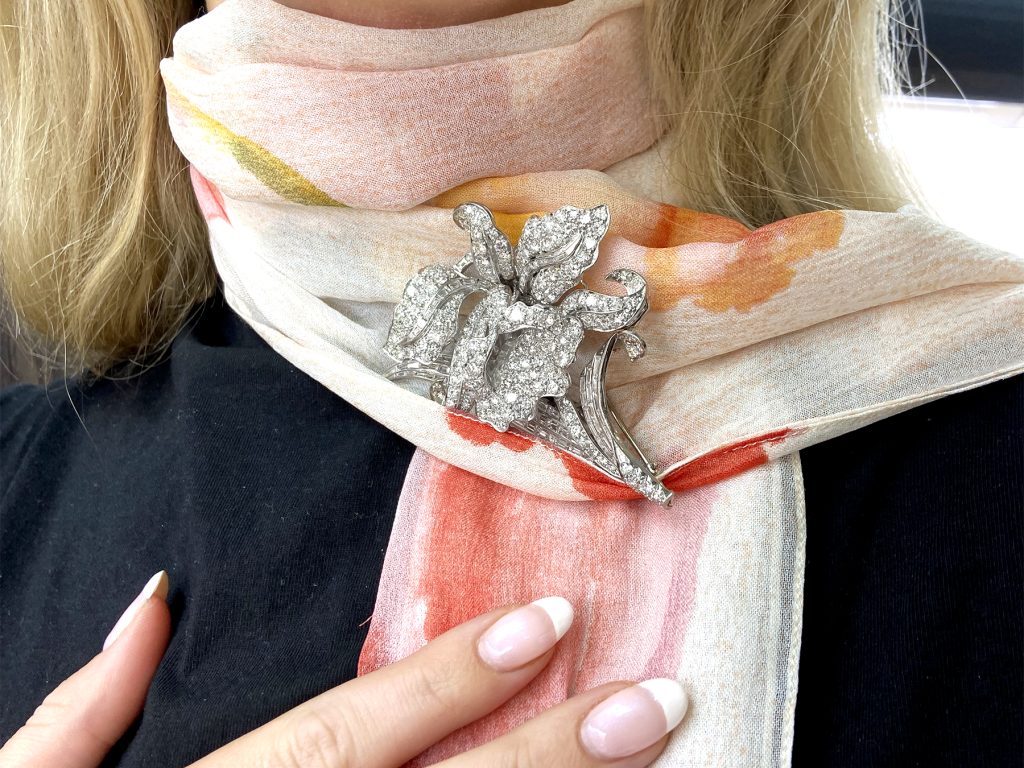 Gift the woman in your life the luxury touch to any outfit. Something distinctively feminine such as a floral brooch might be the ideal gift, from single flowers to bouquets. A beautiful bow brooch, small or large will be an elegant touch to her ballet-core dreams.
Alternatively consider favourite colours or gemstones. Diamonds generally suit all skin tones and hair colours so you don't have to worry there. In terms of metal choice, consider her other jewellery, is she more of a silver or a gold kind of girl? If you're not 100% sure explore our blogs on skin tones or hair colours.
Rubies, sapphires and emeralds can make a colourful addition to a diamond brooch, but of course diamonds still sparkle on their own. A diamond brooch is not only a good investment but a gorgeous gift that symbolises commitment and true adoration.
Favourite Brooches Under £2,000
If you're looking for a brooch under a GBP £2,000 budget, we recommend these three as our top diamond brooch picks this Christmas. These three are all antique Victorian and would make a fine Christmas gift for any lucky wearer!
Favourite Brooches Under £5,000
For a budget of GBP £5,000 or under why not try one of these larger diamond brooches in a more unique shape or pattern! Whether you're after white gold or yellow gold, diamond brooches come in a range of style and patterns for any gift receiver.
Favourite Brooches Over £10,000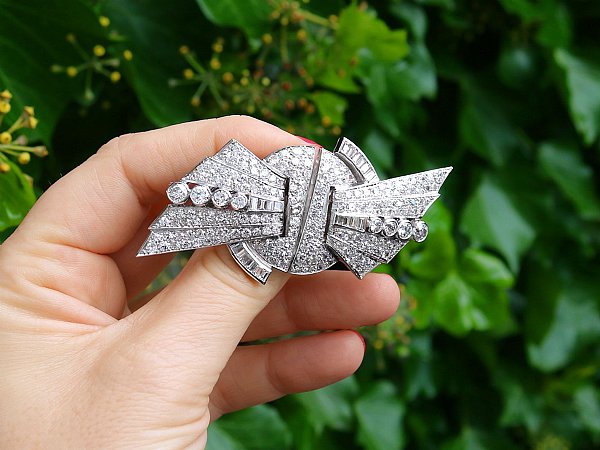 If you have a little more to spend, invest in a brooch with a high diamond content and high colour graded diamonds.
Diamonds only increase in value over time, and due to their durability can last multiple lifetimes with appropriate care. Invest in a brooch that can be treasured over generations, or alternatively repurposed later down the line. Hopefully this Christmas gift guide to diamond brooches has inspired you, so explore our range of diamond brooches online at AC Silver.