Having multiple ear piercings has been fashionable since the 1970s. First emerging in America, this style has made it possible for people to wear two sets of earrings on their earlobes. Since this time, piercings have evolved overall, with more and more cartilage piercings being offered by piercing shops. Body modification of all kinds is an integral element of humanity, and piercings are no different, despite the negative light in which they have been viewed by various generations throughout time.
In the last couple of decades, ear piercings have become more and more popular, with mainstream fashion today usually involving a lot of piercings as the norm. If you're one of the many who already has multiple earrings, or if you're thinking about getting an additional set of ear piercings, we're going to cover some of the basics when it comes to how to style multiple earrings.
Are Multiple Earrings Unprofessional?
In decades past, multiple earrings in the workplace likely would have been viewed in a negative light – especially the ones that aren't on the lobe. The times they are a changing, however, and today it is highly unlikely that multiple ear piercings would be considered to be unprofessional.
A few workplaces still find 'newer' piercings like facial piercings to be unprofessional, asking their employees to remove them before coming to work. Many work places, however, find most piercings to be acceptable (job role depending ofc), and so we will conclude that multiple earrings are not unprofessional.
There are still boundaries, obviously, as you cannot have 'inappropriate' earrings in that involve NSFW imagery or language.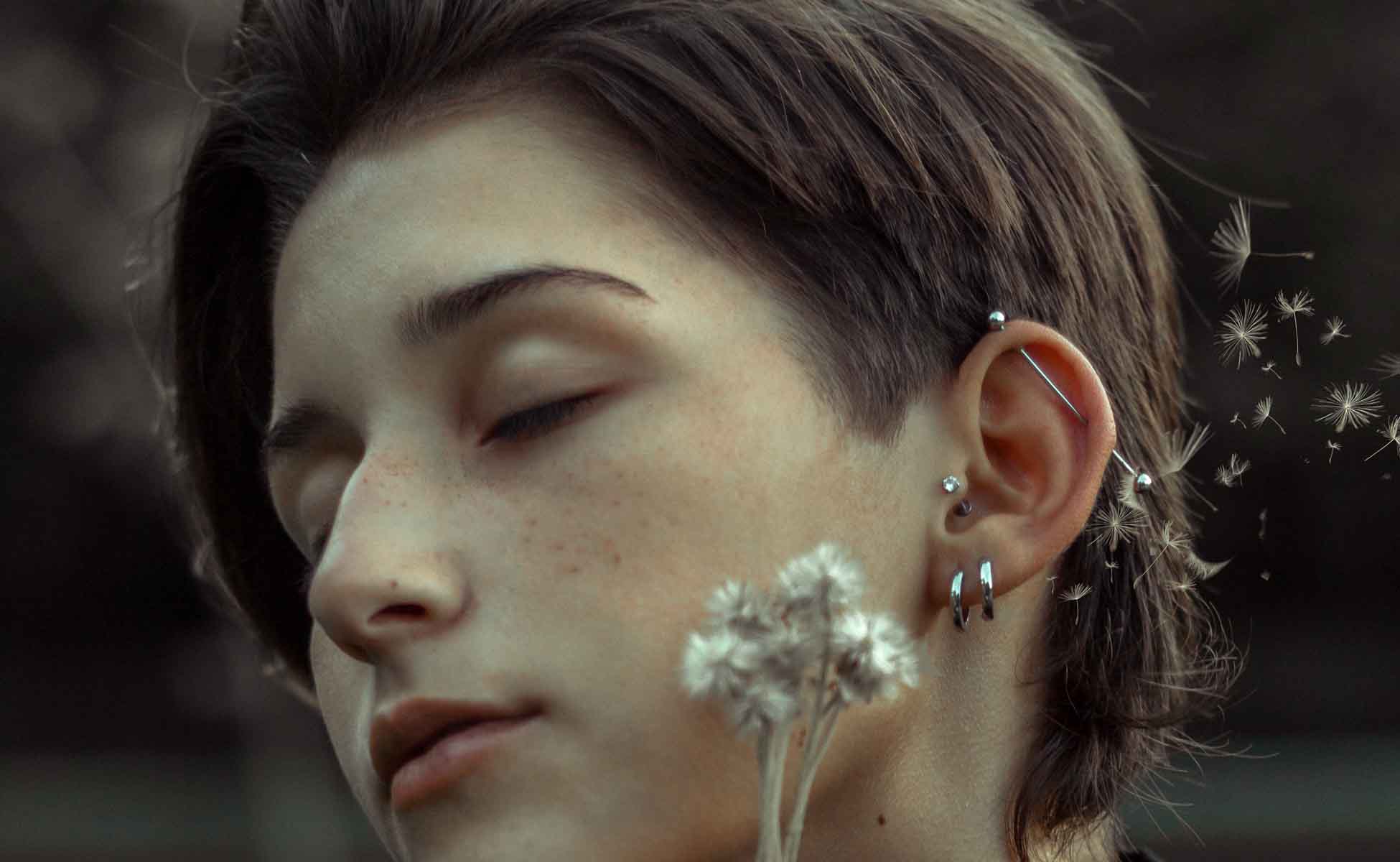 Image courtesy of Vitória Santos on pexels through the CC0 1.0 license
Beyond this, however, multiple earrings are entirely work-appropriate and can even elevate your work aesthetic.
So, how can you wear multiple earrings?
Top Ways to Wear Multiple Earrings
An easy the way to wear multiple earrings whilst keeping a consistent aesthetic is to use the same metal colour and gemstone. For example, sterling silver has a purity that will not irritate your ears, and opal gemstones have a multi-coloured element to them that will have your ear piercings looking unique, visually interesting, and consistent. If you're someone that likes everything to be neat and tidy, the themed jewellery route is most likely the best for you.
More stylistically eclectic? Try branching out with some different styles or gemstones sitting alongside one another. For example, if you have a range of ear piercings, try a mixture of hoops in some and studs in others.
As far as gemstones go, turquoise and amber are both gemstones that have very different aesthetics, but which sit alongside one another effortlessly.
Wearing this mish-mash of earrings looks very stylish and unique, allowing you to stand out from the crowd. This is a good idea for people of all ages, as more mature fashion followers always benefit from having some fabulously over-the-top ear decoration.
Image courtesy of Cat Han on Unsplash, CC BY CC0 1.0
Image courtesy of H.F.R. & Co Studio on Unsplash, CC BY CC0 1.0
A fashion-forward style for wearing multiple earrings is to be minimalist about it. Believe me, this is possible.
Minimalist jewellery fashions that are taking hold at the moment include plain metals and geometric shapes. Line bars of yellow gold, for example, are very popular. Adopting this style with multiple earrings is as easy as pairing some small, plain metal hoops with small diamond studs at various points of the ear.
Mix and match these in a way that feels right to you – there are no wrong options – and you'll see that you have a look that is understated and fashionable in a way that's unique to you.
Wearing multiple earrings at the same time is a fun way to express yourself through your accessories.
If you haven't taken the plunge and gotten those extra piercings even if you do like the way they look – maybe you think you're not fashionable enough, or can't pull them off, or you're too old to try a new look – PLEASE reconsider! There is no time limit on trying new styles, and if you explore them with the confidence that you are indeed cool and fashionable enough to pull it off, then you are guaranteed to succeed.