Eternity rings are among the most romantic of jewellery-related gifts – and that's saying something. Traditionally, they are given to commemorate a significant anniversary, but they are not limited to one event in the same way that engagement rings are. You could receive an eternity ring to celebrate the birth of a new child, a significant achievement such as a promotion at work or graduating from an educational course.
Regardless as to how the eternity ring reaches you, the question is how should you wear it? Are there rules, such as with other romantic jewellery pieces like the engagement ring and the wedding band? We'll dive into all that and more today as we explore how to wear eternity rings.
What are Eternity Rings?
Many outside of the jewellery world are unaware of the presence of eternity rings. In short, an eternity ring is a ring with a row of diamonds all around the band. Technically, that would make it a full eternity ring, since there are half eternity rings where the diamonds only reach half way around the band.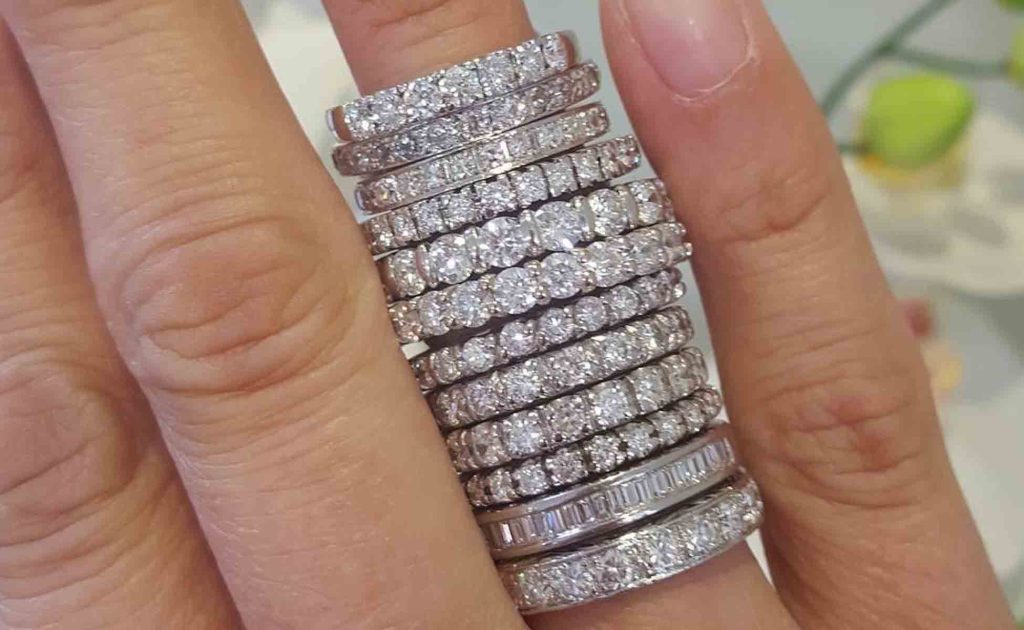 The row of diamonds around an eternity ring represents the 'eternity' of love you have for your significant other, hence its popularity as an anniversary gift. As is the case with lots of jewellery, both romantic and otherwise, eternity rings have robust layers of meaning and symbolism. If you'd like to learn more, check out our blog about eternity ring meaning.
This ring design was originally thought up – believe it or not – as a way to make use of diamonds that were considered too small to become engagement rings. Marketing for these rings is seen best through world-renowned diamond merchants, De Beers, who directed their ad campaigns towards married men with the slogan: 'she married you for richer or poorer. Let her know how it's going.' This pushed married men to prove their success to their wives by producing another diamond ring to accompany their engagement ring.
Through this marketing, eternity rings became a traditional wedding anniversary gift, and it's only recently that they've become widely used for a variety of celebrations. Today, while most eternity rings are still gifted as anniversary presents, that is not always the case – some even opt to have an eternity ring in place of a more traditional wedding band.
Essentials to Know When Buying an Eternity Ring
If you are planning on treating your spouse to an eternity ring for your next wedding anniversary, it might be worth talking with them about it beforehand to clear up a few things. Full eternity rings – being entirely laden with diamonds – cannot be resized, and so must be exactly the right size for whichever finger your spouse hopes to wear it.
Determined to have it be a surprise? You have two options. You can buy a half eternity ring with the knowledge that it will be a possibility to resize it if it doesn't fit, or you can try to sneak one of your spouse's rings away with you whilst shopping so that you can get the same size. When doing this, ensure that you pick a ring that is worn on their ring finger, as this is the most popular option for wearing eternity rings.
How to Wear Eternity Rings
Since eternity rings are traditionally a bridal ring, they are intended to be worn alongside your engagement ring and your wedding ring. For a lot of people, however, their engagement ring and their wedding band simply don't accommodate an eternity ring. Engagement rings that incorporate unique shapes, for example, or those with very large sized gemstones won't always sit neatly alongside an eternity ring.
If you find that this is the case, it's worth experimenting and trying to wear your eternity ring on other fingers. Those who are fans of traditional fashion can wear their eternity rings on the ring finger of their right hands. This keeps it thematically relevant whilst still leaving your left-hand ring finger neat. Little fingers and thumbs are not places for eternity rings. Your thumbs in particular are a bad idea since they put the eternity ring at a much higher risk of being damaged due to how often you use your thumbs on any given day.
You can wear an eternity ring on your little finger, but given how much smaller your little finger is than your other fingers, it would be difficult to find a comfortable size. There is also the longevity of the ring to bear in mind; as you age, your fingers are likely to become larger, and so pushing such a small ring onto your finger could become painful if not impossible. Equally, you should be cautious when considering wearing your eternity on your index finger. Since we use our thumbs and index fingers the most in our daily life, wearing rings on these fingers can lead to both damage to the ring and potential injury to you.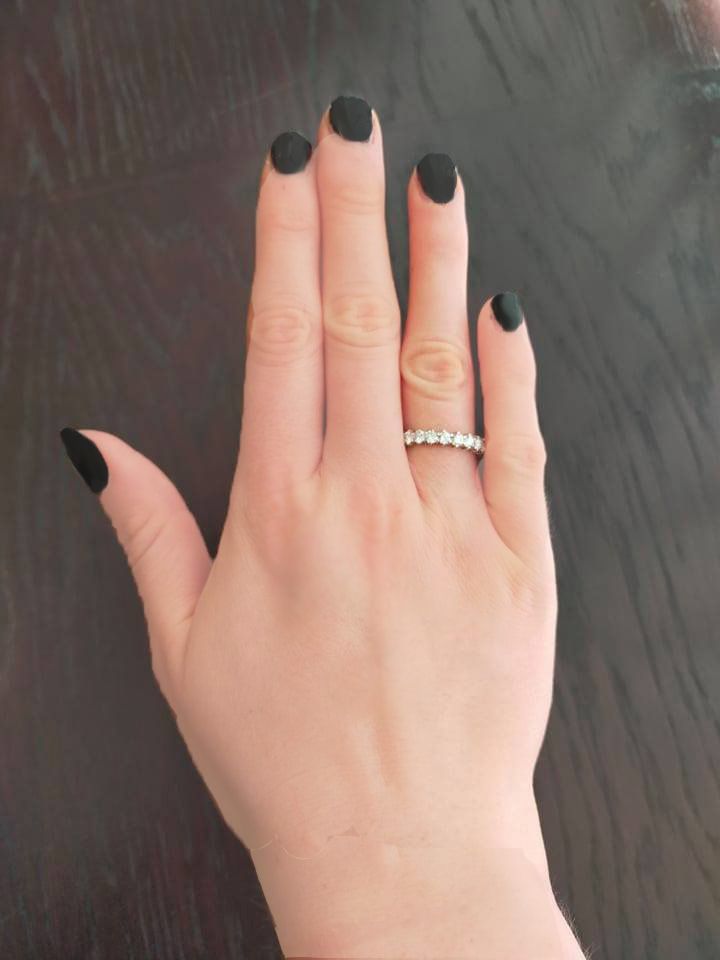 Eternity rings are strong, being made with diamonds, but it's best not to put them under unnecessary stress if possible.
With all that said, it's best to wear your eternity ring on either of your ring fingers or either of your middle fingers. If you have rings that you regularly wear on any of these fingers, eternity rings have the benefit of being relatively easy to stack. But what if you want to wear your eternity ring alongside your engagement ring and your wedding band?
How to Wear Wedding, Engagement, and Eternity Rings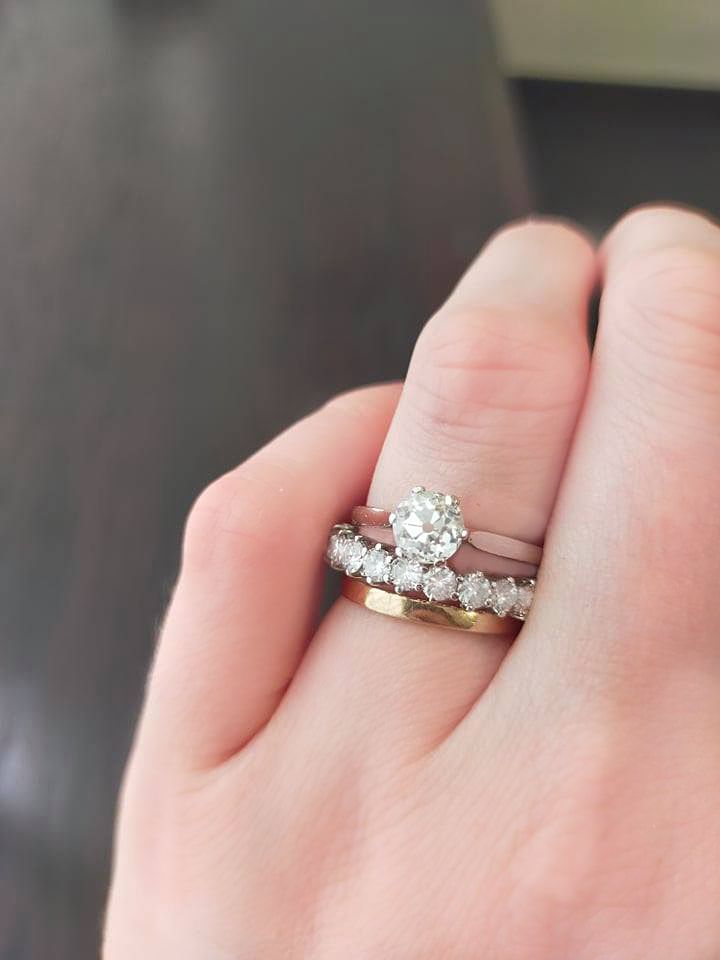 Tradition states that your wedding ring should be at the base of your finger. That way it is the closest to your heart, since it is symbolically the most significant of the three. If you're into the symbolism of each of the rings, you should wear your wedding ring on the base of your finger, with the eternity ring next in line, and then your engagement ring on the top, closest to the tip of your finger.
Traditionalism doesn't work for all of us, however, and thankfully there are plenty of choices for wearing your wedding, engagement, and eternity ring together.
If you're more interested in spreading out the sparkle of diamonds across your finger, consider wearing your eternity ring at the base of your finger, with your wedding band in the middle and your engagement ring closer to the tip of your finger.
If your wedding band is plain metal, this will allow there to be something of a break between the diamonds of your eternity ring and those in your engagement ring. This looks particularly good if you have a diamond-heavy engagement ring like a trilogy ring or a halo ring.
Some people who are big fans of the sparkle effect created by having engagement rings and eternity rings alongside one another opt to use their eternity ring as replacement for their wedding bands, switching one out for the other depending on the occasion. You can use your eternity ring as a replacement for your wedding band for special occasions like parties, while your wedding ring can be used in the day-to-day.
While there is no strict way that you have to wear your jewellery, it's always helpful to have a guide like this to start you off with some ideas. Knowing exactly how to wear eternity rings is a subjective experience, and only you can say what's right for you, but hopefully this has given you a jumping-off point and you're feeling ready to get into some luxury jewellery goodness!