Jewellery of all kinds has been a part of humanity since the very beginning. Women of all ages and ethnicities have worn rings for literal ages, and so the idea of a how-to blog on the topic might come across as unnecessary. However, not only is fashion an ever-changing creature, but many women have never taken an interest in wearing jewellery before, and are now looking into trying accessories of all kinds. If this sounds like you, then this blog is the perfect starting point for exploring new avenues of style and learning how to style rings.
How to Wear Ladies Fashion Rings
The first step in figuring out how to wear rings as a woman is establishing what style you're after. One of the easiest ways to do this is to look at celebrity styles and see which ones have styles you'd like to imitate to some degree. There are some classic aesthetics, some more edgy styles – ideal for your inner rebel – and there equally there are cutting-edge styles that are at the precipice of fashion today.
Classic Style
For this aesthetic, check out celebrities like Audrey Hepburn, Marilyn Monroe, and Elizabeth Taylor. These mid-century women define classic style, and imitating that is easier to do than you might think. When it comes to rings, diamond rings are easily among the most classic. Classic cuts like round-cut diamonds, emerald-cut diamonds, and princess-cut diamonds represent traditional gemstone shapes like circles, rectangles, and squares. These are the basics to go for when wearing classic-style rings. If you want to branch out from diamonds, pearls, emeralds, sapphires, and rubies are the best options. Solitaire rings, cocktail rings, trilogy rings, and eternity rings are the most classic styles.
Edgy Style
You can see this style best represented through stars like Angelina Jolie, Paris Jackson, and Miley Cyrus. Made for rebels of all ages and aesthetics, edgy style is usually designed to be anti-establishment fashion that's perfect for those looking to stand out. Rings you're likely to find in this fashion include themes like skulls, etching and engraving of all kinds, and cool-toned metals like silver, platinum, and white gold. These often gothic-inspired rings are perfect for women who like their style to be a representation of their attitude that seeks to question authority and promote individuality. Gemstones – when included in rings of this style – are usually dark, such as black diamonds, onyx, amethysts, and sapphires.
Cutting-Edge Style
Styles that are the hottest thing in fashion can be seen sported on celebrities like Billie Eilish, Rihanna, and Solange Knowles. Each of these women has a unique style, but equally they're all considered to be fashion icons, bringing new trends to the forefront of fashion year after year. Imitating their styles couldn't be easier, in a sense, since it is often the newest trend to follow. This year, for example, signet rings for women are a huge hit on the jewellery scene. These traditionally male-oriented vintage jewellery pieces are perfect for women who want to bring an enticing sense of androgyny to their aesthetics.
How Many Rings Should a Woman Wear?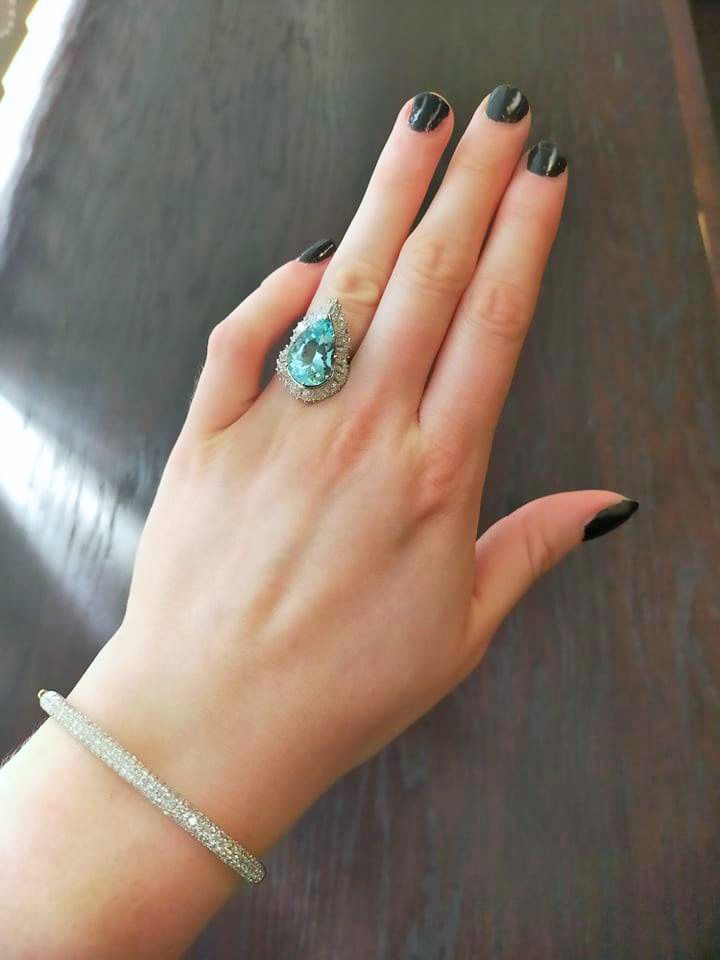 Asking a question like how many rings should a woman wear might sound ridiculous, but – again – if you're new to experimenting with this element of accessorising, this is a helpful question to ask. Jewellery is a subjective enterprise, and so there are no hard and fast rules about wearing too much or too little. Following the styles established above, however, can lead us to some basic 'do's and 'don'ts' that can be very helpful when you're just starting out with wearing rings.
Look at any picture of 'classic' style icons like Hepburn, Grace Kelly, Marlene Dietrich, or Sophia Loren and you'll see that they rarely wear more than one or two rings per hand.
Classic aesthetics are more about having a few pieces that make a statement, rather than piling on as many shinies as possible.
For this aesthetic, opt for a statement diamond ring – perhaps your engagement ring – and pair it with a dainty diamond piece like an eternity ring and a wedding band.
Your other hand should have perhaps one more diamond band, otherwise being bare of rings.
A classy bangle or gemstone bracelet is a good accessory for the barer hand, allowing it to feel appropriately accessorised without overcrowding the hand.
The antithesis of this can be seen in the edgy aesthetic we discussed. Here, the more the merrier is the code to live by.
Stack rings, place rings on each of your fingers, and combine them with multiple bracelets as well. Accessorising is about individual expression in the grungy/edgy style, and so you're totally free to follow your heart when it comes to figuring out how much is 'enough'.
This goes both ways, with some people feeling best when they have heaps of rings on – including midi rings that sit above the knuckle – and others preferring oversized statement rings.
Even rings that sit across multiple fingers to create a single image or phrase are welcomed in the grunge aesthetic.
One example of rings that are the peak of fashion right now is signet rings.
These rings are traditionally for men, featuring family crests and being passed down from father to son.
Today, however, these rings are being commandeered by women who want the same 'boss' status that the signet ring represents.
While – traditionally – signet rings are worn to great effect on their own, modern signet rings are often paired alongside other rings, usually made with yellow gold.
Yellow gold designs of twisting bands and other all-metal designs are very popular at the minute.
The 'right' number of rings for this style ranges between two and four per hand, depending on how busy you want your hands to be.
How to Wear Rings on Multiple Fingers
We've briefly covered the benefits of wearing multiple rings, but let's focus in a little more on how to wear rings on multiple fingers. Rather than simply stacking up a series of slimline rings or stack rings together on the one finger, how do you establish an even and balanced spread across your hands? Balance is indeed the key word here, as wearing big bulky rings on every finger will look as uneven as wearing the same skinny ring on each of your digits.
Establish a mix and a balance of large and small rings. Maybe a large thumb ring, something with a thick band that can withstand the usage your thumbs see day to day. This can be paired with a few skinny stacked rings on your middle finger, then a midi ring on your ring finger – possibly with a slim ring at the base of your finger as well. Finish it off with a decently thick ring on your little finger; you want something that will hang on to that pinky!
A diffewrent approach to wearing rings on multiple fingers is to have your biggest ring on your middle finger, allowing you to reduce things at either side. A large central ring, with stacked rings on your ring finger and your index finger, and then single slim rings on your thumb and little finger creates an even spread that looks great on the hand.
How Should a Woman Wear Her Wedding Rings?
Married women who are interested in exploring rings besides their wedding band might want a little advice on how to order their bridal rings. For those women, here's a basic guide to wearing your bridal rings. Traditionally, the wedding band sits at the very base of the finger. This is linked to the long-held myth that the vein in the left-hand ring finger goes directly to the heart. Your wedding band should, therefore, be the closest to your heart.
For anyone who wears their engagement ring alongside their wedding ring, the engagement ring is traditionally kept closer to the tip of the finger. If you have other bridal rings, eternity rings for example, you can place those in between your wedding band and your engagement ring. Don't feel tied to these 'rules', however. For example, if one of your rings is slightly smaller than the others, wearing that one closest to the tip of your finger will hold the others on your finger more securely.
If you are someone who largely finds anything but your wedding band to be an inconvenience, consider wearing your engagement ring and any others on a chain around your neck – this creates a unique-looking pendant of sorts that is sure to be eye-catching.
How Many Rings Should a Married Woman Wear?
Supposedly, there are rules and / or traditions surrounding what rings a married woman can and cannot wear, the consensus being that they can wear their engagement ring and their wedding ring, but not any other rings. Like most traditions, however, this has little bearing on modern life, and the decision to wear rings beyond your marital rings is entirely up to you.
The decision to wear rings is usually made relatively early in life, and a lot of women who opted out of ring-wearing found that they didn't care to wear rings even after they were married – often choosing not to wear their wedding ring or their engagement ring even!
No matter how you want to wear rings – if you want to – you can find a way to make rings work for you and incorporate them into your style seamlessly. Whichever direction you decide to go when it comes to your rings, know that wearing the styles with confidence is the best way to ensure that they suit you.