Passionate, regal, and classic, for a classy evening, you can't go wrong with a burgundy dress. Whether you're going for a dark and mysterious look or a traditional vintage-style, a burgundy dress can easily be accessorised accordingly. When it comes to finding matching earrings for your burgundy dress, there are a few elements to consider. What style are you aiming to achieve? What colour gold best suits your hair and skin tone? And what kind of event are you attending?
Those with light hair and cool colourings, for example, are sure to look sleek and elegant in this striking colour. But when it comes to accessorising, silver-set earrings are the best choice. Those with warm skin tones or dark hair, on the other hand, will look dazzling in a deep burgundy dress with classic yellow or rose gold earrings.
Chances are, your dress will steal the show – after all, burgundy is a rich colour that radiates energy – but your earrings and other jewellery pieces will nonetheless play an important part in helping achieve your desired look. Read on to find out which earrings styles will best suit each iconic burgundy dress aesthetic.
Gothic Chic
Burgundy dresses are perfectly suited to a mysterious and chic gothic look. If this is the style you're aiming for, your earring choice is crucial to finish the look. Dark gemstones such as onyx or garnet would make a perfect pairing, perhaps with a subtle sparkling diamond accent.
This pair of antique 1820s Regency era 206.60 carat garnet and 1.49 carat diamond, 8 carat and 9 carat yellow gold earrings is more up your street.
This option would look fabulous paired with a bold, dark lipstick to perfectly match your burgundy dress.
Vintage Class
As well as helping you to easily achieve a dark and mysterious aesthetic, burgundy dresses are perfect if you're striving for a classic vintage style.
In this case, it's best to pair your dark red dress with simple, yellow gold earrings.
Pearl earrings would also work wonderfully for a classic look, such as these impressive pair of vintage mabe pearl and 0.18 carat diamond, 18 carat yellow and white gold earrings, for example.
Ruby Ruby Ruby Ruby
Finally, for a striking look that really makes the most of your bold burgundy dress, don't shy away from a bit of colour coordination. Deep red gems such as ruby or tourmaline can work exquisitely when paired with a dress of the same colour, for a beautiful, eye-catching look. If you have classic 'English rose' colourings, this option will look divine!
These exceptional 2.45ct ruby and diamond earrings would work wonderfully.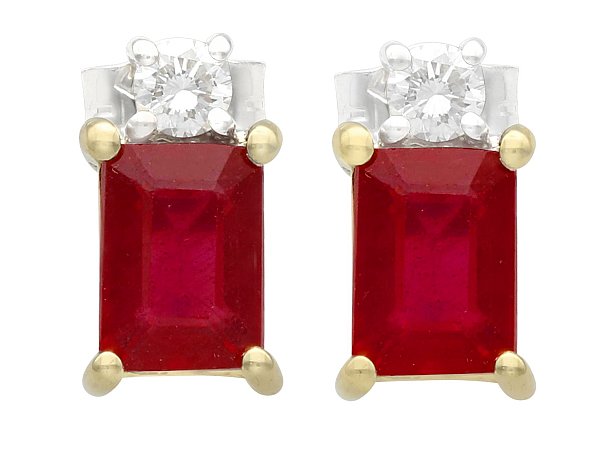 Whatever event you've got planned to showcase your gorgeous burgundy dress; you're now equipped with some fabulous accessory options. In addition to luxury earrings, consider a simple vintage charm bracelet, or an exquisite yellow gold signet ring to complete your look. Shop all of our antique and vintage jewellery options online today.