Signifying class and elegance, pearls have been adored throughout history. These gorgeous gems are considered to be the oldest known gemstone and one of nature's true miracles. From elegant pearl bracelets to dainty pearl rings, there are plenty of ways to incorporate pearl jewellery into your outfits. Today, however, we're obsessing over pearl pendants.
When you think of pearl necklaces, the classic string of pearls is probably the first thing that comes to mind. Don't get me wrong, single and double-strand pearl necklaces are a timeless and fabulous addition to anyone's jewellery box. However, there are plenty of other pearl pendant designs to choose from.
Read on to discover some of the most popular pearl pendant designs.
Dainty Drops
If you're looking for a subtle yet stunning piece of pearl jewellery, then a pearl drop necklace could be perfect for you. Drop necklaces can be worn during the day, while you're in casual attire, or as part of a luxurious jewellery set for a more glamourous look.
As pearls have a soft and feminine aesthetic, they work wonderfully with the dainty drop necklace style. Often paired with diamonds in drop designs, the lustre and sparkle work hand in hand to dazzling effect.
As this style is fairly understated, pearl drop necklaces are suited to a variety of occasions. This Victorian pearl and diamond drop necklace, for example, would add a subtle touch of glamour to any outfit.
Art Nouveau Elegance
Next up, we have something a little more elaborate. Art Nouveau style designs are another highly popular type of pearl necklace. Pearls were often used in jewellery design during the Victorian era when the Art Nouveau design style flourished. Gorgeous Art Nouveau pearl necklaces are still highly sought after today.
This style often features floral motifs, link chain swags, and other intricate designs. You can find this style in various types of gold, but yellow gold examples are most frequent. As these stunning necklace designs are particularly eye-catching, they are best paired with a sleek but understated attire. They'll work wonderfully as the centrepiece of your outfit!
Luxurious lockets
Another popular necklace design that often incorporates pearls is the locket. Because of their symbolic meanings and potential for holding secret treasures, lockets have withstood the test of time and are still highly sought-after today.
Although many people opt for simple gold lockets, pearl lockets are also a firm favourite. Pearl lockets were particularly popular during the Victorian era, and we have many items from this period available here at AC Silver. This 15ct yellow gold pearl and diamond locket, for example.
Antique and vintage lockets are a versatile jewellery type and can be worn both for their beauty and for their symbolism. A Victorian yellow gold and pearl locket can add that special something to any outfit, whether that be an evening dress or casual, everyday wear.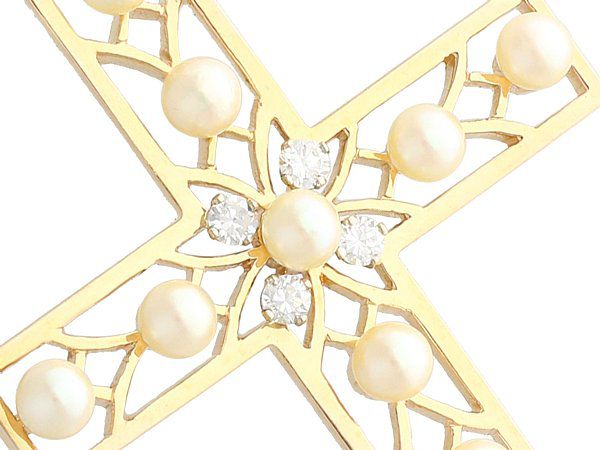 Classic crosses
A final pearl pendant type that we've seen particular interest in is the cross-design pendant. Cross designs were crafted across the course of the 20th century, and we have many stunning vintage examples available at AC Silver. While diamonds are particularly common on white gold cross pendant designs, pearls are more often found on yellow gold crosses.
If you're looking for a pendant with a splash of colour, you could also opt for a cross pendant embellished with a range of brightly coloured gemstones – along with gorgeous pearls of course!
Whichever pearl pendant design sparks your interest, we've got you covered! Discover the entire range of pearl pendants and other pearl jewellery pieces available to purchase online at AC Silver.