Typically, we tend to focus on antique jewellery, so today we're taking a look at the top 5 most valuable vintage jewellery pieces in the world. We'll also be answering some questions you might have about your own vintage jewellery.
5. The Hancock Red
This diamond is not technically a piece of jewellery, merely a single stone, but it makes this list for its uniqueness and genuine value to the jewellery world. In 1987, the diamond was offered at a Christie's auction in New York. It sat at only 0.95 carats, which is not much to write home about as far as luxury jewellery goes. It's selling point was its colouring.
The Hancock Red is certified as a Fancy Purple-Red. The title of 'Fancy' colouring is only attributed to roughly 1 in 100,000 diamonds. Beyond this, the title of red-toned 'Fancy' diamonds is even rarer. It was estimated to sell for £73,000 – £110,00 at auction, but in fact sold for £643,000. While there are certainly more expensive pieces of vintage jewellery, this one makes the list for being truly valuable.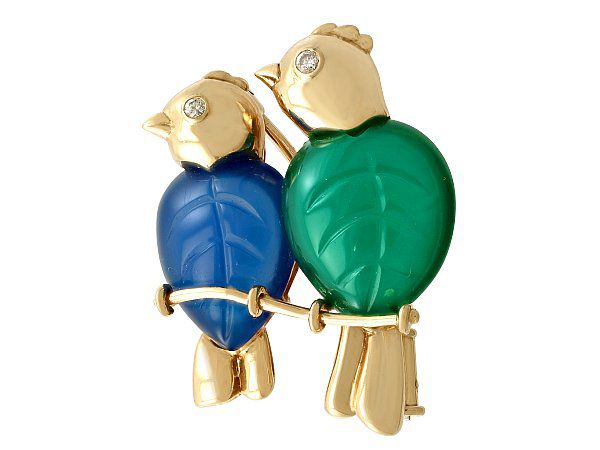 4. Blue Moon of Josephine
Joseph Lau Luen-hung, Hong Kong billionaire and convicted-felon fugitive, purchased the Blue Moon diamonds in 2014 for his daughter, Josephine, hence the stone's name. This Blue Moon of Josephine sold for more money per carat than any coloured diamond in recorded history, costing £35.4 million for a 12.03 carat stone.
The stone was discovered in a South African mine, its rare crystal blue colour making it highly appealing. It was initially 29.06 carats, meaning it stood out wonderfully in amongst the dirt and grime of the mines. After being cut to attain a higher quality of internal clarity, the final piece is a stunningly high-valued vintage gemstone.
3. Oppenheimer Blue
The Oppenheimer Blue is a 14.62 carat diamond in a rich blue hue. It is the largest Fancy Vivid Blue diamond certified by the Gemological Institute of America, one of the most respected and revered organisations in the gemstone world. The diamond is named for Phillip Oppenheimer, expert diamond trader, lending the stone some real significance on the diamond market.
2. Pink Star Diamond
Something of a legend on the jewellery scene, the Pink Star diamond is certified by the Gemology Institute of America as the largest Internally Flawless, Fancy Vivid Pink coloured diamond on record. The De Beers company, known across the globe, discovered the stone in 1999 in one of their South African mines. Supposedly, it took almost two years of cutting and re-cutting for the stone to have its current shape and grading certificate.
It was auctioned in 2017 in Hong Kong for £51.9 million to Chow Tai Fook Enterprises. In its lifetime, it has been exhibited at the Smithsonian Institute in America to display its beauty, and today it is held in Hong Kong. We can't say when it's next appearance may be, but it's safe to say we wait with baited breath.
In 2016, the diamond was auctioned for a stellar £41.9 million to a private party. The stone has everything it takes to make stunning jewellery, but whether it ever resurfaces as a whole stone or as part of a stunning piece of jewellery only time will tell.
1. Graff Diamonds Peacock
The legendary Graff Diamonds Peacock brooch has been covered before on our blog. It is a peacock-shaped brooch featuring more than 120 carats of diamonds, spread out across more than 1200 individual stones. Among its beautiful gemstones are yellow, orange, blue, and white diamonds. A central pear-cut Fancy Dark Blue diamond sits at the chest of the peacock, making this piece a one-of-a-kind beauty.
The Peacock brooch was sold at auction for a whopping £73 million.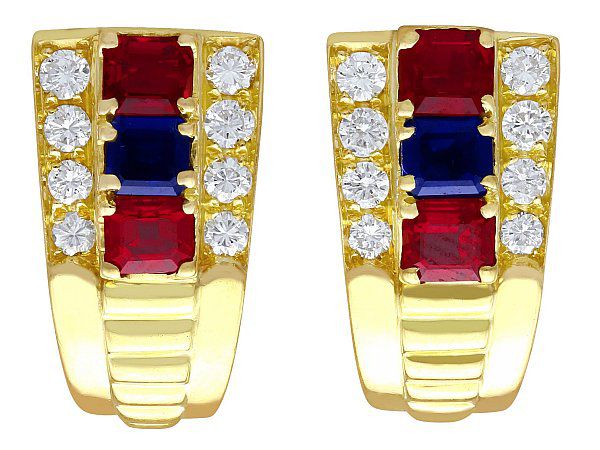 How Do I Know if My Vintage Jewellery is Valuable?
Hallmarks
The number one way of knowing if your vintage jewellery is valuable is assessing it for hallmarks. Any hallmarks can raise the value of your vintage jewellery, but there are certain marks that can let you know you have a truly valuable piece. Brand hallmarks such as Tiffany and Co or Cartier can confirm that your vintage jewellery is a luxury item.
Other hallmarks to check for are date marks. These are letters in certain typefaces that represent a year of production for the item. If you find a date mark on your item, there are plenty of online resources to establish the year of creation for your jewellery. Generally speaking, older jewellery can be more valuable, however this can depend on the items condition, so closely examine your vintage jewellery for any scratches, loose stones, or other general damage.
How Much is Vintage Costume Jewellery Worth?
Costume jewellery is always going to be worth less than high-end, luxury jewellery; but that doesn't mean that it doesn't have value. Certain brands and styles in particular are popular with collectors all over the world, and so you might want to inspect to see if you have one of these pieces. Makers like Coro, Trifari, and Weiss are all sought-after collectables.
If you have jewellery by a certain maker, you absolutely must ensure that the condition of your piece is top quality if you want to fetch a higher price for it. Keep the stones bright and sparkling, any metal or plating needs to be smooth, without sloppy patchwork, and any claws, clasps, or closures need to be sturdy. If your piece has any significant weight to it, that is also an excellent sign that you have something worth having.
Is Vintage Jewellery Worth Buying?
With vintage jewellery, you can get more for your money than you do when purchasing brand new jewellery. Carat for carat, buying vintage can get you a lot more than buying brand new. Of course, we are slightly biased, but it goes without saying that vintage jewellery is definitely worth buying.
The pieces are more unique than most of the new jewellery on the market today, it is well-made, often by hand, and it has a certain charm that modern jewellery simply cannot match. Vintage jewellery, be it brooches, earrings, pendants, or rings, is certainly worth investing in; not only for your own benefit, but also as an investment in something which can appreciate in value over time.