Sapphire anniversary rings are for her and for him, whether it's surrounded by diamonds or set into a hefty antique signet ring. When searching for the perfect anniversary gift for her, you never go wrong with a beautiful ring, particularly one with a sapphire as rich and deep as the ocean. Today, we'll showcase a variety of sapphire rings in our inventory to give you some inspiration for the next significant date in your calendar.
Rings under £2000.00
If you're looking to keep your expenses under a more modest budget when making this purchase, this fine selection of rings should be more than enough to incite some encouragement for you in your search for the perfect gift.
Elegant and simple, this vintage 1970s sapphire and diamond cluster ring is set in 18ct white gold, and follows a beautiful traditional design.
Despite being a product of the '70s, this ring appears completely timeless, the sparkle of its diamonds and the clean whiteness of its gold radiating absolute beauty.
SKU: A3526
Price: GBP£1,950.00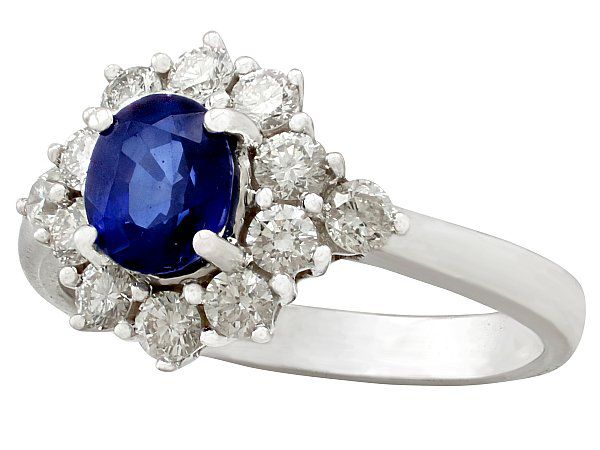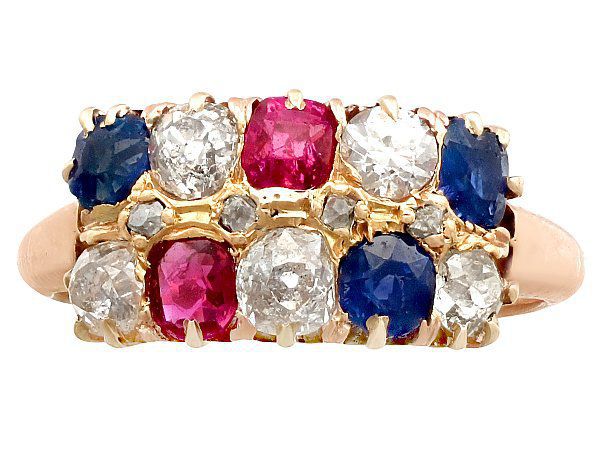 If your loved one tends to prefer something different, this multi-gemstone 18ct rose gold ring may be the perfect sapphire anniversary ring for her.
Featuring a mixture of sapphires, rubies, and diamonds, this ring is an example of exquisite antique craftsmanship, dating back to the turn of the 20th century.
SKU: A4360
Price:GBP£1,950.00
Another stunning antique find, this piece is a French 1930s sapphire and 18ct yellow gold dress ring, featuring an impressive floriated fleur-de-lis design, further ornamented with two stylised dragon heads.
This ring makes a statement, and through it, you too can make a statement, one of everlasting love.
SKU: C1127
Price: GBP£1,695.00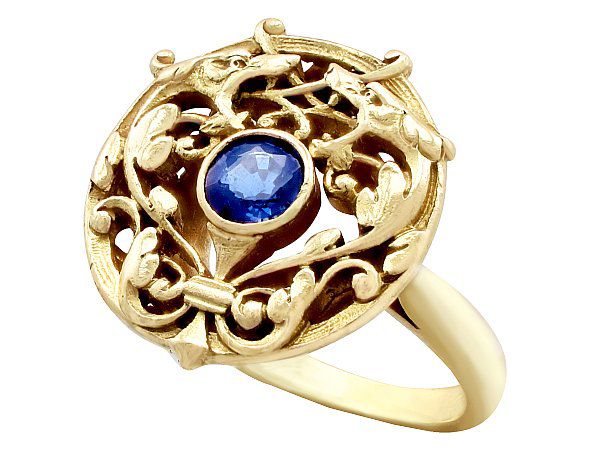 Rings under £5000.00
If you have more to play with and you're looking for something with a larger impact, this range of rings shows only a fraction of the diversity available within our sapphire ring collection. These rings have a presence that's not to be overlooked.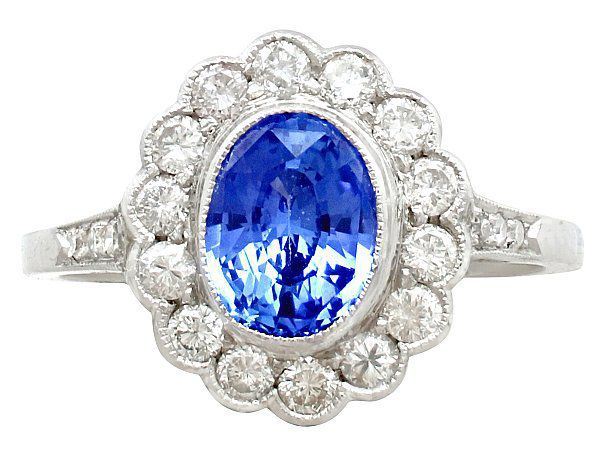 This ring serves as an example of what you can expect from a cluster ring if your budget is able to go a little further.
Another vintage piece, this dates to the 1960s, and features a 1.29ct sapphire and 0.56cts of diamonds, all set in a stunning platinum finish. This pristine piece is truly something of a bargain.
SKU: A6857
Price:GBP£3,250.00
Standing out from the crowd – for obvious reason – this exceptional 3.81ct purple sapphire is a testament to the versatility that sapphires offer.
Another French piece, this ring's setting vaguely recalls floral motifs, adding romance to what is already a very romantic item. Any woman would blush to behold it.
SKU: A6761
Price: GBP£4,950.00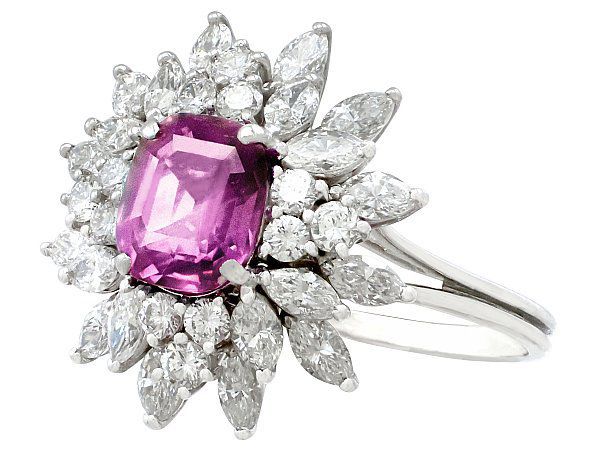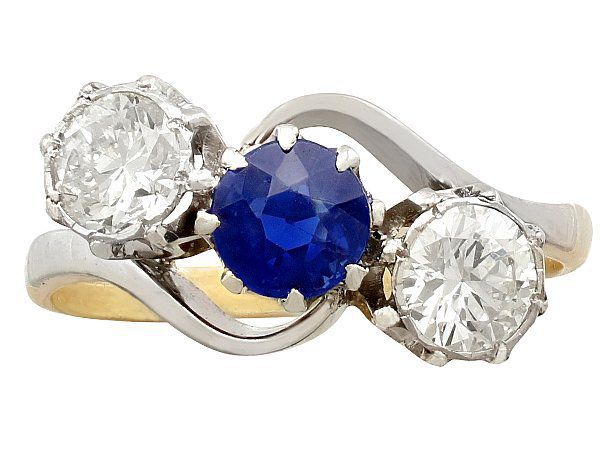 Trilogy rings and twist rings are each popular in their own right, making this combination of the two truly something to be admired.
A classic with something of a literal twist, this vintage 1950s ring boasts a platinum setting, making it secure enough to stand the test of time, perfect for celebrating a special anniversary.
SKU: A5065
Price: GBP£2,250.00
Rings over £5000.00
Truly lavish rings for those with no budget, only looking to spoil their better half. Prepare for diamonds, platinum, and sapphires that could weigh down anyone's hand. Sure to put a smile on her face, this tier of sapphire rings – like all of our stock – has been hand-picked by Andrew Campbell for their brilliance and superior beauty.
Featuring as its focus a stunning 5.5ct Ceylon sapphire, flanked on either side by diamonds, this 1980s ring takes the term 'statement piece' very seriously.
A white gold setting and yellow gold shank allow this impressive sapphire to shine, displaying its rich colour to a near-dizzying effect. A masterpiece.
SKU: C1698
Price: GBP£12,950.00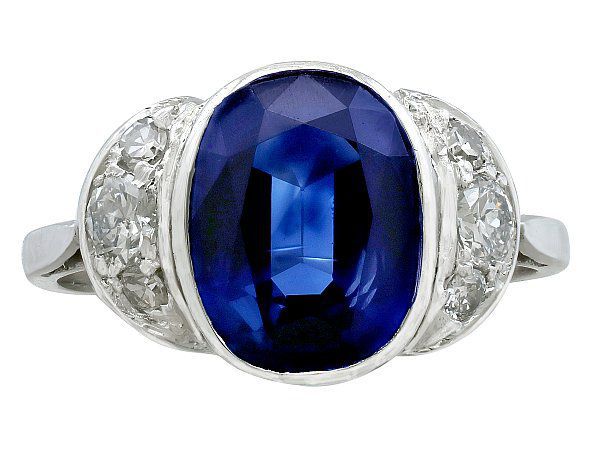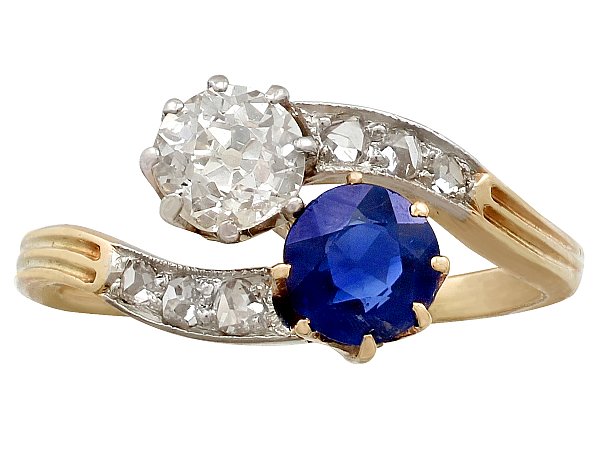 Taking a moment to revisit the twist ring style, this piece is yet another stunning product of antique craftsmanship.
Dating to the 1910s, this sapphire and diamond ring has stood the test of time and then some. The diamonds featured along the setting elevate this ring to new levels of sophistication.
SKU: A2472
Price:GBP£2,475.00
The 1930s have provided us with some exquisite jewellery, and in that regard this item is no different.
Where it does differ, however, is in how chic and stylish it presents itself when compared to its more obviously 'antique' contemporaries. The bold central sapphire is enough to keep anyone entranced.
SKU: C2300
Price: GBP£6,950.00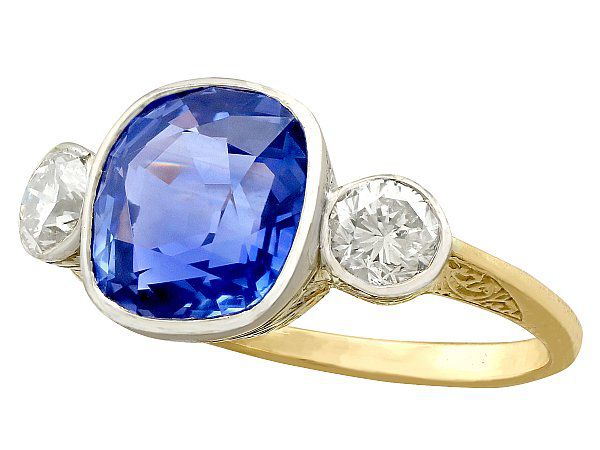 Here at AC Silver, we take great pride in our pieces because of their excellence and sheer beauty. We hope you've come away from this exploration with a clearer idea of what you want to give for your next anniversary. Not seen what you're looking for? Try our sapphire ring category and see what catches your eye.