Today, we'll be covering the differences between eternity rings and wedding bands, as well as answering the question: can eternity rings be worn as wedding bands?
What's the Difference?
Typically, the difference between eternity rings and wedding rings is the presence of diamonds. Most wedding bands are plain metal, made to match whichever metal features in your engagement ring. Eternity rings, however, feature a ring of diamonds that encompasses the entire circumference of the band. There are also half eternity rings that feature diamonds around only half of the band.
With eternity rings and wedding bands now being distinct from one another, it's time to have a look at how eternity rings can be used.
Can Eternity Rings be used as Wedding Rings?
Traditionally, eternity rings are used to commemorate special occasions, like birthdays and anniversaries. For this reason, they're not usually considered when it comes to picking engagement rings or wedding bands.
That doesn't mean you need to look elsewhere for a wedding band, however. The rules on what is and what isn't bridal jewellery have evolved dramatically over the last few years. Today, eternity rings are becoming a more and more popular option for those who want their wedding band to have something special to it.
When Should You Buy an Eternity Ring?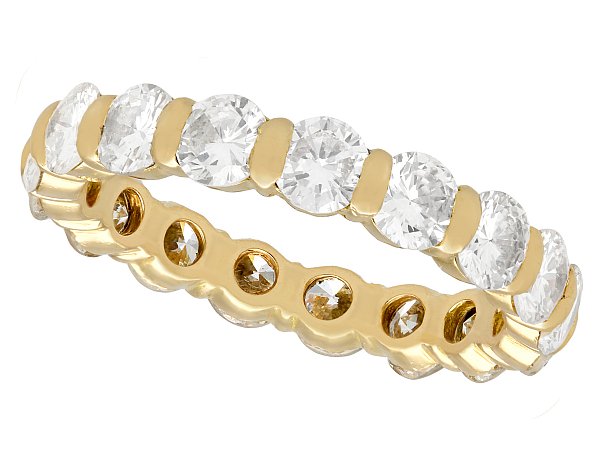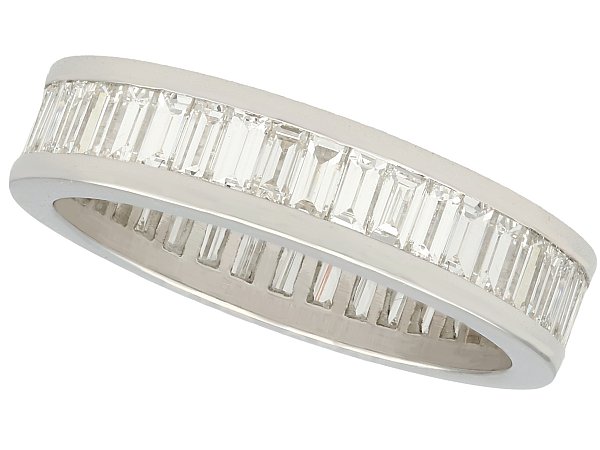 Although eternity rings are usually saved for wedding anniversaries, it's definitely an option for wedding bands. You need to establish with yourself what kind of engagement ring you want to wear. A large solitaire diamond ring, for example, will have a lot of glitz and glam to it that might look very busy with a wedding band that also features diamonds.
At the same time, if your engagement ring features one or many smaller diamonds, then an eternity ring that's also a wedding band could potentially overshadow your engagement ring. However, you can definitely use an eternity ring as a wedding band if you want to elevate the sparkle of your ring finger. You can also co-ordinate between your engagement ring and your wedding band by using an eternity ring.
For example, if you have an engagement ring with claw set, round cut diamonds, then an eternity ring featuring claw set, round cut diamonds is a great way to have a wedding band that matches up perfectly with your engagement ring. Equally, if you have an engagement ring with a focal gemstone where the band of the ring is decorated with diamonds, then a slim-line eternity ring wedding band will complement it perfectly.
If you decide that you are interested in getting an eternity ring for your wedding band, then ensure you get the correct size, as eternity rings cannot be resized. Other than that, you're free to explore so many avenues and options for your wedding band. Good luck – you're sure to find something spectacularly sparkly for your wedding ring!