As someone who has been part of the AC Silver Team for many years, I've come across quite the variety of ring settings: from the statement to the simple, from the traditional to the unique. The traditional styles of ring settings are of course stunning; after all they are traditional for a reason. However, it is the unique ring settings that really make me stop in my tracks. Unique ring settings are absolutely stunning- I feel I could end the blog there. Although, I'm actually far too excited, I must share some gorgeous unique ring settings with you.
'Sunken'
When I think of unique ring settings, the first ring that came to mind was our absolutely stunning vintage 5.94 carat opal and 6.55 carat diamond, 18 carat yellow gold and 18 carat white gold set cocktail ring by Grima. This setting is particularly unique as it has a sunken element to it. The opal is set in a collet setting, in subtle relief to the centre in a lowered style. The feature stone is then surrounded, or rather framed by stunning emerald and square cut diamonds. It has been nick-named the 'Swimming Pool' ring due to its sunken opal setting.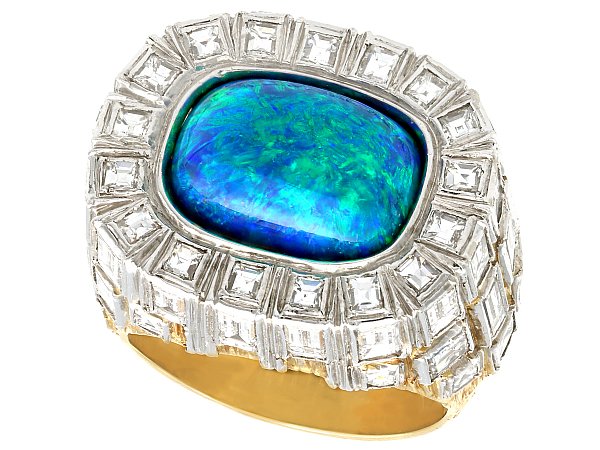 Domed
A domed ring is typically a chunky band, which is often plain rather than ornamented. A domed ring setting involves slightly more gemstones. The gemstones themselves are typically ornamented on top of the domed ring. A ring that springs to mind with the AC Silver inventory is this beautiful sapphire and diamond cocktail ring. The central domed white gold setting is bordered by twenty-four calibre and baguette cut sapphires. Like most domed rings it is a chunky, statement piece. It is an eye-drawing ring to be sure. Another impressive domed cocktail ring is this beautiful ruby and sapphire ring: the domed setting is ornamented with a feature 1.35 ct oval mixed cut ruby and 1.28 ct oval mixed cut sapphire, individually four claw set vertically to the centre of the design.
Sculptural
Now a sculptural ring setting could be all manner of things. It has to include something which is heavily ornamented, and features some interesting 'sculptured' design. Sometimes they can be similar to other designs, but have something a little extra about it. Take this gorgeous asymmetric twist setting: it has a feature 3.23 ct pear cut emerald, but it is the chunky ring shoulders which are ornamented with fifteen baguette cut diamonds which makes the ring a sculptural phenomenon.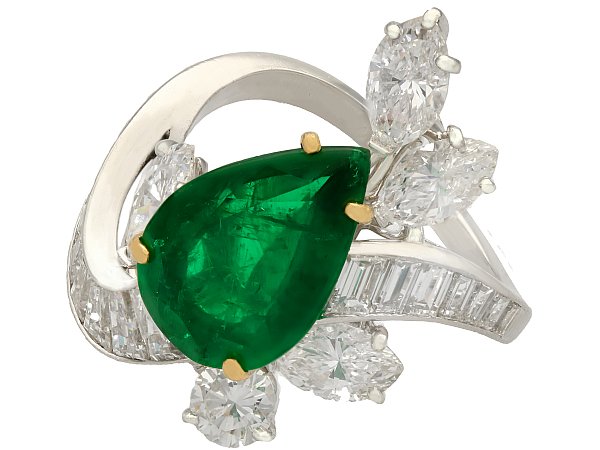 Bombe
Similar to the domed setting we have the bombe setting. They have a rounded curving shape. The name comes from the French which literally means 'bomb-shaped', which really does give a clue to the type of setting. They were particularly popular in the 'Hollywood' era (1910's-1960's). This stunning pierced decorated 'bombe' ring is a quintessential example of the bombe ring setting. The yellow gold piece is ornamented with four floral gemstone designs.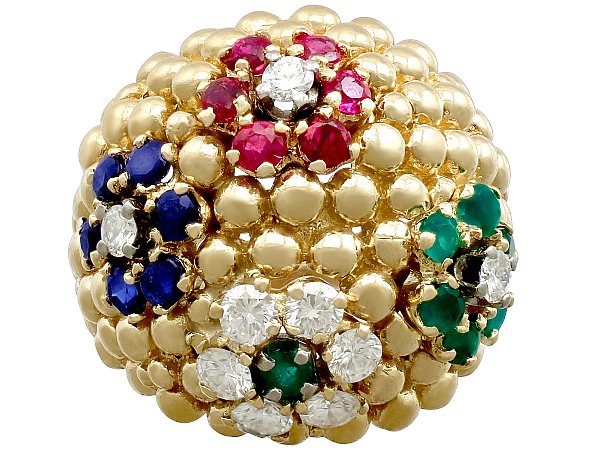 'Gypsy'
A 'gypsy' setting is also known as a flush setting, which might indicate what it looks like. The setting works by creating a specific gemstone shaped hole for the gemstone, making it truly customised to the stones specification. It creates a smooth, level, and flushed setting. I would class this as a unique ring setting as you don't typically see it in amongst the antique and vintage jewellery world as it is quite a customised type of setting. At AC Silver we have a contemporary ruby and diamond ring, with the gemstones being displayed in a discreet, integrated, flush four claw settings.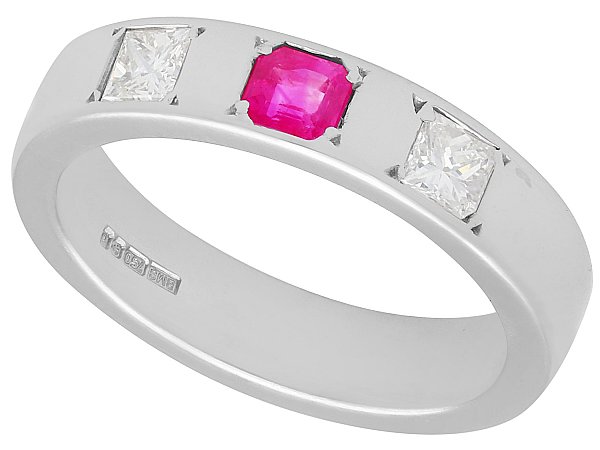 Cluster
Now, I have already briefly mentioned traditional ring settings, and around about now you might be thinking – cluster setting, that seems more traditional than unique. However, I'm here to tell you that you can certainly find some unique cluster settings, particularly among vintage engagement rings. The general design of a cluster setting includes a feature stone surrounded by smaller gemstones. This type of setting really amplifies all the gemstones involved in the piece. I would go as far to say that there is a cluster ring for every single person. Amongst the variety are some unusual and creative designs, such as this stunning cluster ring setting. This diamond cluster ring displays a feature 3.59 ct Old European round cut diamond eight-claw set in subtle relief to the centre; it is surrounded by twenty-four pave set to the scalloped edged design. It truly is a unique ring setting.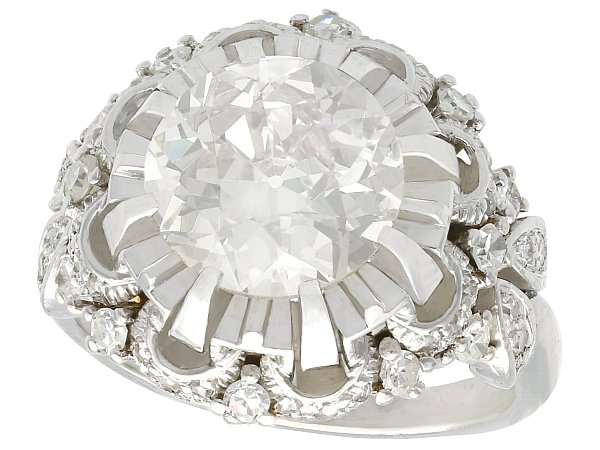 There we have it, six glorious types of unique ring settings. I think my favourite has to be the sunken setting – it truly is a very unique type of ring setting. What about you? Do you have a favourite, or do you have a suggestion? Let us know in the comments below. And really a thank you is warranted – thank you for indulging me in this blog piece!