When it comes to jewellery, bigger isn't always better — especially for those pieces that you plan to wear every day. Of course, it's important that your engagement ring feels truly special, but that doesn't necessarily mean that it has to be a huge statement piece. For many, a small and dainty engagement ring is a much better option, both for aesthetic and practical reasons.
If you're considering keeping it small and simple, read on to find out more about the benefits of dainty engagement rings and explore our top picks.
The benefits of small dainty engagement rings
Small and dainty diamond rings can look truly beautiful. Sometimes a subtle sparkle is a better option than a show-stopping stone, especially if you have petite hands, or don't tend to wear a lot of jewellery pieces. One benefit of small engagement rings is their ease — they will look fabulous without you having to worry about how to style them or whether you should wear any other rings to complement them. Even when you're wearing the most casual of outfits, a small diamond ring won't look out of place.
Another positive aspect of smaller engagement rings is that they aren't going to get in the way. Many engagement rings feature a large diamond or gemstone set in relief. While this style works well for a lot of people, if you have a more hands-on job, there's always a chance that a larger engagement ring might get caught or damaged. With a small engagement ring, the chances of a snag are much lower. So, if this is something that worries you, it's a good idea to opt for a smaller option.
Of course, the lower cost is another big advantage to choosing a smaller engagement ring. If you're working with a tight budget, you're far more likely to find a ring you adore with a slightly smaller carat weight. Remember, it isn't all about a big diamond! Look for a ring that has beautiful details and smaller gemstones instead, and it will likely cost you much less while still looking beautiful.
What is considered a small engagement ring?
Classifying an engagement ring as 'small' is pretty subjective. Some people wonder if one carat is too small for an engagement ring, but it's actually above the average size. While in the US the average diamond weight for an engagement ring is thought to be around one carat, in the UK and Europe most couples choose a smaller option, around 0.6 carats or even less.
When choosing an engagement ring, it's all about the style that suits you most, along with the special meaning behind the ring. Therefore, there are no rules to follow about the size of the ring, the diamond, or the gemstone — just focus on finding to perfect design for you.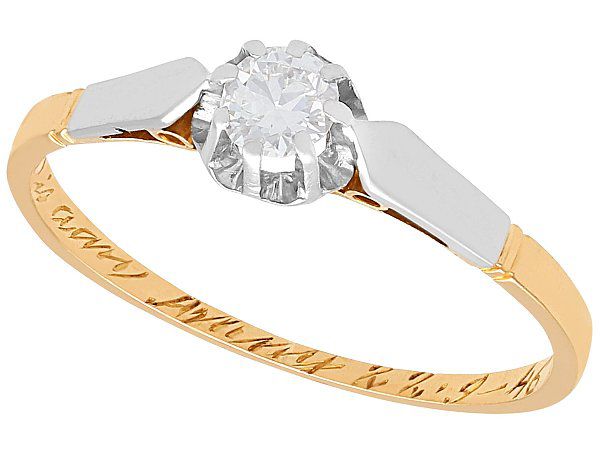 Some of our favourite small engagement rings
Some engagement rings can say so much while remaining refined and understated. This 1940s diamond solitaire ring is the perfect example of this. By setting the 0.22 carat diamond in a fluted design, the gemstone appears bigger than it actually is. Furthermore, the two types of gold add a twist to the classic solitaire style making this gorgeous antique ring interesting and unique. This piece also shows how an inscription could easily be added to the inside of a small and dainty ring, making it even more personal.
This contemporary 0.31 carat solitaire ring is simple, but with a sleek modern twist. The collet set diamond ensures that you'd have no trouble wearing this piece every day, and you wouldn't have to worry about getting it caught. What's more, the trillion cut diamond adds personality to the piece, making it a unique and stylish engagement ring choice.
Although many simple dainty engagement rings look fabulous, choosing a small diamond doesn't have to mean choosing a simple design. Take this gorgeous floral Russian engagement ring, for example. The carat weight may be small, but the delicate multi-gold design speaks for itself.
If you're looking for a dainty ring with an understated design, but also can't resist a bit of sparkle, a five stone ring is a great choice. This stunning 1920s 0.78 carat diamond ring is simple, small and dainty, but the array of diamonds will catch the light beautifully and sparkle on your finger each and every day.
Finally, we have this small diamond ring that really makes a statement. This gorgeous vintage cluster ring may look petite on the finger, but its glamourous design and diamond-encrusted band make it a true show-stopper of an engagement ring. For a small piece with a lot of personality, this is a great option.
Whether you're looking for understated elegance or sublime sparkle, we're sure to have the perfect dainty engagement ring for you here at AC Silver! Shop our full range of diamond rings today to find the piece for you.