What is a Novelty Object?
We all enjoy novelty objects- what's not to love about an item whose primary function is to entertain? Novelty objects are sold for their uniqueness and humour. Some novelty items are specifically designed to have no practical purpose- they are fun simply because they are new. However, practical items can become novel too. With the addition of (functional or non-functional) additions, everyday items can be transformed into novelty objects.
What is Novelty Silver?
Novelty silver is whimsical, yet still exceptionally made. The subject of novelty silver is often rather humorous- think an unusual animal or comedic character. However, despite novelty silvers entertaining origins, the craftsmanship of these pieces is overwhelmingly impressive. Additionally, antique pieces of novelty silver are renowned for their unique, one of a kind style and design. There are many different types of novelty silver. However the most collectable tend to be small items of silverware, such as condiments and cruets, or christening gifts.
Novelty silver is incredibly popular at the moment, and we can see why. It is a wonderful addition to any home, being both charming and impressive. Plus, it is an excellent conversation starter! We are lucky here at AC Silver to be able to offer our customers a wide variety of novelty silver items. With such fun and history behind them, we are sure that you will enjoy them as much as we do.
History of Novelty Silverware
In the 19th century, there was an abundance of newly rich middle classes. Clever silversmiths were aware of this, and capitalised on it by creating countless novelties and fripperies to amuse them. Functional items became functional items- salt cellars, vesta cases and scent bottles were disguised as animals, boats, and harlequins to name a few. The more outlandish, the better! This enthusiasm for the novel lasted well into the 20th century, where collectors amassed large quantities of whimsical objects. Carry on reading to see the types of novelty silver you could expect to enjoy at this time.
Food and Drink
In the Victorian era, it was common to take a seat at a dinner table and be faced with a veritable zoo of animals. The trend at this time was to manufacture condiments and other tableware into quirky, but nonetheless realistic, animals. Owls, kangaroos, pigs and monkeys frequently appeared in everyday life, undoubtedly providing endless amusement for children of this time.
The prohibition period in the United States created a real market for novelty flasks. One such example was made from silver, and engraved with a wry phrase suggesting its contents had been 'prescribed for medical purposes'. Items like this could often be sold for tourist souvenirs, although we imagine the owner wouldn't like to be away from their 'medicine!' Other novelty drinks related silverware included collapsible beakers, or tiny mugs.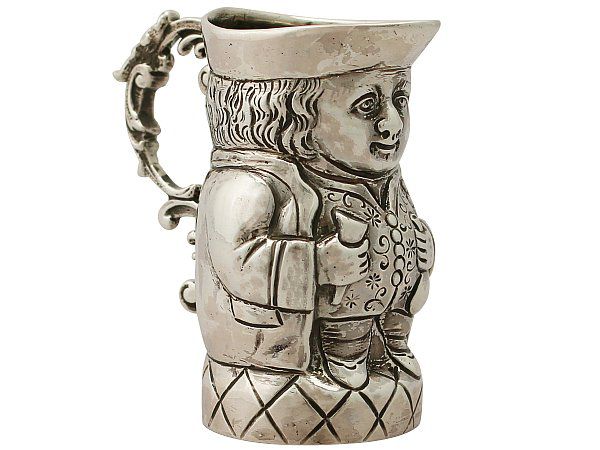 Smoking and Accessories
In the late Victorian and early Edwardian periods, silver vesta cases came into fashion. These were made into many novel shapes, including hearts, books, shoes and hats. Vesta cases were also commonly combined with stamp and sovereign cases. The primary function of the vesta case was to enclose the highly flammable 'matches' of the time, to ensure the safety of the smoker. An important job, but one vesta case users certainly had a lot of fun with. The design of the 'pipe' vesta case below shows the Victorian sense of humour and whimsy which saw the increase in novelty items, as the text jokes 'just one more'.
Around this time, silver vinaigrettes were also introduced. These were small boxes with tightly fitting lids, filled with vinegar. Vinaigrettes were a must-have fashion accessory for both sexes. The idea was that if you felt faint, you could smell the vinegar inside and this would clear your head. Unfortunately, the vinaigrette did not remain fashionable for very long. Luckily for us however, it was popular for long enough that silversmiths turned to creating novel versions of them, that we can now enjoy.
Novelty Silver Gift Ideas
While many collectors of silver buy only a certain item or from a specific maker, novelty silver is an ideal gift for those with no history of collection. From the small pieces of silver that make brilliant christening gifts, to quirky pieces that might resonate with one specific person, silver can be a much valued and memorable gift.
A highly popular novelty gift is vesta cases. Originally used for carrying tobacco, today they are a wonderful size for holding small keepsakes. There is an enormous variety of designs available, with many of them not being too expensive as well. Vesta cases are also excellent because they are highly collectable. If you know someone who already has a vesta collection, you're sure to find something new for them. If your intended recipient has no collections, perhaps a vesta will spark something in them that marks the beginning of their own collection.
Animal-related antiques are also a popular novelty gift. Animals are widely loved, and so it's really no surprise that there is a plethora of interesting animal antiques that will be brilliant gifts for a loved one. Dogs are a regular feature of unqiue silver pieces, so there are plenty of options available for dog-lovers out there.
Something excellent about novelty silver is that it's a suitable gift for anyone at any time of the year. Nothing need limit the giving of silver to christenings or birthday presents. In fact, a particularly popular time to give novelty silver gifts is to newlyweds. Marriage today is often done after the couple has lived together, and so gifts like appliances are no longer common. Instead, consider gifting silver!
Silver mounted rattles and teething sticks have been traditional christening gifts for years- they were often referenced in Elizabethan inventories. Most early rattles had bells attached and a whistle mouth piece. These came in many novel forms- this charming antique monkey piece is a perfect example. A novelty piece like this would be sure to amuse as well as soothe a child. Novelty bells would also have been a childhood favourite. Introduced in the late 19th century, these were created in the likeness of many interesting animals such as tortoises.
Novelty silver is both charming and loaded with history, and it is always thoroughly entertaining to investigate and discuss. Do you have a favourite piece of novelty silver? Let us know below!