'The stately homes of England
How beautiful they stand!
Amidst their tall ancestral trees,
O'er all the pleasant land.'
(Felicia Hemans, 1827)
Of all the styles of decoration that have flourished over the past 50 years, none have been as enduring as that associated with the English country house. An icon of British culture, it is unsurprising that the country house style has delighted for decades. Authentic English country house style can be difficult to replicate. More often than not, the best examples have derived their look from generations of inhabitants collecting objects and carefully modifying the existing décor. This aesthetic is one that manages to be timeless and livable, grand yet comfortable. Of course, there are ways to bring a little of this tradition-steeped style to your own home (even if you don't happen to live in a monumental country pile!) If you want to know more about English country house interiors, and how to get the look, then read on for our top tips.
What is Country House Style?
The decorative tropes of English country house style are instantly recognisable. At heart, it emphasises cosiness and a relationship with nature. Think antique furnishings, squishy sofas, and a flourish of florals. And of course, wellington boots aplenty! The decoration behind country house style is functional rather than fanciful. It tends to be traditionally styled, and rather colourful. Essentially, whether the home is a small cottage or a sprawling estate, English country decorating exudes warmth, comfort and a family hub.
Part of the success of this style is its flexibility. English country house aesthetic embraces wear and tear- shabby chic is its ethos. If you're a minimalist, then this might not be the style for you. It embraces a 'more is more' attitude. Art, ornaments, patterns and prints- a combination of these and more give the feel of a lived in home.
History of Country House Style
The country house style of building first appeared in the Tudor age. This was a relatively peaceful and prosperous time, and as such there was no longer a need for defense in domestic buildings. The aristocracy turned their heads (and wallets) to houses built to impress- and so the English country house was born.
This being said, the English country house style as we know it has only been an iconic part of interior design since the 1920s. Ironically, we largely have an American to thank for this. Nancy Lancaster brought about country house style through a focus on nostalgia and charm. She prized comfort and practicality as well as elegance, and it is this philosophy that can be seen in country houses to this day. Together with John Fowler, Nancy curated an understated approach to interior design that became the markings of a true English country house. Despite the best efforts of minimalist movements, country house style has endured throughout the years. Now, it seems that younger generations are looking back to their childhood homes, seeking inspiration from these classic interiors. Read on to see how you can achieve the country house style, without making it seem outdated.
Get the Look
Period Details
A true English country house wouldn't be complete without some genuine period details. Beamed ceilings, wooden floors and a cosy fireplace all add to this look. Of course, these features need to be emphasised with a real domestic feel. Use large family portraits, hand knitted throws and other homely touches to create an aesthetic that perfectly ties together past and present family bonds.
Reading Materials
No English country home is complete without copious amounts of reading materials. Shelves of books are scattered around, accompanied by cosy reading nooks with squishy sofas and antique armchairs. This interior choice makes the most of the temperamental English weather, where it may be necessary to run inside to avoid rain at any second. Any book will do, although of course we would recommend you make yourself comfortable and enjoy a read of the AC Silver blog.
Florals Everywhere
Country house interiors are all about bringing the outdoors in. And that means florals- plenty of them! Whether they're sewn into the upholstery or decorating the walls, blooms are a must for any traditional abode. These antique Victorian silver jugs are the perfect mix of whimsical and decadent; just imagine some freshly picked garden blooms placed haphazardly into them in a show of country house charm. Their character and age are also well suited to this style, which aims to subtly allude to the grand history of a home.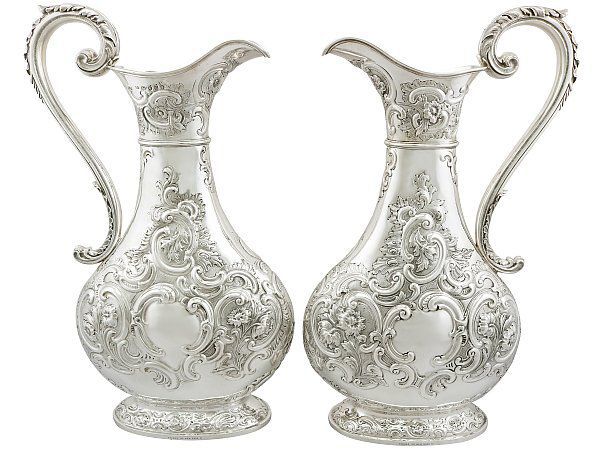 Furniture Styles
Furniture styles in an English country house are eclectic yet traditional. To achieve this look, mix and match your eras of antique furniture, which will give the home a lived in feel. Sofas and chairs should be deep seated and upholstered in patterned fabrics, for ultimate comfort. These antique armchairs from Thakeham Furniture would be the perfect addition to any country home- they even feature a floral print! Whatever your pattern preference, the furniture you choose should ultimately be functional. To be at the heart of a country home furniture must be sturdy, in order to see generations more through.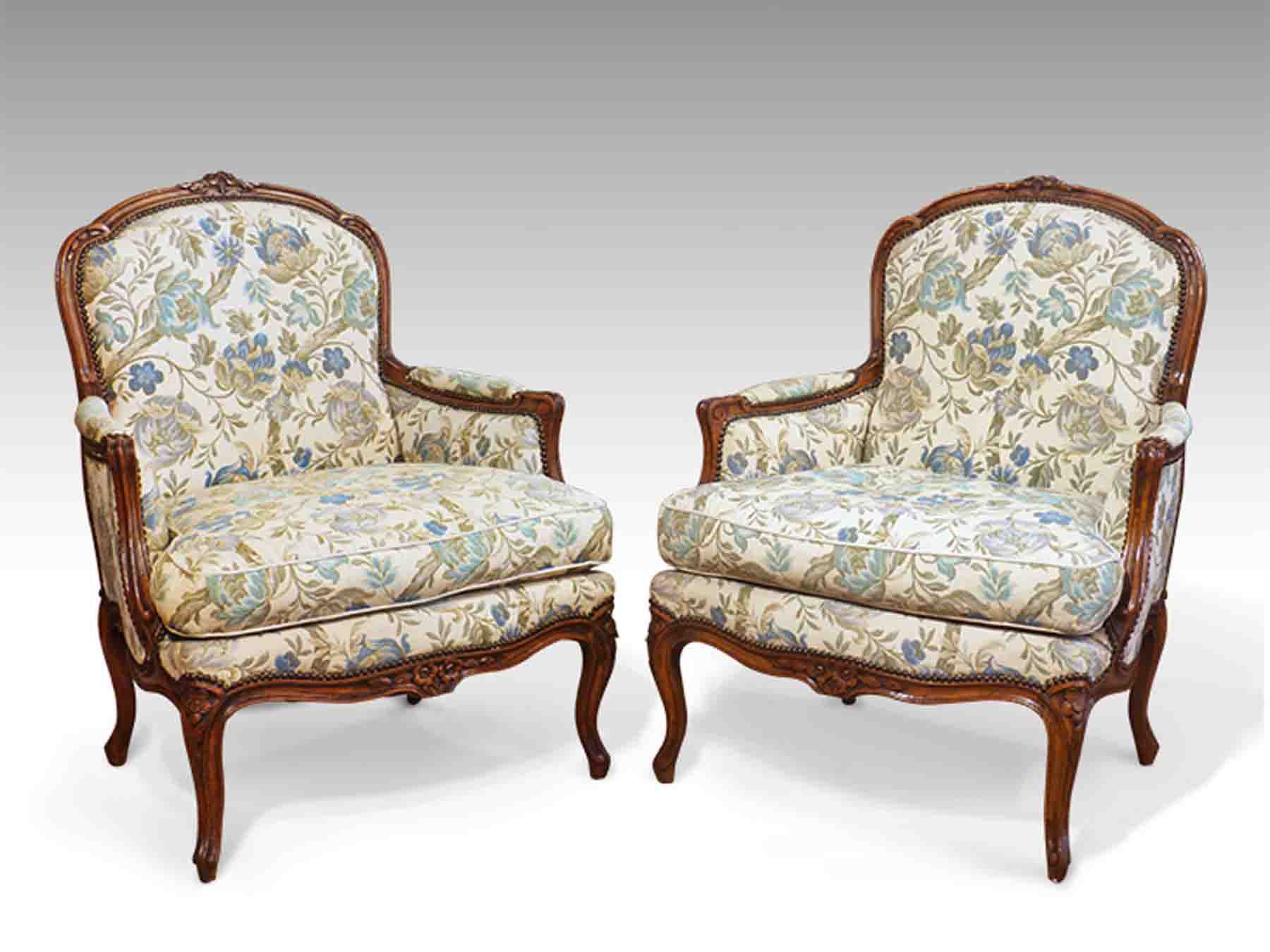 Image property of Thakeham Furniture and reused with permission.
Small Accents
The country house aesthetic isn't rigidly planned- it is a style (seemingly) formed from years of interior additions. If you need a quick country house fix, then small home accents are the way to do this. The addition of trinkets such as boxes, baskets and ornamental antiques instantly fill a house with charm and character, as though it has been lived in for decades. The country house may prize functionality; however it cannot resist a collectable novelty.
At heart, English country house style is filled with character and charm, and makes the perfect family home. From books to boxes, it is the small details that really bring the aesthetic of this style together. What do you think of country house interiors?