At AC Silver we have been privileged in the past to have been able to include many pieces of Georg Jensen silverware, from brooches to mugs. If you are a regular reader of our blogs you may have noticed I have a minor obsession with spoons, which I am not afraid to admit – in fact I am quite proud of my obscure passions. Within my job I have been handed some wonderful flatware, however nothing has lived up to the creativity of the piece by Georg Jensen. His flatware represents the same style he displays in his larger hollowware pieces, however they incorporate this fluency to a much smaller surface area.
A little historical catch up
Born in Denmark (1866) Georg Jenson became an apprentice as the mere age of 14, working for a goldsmith and using his time to focus on sculpture work. By 1904 he had opened his own workshop and had returned to metalwork, making pieces of jewellery and silverware. Through exhibiting his work he quickly built a high reputation for his original take on silverware and through this development he moved to own his first factory building by 1919.
As he gained his commercial success he became one of the first silversmiths to note that modern silverware could be crafted to turn a profit. Abandoning the classic and traditional styles he moved to create sleeker pieces and which drew attention to plain surfaces with a statement feature.
His firm grew and expanded to both London and New York, where his contemporary tableware was produced in not only silver but steel; through this it meant the average person could benefit from the decorative stylised pieces, opposed to those low-quality pieces they had grown accustomed to.
By the time of his death and within approximately thirty years from him opening his first workshop his company held over 3000 patterns. Jensen ensured that each pattern was made available to his customers – never discontinuing them so their services may always be complete. His son upheld this tradition and the company continued on for another few decades, until the company was merged.
Back to the flatware
From this outline I feel it is easy to see how his work developed through the periods to gain its internationally recognised appearance. The classic look for Jensen's work is a plain surface with a statement terminal or handle which will have been influenced from his artistic sculpting days. As he operated through the iconic Arts and Crafts movement the use of organic designs can be seen in most of his work, and even carried forward into his pattern names.
The pieces within the firm were often designed by Jensen himself, however through time new designers appear and their individual style can be seen through the work they produce.
George Jensen Flatware – Acorn pattern (Konge) – 1915
This is the earliest pattern I have witnessed personally, one which he would only have been able to produce thanks to his expansion to a larger workshop in 1912.
From the classic period acorn style finial it can be seen where a starting point for this pattern began, however with the creativity within the firm the designer Johan Rodhe was able to take the scrolling leaf ornamentation in addition to the trend for tiered panels to create a rather unusual design.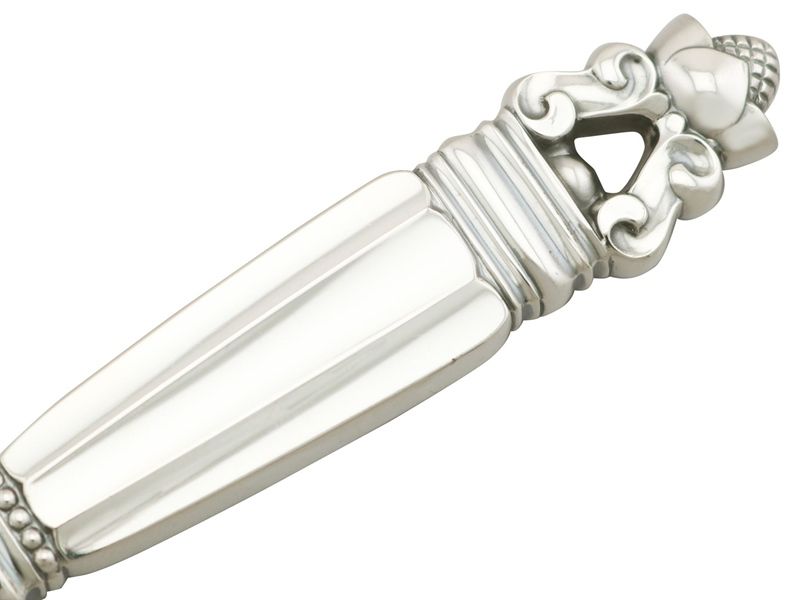 George Jensen Flatware – Blossom Pattern (Magnolie) – 1919
This pattern was designed by Georg Jensen himself and I feel this is apparent with the style seen in many pieces of hollowware; the continuation of the subtly planished finish accented with the dramatic organic handle terminal produces the iconic Jensen style. Within this design there is a band of bead ornamentation flowing out the bud design and graduating to a scrolling finish. This sterling silver server can certainly make a statement at any table or event.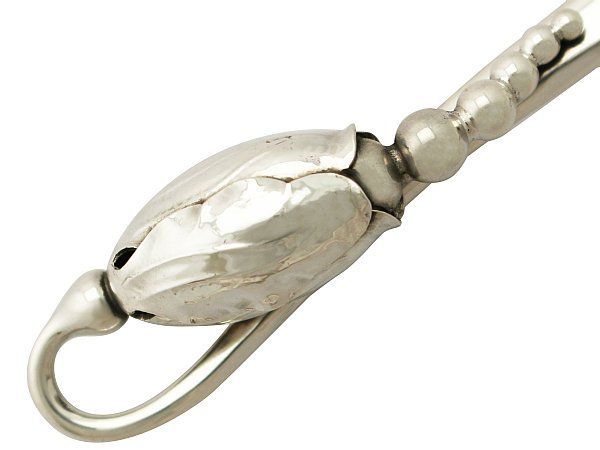 George Jensen Flatware – Pyramid Pattern (Paramide) – 1926
This piece I feel shows the diversity which operated within the company, the designer Harald Nielsen was able to bring the highly fashionable feel and produce one of the most iconic Art Deco designs I have seen in flatware. The bold tiered effect takes away from the classic scrolling designs of Jensen's classic work. One personal delight in this piece is the use of the ball to the terminal, maybe I am over observant or reading too much into this, however to me it feels like the designer may have tried to emanate the company's style – the ball ornamentation is certainly something I have noted in most of Jensen's work.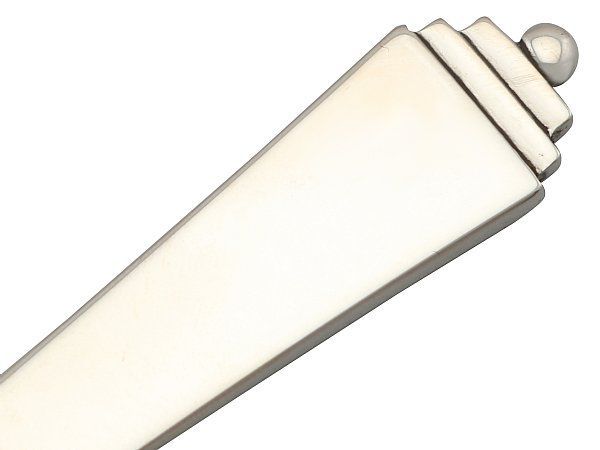 From English to Danish sterling silver, it is still easy to enthuse about spoons and flatware in general. To me the English pieces still have a classic charm but that may be due to my secondary love of hallmarks and the ability to track an item to an individual maker; I must take my hat off to Mr Jensen, for his hallmarking is right on point in comparison to other continental silversmiths. After being an admirer of the architect Charles Rennie Mackintosh and his 'design within a design' creations I gained respect for the unusual and uncommon portrayal of nature, and Jensen's influence into silverware certainly continues this love. The George Jensen silver designs had therefore always been a secret soft spot of mine since childhood, I just did not know this until I worked at AC Silver.