The World of Miniature Antiques
Here at AC Silver we are fortunate enough to have a wonderful (suitably small) collection of antique miniature collectables of various types and styles.
The earliest examples of miniatures date back to Ancient Egypt, around 5000 BC. The pieces discovered there were wooden farm animals and carts; common subjects of the time.
Although people have owned and collected miniatures for thousands of years, it is difficult to trace a single origin for this hobby. This is partially due to there being many different styles of miniatures and a multitude of reasons for collecting and creating them.
Miniatures have been used in practical capacities for hundreds of years also. Military generals, for example, would have displayed their strategies and movements in a war zone using miniature figurines of armies and vehicles.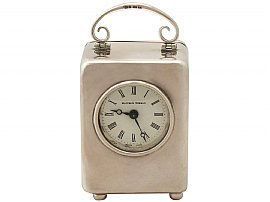 Miniatures are also commonly used by architects and designers in order to help them realise and create their designs. They use miniatures to demonstrate how their blueprints and plans will appear in their final product.
Furthermore, we can't talk about miniature antiques without mentioning portrait miniatures. These tiny portraits were at the height of fashion during the 18th and 19th Century. Their popularity is evidenced by the fact that King George IV was actually buried with a miniature portrait of his wife. Miniature portraits were traditionally roughly 1 ½ inches tall and would be worn by both men and women in lockets, rings, or bracelets. Their size altered, fitting with the times; growing to around 3 inches when women's hairstyles began to get taller and taller.
Most miniature portraits would be crafted using ivory. The luminosity of the ivory would shine through the transparent paint, creating an eye catching effect. These tiny items would be created using a magnifying glass. The brush used to paint them would sometimes be a single cat's whisker! The miniature portrait remained common until the invention of photography brought about their demise.
Miniature Silverware
We are able to offer our customers some fantastic examples of antique miniature silverware. These pieces would have certainly been used as children's playthings or as part of a doll's house in the Early Georgian era.
Collectors of Miniature Antiques
Many people relate the appeal of collecting miniatures to their memories of childhood. It is an intriguingly innocent hobby, and a collection can eventually build into an entire home or townscape. The idea of collecting and presenting miniatures is reminiscent of a bygone era, and this hold a great charm for many people.
Those who own or appreciate doll's houses (or loved them as children) are frequently fans of miniatures, whether they choose pieces to add to their miniature homes, or simply build up a collection.
For some collectors, the marvellous level of craftsmanship and skill which is required to create miniature items is the main cause of their appeal. The dainty stature of the items makes them all the more personal and precious, again- reminding the collector of playing with toys in their youth.
Miniature antiques hold a certain level of fascination for so many people, and these delicate yet captivating items have definitely captured our hearts!