Pantone are the undisputed champions of all things colour. So, naturally, when they announce the Colour of the Year at the beginning of each year, everyone takes notice. The Pantone Colour of the Year indicates significant elements of the year to come – especially in terms of the fashion and design world; the chosen colour will inevitably feature heavily in both of these fields.
The Pantone Colour of the Year for 2019 is Living Coral. When we at AC Silver heard that such an exquisite colour had been selected, we were delighted.
Let us show you why.
Coral is one of the most beautiful organic gemstones frequently used in antique and vintage jewellery, so obviously we are drawn to it like moths to a flame. This year, we are more than excited to be displaying our selection of coral jewellery, all the while knowing we couldn't be more on trend.
If you're also hoping to be on trend this year, stick around. There's plenty of beauty to explore.
Coral Jewellery
Rings first? We were thinking the same thing.
This absolutely stunning ring dates back to 1930s Germany. The quatrefoil flower motif surrounding the coral is 14ct yellow gold. This ring makes a statement, easily going up to the central knuckle of the finger with its expansive face.
This ring is also a continental delight, originating from 1940s France. Another large item – it soon becomes clear that when it comes to coral, bigger is generally better. The beautiful expanse of coral is surrounded by 20 individually set diamonds.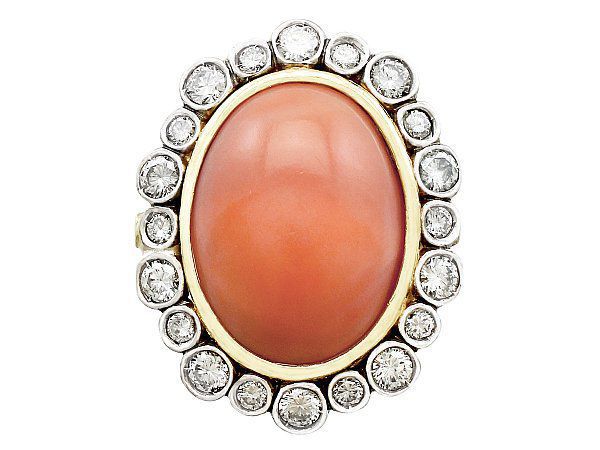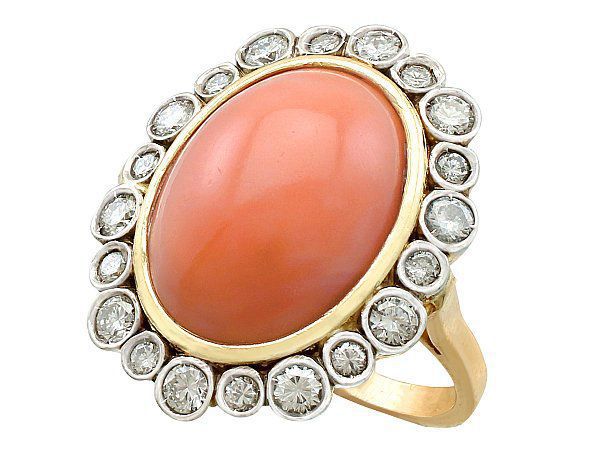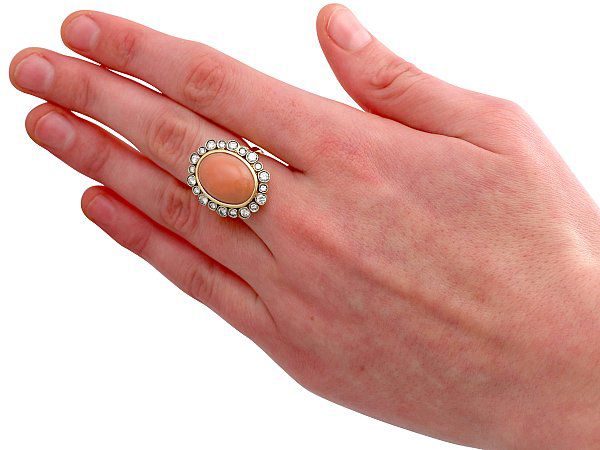 Similar to the previous item, this coral ring has a halo of diamonds surrounding it, this time adding up to a total of 18 stones. The striking colour of the coral set against the 18ct white gold really sets this piece apart from other coral items. Dating to the 1970s, this vintage ring is an undeniable show stopper.
These are just a few of the rings we have that feature stunning coral colours. While they share similar design features, you'll notice that the coral of each is distinct and vivid. This continues throughout the range of coral jewellery in our collections.
This beautiful item explores a combination of diamonds, pearls, and coral takes the shape of a crescent moon. An antique Victorian pendant, this wonderful piece dates back to the 1880s, and has been converted from a brooch to a pendant.
Showing another side of the diversity that coral can present, this vintage 1950s pendant is embellished with a scalloped edge, rope twist, and bead decoration in 18ct yellow gold. With coral ovals on either side of the pendant, this piece manages to be subtle and understated, whilst still featuring elaborate decoration.
This pendant displays yet another side to the various styles of coral. While coral is almost exclusively featured in an oval shape, this pendant shows that items featuring coral should not be limited to the same shape. Dating to the 1970s, this vintage pendant is topped by a wonderfully quaint 0.03ct diamond.
Coral is less commonly used in modern jewellery – although perhaps thanks to Pantone this will change in 2019. The Victorian era was a very significant period for coral jewellery, however, and some of the most beautiful pieces in our collection date back to this period.
This brooch is a perfect example of the celebrated Victorian craftsmanship involved in creating beautiful, long-lasting items. Dating to the 1860s, this piece has truly stood the test of time. Featuring diamonds both around the circular coral section and within it in a star formation, a single seed pearl crowns this brooch as a timeless beauty.
It is easy to consider bangles as a more contemporary item of jewellery, but don't be mistaken, the Victorians knew how to create stunning bangles using a variety of gemstones and metalwork. This 1880s bangle explores the paler shades of coral, pairing it with 26 seed pearls, and setting it all in – the now unused – 15ct yellow gold.
This pair of earrings illustrates a beautiful pink shade of coral, paired with diamonds and pearls – perhaps you've noticed a pattern in terms of stones that pair well with coral. These earrings date to the 1890s, and we are lucky enough to have them with their original presentation case. These earrings hang wonderfully, the coral suspended in a drop shape reminiscent of the waters from whence it once came, undeniably a unique and singular item.
When the colour experts at Pantone were calculating which colour would best represent 2019, we couldn't have been more delighted that they have decided that coral will be the beautiful colour taking us forward into the year.