Writers don't need a lot. However, that doesn't change the fact that they might well want quite a bit. Here at AC Silver, as we write, we can't help but wish we had a few of the items in our stock for our desks at home, ready and waiting to inspire us to write up a storm and take our readers on a whirlwind adventure to another time, all thanks to these gorgeous antiques.
If you have a writer in your life – aspiring or otherwise – you may be about to find the perfect gift for them in this article.
Let's take a look.
The inkwell is a truly classic gift for a writer. Although most of us sit tip-tapping on our keyboards when we're writing, we all secretly wish for a gorgeous antique inkwell, with a feather quill waiting for us on our writing desks. So, in order to help them channel their inner William Shakespeare, here is a selection of some of our gorgeous inkwells.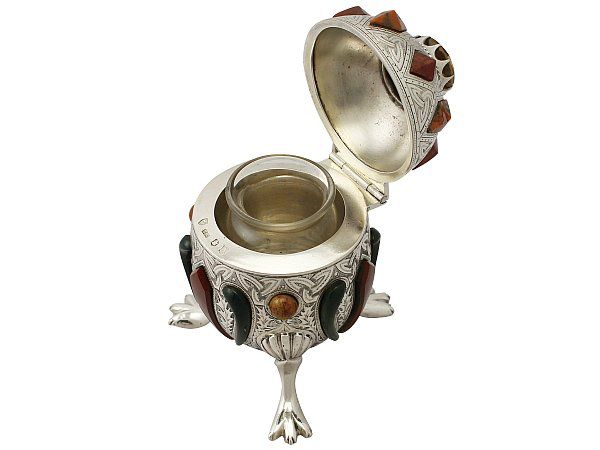 This antique Edwardian Inkwell dates to 1906, and is truly just stunning. Covered in chalcedony and citrine, it is reminiscent of a Faberge Egg, and it is guaranteed to spark a creative streak in your resident writer.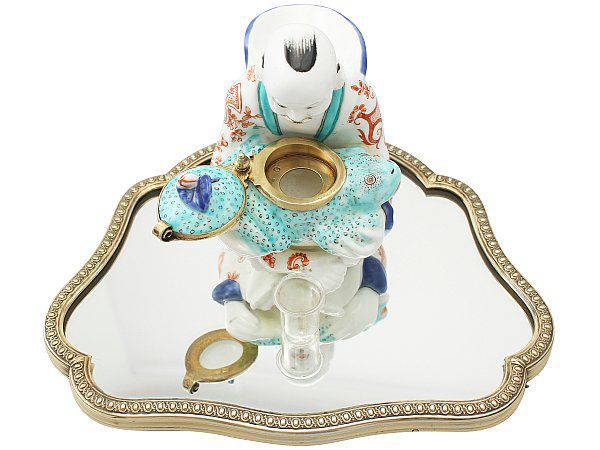 The mirrored tray of this antique French inkwell is so beautiful, and it reflects the wonderful colours and patterns of the porcelain itself. The possibilities of the stories, poetry, or even just paperwork that could be achieved with this unique item providing the ink are inspiring. Maybe you know someone who needs this to spice up their literary endeavours – or maybe it speaks to you yourself!
Now this one is a personal favourite of mine. A sterling silver antique Victorian inkwell, crafted into the shape of a pen nib – it's almost too easy to picture Charles Dickens sitting down to a night of writing with this gorgeous inkwell waiting for him. This inkwell might even be perfect for penning a gripping thriller, its sharp nib pushing the narrative forward.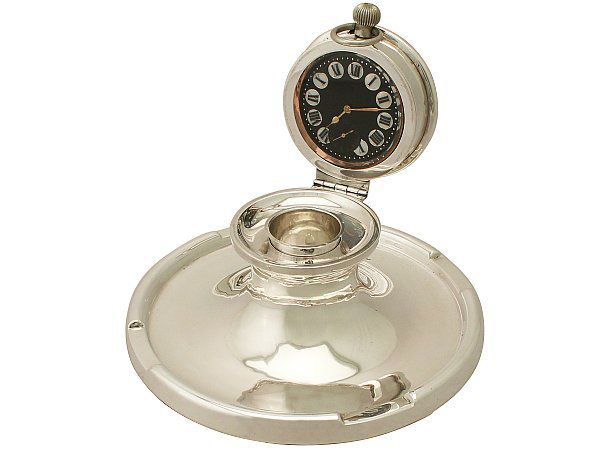 Although all of our inkwells are unique and distinct, this one really stands out against the rest. This silver capstan watch inkwell is a gorgeous example of its type. Dating to 1930, it is ready and waiting to draw out your inner Hemingway. Get lost cranking out the next Moby Dick and still keep track of the time with this stunning piece.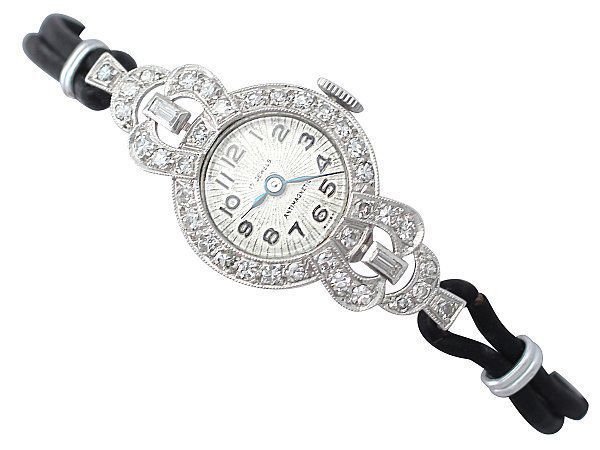 If keeping time via inkwell just isn't your style, then perhaps this platinum
cocktail watch
is the way to go. Embellished with 16 eight-cut diamonds, this watch sparkles like no other. If the writer you know is in need of some Zelda Fitzgerald, 1930s inspiration, look no further than this dazzling Art Deco watch.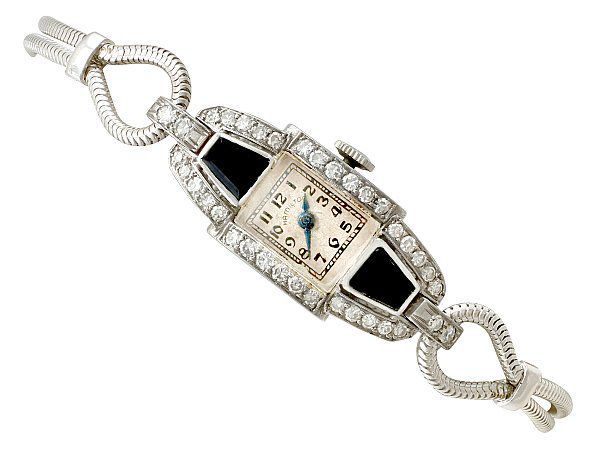 Another Art Deco cocktail watch, this time coming from the 1940s. This one is perhaps for those who prefer rectangular watches to circular, though it is every bit as beautiful. This piece is embellished with thirty-six eight-cut diamonds. Anyone who is an admirer of the distinguished brand, Hamilton, will appreciate this beautiful item also. If you know a writer who's always running late, perhaps this is exactly what they need to add some sparkle to their punctuality.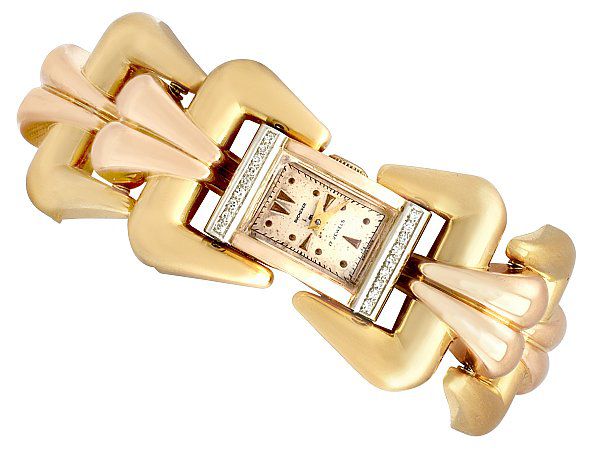 Now, this watch is something a little different. Most definitely for the writer looking to stand out, this vintage Swiss watch is framed with eight-cut diamonds at the top and bottom of the watch face, and has distinguished, shaped and lobed links around its circumference. The watch has a certain something to it, maybe it will bring the finishing touches to your latest manuscript.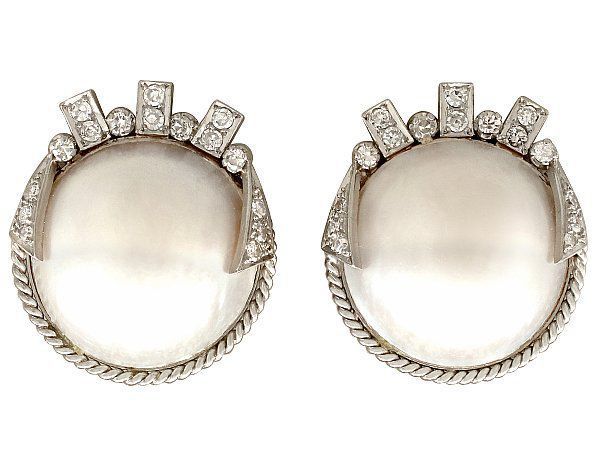 Perhaps what your resident writer really needs is to channel their inner Agatha Christie. These phenomenal diamond and pearl
earrings
are sure to make you profess that the butler did it! Writing can take its toll, so it's definitely worth having something glimmering and glistening, waiting to lift you up when a bout of writers' block hits.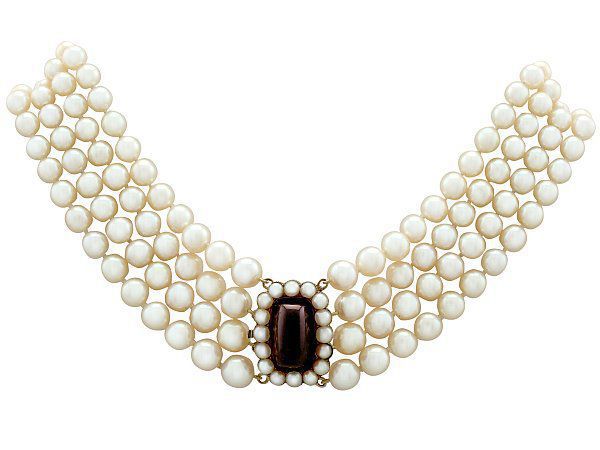 Maybe you're writing a dramatic period piece, and desperately lacking anything concrete that can take you to just that perfect time. This Four strand cultured
pearl
choker may be exactly what you need to help you build that world. Victorian drawing rooms, filled with smoke and drama – all this and more might be stirred up in your mind when you take the time to gently wipe over these pearls before you place them on proud display around your neck.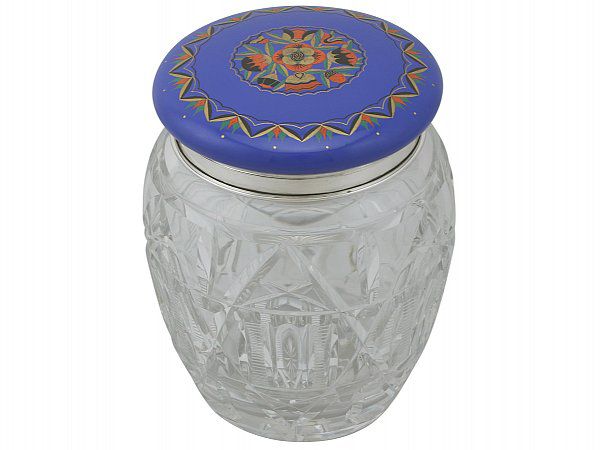 Without a doubt the most essential item to any writer's study:
biscuits
! No great novel was written without the generous aid of several bourbons and jaffa cakes, but the problems arise when it comes to storage. Cardboard packaging and wrappers everywhere doesn't exactly exude authorial sophisticate, therefore biscuit boxes are a dire necessity. This example, dating to 1925, features wonderfully cut glass and a delightfully coloured enamel lid: time to crack out the digestives.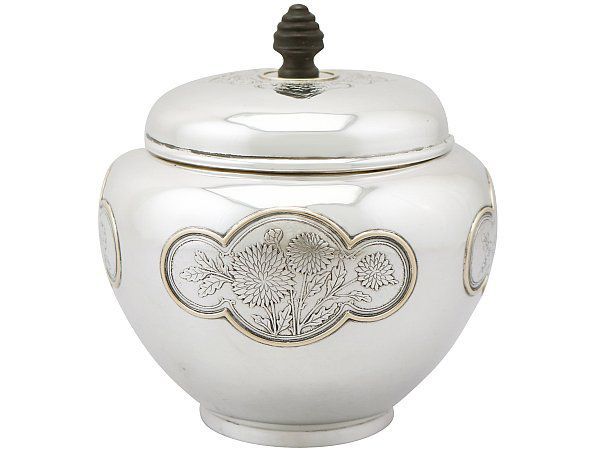 Dating back to 1910, this sterling silver and 14ct yellow gold biscuit box originates from New York. Its excellent rounded form just begs to hold any writers extensive digestive collections. If the writer you know and love needs some motivation, perhaps rewarding them with biscuits is the best way of ensuring they do the work you know they should be doing.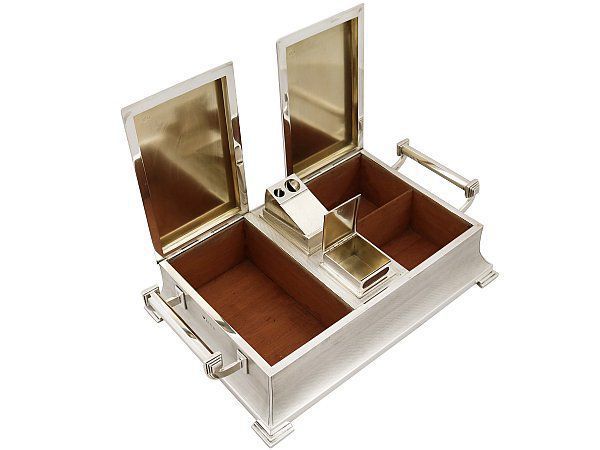 Something a little different now: an exceptional smoking compendium. Maybe you or your writer of choice aren't smokers, but fear not – this piece could just as easily be a beautiful stationery holder, or even just a wonderful desk accessory, something to look to when inspiration runs low. If your preferred author or you are smokers, however, then this might be the perfect gift for releasing the Mark Twain or J.R.R. Tolkien within. Complete with compartments for cigars, cigarettes, and matches, this smoking compendium is the item missing from the writer's desk.
While writing is a tricky art, difficult to catch and even harder to pin down, it is certainly a worthy pursuit. If you are trying to get to grips with it, or if someone you love needs a little encouragement to follow that certain dream, you know where to look for the perfect gift for a writer.