Jardinière is a catch–all term for any vessel, from a bowl to an urn, which can be used for keeping flowers in. The literal French translation means 'female gardener' – which implies that these beautiful antique silver jardinière were considered to have an especially feminine form or purpose.
The largest versions of jardinières are usually kept in the garden, used for ornamentation; these pieces are often made of stone or ceramics. The type of jardinière that are most frequently made out of silver are used to decorate dinner tables as centrepieces, or in place of the more contemporary vase.
Jardinières are pieces which can be used in a multitude of ways, and are not exclusively for displaying floral arrangements. They can be utilised as centrepieces to hold any matter of items for consumption or display, such as confectionary or hors d'oeuvres.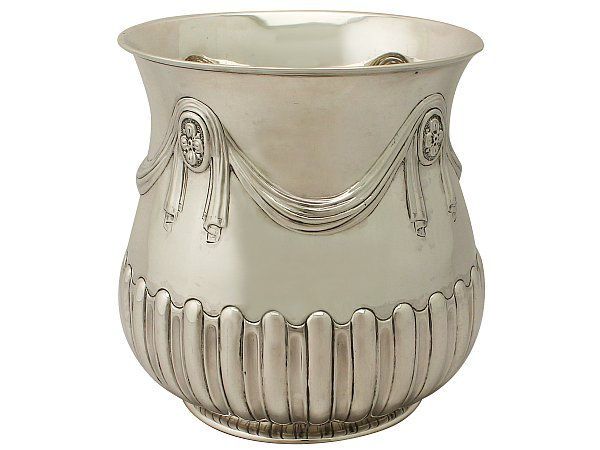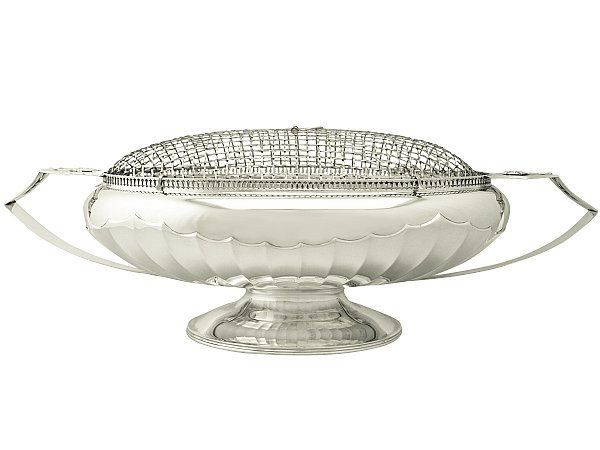 This slightly narrow jardinière (left), the wirework implies that the intention was for this piece of antique silverware to be used to hold flowers for the purpose of presentation. The small handles on either side of the wireframe also lead us to believe that, rather than being a piece which was to be used for consumption of food, this was an item created to be used for display, rather than service.
The wirework across the top of this broader antique silver centrepiece (below) indicates that it was primarily intended to be used to hold a floral arrangement, as the flowers would be held in place so as not to splay on top of one another. This jardinière is a particularly spectacular example of both antique presentation silverware and the desirable arts and crafts style.
Both of these pieces feature the detachable wirework, so that if you wished to use the item for another purpose, you would be able to remove this at will.
The incredible epergne or centrepiece below is one which is unusual due to the shape of its vessel, the elongated nature of the flutes which sit at the end of each arm suggest they would have been created with the purpose of holding flowers in mind, although long tapered candles could certainly be used in this piece as well.
The flutes would have been filled with a little water and the stalks of the flora, while the impressive and vibrant flower petals would be visible to the guests, at a height which would be sure to attract attention and catch the eye.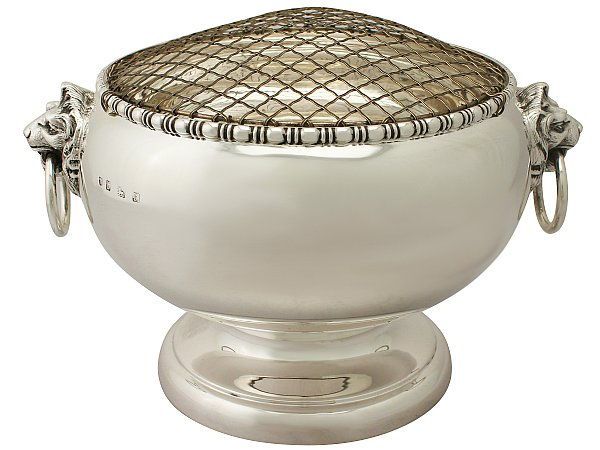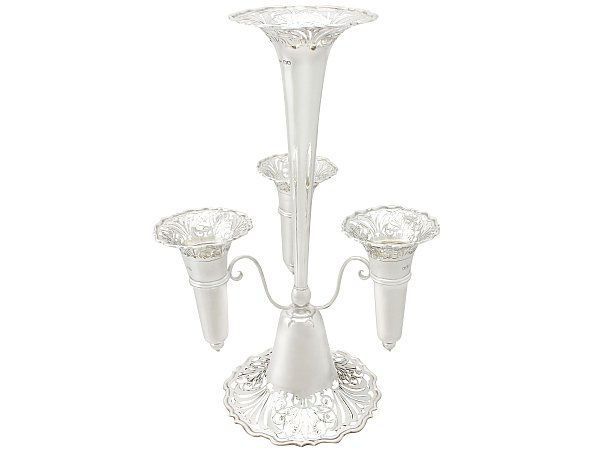 Another common feature of jardinières is the practical addition of a liner, to protect the silverware from tarnishing and from directly coming into contact with the water and erosive elements that would be present in the plants which were on display.
Antique silver jardinières are a wonderful way to dress any table, particularly for formal dining and wedding celebrations.
Decorating with flowers has long been considered a sophisticated and stylish decor choice. With jardinières, antique elegance can be utilised to bring decoration to a new level of formality with ease.