One noticeable trend in recent years has been the increasing popularity of brooches amongst male celebrities. The traditional piece of jewellery have found their way into the wardrobes of some of the most influential men in the entertainment industry. Let's have a look at more celebrity brooches and how men are styling them.
Why Are Male Celebrities Loving Brooches?
In recent years, it seems the humble brooch is having a revival as the it-accessory. Celebrities and particularly male celebrities have been spotted adorned with diamond brooches because the brooch is a truly versatile piece. Brooches give celebrities the chance to showcase their personal style and differentiate themselves from the crowd with a return to this classic accessory. In an industry where image and personal branding are crucial, adding a unique and eye-catching brooch to an outfit can make a statement. Brooches make a subtle and yet striking statement and it's definitely caught our eye.
The evolution of the fashion industry has challenged gender norms, and encouraged men's love of jewellery and diverse accessorising. The brooch is a versatile and adaptable piece to adorn your outfits, and looks great with minimal effort or styling.
From Runways to Red Carpet
In recent years, it seems the humble brooch is having a revival as the it-accessory. Brooches have flooded A/W 2023 runway collections, spotted at Gucci, Jil Sander, Louis Vuitton shows and many more. With this spotlight from high fashion runways, celebrities and stylists have followed suite.
Noticeably, brooches have grown in popularity amongst male celebrities. Men have been able to take more risks and wear more elaborate and ornate pieces of jewellery, and what would be a better occasion than a red carpet?
Normal People actor Paul Mescal paired a classic suit paired with a vintage Cartier pin to the Baftas. In an interview, Mescal stated "the Cartier brooch I wore just elevated the whole thing"(Mescal via McDermott, Vogue 2021). And its true! A brooch can really add that extra touch of sophistication and elevate a simple and classic outfit.
Wings of Elegance
He's not the only one to do this, Michael B. Jordan elevated his traditional tux with two diamond brooches from Tiffany & Co. in the brand's coveted Bird on a Rock design (view Michael wearing the brooch). The brooches adored the lapel of his tuxedo, with one suspending a pink morganite and the other a green tourmaline.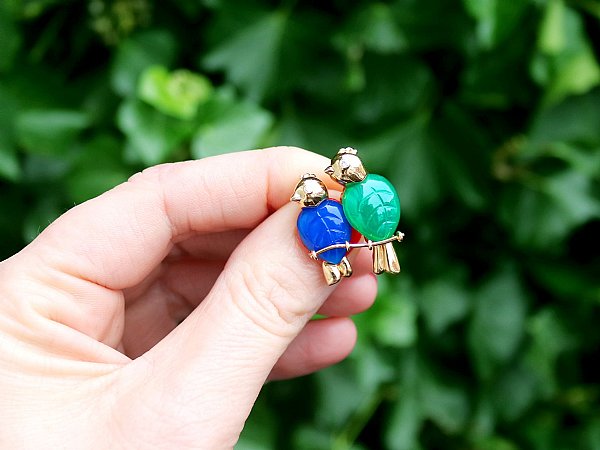 If you're looking for best of both world's this vintage Cartier agate and diamond, 18 carat yellow gold lovebird brooch might be the perfect fit. The birds are ornamented with two carved stained agate panels with their eyes represented by two high colour graded modern brilliant round cut diamonds.
Bird brooches are a great way to elevate jacket lapels, and come in range of forms and colours, from diamond to gemstone and yellow gold to platinum, there's sure to be something that suits you.
But if the birds are singing your tune try something more classic like Paul mescal and opt for an exceptional diamond brooch. If you think you'd prefer a more subtle touch of sophistication, a classic pin or bar brooch might elevate your look without being overbearing. Pin brooches are often embellished at the terminal, with either a diamond pattern or in some cases a more elaborate design such as figure or an animal. Explore our range of antique and vintage brooches at AC Silver.