Minimalism has been a popular style in design since the mid-century, but in more recent years it has evolved into more of a lifestyle. Intended to embrace a cleaner and more environmentally friendly way of living which shuns excessive materialism and embraces balancing practicality and beauty.
What is Minimalist Jewellery?
Minimalist jewellery is predominantly understated, with simple delicate designs that can be worn to add a subtle touch to any outfit. The great thing about minimalist jewellery is that it can be worn by people who prefer simple, clean looks or those who prefer lots of bold bright patterns. It adds an element of glamour to any outfit without being too over-the-top or gaudy.
Minimalist jewellery can be identified by its clean designs and use of smaller gemstones. Often, a single colour of metal is used with gemstones which blend or, at the most, create a very mild contrast with the metal itself. This key element is what makes the jewellery easy to pair with any other colours or styles. The use of neutral colours and simple designs makes for a brilliantly polished and refined style for any jewellery wearer.
What do Minimalists do with Jewellery?
If we take our discussion to the side of minimalism that goes beyond aesthetics and ventures into a way of life, we have to ask what do minimalists do with jewellery? You might imagine, due to the type of lifestyle, that minimalists wouldn't wear jewellery at all, given that it's a material item. This couldn't be further from the truth, however, as minimalist jewellery is all about finding items that spark sentimental joy, which can definitely include jewellery pieces.
If you're looking to get into minimalist jewellery, you can pair up multiple small, clean pieces to add subtle shine, or focus on one area of jewellery in particular if you would like to be as stripped-back as possible in your accessorising. The fun part about minimalist jewellery is that – because of its simple and neutral designs – it couldn't be easier to combine several different pieces and styles without creating a confused or muddled-looking outfit.
For example, you could combine many minimalist rings on one hand, or wear several bracelets together on a single wrist. It is perfect for wanting to accessorise without worrying about looking over the top. Also, because of the easy-going nature of the minimalist style, mixing and matching metals doesn't look too flashy as you might expect. Because of its neatness, adding different metals and stones together is a good way to mix things up without worrying about being your jewellery being too loud for your outfit.
Why Wear Minimalist Jewellery?
A good reason to wear minimalist jewellery is that it's exceptionally versatile; it's made for any event. While bombastic jewellery pieces are appealing for big occasions, they rarely have purpose outside of that level of formality; the bright colours and large gemstones aren't exactly made for daily use, after all.
Minimalist jewellery is perfect for any outfit and because of its versatility for stacking, it's a wonderful gift to receive regardless of the styles or amounts of jewellery you already own. Whether as single pieces or as a look created from stacked items, minimalist jewellery is ideal for day-to-day wear and fancy dinners alike! You can even adopt different colour schemes and choose gemstones or metals that are all that colour. Once again, you have the benefit of knowing that you can wear these items on more than one occasion, making the best use of your luxury jewellery.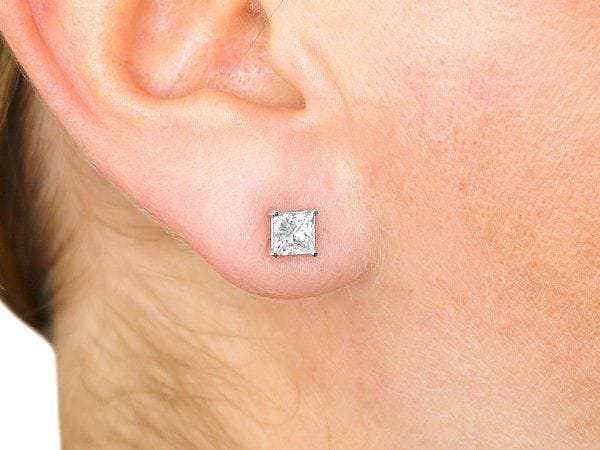 How to Wear Minimalist Jewellery
One good example of minimalist jewellery can be found in earrings. Stud earrings and even small drop earrings conform to the minimalist style in an effortless way. There's also the option if you have multiple ear piercings to proverbially 'stack' your earrings and still display a minimalist style easily. The diamond stud earring is quite possibly the epitome of minimalist earrings; you can find different shapes, sizes, and metals, but you'll never go wrong with a diamond stud.
If you're looking for a ring that you can wear all the time, minimalistic jewellery is the choice for you. Many ring designs are not aesthetically pleasing alongside the types of rings we wear every day, like wedding rings and engagement rings. Minimalistic rings, however, can be so subtle and easy to stack alongside one another that you can wear them whenever! Take this vintage eternity ring, for example, and see that it even manages to have some colour and pattern to it without being an overwhelming piece of vintage jewellery.
Stacking bracelets is also a great idea – stacking a few means that you can create a layered cuff design if you really want something that will stand out, but wearing a single bracelet is always an option too. Perhaps the best type of minimalist bracelet idea can be found in tennis bracelets like this one. A single row of neat diamonds leaves a clean design that catches the eye without going over the top. Wearing tennis bracelets is something you can do every day, thanks to how durable diamonds are; you can also stack bracelets and bangles like this and look effortless.
If you're wanting to give jewellery as a gift to someone, consider minimalist jewellery. We've mentioned its versatility, meaning that it's going to be appreciated regardless of the recipient's taste. Minimalist jewellery is something that will suit everyone; a great gift for anyone of any age celebrating any occasion!
You can't really go wrong when wearing minimalist jewellery, even just wearing one piece will have you looking aesthetically complete and not barren of any glamour. The best tip you can receive when wearing minimalist jewellery is to keep it simple. Keep with the same colours, the same gemstones, and build up slowly if you want to stack them. With these tips and recommendations in mind, get out there and start accessorising! What type of minimalist jewellery do you most want to try out?