Imagine yourself in the 1920s at a cocktail party. You're wearing an elegant gown and that fabulous ring on your finger is getting a lot of attention! People are left stunned and bedazzled, you are the talk of the party. That is exactly why cocktail and dinner rings were worn, for their style and to attract attention. But the question is which would you choose for what event, and when did these style of rings arrive?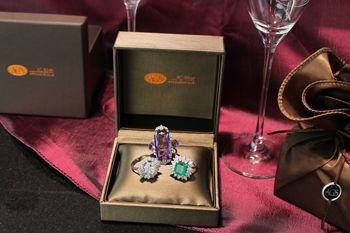 The original cocktail ring was oversized and had a diamond at the centre, which was often surrounded by smaller diamonds. Also known as the symbol for 'let's party' due to its size and bling! It all started in 1920s America where these rings were impressive and larger than life.
Cocktail rings were introduced at the time of Prohibition, a time where alcohol was banned and people held parties in secret, even underground (with peculiar tasting alcohol due to the ban of course). A time when change was happening for women, the freedom to vote and outlandish fashion took hold. This was the time for women to be seen and heard!
These cocktail rings were a symbol of rebellion for women, as well as showcasing female independence. This also coincided with the arrival of the cocktails drink, which was created to help the taste of the rather awful alcohol that was around at the time. It stands to reason the cocktail glass would be followed by the cocktail ring. A match made in heaven; cocktail parties, fabulous fashion and of course show stopping rings. The bigger and brighter the cocktails meant the rings also became bigger and brighter to match. They became a sign of wealth as well as a personality measure.
The Arrival of the 'Dinner Party'
However, in the 1930s when the Prohibition had lifted this is when the change in rings occurred. Cocktail parties were known as dinner parties and hence the arrival of the 'dinner ring'. Dinner rings were still large and glamourous although diamonds which were usually centre stage were moved to second class in the dinner ring. It was the gemstones that took centre stage, those being garnets, aquamarines and emeralds to which diamonds were set around. This was a time when the parties became less wild but rather a more high class affair and these rings were the ultimate accessory.
How to Wear your Cocktail or Dinner Ring
Traditionally these rings are to be worn on the ring finger or index finger of the right hand. But today you can wear them on any finger you favour, apart from the classic wedding finger of course. In relation to colour and size….well….. that is up to you. These rings are known as statement pieces and they are all about being noticed so the more advantageous the better! However, what we can tell you is the main stone is usually 3 carat or above, and if surrounded by smaller stones they shouldn't distract from the main stone.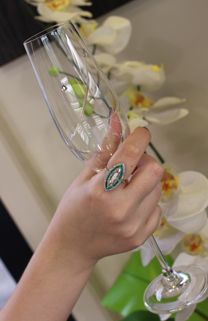 Due to the decrease in large gemstones being available you will often see rings that have smaller stones set together in elaborate ways (floral or even animal inspired). But most of all these rings are a symbol of your personality so be sure to let yours shine through. See our dress and cocktail section for some stunning examples.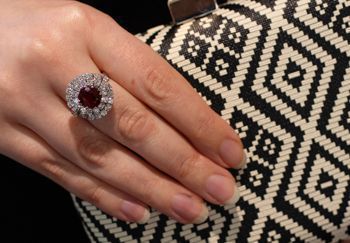 These rings hit their height of popularity in the 1940s/50s and although they went out of fashion in the 60s/70s they made a massive come back in the 80s (of course) and have carried through to the current day. They are now even seen on the red carpet at the Emmys and the Golden Globes on the hands of celebrities.
Here at AC Silver are lucky to have such a vast array in our inventory. So whatever you are looking for; whether it be a pink antique sapphire ring to match your cosmopolitan or a vintage emerald and diamond ring to match your mojito we will have something for you. And it will also make a fabulous excuse when your partner asks why you need it, you just reply with 'to match my favourite cocktail of course'.
Caring for your Ring
After you have decided on the party ring of your choice we do recommend some care instructions. As with any investment you will need to take care of your fabulous ring. We recommend getting the claws surrounding the stones checked annually and having it professionally cleaned every 6 months. Here at AC Silver when you purchase a diamond ring you receive a 10 year cleaning guarantee with it. Meaning you can have your ring checked and professionally cleaned whenever you require. So if you have that special occasion just bring it in to us in good time so we can have it sparkling ready for the date you need it. Lastly, I'm sure I don't have to say this but also do keep your ring away from any chemicals to protect it.
So ladies if your attending a special occasion remember to introduce your cocktail / dinner ring to the other guests. In fact they are so remarkable that we believe they should be worn EVERY day, so… whatever the occassion, wear them with pride, and a very big smile!