Working from home has become the norm of late, therefore here at AC Silver we want to give you some inspiration to bring a touch of tradition to your home. We believe the home office can become more than a background your colleagues see on your webcam, here we believe the office is a private sanctuary whereby you can read in peace, write and share your next story. Please join me for a browse of AC Silver's incredible selection of items to characterize your office.
Photograph Frames
No desk is complete without a picture of our dearest loved ones; the smiles that keep us empowered when working late. Here at AC Silver, we believe our vast selection of silver photo frames can help bring a sense of love and warmth to your desk, with a constant reminder of why you work so hard, a reminder of who is looking over you proud as you continue to get lost in the depths of great novels. Here are a few examples of my favorite photo frames to help create that perfect working environment.
One of my personal favourites as it can be used to symbolize the unbreakable bond and love between two people, two families. From the 19th century, crafted in exceptional sterling silver this exquisite example can be purchased from our website. If you are as fascinated with history as me you can learn the history of the photo frame.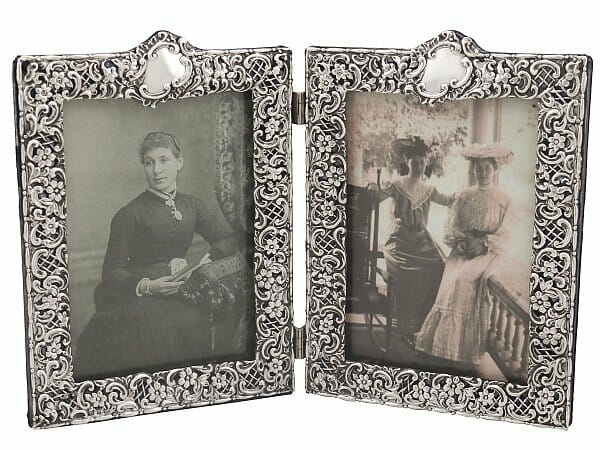 Antique Cigar Boxes
Do you enjoy the smell of books and cigars drifting through the air whist you work?
"Close but no cigar"
If this sounds like you check out our range of antique cigar boxes and cases to help you relax with a sense of peacefulness knowing your happy place is only a breath away? The perfect cigar box can be both something to showcase and also to add a sense of relaxation and therapy into the home office, allowing you to look forward to that moment you finally log off after a hard day's work.
This smoking compendium is one of my favourites, featured in Art Deco style this stunning example comes with a hallmarked hinged cover that allows access to the insert cedar wood-lined gilded cigar boxes. Created in London, England I would personally love to implement some British history into my focus place. You can imagine this taking prime position, centrally placed on a large mahogany desk in a traditional home office which also features a statement fireplace and wing back chair.
Vases
Décor is essential to any room, never mind the perfect office. Vases are often the finishing touch to help any room come to life, here at AC Silver we have a superb range of vases in all shapes, sizes, colours and designs.
This stunning set of Chinese export vases are as exceptional in person as they look our website. Chinse export silver is known for themes of nature, hence the leaves. These Chinese vases will be a perfect way to add a touch of elegance to your office. Check out this beautiful set of vases on our website.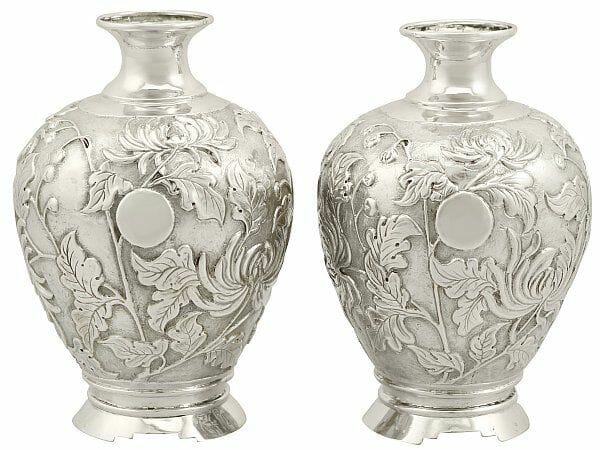 The office should be the number one place in your home you can use as your private getaway, your sanctuary, your happy place. The place where you have fallen from the highest heights and risen better than ever. Treat yourself and your office to some beautiful accessories to reward your four walls for being one of your most trusted partners.
Inkstands
In the 21st century we don't encounter writing with a quill often, however if you want your office to have an additional element of excitement and luxury try adding an inkwell or inkstand. We can't let the art of writing get completely lost in this highly digital world! Inkstands have made a revival in the recent years and their practical nature and fabulous designs and craftmanship ensure these timeless pieces have a place even in the modern home.
This stunning example of an inkstand is covered in beautiful stand out features, scrolling leaf designs can help bring a drop of the outdoors into your office. This exceptional piece is on the larger side, giving you the ability to have a stunning desk ornament taking the limelight of any meeting.
These fine pieces of sterling silver are the perfect addition to any home office, brining a splash of history into your working space. I think these stunning examples would go wonderfully in your office, don't you? Check out or vast array of office ornaments by clicking on the link below.