Usually, people associate signet rings with plain gold. Sometimes they feature engravings and insignias, but people don't often think of them as having gemstones at all. That shouldn't be the way, however, as there are a variety of different gemstones that you can find in signet rings of many ages.
Signet rings have a deep history that stretches back to the beginnings of civilisation. Used to authenticate documents, as well as symbolise one's status and power, signet rings have always been the ultimate 'boss' accessory. The seals that have featured on signet rings throughout time have rarely been carved directly into the ring, and this is where gemstones first come into the equation.
Frequently used gemstones were: carnelian, agate, and sardonyx. These gemstones would then have the wearer's intaglio – or crest – carved into them in reverse. This was so that when the ring was pressed into hot wax, the resulting seal made would be facing the correct way.
These hardy gemstones were used because they each have anti-adhesive properties, and were therefore unlikely to become damaged or intertwined with the hot wax when sealing a document. Modern signet rings are still made with these gemstones – particularly agate – even if there is no seal design present. This is both because the gemstones are hard-wearing and strong, and also a nice reference to the origins of the jewellery.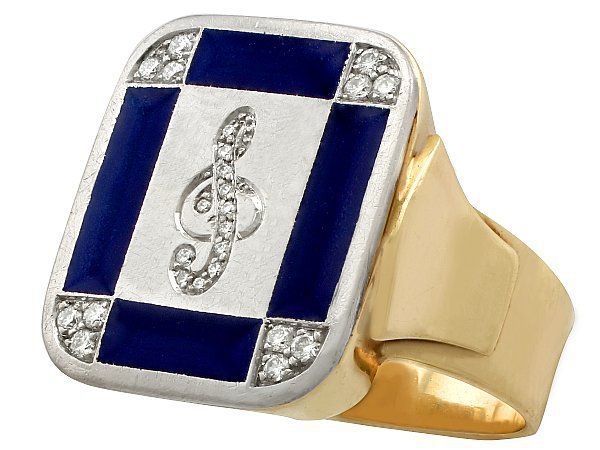 Signet Rings Today
In today's modern age, seals aren't generally needed, but that doesn't stop people from wearing signet rings and absolutely rocking the style. Plain signet rings are immensely popular, as well as beautifully encrusted rings.
Those looking to take signet rings to the next level and beyond will be pleased to learn that today, signet rings are designed with almost any gemstone you could wish. Naturally, diamonds are a very popular choice, and diamond signet rings have style worthy of Frank Sinatra and Steve McQueen – both famously signet ring wearers. There are also options that dazzle the eyes like opals, sapphires, and rubies.
For those wanting something a little more traditional, gemstones that were used in antique signet rings are: coral, bloodstone, and hardstone. These stones are all very hard (surprise surprise), making them ideal candidates for rings that get a lot of attention such as signet rings. These gemstones were particularly popular in the Victorian period. Victorian coral jewellery has a lot of value today, especially considering the scarcity of coral. Carved bloodstone and hardstone are also staples of the Victorian era. Gentlemen's jewellery from the Victorian period featured a lot of dark gemstones, and the carvings that would have been featured on their signet rings were largely single images or initials. Rings from this period of time can be found in excellent condition today, showing the durability and quality of their construction.
It's not like you needed any more reasons to think about gemstone signet rings, but knowing that signet rings made with gemstones like these will be around for another hundred years or so is a great feeling.
Which Gemstones are the Best for a Signet Ring?
The good news is, there's no set rules on what makes a 'good' gemstone for a signet ring. If you're prepared to wear your signet ring only on special occasions, there's even good reason to get one made with pearls or other soft stones.
However, since most people want to be able to wear their signet rings daily, it's important to think about the hardness of the stones.
Bloodstone, hardstone, agate, and onyx are all great examples of gemstones that can handle the rough and tumble of the everyday, and there's always the choice of having a plain gold signet as well let's not forget. The often-overlooked option is the diamond signet ring. For many men, diamond signet rings are an excellent alternative to a wedding band as well, so there's dual purpose possibilities to be found there too!
Whatever it is you're looking for in a signet ring, there's certainly an item that has everything you want somewhere out there. Don't give up the search, and enjoy the beauty and timelessness of all signet rings around, whether they have gemstones or not. Happy hunting!