Every year, as the sky stays lighter for longer and the weather gets a little milder, wedding season approaches. Whether that sends a shiver down your spine or fills you with glee, weddings are inexorably a part of every year. Even last year with the onset of the Coronavirus pandemic, thousands of couples found a way to tie the knot. Today then, we're getting excited about the concept of large-scale weddings that are sure to happen in the years to come by checking out 5 unusual centrepieces for weddings.
1. Arts and Crafts Style Centrepiece
This magnificent piece is fitted with its original detachable push fit wirework display cover. The wedding party can opt to remove this grating and put everything from food to miscellaneous wedding-themed décor. Another option – my preferred option – is to keep the grating and use this bowl as a rose bowl. Rose bowls, always fitted with this kind of grating, are a stunning piece of antique furniture that have wrongly fallen out of fashion for formal events like weddings.
The body of the silver bowl is filled to a certain point with water, and then each section of the grating is filled with roses all cut to the same length. The end result is a beautiful blanket of roses sitting atop a stunning silver bowl. This would make for an excellent and unique centrepiece in any wedding setting, whether your theming is more traditional or sleek and modern.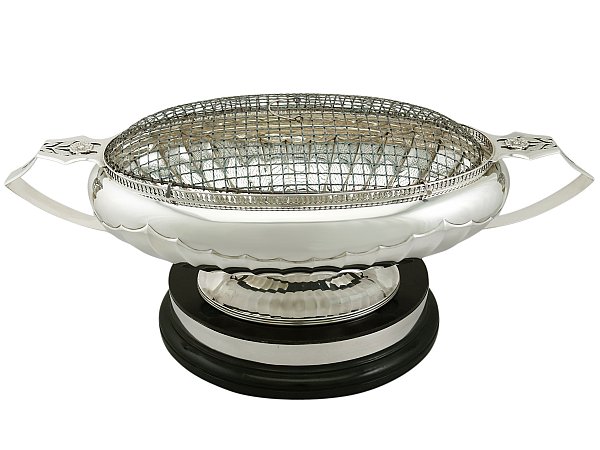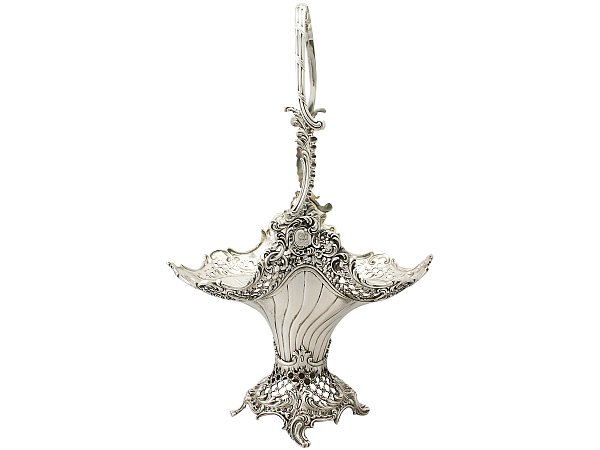 2. Spanish Silver Flower Basket Centrepiece
This Spanish piece is larger than it looks. Its presence can't be denied and as a centrepiece it would make for a real show-stopper. Dating to the 1860s, it has a lot of the more ornate features of a typical 19th century pieces of silverware. As a centrepiece, it could be filled with flowers, creating a mystical – almost Alice-in-Wonderland-like – aesthetic for any over-the-top wedding.
Equally, it could be fitted with fairy lights, champagne bottles, or decorative fruit. Despite its highly-stylised appearance, this basket is very versatile, and would be easily incorporated into a range of wedding themes. More traditional weddings would benefit from this beautiful silver basket holding a range of stunning white flowers. Modern weddings could even leave the basket empty and let it be the centrepiece in and of itself.
3. Victorian Sterling Silver Centrepieces
A pair of centrepieces lets us mix things up in the middle of things through these beautiful Victorian pieces. The double-stranded, interlacing wirework on the bowls of the centrepieces adds a touch of something unexpected and surprisingly modern given the age of the piece. Groups of puttos in a pleasing gold tone hold up the baskets on the tall pedestals of the centrepieces.
As a pair, these unusual centrepieces could be placed at either end of a rectangular table setting for a wedding, either left empty, filled with flowers, fruits, sweets, or anything else you could imagine would suit your wedding reception. Centrepieces in pairs are a good choice for many since they can even out the spread of decoration for a table, leaving more room for those sitting at the table to see clearly across to those around them. These unusual wedding centrepieces would be especially well-suited to weddings that have something of an ornate twist to them. Equally, they could be the stand-out pieces of a more stripped-back, simple wedding setup.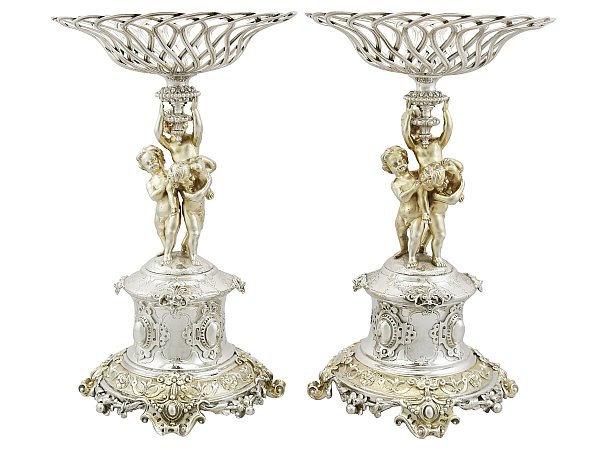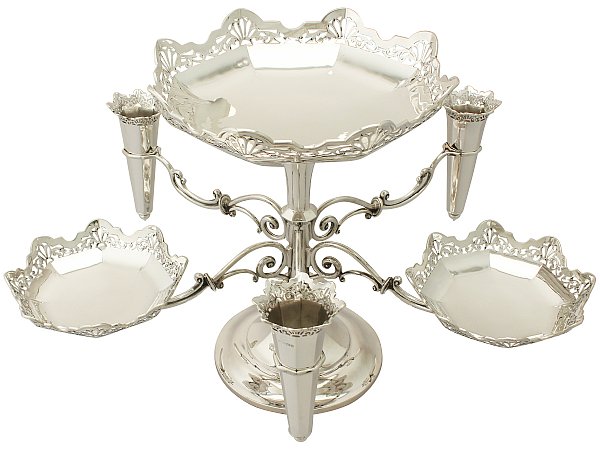 4. Antique Sterling Silver Epergne Centrepiece
The spread of this unique centrepiece is considerable, and it has a lot of scope in terms of uses as a wedding centrepiece. Three rounded, cylindrical holders sit equally spread from the central dish – perfect for holding flowers. Three small, rounded silver dishes sit in tandem with the flower holders, which could also hold a floral arrangement, or equally some decorative food.
The centre dish, standing at a height of 7.2 inches on the stand, is perfect for holding an explosion of flowers or food. This centrepiece would be stunning for a statement wedding designed to celebrate the more luxurious things in life, as its early-20th-century style is the epitome of glamour. Anyone looking for a real statement when it comes to unusual centrepieces for their wedding should look no further than this stunning piece.
5. Edwardian Sterling Silver Centrepiece
Finishing with a bang, let's take a closer look at this behemoth of a centrepiece. Dated to 1906, this magnificent centrepiece is reminiscent of a podium in its shape. Each of its three bowls look ripe for holding fruit, flowers, or other food. If your wedding has a buffet, consider this centrepiece as the focal point of the food display, sure to leave your guests in awe of its grandeur.
At either side of the central bowl, Welsh dragons sit passant, embellished with cast decoration in the form of realistic scales. Either end of the centrepiece shows silver goats lying down, with the detailing replicating anatomically accurate hair and horns. The finer details found in this piece are what really makes it pop. If you do choose to have this unusual centrepiece as a part of your wedding, be prepared for the many compliments and comments from your impressed guests.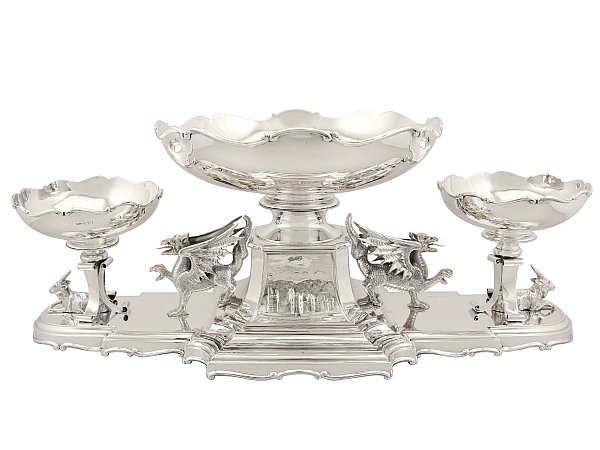 And just like that, it's all over. If you're taken with any of our unusual centrepieces for weddings, birthdays, or any other occasion, don't hesitate to get in touch and we'll be more than happy to answer any other questions you might have about our antique silverware.