As we all know, the perfect day calls for the perfect dress, but what's the perfect wedding dress without the accessories to match? Often, brides to can struggle to find that flawless pair of earrings to match a wedding dress. After all, the occasion calls for something spectacular, but earrings that are too busy are in danger of detracting from the rest of the wedding outfit—it can be a difficult balance to achieve!
There are many factors to consider when looking for earrings to match your wedding dress. Much like every element of your wedding day, this detail is going to require a lot of thought and you don't want to be tearing your hair out while agonising over stud earrings or chandelier earrings! Read on to discover our top tips when it comes to matching earrings to wedding dresses, and hopefully, the decision will become a little easier.
Matching your colours
First off, and the same goes for all of your jewellery pieces, it's important to match the tone of gold you choose to the shade of your wedding dress. Or, if you haven't already found your dream dress, first consider whether you want to wear yellow gold, white gold, or rose gold jewellery on your big day—it'll help you find the dress that matches your choice of colourings perfectly!
An ivory dress is best paired with yellow gold as the bright gold will highlight the creamy tine of the fabric, this combination creates a stunning nostalgic look, perfect if you're planning on wearing antique jewellery. On the other hand, white gold or platinum would perfectly complement a pure white dress. This overall aesthetic will look bright, sharp, and breath-taking! Finally, if you opt for a diamond white gown, the choice is all yours! Diamond white gowns are only slightly off-white, a colour that will look fabulous with yellow gold, white gold, or rose gold.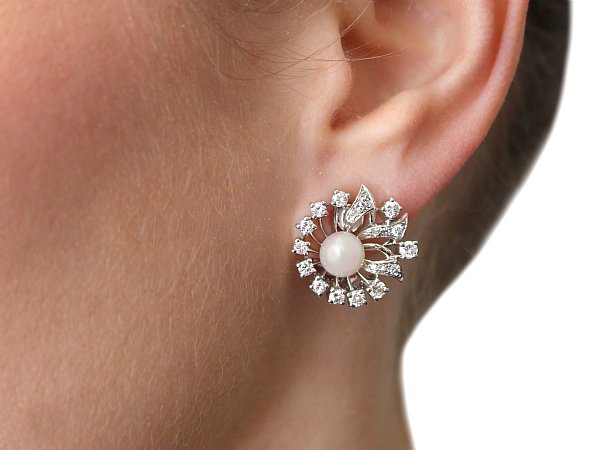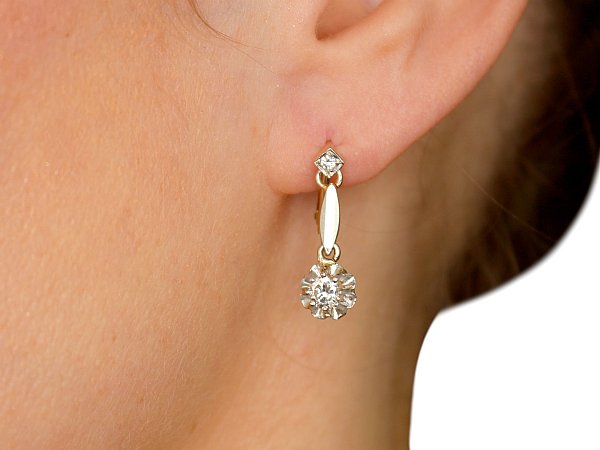 Plan your hairstyle
Your earrings and your hairstyle will work together to wonderfully frame your face, so don't fall into the trap of considering one without the other. If you've already chosen your earrings, take them with you when you go to consult your hairstylist — they're sure to have some pro tips. This way, you'll be able to have a practice run of the full aesthetic before your big day.
If you've already settled on a hairstyle, pick your earrings accordingly. Are you planning on leaving your hair down and over your ears? If so, there's no need to wear elaborate earrings as they simply won't be seen very much. Instead, go for simple diamond stud or drop earrings — they'll add some extra sparkle without completely stealing the show.
In contrast, if you're going for an updo, you can most certainly introduce some dramatic earrings to your look. If you're looking for true showstoppers, try some diamond-encrusted chandelier earrings. Be careful not to over-coordinate, however. If you have elaborate ornamentation incorporated into your dress, be careful not to replicate it too closely in your earrings and other jewellery pieces.
It's all about necklines
Next up, necklines. Welcome to the world of wedding necklines, where there are rules and customs that have likely never before crossed your mind. Don't worry though, we'll walk you through everything you need to know.
Sweetheart, strapless, illusion necklines: for all of these neckline styles, your earring choice will depend on whether you're opting for a necklace or not. If you plan on wearing a statement necklace, set it off with simple stud earrings. Alternatively, skip the necklace altogether and draw eyes up to some showstopping chandelier earrings.
V necklines: a matching earrings and necklace set would set off a V neckline perfectly. Try a diamond choker paired with dainty diamond drop earrings.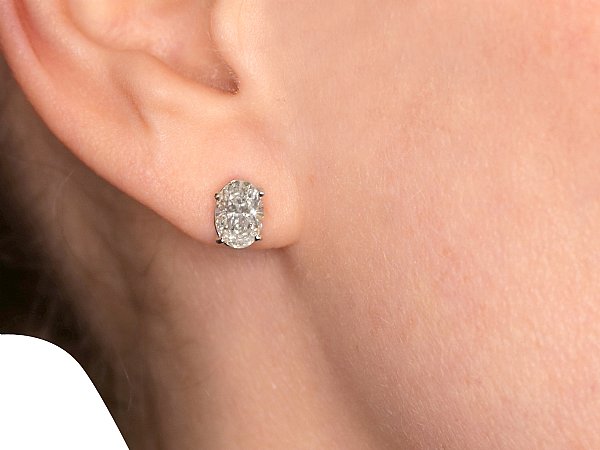 Ornate neckline: if you're going for a dress with a particularly ornate neckline, too much jewellery can look too busy. In this case, steer clear of an elaborate necklace and pay attention to the earrings instead. Some dainty drop earrings would be perfect!
Halter necklines: similar to the rule of thumb with ornate necklines, halter necklines do not often sit well with necklaces. Instead, focus on the earrings. Don't be scared to go for an eye-catching pair – chandelier earrings or art deco drop earrings would look fabulous with the refined halter style.
Bateau or Queen Anne necklines: either of these classic styles would look wonderful with some simple studs. Choose between diamond, pearl, or gemstones for a splash of colour on your special day.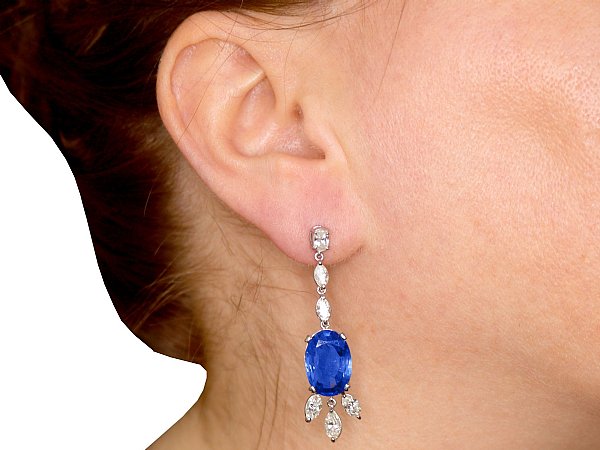 Personal style
There may seem to be a lot of rules to follow when it comes to pairing wedding dresses with earrings, but at the end of the day, it all comes down to your personal style—it's your day after all!
If you don't normally wear a lot of heavy jewellery, there's no need to go wild on your wedding day. Keep it simple! Less can often be more after all. Plus, is you're not used to wearing heavy earrings, they will most likely become uncomfortable over the course of the day. To get around this, why not choose a statement pair for the ceremony and then switch them out for some more simple studs for the reception?
What's more, if you're a white gold person in day-to-day life, you might feel strange adorned with yellow gold on your wedding day. Yes, the day is meant to be special and different, but remember, you've still got to be yourself! Stick to the colourings and designs that you feel confident in and you're sure to sparkle as much as the diamonds you're wearing as you walk down the aisle! Looking for more advice? Check out our blog about what earrings you should wear according to your zodiac sign for a different approach to choosing accessories.