Those of us that cling to our thimbles and threads, refusing to believe that sewing is becoming a dying art, secretly know that there's a silver lining to be found in the decline of our favourite hobby; more antique sewing accessories for us. That's right, with general interest no longer what it once was, where every woman was her own seamstress, there's more hoarding for the rest of us. With that said, let's take a look at the antique sewing accessories to be found amongst the stock at AC Silver.
Pin Cushions
Naturally, pin cushions are the ideal starting point. While we may all have at least one pin cushion, there's no reason not to become a collector. If you're tired of the old tomato pin cushion we're so used to seeing, or if you are looking for more of a decorative item, these antique pin cushions are ready and waiting.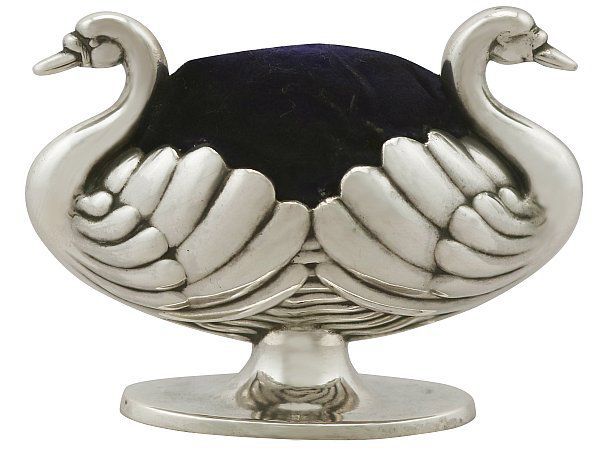 This stunning antique Victorian swan pin cushion carries the typical grace and sophistication for which swans are known. The fluted ornamentation simulating the swans' plumage carries the original, luscious navy coloured cushion. Despite being an impressive 137 years old, this piece looks truly timeless – just goes to show that classics never die.
SKU: A7693
Price: GBP £995.00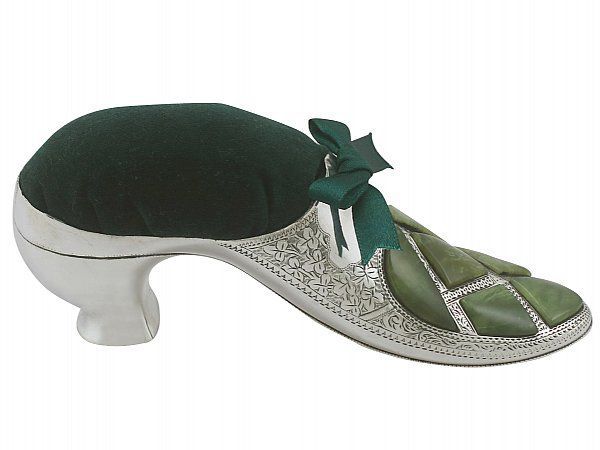 Another Victorian item, this piece has a more noticeable Victorian aesthetic, perfect for those looking for an antique that really looks like an antique. Crafted with chalcedony, and accented with a positively twee fabric ribbon bow, the shoe shape of this pin cushion is a very popular design, and highly collectable. Perhaps it can be the start of your own collection…
SKU: A9330
Price: GBP £1,295.00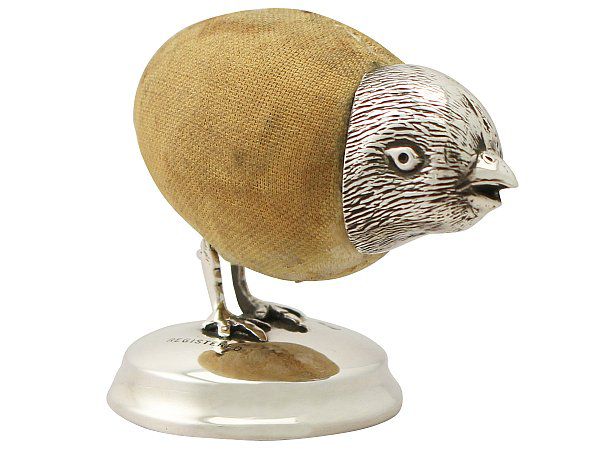 Okay, so this little gentleman clearly hasn't aged quite so finely as his predecessors, but I personally adore him. So much character is contained within this truly tiny specimen. Taking the form of a chick and – I would say with some certainty – crafted to scale, this Edwardian pin cushion retains its original cushioned body, a feature which is becoming increasingly difficult to locate. This beauty is definitely on my dream list of items I want to take home.
SKU: A4464
Price: GBP £995.00
Vesta Case
Originally used for carrying around matches, vesta cases have since become highly collectable, versatile items. They would make for an excellent antique sewing accessory, perfectly suited to function as a pin case, a place to keep errant threads, or a lovely locale for spare buttons. The time for vesta cases may be at an end, but the use for small and beautiful containers will always be around – much like us sewists, determined to work magic with needle and thread (and admittedly a lot of machine).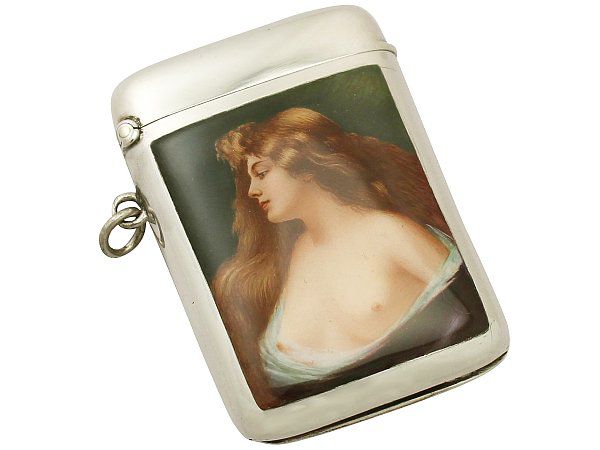 This Austrian enamel and sterling silver vesta case grabbed my attention immediately due to its stunning portrait. The flowing hair of the woman illustrated catches the light in such a gorgeous way, one could almost be mistaken for not noticing her partial nudity. Capturing the essence of 'tastefully nude', this vesta would look perfectly at home in even the most prudish granny's sewing kit.
SKU: A4871
Price: GBP £1,695.00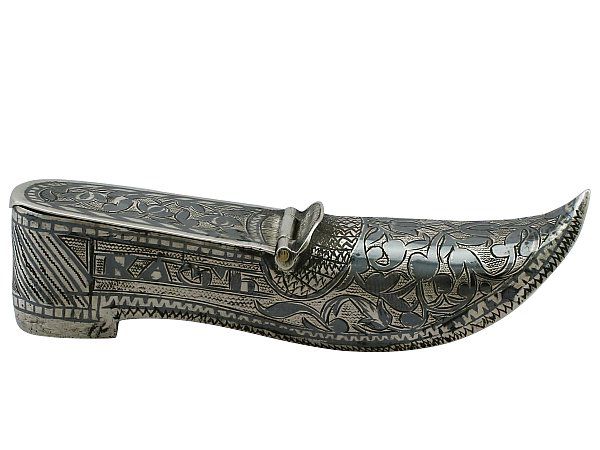 Russian silver is famed for its beauty, and this vesta case is no exception. Crafted in the form of a shoe, this vesta would be a splendid counterpart to our shoe-shaped Victorian pin cushion – You could say they'd make a great pair (sorry). Anyway, the embellishment along the surfaces of this vesta are what really elevate it in terms of style and beauty. The underside also features a serrated panel/match striker, so you always have the choice to get a fire going, should the mood strike you (sorry again).
SKU: C2122
Price: GBP £1,295.00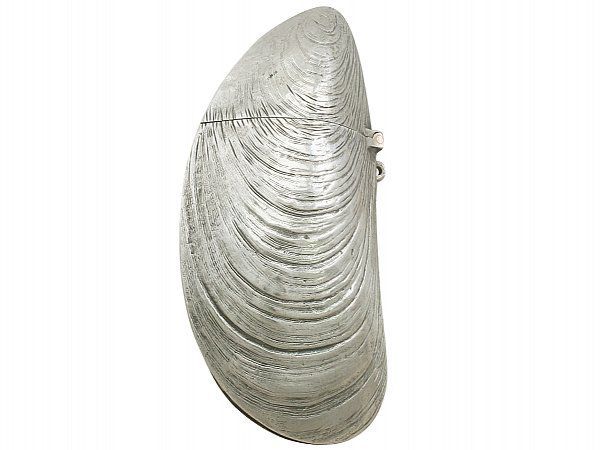 Heading to France for this final vesta, the mussel form of this item is especially eye-catching. Although its shape may limit its functionality somewhat, it's a worthwhile sacrifice for such a unique and intriguing item. Anybody's sewing kit would be livened up by the inclusion of this wonderfully detailed piece. This is another vesta case that features a serrated match striker, adding another element of interest in it as a collector's item.
SKU: A9158
Price: GBP £895.00
Extras
Sometimes, it's those unexpected extras that complete a collection, whether that is an antique sewing accessories collection or a functional sewing kit made up of an assortment of items. AC Silver has some pieces for your consideration that I think you'll want to see.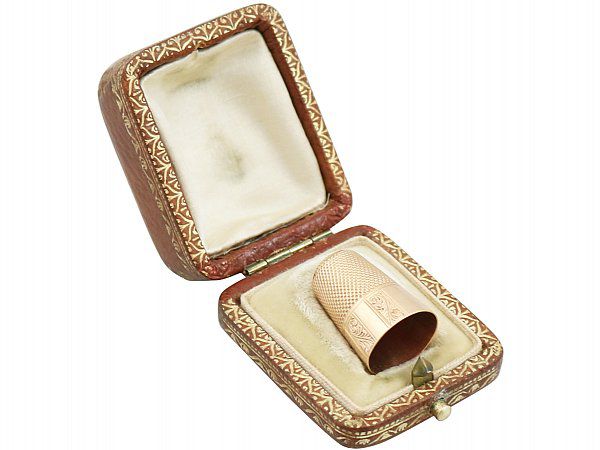 Plenty of people sew without thimbles, but there is certainly something wonderful about using one. Using antiques gives us a unique link to the past, the knowledge that we are doing what many have done before us is a great unifier. This stunning 18 ct gold thimble is an item that's guaranteed to make you feel intricately linked to the past. Ready for use or display, this piece is an artwork worthy of the Tate.
SKU: A9082
Price: GBP £895.00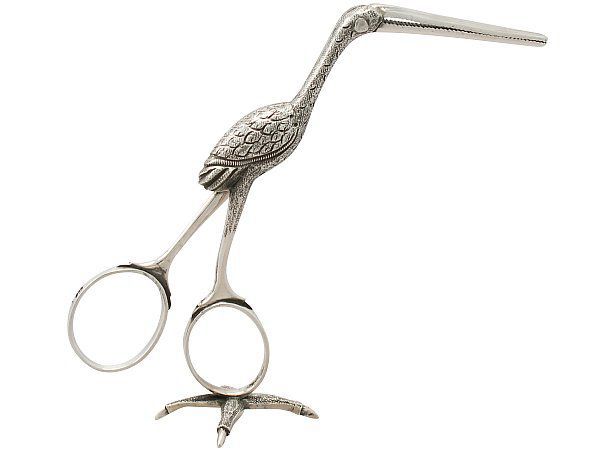 Animal-related silver has always struck a chord with me, and these ribbon pullers make it quite easy to see why. The charisma of these pieces sparks so much joy it's hard not to smile. These antique George III pullers/threaders stand on one well-formed stork-shaped foot, and open to reveal a set of serrated blades, wonderfully fitting the form of a stork as well as the function of the ribbon pullers. This stork is truly an all-round beauty.
SKU: A2444
Price: GBP £895.00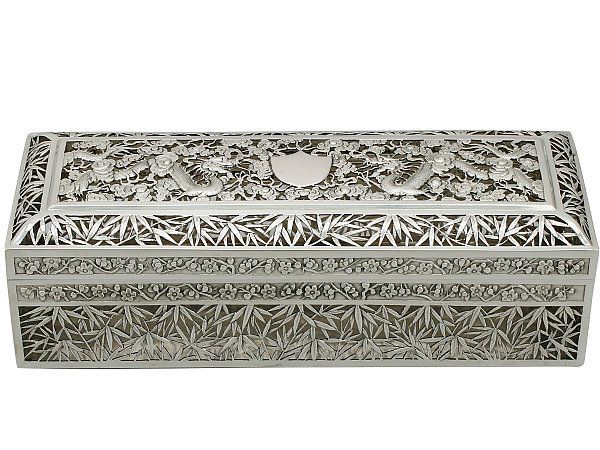 The only question left to ask at this point is: where to put all of these beautiful antique sewing accessories? Why, a show stopper of an antique box of course! Featuring typical oriental themes such as bamboo, dragons, and plum blossoms, this Chinese Export piece is a gorgeous item with which to conclude our selection. If you're an avid sewist, perhaps it's time to let the classic 'old biscuit tin' be put to rest and find a new home for your sewing-related goods.
SKU: C1814
Price: GBP £4,950.00
While sewing seems to have had its time in the sun, there are still plenty of us who are not quite ready to say goodbye to our spools and needles just yet. For those of us still wanting to keep the practise alive, antique sewing accessories are a bountiful harvest of gifts just waiting to be reaped.