Although many of our customers are drawn towards luxurious items more suited for a 'special occasion', many also like to wear their jewellery on a day-to-day basis. When it comes to daily wear, it is important that you choose a ring that compliments your fashion choices and can be paired well with other jewellery. Criss cross rings manage to walk that sleek line between being eye-catching and suitable to wear for any occasion!
This style is contemporary and has recently increased in popularity with the help of celebrities and fashionistas! This ring type can often be found in white gold or even a mix of white and yellow gold crossing over. Some examples are encrusted with diamonds, whereas many designs stick to the more sleek and simple look. Needless to say, this is a design that could suit many different styles and occasions.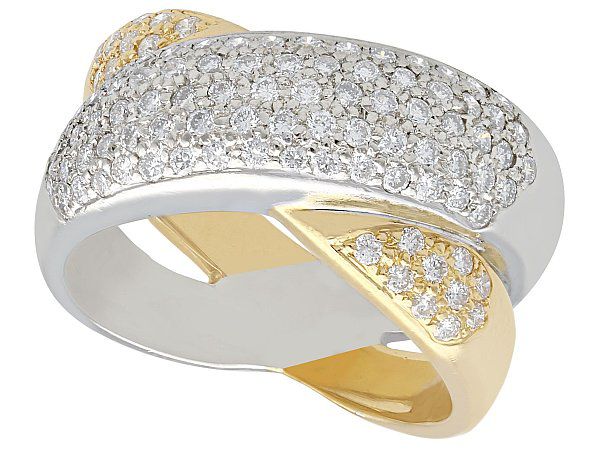 The criss cross – or crossover – design ring emerged first during the Belle Époque period of design at the turn of the 20th century. A significant advent of jewellery design and creation in this era was the use of platinum. Platinum became more readily available during this period, allowing significant jewellery innovations.
Due to the strength of platinum as a metal, jewellery could be much daintier and more endowed with gemstones, allowing for delicate pieces to be created easily. The crossover design ring is of a twist design, which is typically composed of two feature stones, juxtaposed and set on a diagonal, with shoulders running parallel next to the stones. Sometimes these shoulders have additional gemstones set to them, such as diamonds. The shoulders are the namesake of the ring, as they have a stylised crossover aesthetic.
Inherently romantic, these ring styles have been chosen for engagement rings for a long time.
What Does the Criss Cross Ring Symbolise?
A gift of a criss cross ring is a promise. The overlapping design is symbolic of two people making a promise to love one another. This is a popular choice for a promise ring for those who are sure of their love for one another, but aren't looking to get engaged yet – or possibly at all. Comprised of two or more bands all sitting in harmony with one another, the criss cross ring is representative of how our lives connect and intersect.
Beyond being a romantic gift, criss cross rings make perfect gifts for those celebrating big milestones such as graduating from high education, significant birthdays, and the addition of new family members. The imagery of a criss cross is synonymous with special moments, immediately bringing to mind the concept of ideas and lives coming together to create something bigger than the sum of its parts.
The symbolism of the criss cross ring is comparable to that of the half eternity ring, although the two have their differences when it comes to their visuals and their most common usage.
What Does a Half Eternity Ring Mean?
The main way in which the half eternity ring differs from the criss cross ring is in its physical appearance. The half eternity is usually only one band, with gemstones – usually diamonds – accenting the front-facing half of the band. Even if there are multiple bands in a half eternity ring, however, the do not cross over one another. Instead, they sit in layers, usually with the setting metal creating a subtle barrier between them.
A lot of the symbolism behind the two rings is the same, however. They are both commonly used as representations of romantic love, with the joining of two lives becoming one. Half eternity rings were initially marketed as the perfect gift for a significant wedding anniversary, reminding each member of the couple of how lucky they are to have found each other, and how their love will endure for an eternity. The half eternity ring has since evolved to suit the same purposes as the criss cross ring, being at times an engagement ring, a birthday present, a memento of a significant personal milestone, etc. If you'd like to learn more about the eternity ring, please explore our blog on the subject.
How to Wear Criss Cross Rings
As this style is fairly modern, there is no long running tradition that dictates how they should be worn. Great news: we can make the rules ourselves!
Laid back and minimalist look: Wear your criss cross ring on otherwise bare hands- this way it will stand out but your jewellery won't be too overbearing.
More bling: These rings lend themselves well to stacking, and it's common for a few to be worn at once. They also pair well with midi rings further up the finger.
Pair it up: Pair criss cross rings with equally refined and elegant pieces; simple diamond stud earrings for example, or a tennis bracelet glittering across your wrist. I think that refined contemporary styles suit criss cross rings perfectly, but the choice is yours!
Similarly to the rest of your jewellery collection, criss cross rings will require love, care and attention. Make sure you clean your ring regularly with a gentle cloth and occasionally soapy water (see more on how to clean white gold) and store in a safe place.
After researching this gorgeous style I know I'm desperate to jump on board with this fashion, are you?