Holloware, is a term that is used to describe an item of metal tableware that isn't flatware. This type of item could include candlesticks, candelabra, compote dishes, teapots, cream jugs, coffee pots, serving dishes, napkin rings, presentation cups, tureens, platters, and other kinds of items that are characterized as tableware. At AC Silver we define it as an item of silverware that holds something.
Interestingly, holloware is the traditional gift in the UK for the 16th wedding anniversary, and in Russia holloware is the traditional gift for a jubilee anniversary or for a wedding.
Some of our sterling silver holloware we feel would be perfect 16th wedding anniversary gifts are:
Silver Holloware…it's making a comeback
You may think of silver holloware as something that is usually kept safe in a glass cabinet – primarily for viewing only. The prestigious design curator Corinne Julius suggests;
"Silver was considered undesirable after the war because our grandparents had owned it. It was considered quite blingy, and was rejected well into the Seventies".
However, things are changing! It is said that design trends are cyclical, and finally it's silver's turn. Many silversmiths have been reporting an upsurge in private commissions such as Rebecca H. Joslyn and her whimsical "Bag Vases", Theo Funnel and the brands playful British condiment accessories such as the Heinz Tomato Ketchup Sleeve. Let's not forget the historic Danish design house George Jensen – they have almost doubled their retail footprint in the UK!
It's safe to say that silverware is back in vogue. Now is the time to discover your favourite items, styles and makers – get ahead of the trend!
Silver Holloware Gifts for Her
When it comes to silver holloware gifts for her, a set of candlesticks or candelabra is the perfect choice. These Art Nouveau style three-light candelabra are stunning beautiful, having a romantic presence that would make for a perfect gift for the woman you love.
Whether it's for a 16th anniversary, a birthday, or any other special occasion, candelabra are inherently special, and these ornate examples of the kind would make for the perfect accent on a dining room table. The floral motif seen in the tulip-style flower head shape of the candle holders adds a touch of femininity and elegance that completes this gift.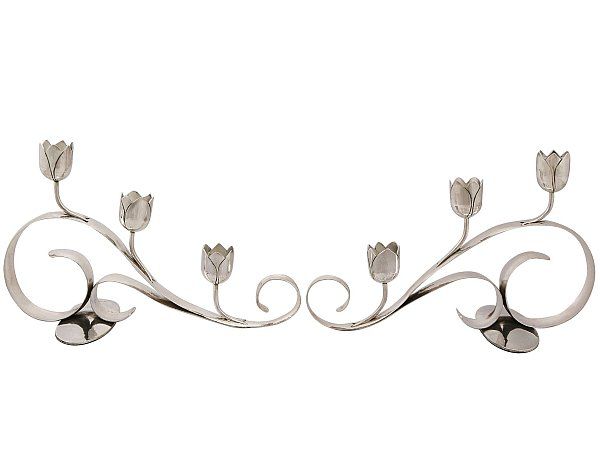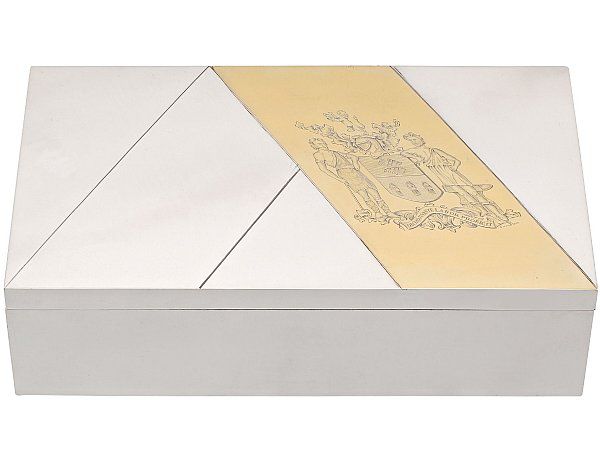 Silver Holloware Gifts for Him
Silver is an excellent gift for men and women alike, and holloware silver is no exception. We've chosen an interesting example to display, using this vintage silver jewellery box to display exquisite silver gifts for men.
The design on the lid of the box, featuring a gilded panel and a Sheffield coat of arms engraving, appears innately masculine. The angular hardness of the design doesn't scream 'jewellery box', despite the compartmentalised velvet interior.
This would be the perfect box for storing special pieces like watches and cufflinks whilst acting as a stunning piece of décor in itself. When buying silver holloware, balancing practicality and beauty couldn't be easier.
Silver Holloware Candle Holders
Continuing our appreciation of candle holders, we've taken a few of our latest and greatest silver candlesticks and candelabra to inspire you to up your game when it comes to atmospheric lighting. Let's start with this stunning pair of Empire style, five light candelabra.
An antique from the 1930s, these large candelabra have such a grand presence that they are truly impossible to ignore. Best suited to a formal dining table or ornate foyer, these candelabra are the epitome of graceful and stately holloware.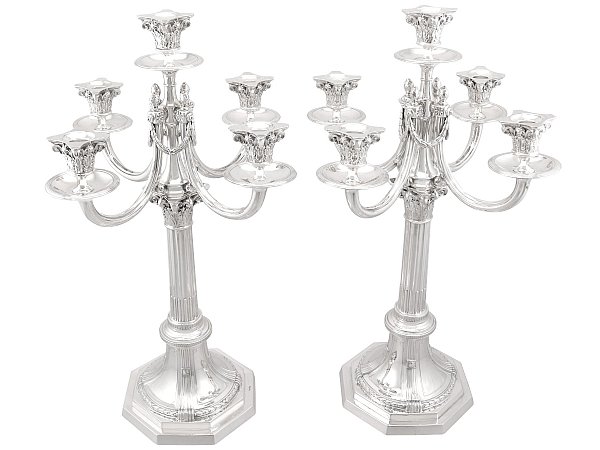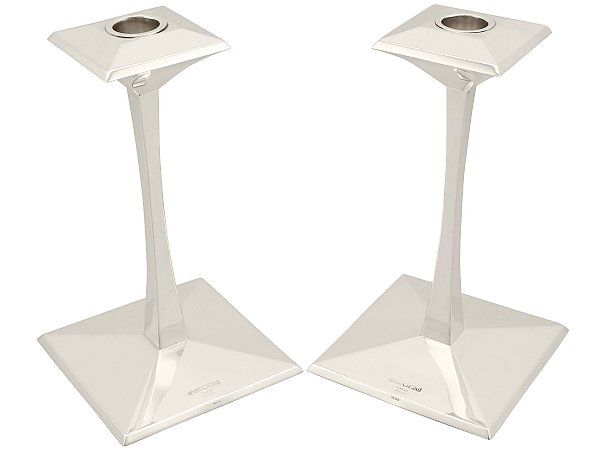 A very different example of a pair of candlesticks can be found in these Design style pieces. With minimal decoration and sleek, contemporary shape typical of their style, these candlesticks will look right at home alongside modern furnishings.
One of the biggest delights of AC Silver is the sheer variety we can find in our stock. Everything from early-18th-century candlesticks to 21st century examples that wouldn't look out of place at John Lewis can be found in our collections, and it is truly a joy to behold. These candlesticks, uniquely elegant and pared back, have the flexibility to be used with any interior design style.
Allow us to indulge in one more example of silver holloware candlesticks from our collection of silver candlesticks.
These antique Italian silver gilt and marble candlesticks have all the majesty you could ask for, whilst being small enough and delicate enough to not overwhelm a space. As a pair, they are the perfect accent for a dining table set up, whilst being equally suited to coffee table décor status or even perfect for a place in the bedroom.
If you are the kind of person who has a stunning personal office replete with leather-bound books and fine wooden furniture, consider these candlesticks to complete your inner sanctum.