Tea is beloved across the nation, with some of us taking it very seriously. At AC Silver, we love taking tea seriously, and so we've decided to compile a gift guide for anyone shopping for their most beloved tea lover. Look no further for luxury gifts for those who live their lives for that next 'cuppa'.
Tea Sets
Easily the most luxurious of silver tea-related gifts, an antique silver tea set is a gift that truly keeps on giving. The smallest sets we have in our collection are three-piece sets, usually featuring a teapot, a cream jug, and either a sugar bowl or a slop bowl. These sets cover the essentials needed for a proper cup of tea whilst still holding the luxury status through the stunning material, renowned makers, and exceptional quality.
Beyond the three-piece sets we have four-pieces, which incorporate both a sugar bowl and a slop bowl as the standard, although in some instances they feature a sugar bowl and a coffee pot as a part of the set. The five-piece sets tend to have every piece we've mentioned thus far, making them perfect for someone who needs the complete package.
Cream Jugs
If you'd like to focus on one aspect of a tea set for finding the perfect gift for your loved one, consider cream jugs. Beautiful pieces of decoration that serve a practical purpose, cream jugs are sure to be appreciated by any tea-lover worth their salt.
The cow creamer is easily one of the most popular designs available, and we have an excellent variety of them from a range of periods to display. Beyond the quaint and loveable cow, we are proud to boast a plethora of highly decorative cream jugs that would be perfect gifts, whether they are used or are simply display items.
Cream and sugar presentation sets are also amongst our collection, being the perfect gift for a very special occasion. Many of them are accompanied by their original hinged leatherette boxes with satin and velvet lined interiors. This way, your gift is presented in the most luxurious style and your pieces are protected as well.
Tea Caddies and Other Small Accessories
If the one you love collects loose leaf tea, then perhaps a silver tea caddy or a silver caddy spoon is the type of luxury tea gift they will really appreciate and put to good use. A great many of the tea caddies we have feature locking mechanisms – such was the immense value of tea at the time of their creation. Your loved one can keep their most precious teas stored safely away from prying eyes in a stunningly decorative piece of antique silver.
Another great small teaware accessory for gifting is a silver tea strainer. We have both antique and vintage examples of tea strainers in our inventory, each in exquisite condition. Even if unused for tea straining, these pieces are beautiful in their craftsmanship; any collector would be proud to own such fine items.
Coffee Pots and Teapots
Our silver coffee pots and silver teapots are fantastic gift options for birthdays, Christmases, anniversaries, and other important dates. If the tea lover you know has a collection of teapots, you can go in either direction to impress them. Gifting another teapot shows that you care about their interest, while gifting a coffee pot shows them that you like to see them try new things and expand their collection in a new direction.
We are fortunate enough to have an impressive range of teapots and coffee pots, including a few café au lait sets as well, which feature coffee pots and milk jugs together in matching sets. There are a few novelty pieces in our selection that you are highly unlikely to find anywhere else in your search for the perfect item.
Trays
Finally, we recommend exploring our collection of silver trays and salvers. A tea tray is the sort of gift that will make your loved one's enjoyment of tea that much more special. Serving tea the traditional way and presenting it on a tray to a small gathering of your most near and dear is the best way to share the passion, and nothing helps more than a tray.
There are galleried tea trays, rounded trays, rectangular trays, and oval trays in our collection, as well as pieces in the ever-popular Art Deco silverware style. The tea trays we offer also come in a wide range of sizes, meaning that any size of tea set can be easily accommodated. This is the perfect gift to round off a collection of teaware, and the exceptional quality of our silver pieces means it's sure to please.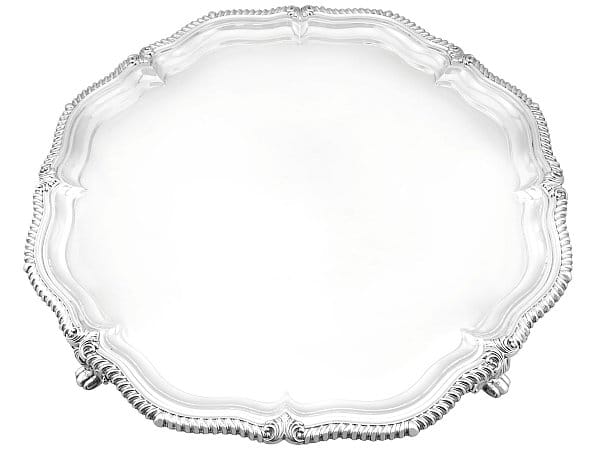 If you or a loved one are avid about tea, hopefully our gift guide has inspired you in advance of your next important event. Whichever direction you choose, you're sure to be steered right by our vast collection of all elements of teaware. What sort of tea-related gift would you most like to receive?