What is a Cluster Ring?
Generally speaking, a cluster ring is any ring with a selection of gemstones that are all set close together, in a 'cluster' type of formation. Sometimes, however, it is easy to get mixed up between cluster ring settings and other settings like the halo ring. Halo rings are different because they always follow the same layout of one central stone surrounded closely by a ring of other stones. Cluster rings, however, can have any number of combinations of gemstones, in any number of arrangements.
What is a Cluster Ring Worth?
Like most Gemstone rings, the worth of a cluster ring is largely based on the quality of the gemstones themselves. Any cluster ring featuring high colour-graded diamonds, for example, is going to be worth a pretty penny, while cluster rings made up of less expensive gemstones like amethysts or aquamarines is not going to have the same cost.
As is the case with any piece of jewellery, the real value is down to the owner. Sentimental value for jewellery often far exceeds the bounds of any financial element, and the same definitely applies for cluster rings.
What Occasions Suit a Diamond Cluster Ring?
It is uncommon for the cluster ring setting style to be used as an engagement rings, but it's not entirely unheard of, and a dainty enough cluster setting would be perfect for someone after something a little different.
Beyond the engagement ring route, cluster rings are great birthday gifts and anniversary presents. If your other half enjoys jewellery of all kinds, then they're sure to love a cluster ring on the anniversary of your union. Equally, a diamond cluster ring is an excellent wedding present for parents to give to their daughter on her big day. The cluster ring can be worn on the right hand, keeping your love for her close as she takes the next big step in her life.
Ultimately, cluster rings are a light-hearted route for diamond jewellery, not overtly romantic, but still special. They're the perfect choice to wear at parties and formal events alike, and – with dainty ones especially – you can even opt to wear them every day if you like.
With that in mind, let's take a look at some of our top dainty cluster rings.
Vintage 1960s Diamond Cluster
This ring, crafted in 18ct white gold, manages to pack in 0.76ct worth of diamonds spread across 9 gemstones without being too large on the hand. The formation of the diamonds gives this ring an almost flower-shaped layout. Nothing seems more romantic than a diamond ring that looks like a blooming flower.
Each diamond on this ring is individually claw-set, adding to the overall delicacy of the ring. Claw settings are a great choice for dainty cluster rings, as they manage to hold the gemstones securely in place without adding unnecessary bulk to the ring.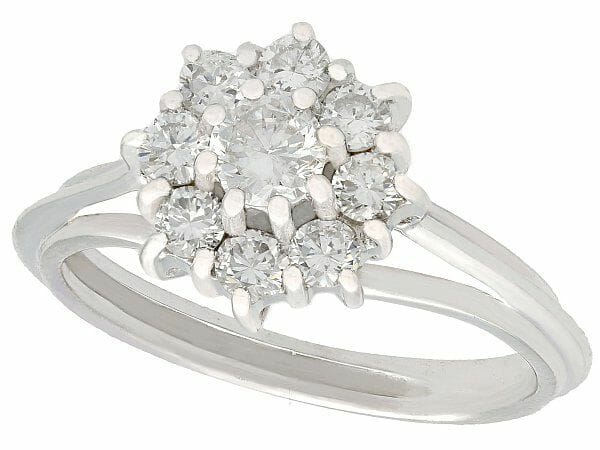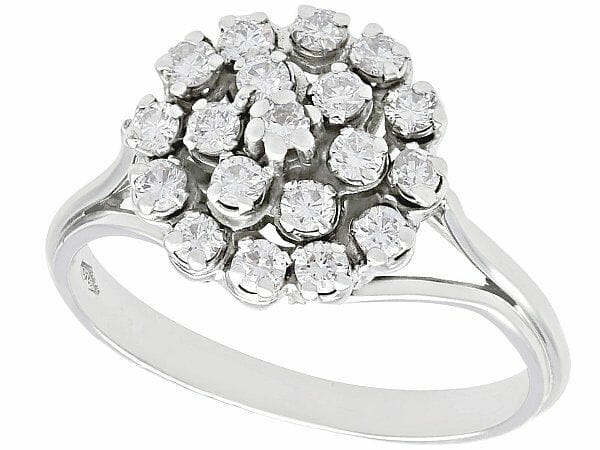 Round-Shaped Cluster
This dainty diamond cluster ring doesn't have a central feature stone like our first entry. Instead, a total of 19 diamonds are individually claw-set in a round formation, with similar sized stones across the whole setting. A vintage 1970s piece, this cluster ring manages to have a lot of sparkle and a lot of stones without taking up your entire finger.
Cluster rings like this aren't usually used for engagement rings, largely because of their rounded shape. This would be a great dress ring, ideal for parties and celebrations of all kinds. Equally, it could be a part of your bridalwear if you want more diamond sparkle on your big day.
Antique 1920s Cluster
A different setting style can be seen in this ring compared to our other examples of dainty diamond clusters. The 9 diamonds in this cluster ring are pavé set, meaning the setting metal sits directly alongside the gemstones themselves. Although it seems like this would make the ring bulky and less glamorous. In fact, the ring is perfectly delicate even with this metal setting style.
On the hand, this rounded cluster ring strikes the balance between the necessary size for a cluster ring whilst also looking demure. The use of white gold as a setting metal allows this ring to look bright and dainty, as yellow gold would add significant bulk to the ring.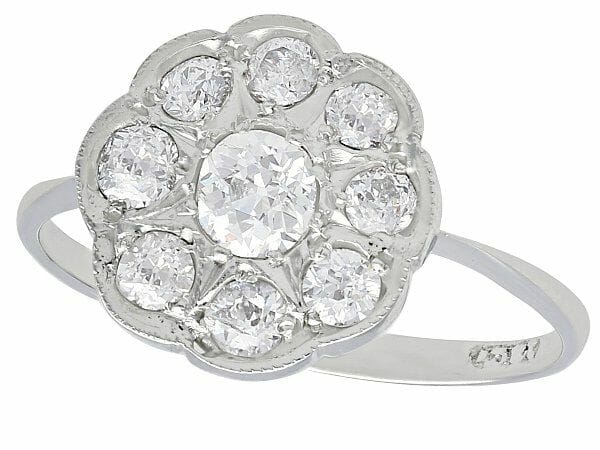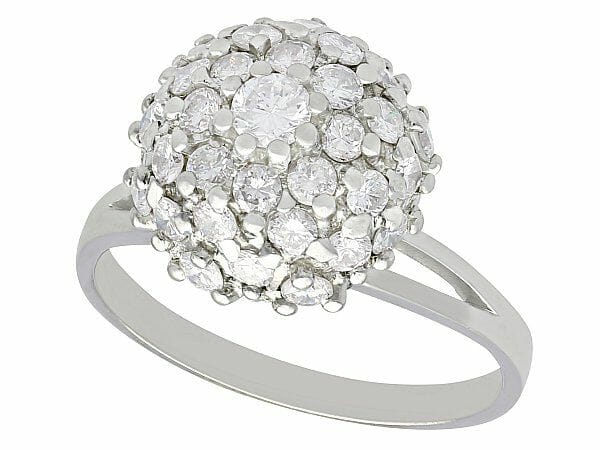 Art Deco Style Cluster Ring
Of our dainty diamond cluster rings, this example has something unique about it. It has significant height that the other examples lack. This ring manages to remain delicate by having something of a dome shape that holds the total of 32 diamonds in place with pavé settings. This number of diamonds wouldn't typically be able to fit on a ring of this size whilst remaining sophisticated, however the dome shape makes it possible.
This cocktail-type ring is typical of the Art Deco period, with the dome style being prominent during this time period. The white gold also allows it to have the white-on-white aesthetic that was highly popular during the earlier half of the 20th century.
Antique Diamond Cluster
This 1920s diamond cluster ring has a unique layout, with a single central diamond in an elaborate setting, surrounded by a ring of 10 pavé set diamonds. While this is similar to a halo ring, the setting style itself is what makes it classifiable as a cluster ring.
The central diamond of this ring sits in a white gold 8-claw setting, something which sounds like it would take up a lot of space and look too heavy on the hand. What's special about this setting style, however, is that it actually makes the central stone appear larger because of the metal colouring. Instead of seeming clunky, this ring simply appears to be more fabulous.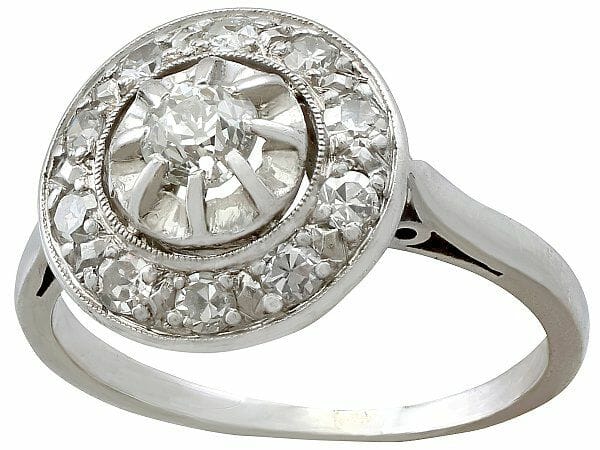 Cluster rings are usually an excuse to have bombastic jewellery, and there's nothing wrong with that. But if you're interested in a change from the 'large and in charge' genre of cluster rings, there's always something in our collections that fits the bill just right.