Ever admired amethyst jewellery but thought it wasn't for you? Maybe you've been waiting for it to be an appropriate gift, following wedding anniversary traditions or such like? Perhaps the issue all along has been that you have no idea how to approach wearing amethyst jewellery to begin with? If any of this strikes a chord with you, stay tuned. Today, we're going over the answer to the question of who can wear amethyst jewellery, as well as talking about how to style it.
Who Can Wear Amethyst Jewellery?
There was a time in history when amethysts were reserved for royalty, with purple being considered a royal colour that was above the commoner's rank. Anyone wearing purple during this period of time would have been publicly flogged as punishment. Thankfully, things are different today.
Amethyst is the birthstone for February, meaning that it's the ideal birthday gift for somebody born in the second month of the year. Beyond that, however, amethysts are not reserved for any special occasion like a specific wedding anniversary.
In fact, this luscious purple gemstone is one of the cheaper options for precious gemstones, making it a great gift choice for anyone hoping to stay within budget for this year's presents. Gifting an amethyst is a versatile option, as it can be a romantic gift for the love of your life, whilst equally it can be a platonic gift as amethyst doesn't hold specifically romantic connotations.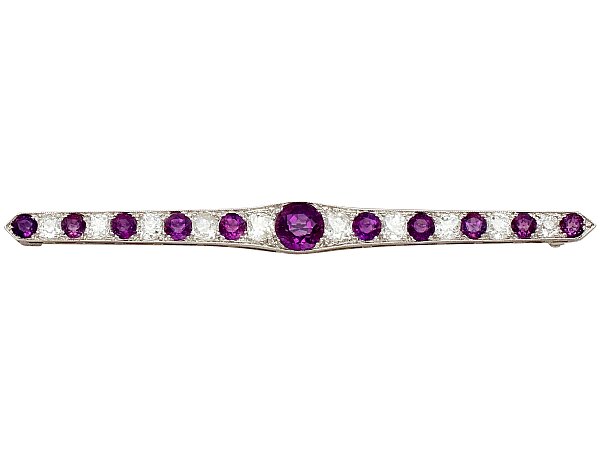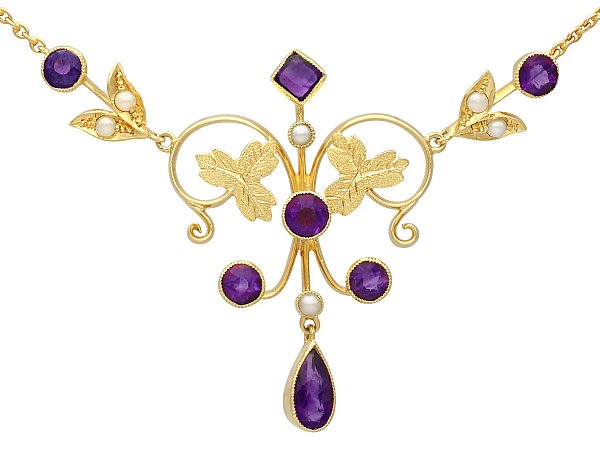 Ultimately, anyone can wear amethyst jewellery. It makes for a particularly good birthday gift for those born in February, but it is certainly up to the task of being a stunning gift every month of the year.
Can You Wear Amethyst Jewellery Daily?
We'll go into more depth in answering this question in a moment, but in short yes! Amethysts are fairly tough gemstones, and daily wear is acceptable for them. It's not recommended to have amethysts as the focal stone in something like an engagement ring, as that faces potential damage from being prominently placed on your finger every day.
Jewellery like pendants, earrings, and bracelets are preferred for daily wear, simply for the fact that they keep the gemstones out of the way of the general wear and tear of daily life. Statement pieces of jewellery, whether pendants, rings, or anything else, are suitable to wear regularly, but not daily. Once gemstones reach a size where they become 'statements', they open themselves up to potentially being scratched, chipped, or otherwise damaged.
How to Wear Amethyst Jewellery
We have another blog entirely dedicated to the topic of how to style amethysts, but we'll go over some of the basics here for you and you can have a great starting point for the topic.
First of all, don't be afraid to go large. Since amethysts are a more purse-friendly option for precious gemstone jewellery, you can get something with a higher carat weight without breaking the bank. Amethysts are fairly hardy stones, coming in at a 7 on the Mohs scale of mineral hardness. This means they're suitable for regular wear, being unlikely to becoming seriously damaged or tarnished from day-to-day wearing. Check out our vintage amethyst rings to get some inspiration for how big you want your ring to be. A large amethyst stone on your finger commands respect.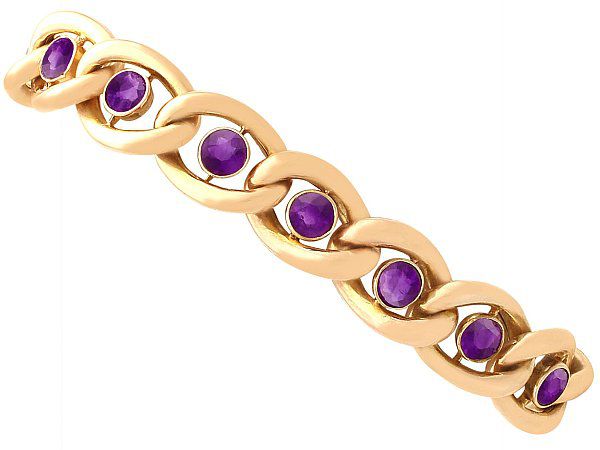 When you're thinking about colours to go with your amethyst jewellery, you're totally fine to play it safe with black or white. Thankfully, the purple of amethysts goes wonderfully with blacks, whites, and greys. If you want something more beautiful, however, look at the colour wheel. Purple's complimentary colour is yellow, so you know you'll look stunning if you combine the right purple shades with the right yellows. Equally, you can make a triad of colours using purple, orange, and green colours together.
You can trust your instincts to an extent when it comes to finding a complimentary outfit for amethyst jewellery, but you might want to stay away from bright pinks and blues; these colours are quite similar to purple, and it can be easy for them to overpower or wash out your amethyst all together.
Amethyst pendants are another big part of our amethyst jewellery collection, and they have a lot of gravitas to them. When you're styling your amethyst pendants and necklaces, make sure they have room to breathe, so to speak. You want your amethysts to stand out against your outfit, so don't wear anything too patterned or colourful that will drown out the piece, and make sure your hair doesn't get in the way too much.
What Colour Outfit to Wear with Amethyst Jewellery
Amethysts, with their luscious purple colouring, are complimentary to lots of other colours. If you really want to make them pop, then pale colours like white, sky blue, and minty greens create contrast that allows the amethysts to stand at the forefront.
Often, amethysts will have a subtle transparency to their colouring, meaning that dark colours like blacks and greys have the potential to wash out amethyst jewellery, especially if it's a necklace or a pendant where the stone is prominently sitting over the top of your clothing. If you're interested in pairing amethysts with your richer, autumnal colours, opt for jewellery like earrings and rings, these types of jewellery will allow your amethysts to have their own moment that isn't affected negatively by the colour of your clothes.
There you have it, a comprehensive examination of who exactly can wear amethyst jewellery and how to style it if you're lucky enough to own some for yourself. Take these tips with you and you'll be all set! Let's finish out with some of our favourite statement amethyst pieces.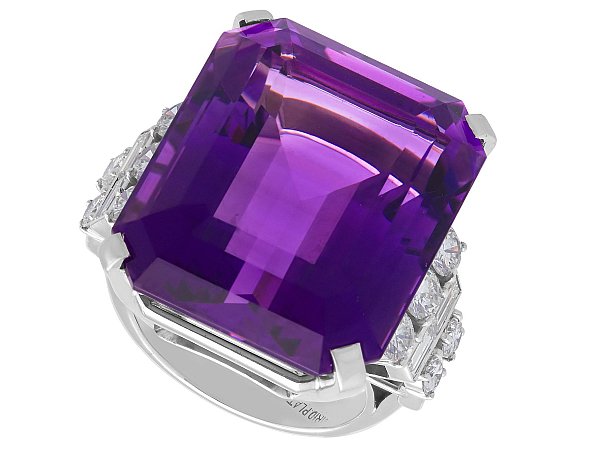 Top Statement Amethyst Pieces
Vintage 1950s Amethyst and Diamond Cocktail Ring
This ring is an absolute stunner! The amethyst – typical to a statement amethyst ring – is ridiculously huge in size! Sitting pretty at 47.20 carats, this amethyst is an emerald cut delight. If you're thinking that that sounds like a big ring, you'd be right. This ring is enormous on the hand, making it a brilliant statement piece for something like a black-tie event or particularly special party celebration.
Furthering the luxury of this ring, a total of 2.28 carats of diamonds, spread across 8 individual diamonds. This, in combination with the all-platinum settings and shank, make this the ultimate in statement cocktail rings.
Antique 1920s Amethyst and Diamond Necklace
While this necklace doesn't have as high of a carat weight as our previous example, it packs a punch with its size and spread. A total of six amethysts make up the feature segments of this necklace, being cut in a combination of emerald and square faceted cuts. These highly elegant, angular cuts elevate this necklace into a stunning piece of statement jewellery that anyone would be happy to sport.
Delicately linked together by diamonds, the amethysts in this necklace stand out with their rich colouring and rich cuts. The internal facets of these amethysts create so much depth in this piece of jewellery. It's hard to argue with the statement status of this piece.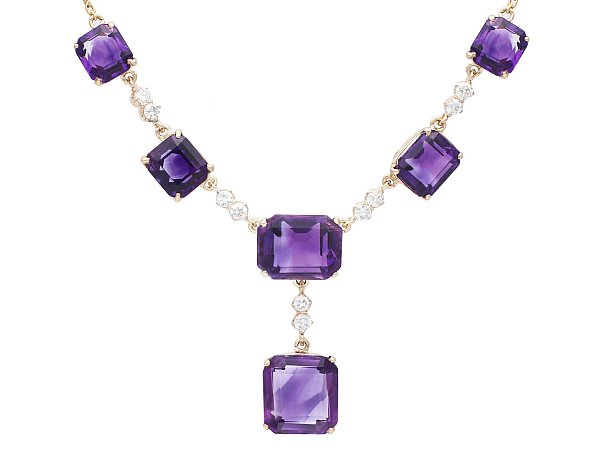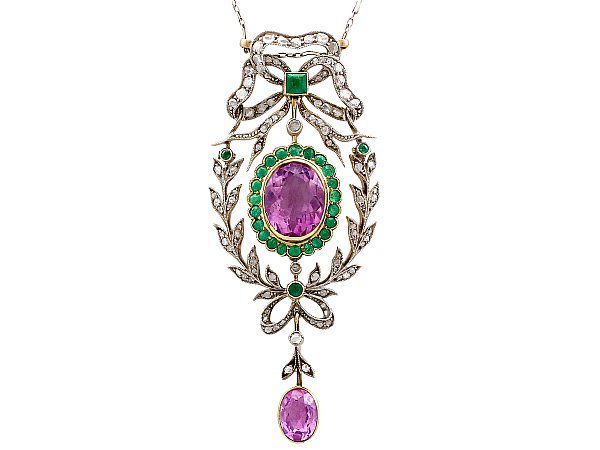 Antique Amethyst, Emerald, and Diamond Suffragette Pendant
Now this piece of jewellery is truly an exceptional piece. Not only is it an antique, more than 100 years old, but it even has links to a momentous historical movement. The suffragette movement of the early 20th century saw women around the country coming together to fight for the right to vote. As part of their movement, many suffragettes adopted a colour scheme as a symbolic uniform of sorts. Green, White, and Violet were used, signifying the desire to Give Women the Vote, as well as representing change, purity, and nobility.
This pendant is historical and heroic, and we love it. The heroine we need to remember today, more than 100 years after its creation.
Vintage Amethyst, Diamond, and Sapphire Brooch
This next statement piece of jewellery is a stunning brooch splayed out like a spectacular firework. The central pear cut amethyst tops out at 21.88 carats, with a selection of diamonds and sapphires completing the illusion of a fabulously coloured explosion. Whichever way you choose to wear this brooch, it is certain to catch the eyes of all those around you. White gold is used as the metal in this brooch, creating a cool colouring that keeps this jewellery piece feeling timeless and chic.
This can be worn on the jacket breast, lapel, as an accent on a blouse, or even as a clip to pin a scarf into place. This brooch works with every season and every occasion, whilst ensuring that everyone knows you came to show off a real statement!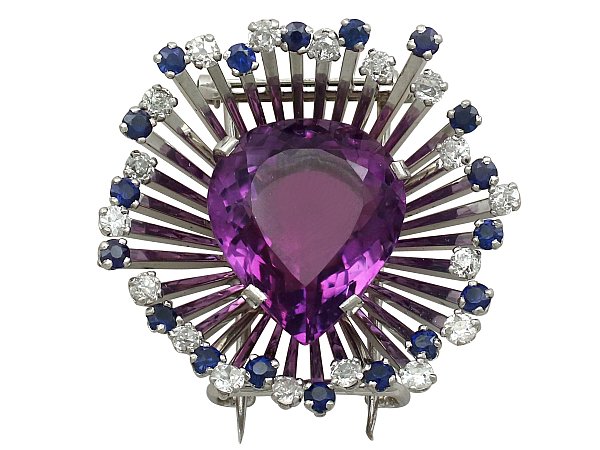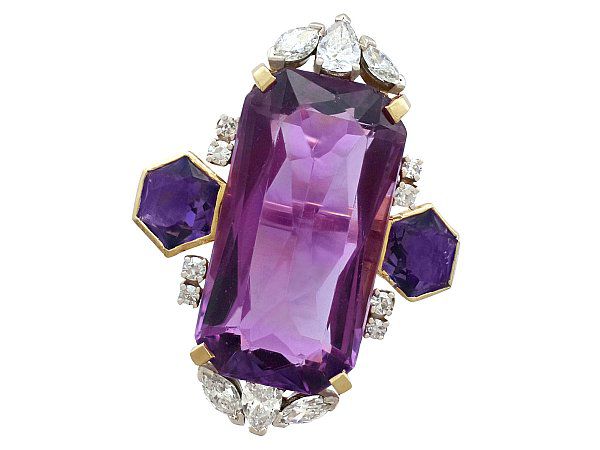 Vintage Amethyst and Diamond Dress Ring
It's only right that our last entry on the list is a ring. Amethyst rings make for exquisite statement jewellery, and this one is no exception. The central amethyst is a scissor cut amethyst; rare cuts are perfect to utilise in order to make a piece really stand out from the crowd. Furthering this concept, the two supporting amethysts are fancy cut, set in hexagonal yellow gold mounts. Diamond accents are used as a luxurious dusting around the centre stone, could anything be more glamorous and elegant?
This ring has significant length, making it perfect for someone who has longer fingers or larger hands. It looks stately and refined on the hand, and is sure to steer you right when you want to make a statement with your outfit.