Silver was once something every respectable middle-class family owned, sometimes in abundance. Today, however, silver seems like less of a necessity for a lot of people, and some of us have been landed with silver as inheritance and simply don't know what to do with it. If it's a silver teapot you've come across, and you're wondering what it might be worth, let's find out.
How Do I Know if My Teapot is Valuable?
One of your best indicators for the value of your teapot is it hallmarks. It should have crisp, clear hallmarks, ideally indicating it was made by a well-known and much-collected silversmith like Mappin & Webb, Paul Storr, or Hester Bateman. You might have to look quite carefully for the hallmarks, as a lot of teapots have them very subtly placed and very small – if you're struggling to make out what your hallmarks say, try using a magnifying glass or a good camera to get a closer look.
Other than hallmarks, you can use the overall condition of the teapot as a fairly good indication of value. Quality teapots will be without significant denting, scratches, or discolouration. Instead, silver teapots should have a mirror-like reflective surface that is in top condition. Added decorative features like elaborate etchings, engravings, or beading on your teapot might be beneficial additions, making your silver teapot more valuable overall.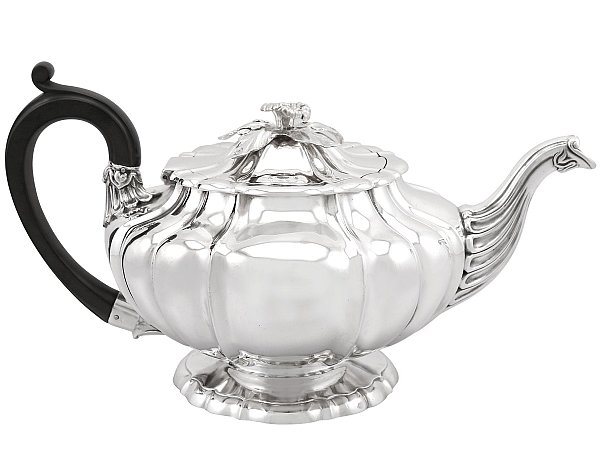 The real value, of course, is the sentimental value. If you receive a silver teapot as a gift or as part of an inheritance, the value of that piece cannot be accurately estimated. You surely are a lucky person to have a silver teapot through any circumstance.
How To Tell if My Silver Teapot is Real Silver?
There are several different standards of silver, including popular choices for silversmithing like Britannia and sterling silver. Some silver teapots are made with different standards of silver that are used in different countries.
Furthermore, some silver teapots are silver plated, while others are made entirely of silver. It's not always easy for the layman to figure out which their teapot is, but if yours is solid silver, it should have a hallmark on it indicating its quality. Common hallmarks for sterling silver teapots are ones that read '925' or 'sterling silver' to signify their standard.
What Can I Do with an Old Teapot?
The options with your old teapots are dependent on what kind of style you have. A teapot is a beautiful display item in and of itself. If you like to see everything put to a practical use, however, consider using your old teapot as a vase, keeping a small bouquet on a windowsill somewhere with plenty of light. The bright colours of the flowers look great with the shine from the silver teapot.
If you're not shy of a little freestyle editing (and maybe some welding), consider combining your silver teapot with something else to create something new. You can use a small teapot to be the topper of a cake stand, or get creative and edit your teapot to become a lampshade of some kind.
Hallmarks
Searching your teapot for hallmarks is your first port of call when trying to establish your silver teapot value. Firstly, use a soft cloth to buff your teapot to get a clean shine to it; this will help you spot any scratches or small hallmarks that might be covered with dark tarnishing.
If you do spot any hallmarks, make a note of what they look like or say, if they include words. Hallmarks with words rather than icons are almost certainly marker's marks. Once you've established all of the hallmarks that you can make out, take to the internet and start searching them. There are, thankfully, a lot of digital databases at hand that can help you figure out some more information about your silver teapot.
Knowing information like the maker, age, and origin of your silver teapot can be vital in giving you some insight into what it's worth.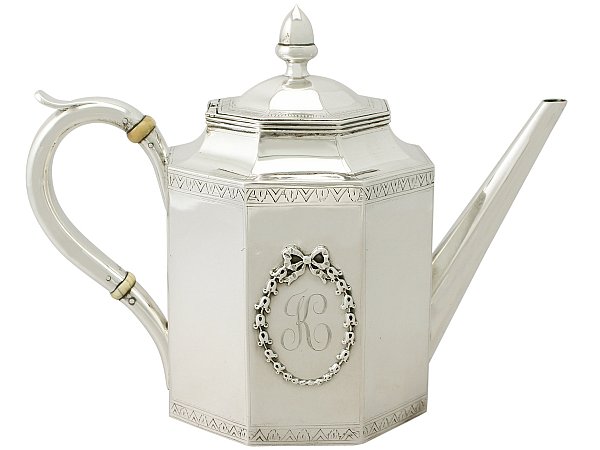 If you learn that your teapot has a Paul Storr hallmark on it, for example, then its value is already significantly increased, as Paul Storr silver is highly collectable.
As you might expect, the older your teapot is, the more valuable it likely is as well, depending on its overall condition. Any chips, scratches, or other losses to your teapot will negatively affect the value of your teapot.
If you struggle to identify the hallmarks on your silver teapot, it's time to start considering your next possible direction for figuring out the silver teapot value: the auction houses.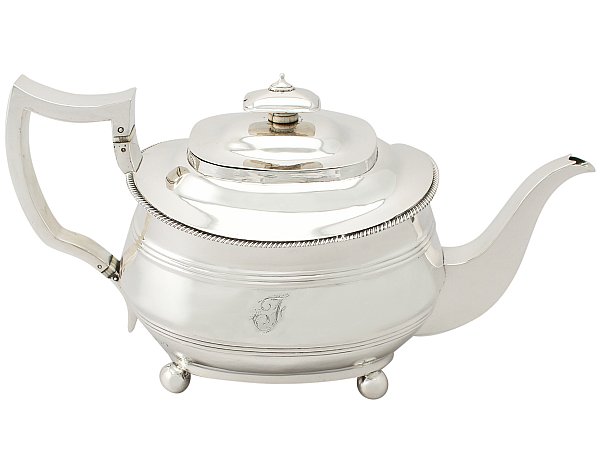 Auction Houses
You don't have to be a Bargain Hunter or Antiques Roadshow guest to visit an auction house, whether in person or online. There are plenty of auction houses up and down the country, but if you believe the nearest auction house is simply too far away, see if you can access one online.
Auction houses offer appraisals and valuations of your silverware, sometimes for a small price. If going digital, you will need to have some high-quality pictures of your silver teapot. You want bright lighting so that the condition of your teapot can be properly assessed. Equally, get several pictures, including close-up photos of finer details like the hallmarks, any engravings, and any details like ivory handles.
The professionals at the auction house can trace any hallmarks you couldn't figure out, as well as hopefully find out the specifics of where it came from and when it was made. If you provide the high-quality photos recommended, they can comment on the condition of the teapot and how that impacts its overall value.
Once you have the auction house's opinion on whatever profit you might be likely to make from selling your teapot, you can explore the option of selling it through said auction house. Selling your silver at an auction can be exciting because you never can accurately predict how much your item will go for, which can be a double-edged sword. If you want to play it safe, maybe take the auctioneer's information into account and sell your silver teapot at a set price elsewhere, like other online marketplaces.
You never know, you could find out that the silver teapot that's been passed down for a couple of generations to get to you has great value, and you may even decide to keep it. What you do with your silver teapot is up to you, but hopefully with this information, you can figure out how to accurately value your silver teapot and really figure out what it's worth.