There are plenty of things to love about Netflix's hit show Bridgerton. The binge-worthy flick is full of fabulous outfits, opulent balls, and tantalising gossip. What did we love most of all, I hear you ask? Call us predictable, but we simply couldn't get enough of the fabulous antique jewellery pieces!
Set in the 1800s during debutant season, the characters navigate London's competitive social scene and the romantic entanglements that come with it. Naturally, each episode of Bridgerton is full to the brim with elegant dresses and fabulous jewellery pieces. Needless to say, each character consistently dresses to impress.
Recency era fashion and jewellery were generally fairly refined and simple, but that doesn't take away from the beauty of the pieces. Bridgerton incorporates many different jewellery styles that match each character's personality. On top of this, the show stays true to the fashion styles of the era.
Join us as we delve into the wonderful world of regency era jewellery and pick out some gorgeous pieces inspired by the jewellery worn on Bridgerton…
Daphne's refined diamond necklace
Daphne, the female protagonist of Bridgerton, sports a consistently refined yet gorgeous style throughout the show. Her costumes and jewellery perfectly match her character: innocent and polite, but with a certain sparkle that makes viewers root for her throughout the season. Her signature jewellery pieces are simple and elegant. For example, she is often seen wearing a delicate necklace featuring a single diamond. This necklace style is typical of the regency era, a period which championed refined elegance over-elaborate, statement jewels.
This 1.02ct diamond and 18ct white gold pendant would be perfect to recreate Daphne's signature look. A simple chain paired with a small yet dazzling diamond is sure to exude regency romance.
Marina Thompson's portrait pendant
Another popular design of necklace during the Georgian and Regency era was the portrait pendant. Cameos and portraits on jewellery were often either created with painted enamel or carved shell, coral, or agate. During one of the balls, Bridgerton's Marina Thompson showed off a stunning portrait pendant, depicting a painted eye in an oval frame. This piece helped to build up her character and added to her storyline. Women during this era would typically wear an "eye" pendant when separated from their lover. At this point in the season, Marina's lover is away, fighting in the war in Spain.
Portrait pendants are romantic and can be deeply personal. However, they also look gorgeous and you don't need to have a deeper meaning behind them to incorporate them into your outfit. To recreate Marina's look, try this antique French painted enamel and Mother of Pearl portrait pendant in 18ct yellow gold. The pink hue marries with the warm gold setting beautifully.
Queen Charlotte's bracelet
There's one character in Bridgerton that significantly breaks the "less is more" rule of regency period jewellery – but after all, she is the queen. Always sporting statement hairstyles and opulent dresses, Queen Charlotte consistently showcases fabulous jewellery in each episode. Full jewellery sets are her signature look, with matching bracelets, earrings and necklaces set in regal yellow gold. One particularly iconic look saw the character wearing two bold yellow gold bracelets set with orange gemstones. Get the look with this stunning vintage garnet, pearl, and yellow gold bracelet.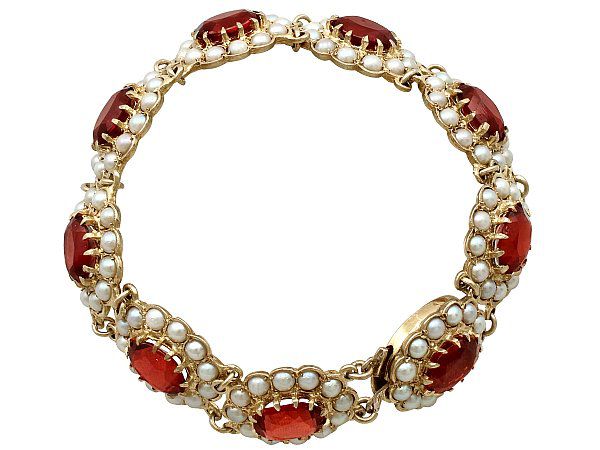 Pearl drop earrings
Another classic feature of recency jewellery showcased in Bridgerton (both by Daphne and many other attendees at each of the glamorous balls) is the mighty pearl. Delicate pearl drop earrings were a staple part of regency fashion, fitting in perfectly with the refined and stripped back style of the time. In Bridgerton, Daphne frequently pairs delicate earrings with her signature diamond necklace, to stunning effect. To recreate the elegant look, try these gorgeous pearl and diamond drop earrings in yellow gold.
Any of these breath-taking jewellery pieces are sure to make you feel like regency era royalty – what better way to be transported to the romantic world of Bridgerton?