Jewellery for Christmas Day
Jewellery for Christmas Day is always a good idea, whether it's for yourself or someone else. If you're wondering about what to get this year, here's a selection of our finest items that are just waiting to sit under your tree this December.
1. Chokers
Necklaces are always a popular choice for the holidays. Chokers have a tendency to come and go in fashion, but this year they're very much in trend. They're suitable for all age ranges, and the examples we have to show today have an elegance that goes beyond the 'punk' image often associated with the choker.
Pearl Choker
The sophistication of pearl jewellery is always something to admire. The delicacy of string pearls in the form of this four string choker is a beautiful gift for someone special this year. An antique clasp is featured on the back, and a 14.12ct garnet on the front.
The uniquely refined elegance of this pearl choker makes it especially suited to women more advanced in age. A total of 204 pearls combine to create a lustre that is sure to look mesmerising in the glow of some Christmas lights this year…
SKU: C1052
Price: GBP £1,895.00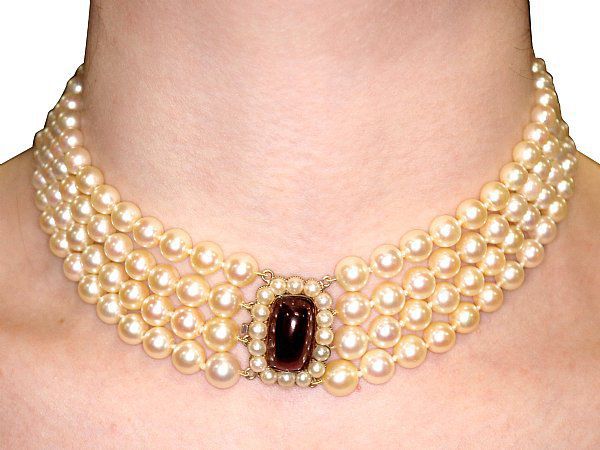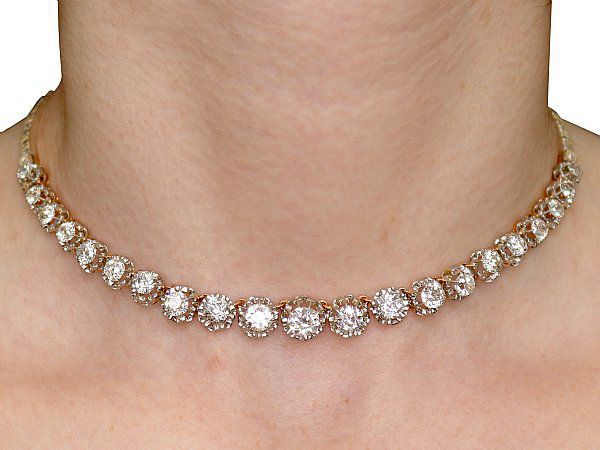 Diamond Choker/Bracelet
This is a very special item; wearable as a bracelet or a choker, it is a unique beauty. Featuring a stunning 11.12ct spread across 21 platinum and silver-set diamonds, there are even diamonds on the clasp. Are you ready to make a big impression this year?
Dated to 1880s France, this versatile piece features old European round cut diamonds, with colour gradings of 'G's, 'H's, and 'I's. The claw settings of this item allow so much light to enter the diamonds that their brilliance and shine is incomparable.
SKU: A9728
Price: GBP £19,950.00
White Gold and Diamond Choker
White gold knots around itself in this snake chain collarette, framing 21 diamonds of graduating size at the centre. This is a more understated example of the choker trend, perfect for someone that prefers their jewellery to be a little tamer.
Vintage jewellery is always popular as a choice of jewellery for Christmas Day, and a lot of 1970s jewellery is uniquely designed to make a lasting impression. The clarity of the diamonds average out between very slightly included 2 and slightly included 2, allowing a lot of sparkle to shine through.
SKU: A4504
Price: GBP £1,795.00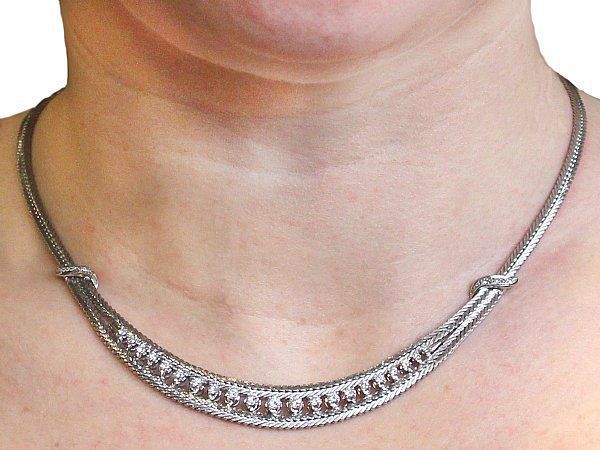 2. Colour
Colourful gemstones are very fashionable this winter. Less commonly used gemstones such as agate and peridots are on the rise, and earthy colours like greens, blues, and browns are highly sought after.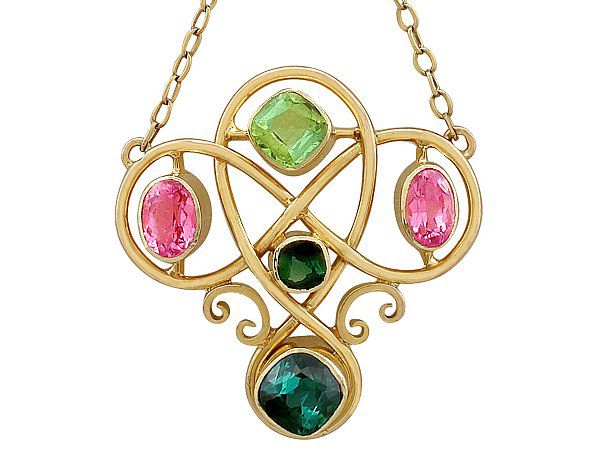 Antique Victorian Pendant
Tourmalines and peridots feature on this piece of Victorian jewellery. Its twisting and curving shapes make for a unique piece that would complete anyone's jewellery box. Weighing 11.06 grams, the quality of this necklace can be felt in its weight around your neck.
Before the height of Art Nouveau's reign in the early 20th century, items like this give us a clear picture of the elements that led to the immense popularity of the nature-oriented style. The arcs and sweeping lines of this necklace are certainly compelling.
SKU: C2503
Price: GBP £1,995.00
Topaz Ring
Antique jewellery is a wonderful gift to give to anyone, and this ring is no exception. Featuring a 2.38ct topaz surrounded by 8 diamonds, this cluster ring is a unique item, hard to come by elsewhere. This ring can also be resized, so don't worry if it doesn't fit.
Cluster rings like this one are always an excellent choice for a gift for anyone. The rusty orange colour of the topaz is a very fashion forward hue for this winter season; any orange and brown colours reminiscent of the 70s are the way to go this year.
SKU: C1299
Price: GBP £1,995.00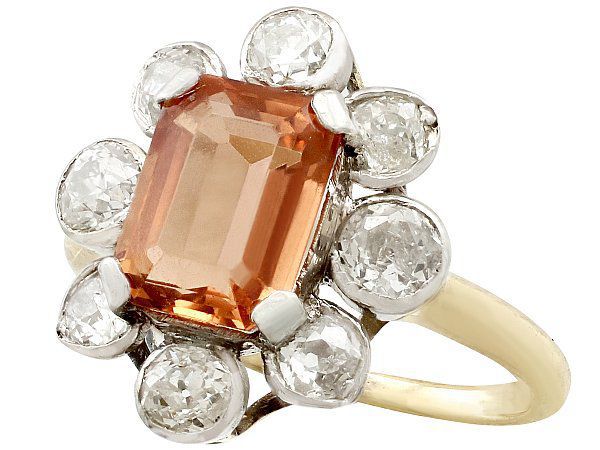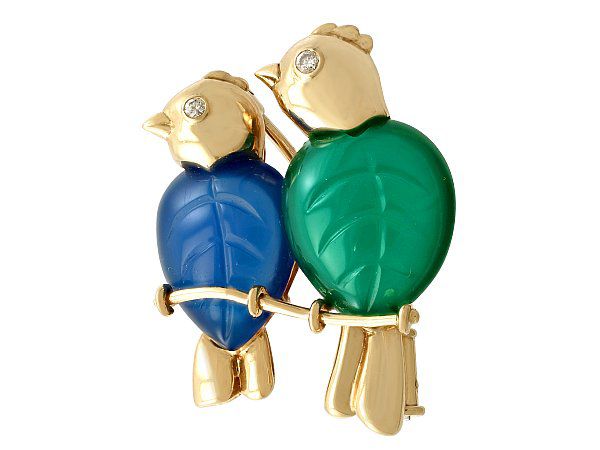 Cartier Brooch
Anyone that knows luxury jewellers knows Cartier. We are lucky enough to offer this stunning agate and diamond lovebird brooch from the famed French brand. Originating from Paris, France, this brooch is sure to make this Christmas very special.
Agate is a very popular stone this winter, offering a huge range of colours that are well suited to a variety of items and styles. Weighing 10.40 grams, you can feel the quality of this brooch in how heavy it sits in your hand.
SKU: C2676
Price: GBP £5,750.00
3. Statements
When we say statements, we mean statements. This trend is focused on size, carat weight, and a bold use of materials. Thankfully, our stock is rich in all of these features, here are just three such examples.
Tourmaline and Peridot Bracelet
Tourmalines and peridots make another appearance in this stunning yellow gold bracelet. Weighing in at a whopping 96.65 carats, this statement piece brings a vintage colour palette to life. Treat someone you love to a gift they'll never forget this year.
This bracelet weighs 74.92 grams, giving it a presence that you're sure to feel as well as see in its vibrancy. Being 6.69 inches long, this bracelet ideally sits with a little room to move around the wrist, showing off all the stones and their rich colours.
SKU: A7362
Price: GBP £7,750.00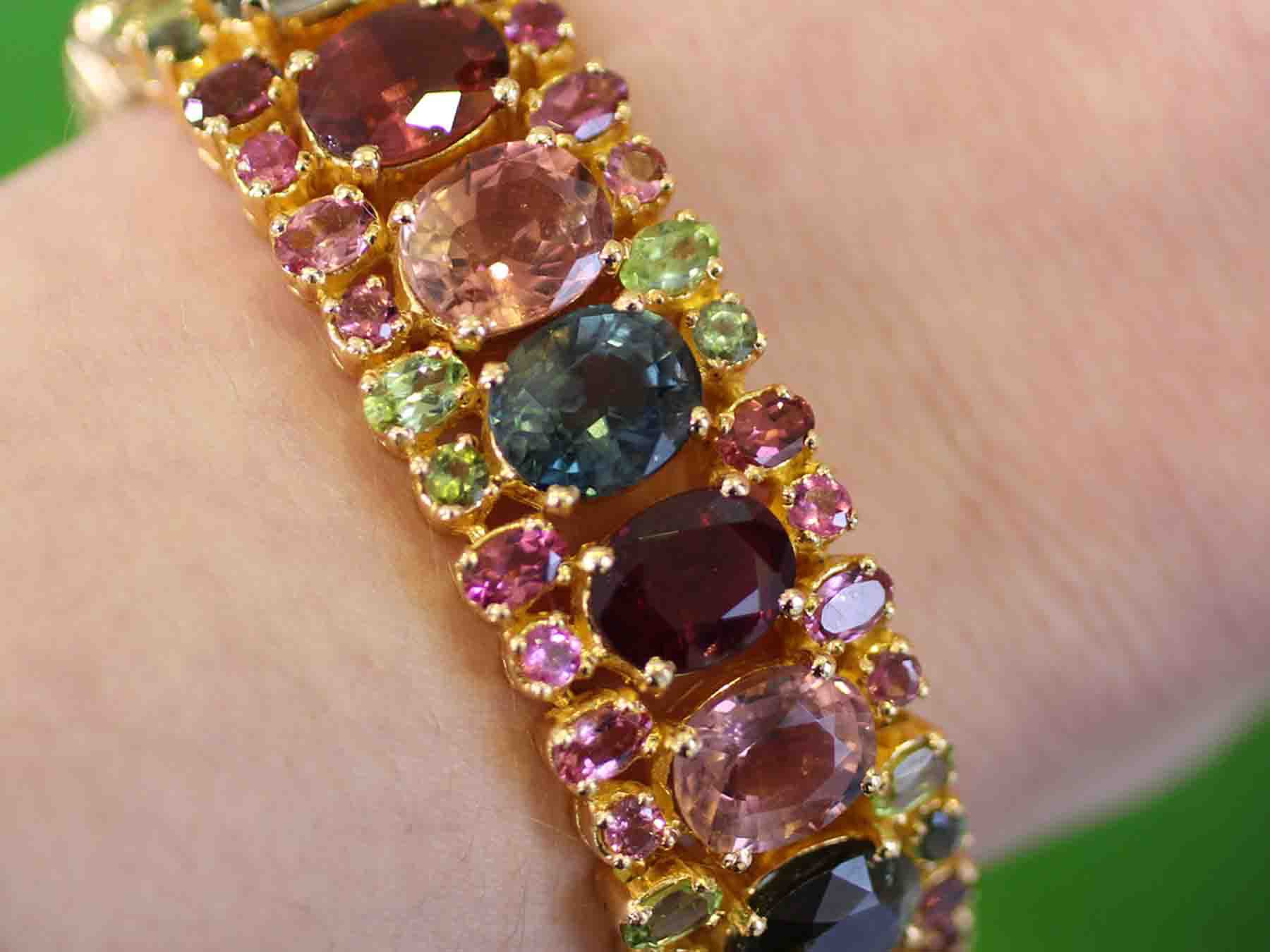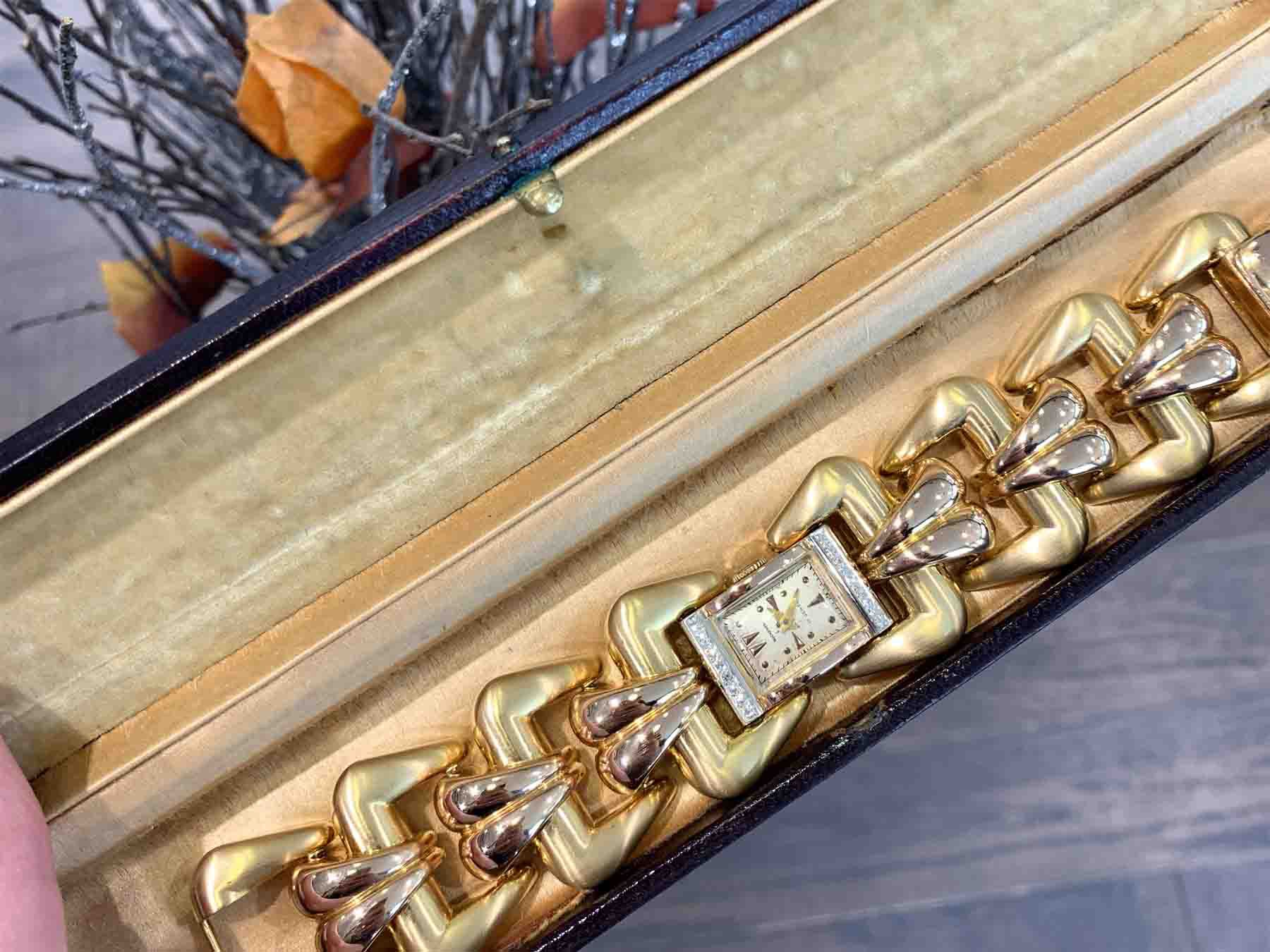 Vintage Ladies Watch
Vintage ladies watches are a popular gift all year, and this statement piece is no different. Formed with yellow, rose, and white gold, this watch is a treat for the eyes. Swiss-made, featuring 17 jewels and dated to the 1940s, make time for this watch.
A pleasingly weighty item, this watch clocks (sorry for the pun) in at 96.56 grams. This gives it a significant presence on the wrist. If you know someone who enjoys the chunky gold of vintage jewellery, consider this gift for them this year.
SKU: C1125
Price: GBP £6,950.00
Diamond Brooch
Nothing says 'statement' like diamonds. Diamond jewellery, from necklaces to rings to bracelets are always welcome. This diamond brooch takes the cake; 13.81cts across a stunning 257 diamonds, nothing compares to this antique French masterpiece.
Naturally, that many diamonds carry weight, to the tune of 39.81 grams in this instance. Floral motifs are among the most popular across all jewellery, and when you see this brooch and hold it in your hands, it's more than easy to see why.
SKU: C2375
Price: GBP £16,950.00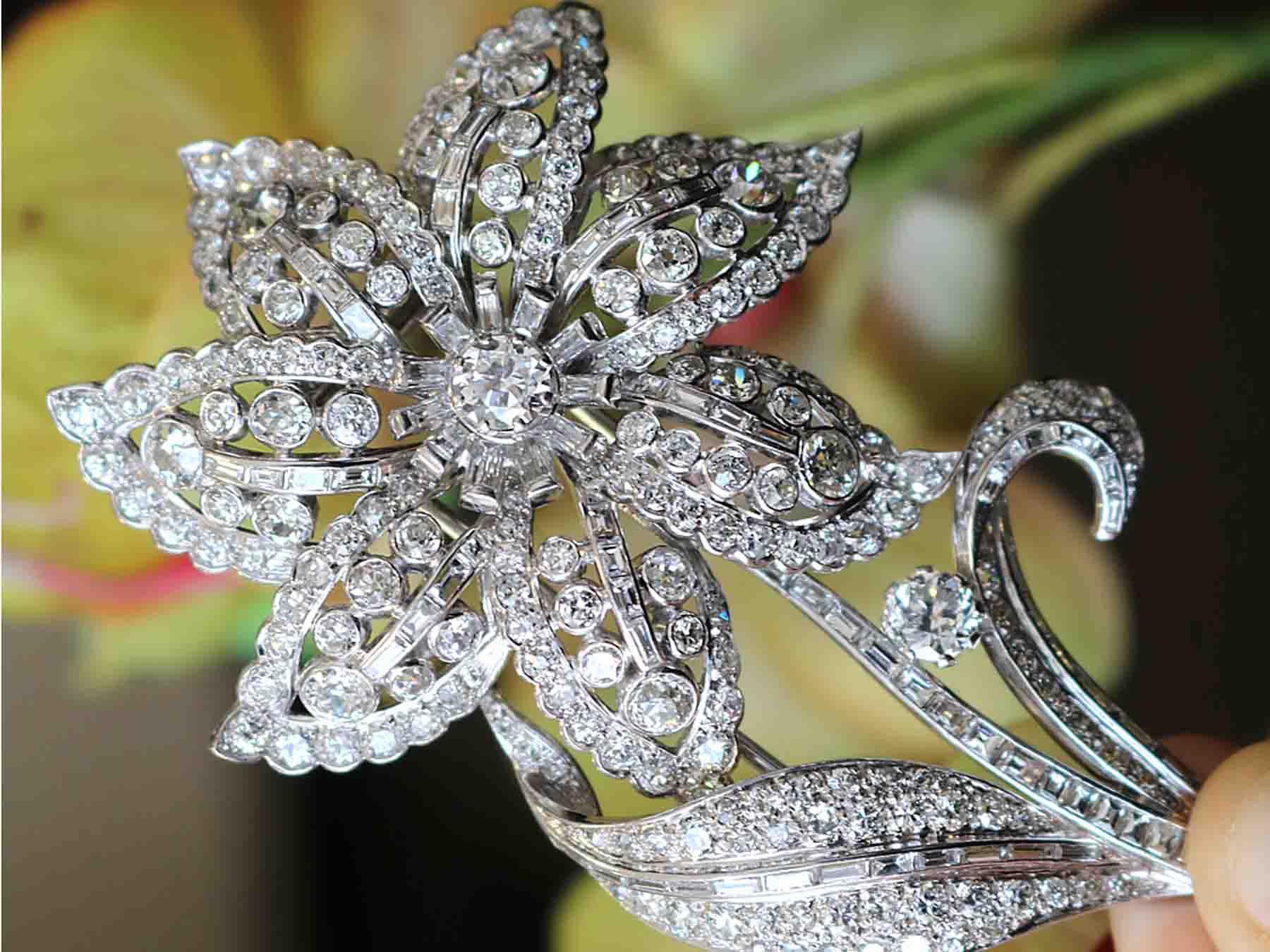 4. Delicates
Diverging completely from statements, the trend of delicate jewellery for Christmas Day means there's something for everyone this year. Finely beaded necklaces and subtle gemstone rings are the perfect gift for those that prefer minimalistic styles over bombastic ones.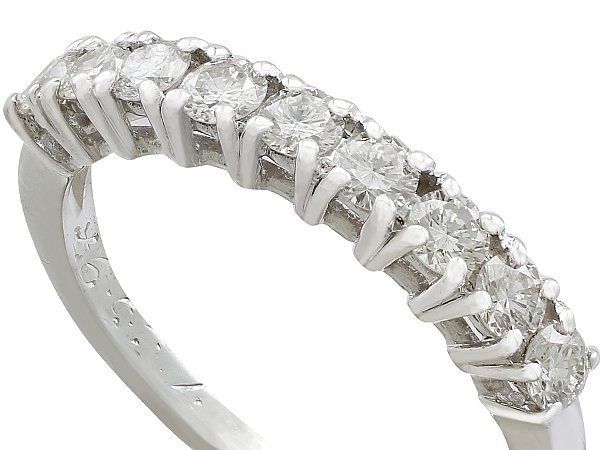 Eternity Ring
Eternity rings and half eternity rings are a great way of getting a lot of stones into a simple and stylish piece. Having the gemstones in a neat line maintains the minimalist look of delicate jewellery, whilst still achieving the sparkle of a luxury gift.
This 1970s half eternity ring features 9 modern brilliant round cut diamonds, averaging at a colour grade G and an average clarity of 'very slightly included 2'. Their watery nature shines through clearly with these excellent credentials.
SKU: C2735
Price: GBP £1,395.00
Pearl and Diamond Necklace
Pearls are often at the focus of delicate jewellery, as their lustre and shine are both hypnotic and sophisticated. If you or someone you know loves the fine gleaming of pearls and diamonds, consider this beautiful antique necklace as a Christmas gift this year.
This pendant sits gently on the décolletage, weighing 4.52 grams at a length of 17 inches. This delicate and dainty necklace manages to pack a lot of sparkle into a small package, utilising 0.62 carats of diamond to maximum effect.
SKU: C2778
Price: GBP £1,995.00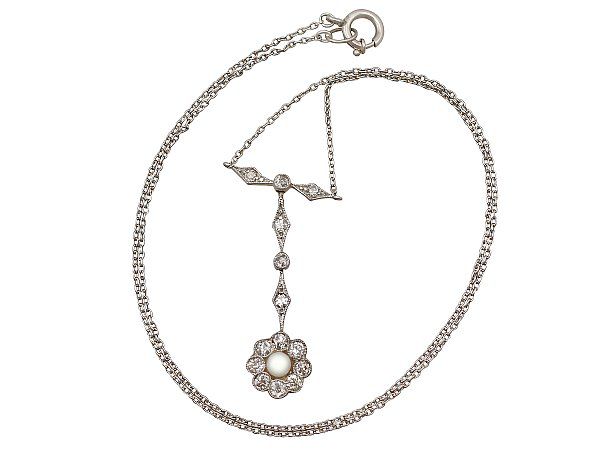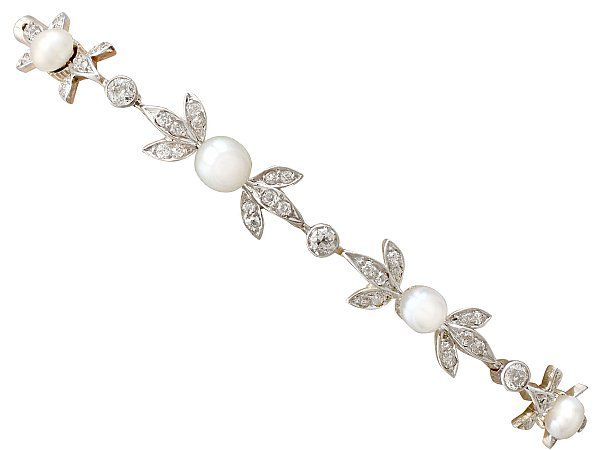 Antique Bracelet
Staying with pearls, this antique pearl and diamond bracelet is another candidate for jewellery for Christmas Day. Even while being this dainty, it manages to contain 1.42cts of diamond across its 6.97" length. This delicate piece is made for the season of giving.
The beautiful leaf-like shapes of these diamonds allow this bracelet to stand apart from other pearl and diamond jewellery. Maintaining a unique pattern whilst also having a beautiful delicacy is what allows this bracelet to be truly a cut above the rest.
SKU: C1159
Price: GBP £4,950.00
If you're thinking of buying your loved one jewellery for Christmas Day this year, you're already on the right track. Jewellery is a timeless gift, and it's impossible to go wrong when it comes to that which sparkles and shines. If you didn't see what you're looking for here, don't worry, we have something for everyone.