Dramatic, bold, eye-catching- we all know (and love) a good statement ring. This iconic style has been a trend for as long as jewellery lovers have existed. It has consistently proven that bigger is indeed better, especially when it comes to diamonds. Statement rings are bold and brimming with personality- they are the perfect way to express yourself via your jewellery. But where did statement rings come from, and how should you style them? Read on to discover this and more.
What is a Statement Ring?
A statement ring is just that- a ring that makes a statement. They do this through their use of design. They tend to be larger than traditional rings, and feature striking colours and varying gemstones. Statement rings add a dramatic flourish to even the most relaxed of looks, however they also enhance elegant evening outfits. These cocktail rings can be precious or costume, worn solo or stacked. Statement rings are versatile and bold, and they are the perfect addition to any jewellery box.
The most important statement these rings make, however, is about the identity of the wearer. The distinctive designs of these rings are the perfect way of displaying personality, whether this is who the wearer is or who they want to be. The most enduring jewellery trends are ones that favour the unique- and statement rings are nothing if not individual! They are vibrant statements of personality, and can convey what the wearer represents without them saying a word. In the same way that trilogy rings represent love or solitaires equate engagement, a statement ring signifies a fierce confidence.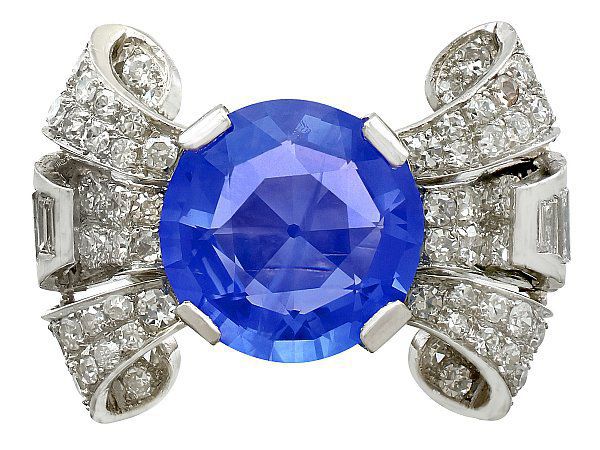 History of the Statement Ring
From studying the history of diamonds, it's clear that statement rings have been around for centuries. Ancient Egyptians utilised statement jewellery in ceremonies and rituals, or to show divine favour. Many other artefacts have been found throughout the years that we today would consider to be a 'statement' piece. However, it is fair to say that the roaring 20s were when statement rings really found themselves growing in popularity.
1920s America was a time of simultaneous constraint and freedom. Although Prohibition was in full force in this period, women still found themselves with growing liberties such as the right to vote and working outside of the home. Their newfound independence was expressed in their clothes and accessories. Women attended parties in their glamourous flapper-esque attire, decked out in bedazzled headgear and sparkling jewels. Drinking and dancing were one way of flaunting their freedom, but even better to do this with jewellery too.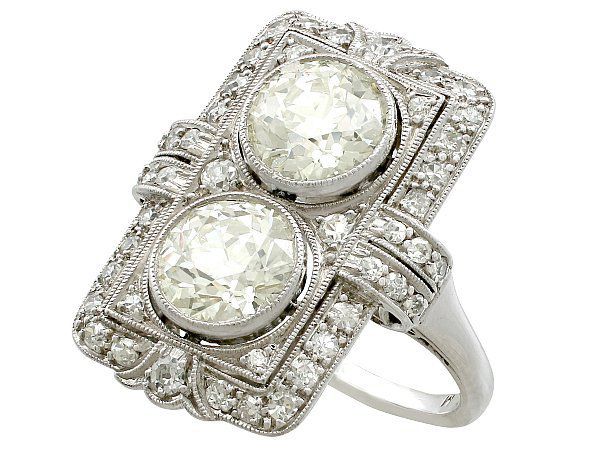 One of the most iconic styles of statement ring- the cocktail ring- found its name in the speakeasies of 1920s America. Named after the illegal alcohol being served, this unique style of ring came to represent the individuality and independence of the women at the time. As time passed, the cocktail ring grew to be one of the most popular trends of the century.
Types of Statement Ring
When it comes to statement rings, the possibilities are endless. You can choose a ring with a quirky shape, a sparkling stone, or an intricate design. If you need some inspiration, however, see some of our favourites below.
The Statement Cocktail Ring?
Of course, we had to include a classic cocktail ring in this list! What is a cocktail ring? Well, this is one of the most enduringly popular styles of statement ring. It features bright colours, bold cuts, and likely more than one gemstone. The vintage sapphire and diamond piece pictured below is the perfect example of this style. The striking colours and various sizes and shapes of the gemstones make this wonderfully suited to anyone who wants to exude vibrancy and confidence. A cocktail ring such as this is always a conversation starter.
The Statement Engagement Ring
If you're a bride who wants something a little bit different, then a statement engagement ring is the one for you. Sticking with a diamond for the central stone is a nice nod to convention, however from there you can personalise as you wish. Twist rings are a classic engagement ring style; however this antique piece (literally!) puts a twist on tradition. The large central stone and exaggerated spiral design have all the features of a typical engagement ring, with a little extra added flair. Choose a statement engagement ring, and you'll have a piece that expresses your personality as well as your love.
The Statement Solitaire Ring?
Make a minimalist statement with a solitaire ring. I know, the idea of minimalism and statement rings seems slightly contradictory, but hear me out! If you like the idea of a statement ring but aren't quite ready to dive headfirst into costume jewellery, then a subtle statement diamond ring is the perfect choice. Statement solitaire rings such as the antique Victorian piece below are the best way to dip a toe (or finger) into statement rings. The large central stone is an expression of chicness and is suitable for everyday wear. Meanwhile, the intricately engraved yellow gold band adds a hint of personality without overwhelming the ring as a whole. If you're wondering, what is a solitaire ring? Then you can check out our solitaire rings collection here.
How to Wear a Statement Ring
Which Hand?
Unlike wearing brooches, there are no hard and fast rules on how to wear a statement ring. However, this was not always the case. When these rings were first becoming popular, they were typically worn on the right hand, either on the ring or middle finger. This is so the striking statement ring didn't take away the focus from a wedding ring. However, in the ultimate spirit of the statement ring, women rejected this. Statement rings were worn on both hands, on multiple fingers, and sometimes even on the left ring finger (the horror!) The most important thing to consider when choosing what hand to wear your ring on is simply the ring itself. A long ring would naturally suit longer fingers, and a wide one may look a little off balance if it were worn on the little finger.
Mix and Match
Statement rings can reflect ever changing moods and personalities. Sometimes you might want to go big and bold with your jewellery choices. Mix and match multiple rings for a really playful look. To keep this looking cohesive, coordinate certain aspects of the rings you choose. Get experimental with shape, size and stones, but ensure the rings complement each other in some way (such as the metal choice). Stacking statement rings is a great way to keep them looking fresh- and half the fun is to see what new looks you can create.
Small Details
Statement rings are meant to draw attention specifically to your hands. So don't neglect them! If you're putting a lot of thought into what your ring is expressing about you, you want your nails to rise to the occasion too. Treat yourself to a manicure, or pick out a nail varnish colour that will complement the ring or rings you plan on wearing. By concentrating on the little details you'll create a perfect backdrop for your stunning statement ring to stand out on.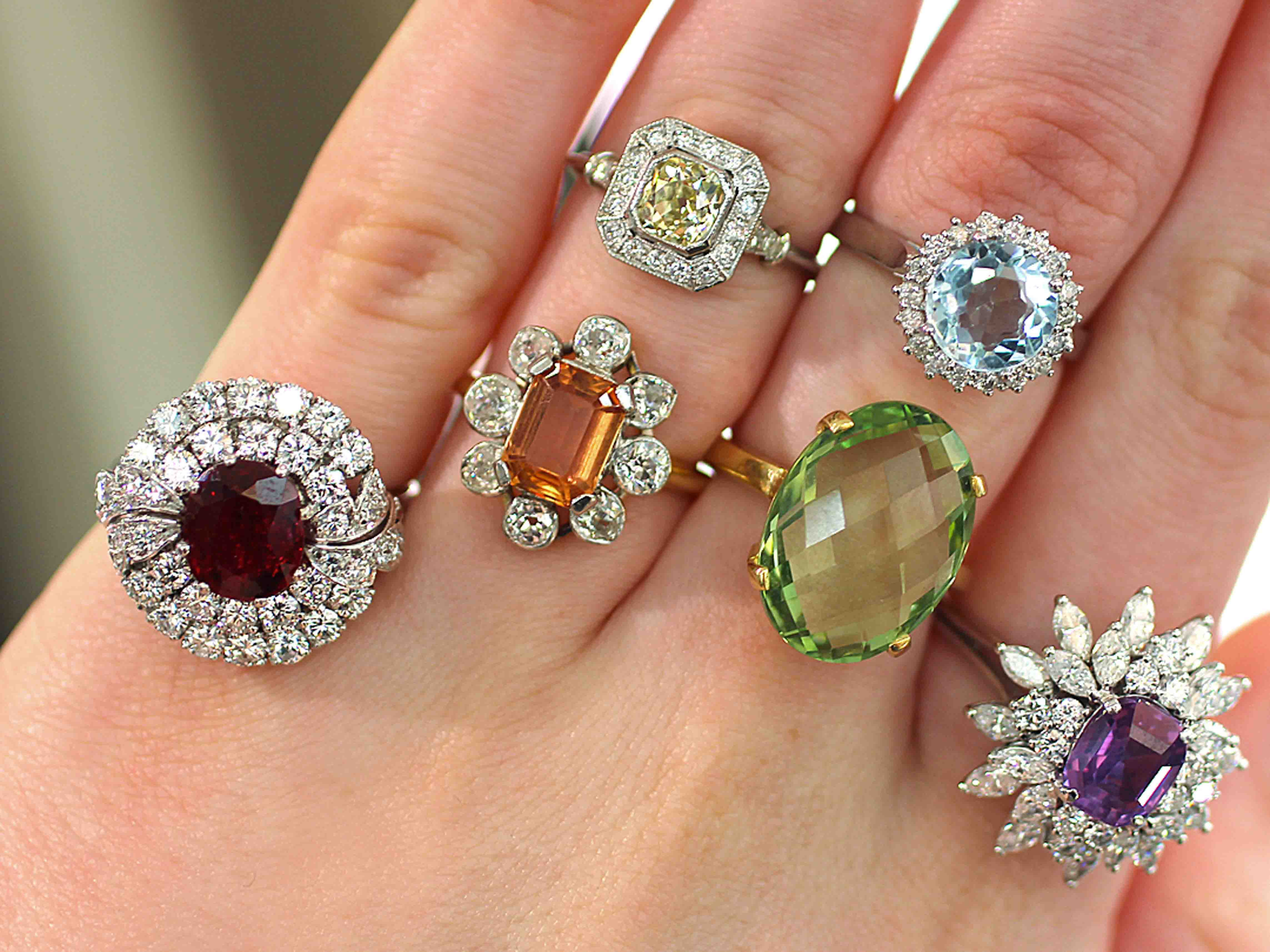 Finally, remember that confidence is key. Wherever and however you choose to wear your statement ring, remember that as long as you feel good then that's all that matters. Statement rings are the perfect way to flaunt your personality as well as your gemstones, so make the most of this and enjoy the attention your bling will bring! Are you ready to make a statement in statement rings? Let us know below!