Diamond earrings come in many forms, each as fabulous as the next! Their timeless elegance and stunning sparkle make them absolute must-haves within anyone's jewellery collection. From subtle studs to stylish hoops, every type of diamond earring can be styled flawlessly. This jewellery type also offers unmatched versatility — diamond earrings can add that something special to a casual outfit, or steal the show when worn to a more formal occasion.
Whatever occasion you're styling your diamond earrings for, we've got you covered! Read on to find out more about how to get the most out of your earrings and elevate any outfit.
What to Wear With Diamond Earrings?
One of the fantastic things about diamond earrings is their pure versatility. In the past, diamond jewellery would only ever be brought out on special occasions. Today, however, the social rules surrounding diamond jewellery are much more relaxed. In fact, you can wear diamond earrings whenever you like, with whatever you like! Diamond stud earrings are particularly versatile — whether your pair them with a sleek cocktail dress or jeans and a shirt, they are sure to look great.
When it comes to pairing diamond earrings with other jewellery pieces, you also have a lot of freedom to find the right combination for you. As diamonds are usually clear in colour, they are easy to pair with most colours. However, if you're going for a colourful outfit, try to keep any other gemstones to a minimum and stick to simple diamond pieces. Be sure to take note of the setting of your earrings as well. As a general rule, it works well to stick with either silver or gold-coloured metals in one outfit. So, you could pair platinum stud earrings with a sleek white gold tennis bracelet for example. However, there's always room for creativity, so if you feel like trying something a little different — go for it!
How to Style Diamond Stud Earrings?
Diamond stud earrings are among the easiest jewellery types to style. Why? Well, because they go with pretty much anything. Small studs can be worn as the stand-alone jewellery accent in your outfit, whether you're going for a casual outfit, work attire, or a simple yet elegant evening look. If you're wondering what is the best setting for diamond stud earrings, the answer is largely dependent on taste. However, studs set in white gold and platinum are particularly easy to style as they always look modern and on-trend. Although, if you have a warm skin tone, yellow gold stud earrings might be a better choice. If you're considering purchasing a pair of studs and are wondering if diamond stud earrings are in style, then trust us when we say, this style never seems to go out of vogue.
How to Style Diamond Hoop Earrings?
Like diamond stud earrings, diamond hoops can be worn with a wide variety of outfits. Bringing a bit more bling to the table than studs, hoop earrings are more likely to catch people's attention. Therefore, they should be the main jewellery piece you wear and you should try to resist mixing and matching them with other pieces, especially if you're wearing large hoops. For a casual look, opt for a dainty pair of small hoop earrings that hug your lobe. This style will add a similar subtle sparkle to stud earrings, it won't look too over the top. For a more dressed-up look, vintage hoop earrings with pavé set diamonds (like this 18ct yellow gold pair) would work wonderfully with a brightly colour cocktail dress and statement heels.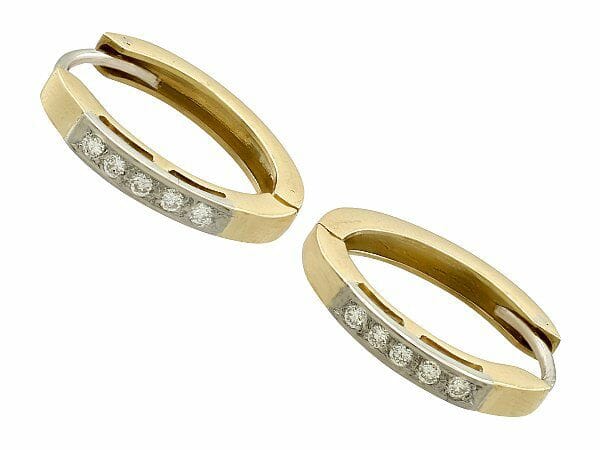 If you don't already own some pairs of essential diamond earrings, we have a wide variety for you to peruse. Shop stud earrings, hoop earrings, and more to find the perfect pair for you — whatever the occasion!