Antique accessories for the home can be hard to come by, especially if you are searching for silver that has truly stood the test of time. Here at AC Silver, we know our silver, and we are proud to present only the finest antique accessories for your homes. Join us on a soiree of silverware as we take a look at our vast selection of antiques that would complete any home.
Baskets
Antique baskets are an excellent idea for décor due to being both beautiful and functional. All of our sterling silver baskets at AC Silver are of an exceptional quality, each with their own unique and wonderful designs and features.
Let's take a look.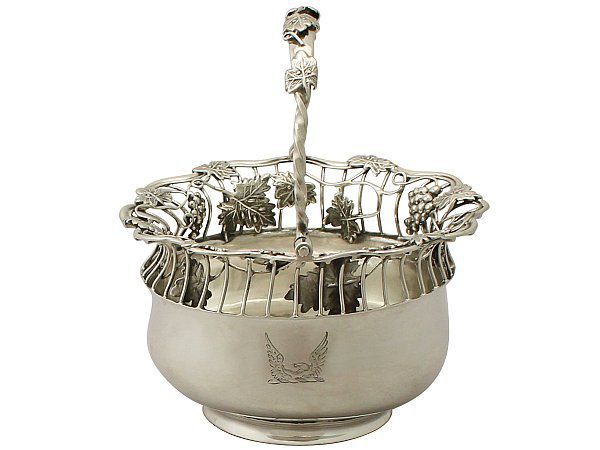 This stunning Antique Georgian sweetmeat basket is dated to 1764, making it a stunning example of how well antiques can age when the proper care is taken. Although the need for sweetmeat baskets is not what it once was, this item's ornamentation and quaintness opens it up to varied uses today. Standing at just 5 inches tall, this basket is the perfect size to be an excellent finishing touch.
SKU: A6933
Price: GBP £1,595.00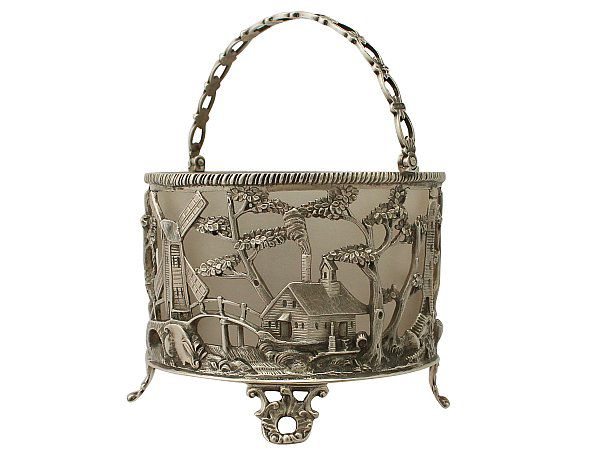 An antique Victorian basket is our next example. The surface of this lovely piece is embellished with a pastoral scene, complete with a windmill, forest, and farm-like thatched building. This item is a wonderful display piece, featuring a wonderfully ornamented swing handle, and presented in its original hinged leatherette box; a stunning display piece both boxed and unboxed.
SKU: A6117
Price: GBP £1,595.00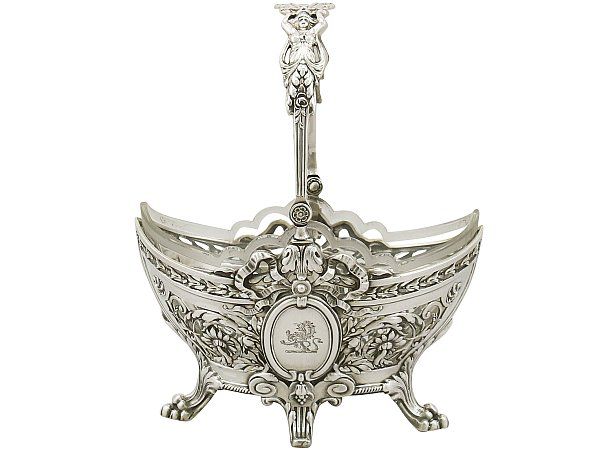 Our final look into the world of baskets today is another Victorian piece. This bon bon basket harkens back to the lavishness of a time when such things were required by the middle classes, making this antique accessory uniquely intriguing. The heavily embellished body of this basket features scrolling leaf and floral designs. The focus of this piece is the crest of a demi-lion rampant – truly regal.
SKU: A8038
Price: GBP £1,295.00
Dishes
Dishes are a very versatile antique, their various sizes allowing them to have different uses, as well as different levels of prominence in any given room. Have a look at just a few of our examples of beautiful antique dishes and see for yourself.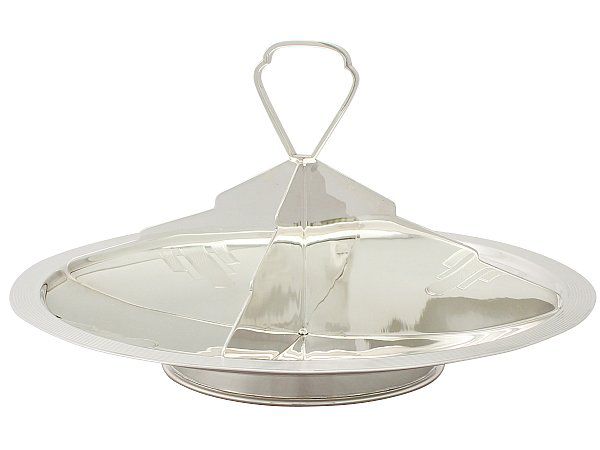 The Art Deco style has always been a favourite of mine, and this 1941 cake dish is no different. Its angular, clean design is incredibly appealing, and – despite being nearly 80 years old – its aesthetic is very current with popular designs today. Split into four segments, this dish is beautiful and can be incredibly useful also – perhaps it's the touch your home is missing?
SKU: A3414
Price: GBP £1,395.00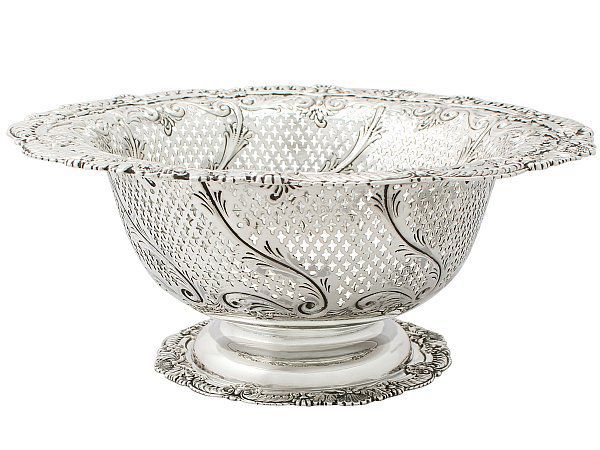 Fruit dishes are useful even today, but this antique Edwardian example is perfect for heightening the decoration of any room. The flared rim of the dish features a stunning leaf border, incorporating shell and inverted shell designs. This fruit dish has a great size, measuring at 10.6" at its widest point; this would make it an excellent central element to decoration throughout the home.
SKU: W8088
Price: GBP £1,395.00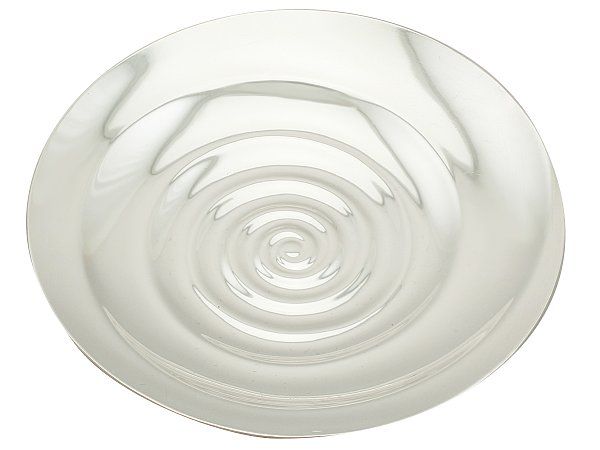 We are incredibly lucky here at AC Silver to possess several items of silverware from the legendary design house of Tiffany & Co. This dish, featuring a hypnotic swirling spiral design is no different. Highly valued and collectable, Tiffany antiques are always in fashion, and they add instant glamour and timeless sophistication to any space in which they feature.
SKU: A7788
Price: GBP £695.00
Photograph Frames
Although we have spoken about photograph frames before on these types of blogs, there's no end to the number of times they can be brought up when it comes to decorating. 'Antique accessories for the home' can mean many things, but it most definitely means photograph frames.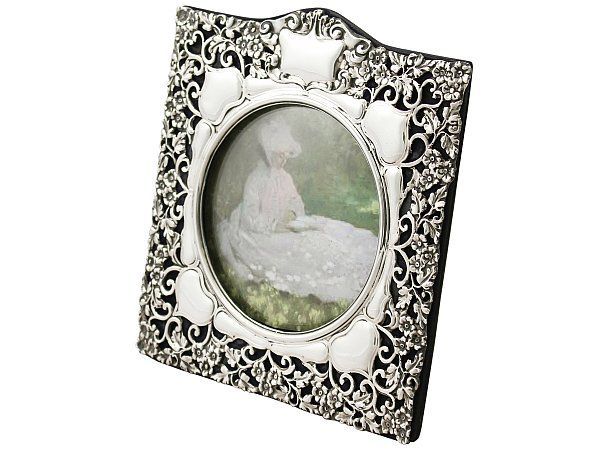 This antique Edwardian photograph frame would be a wonderful shelf item, or perhaps part of a series on a windowsill. Embellished with impressive embossed and pierced floral, scroll, and leaf designs stemming from an organic motif shaped border, this stunning angular frame encompasses a circular internal window. Keep loved ones close within the confines of this gorgeous item.
SKU: W8638
Price: GBP £545.00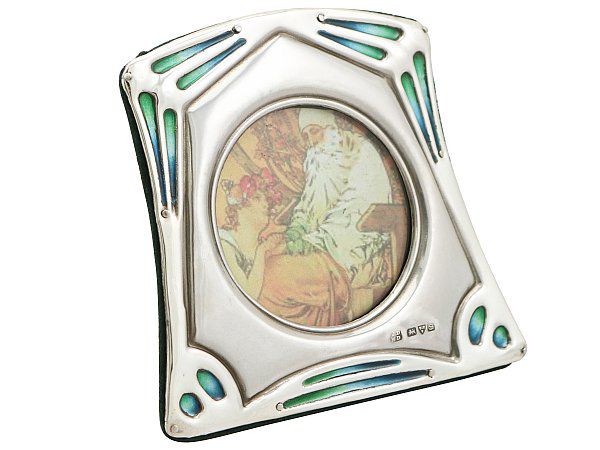 This gorgeous Arts and Crafts style frame is one of my favourites in our selection. Its shape is so entirely unique, featuring a subtly convex border and a circular internal window. The enamel highlights on this photograph frame are the perfect finishing touch, making it stand out from the crowd. This frame is one of our smaller ones, making it perfect for those little spots around the house.
SKU: A8051
Price: GBP £1,295.00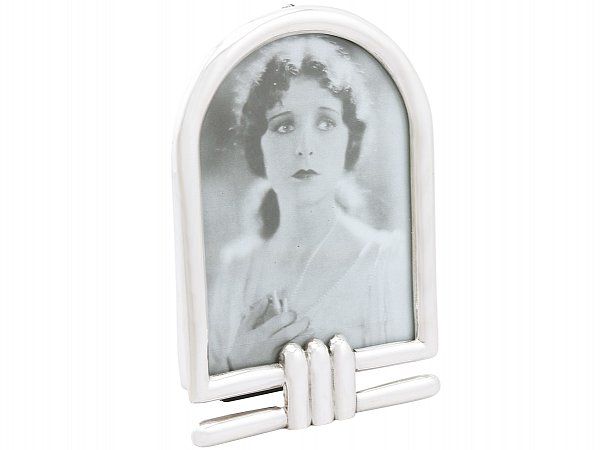 For those who like their décor to be highly stylised, this Art Deco-inspired photograph frame is simple but very effective at leaving an impression. The horizontal base connects to the window via a tri-lobed collar, iconic to the Art Deco aesthetic. This photograph frame's hallmarks tell us it's from Egypt, an interesting element that furthers the uniqueness of this beautiful piece.
SKU: A9509
Price: GBP £795.00
Enamel
Enamel and silver go together like strawberries and cream, and that is why items that incorporate both make for the best antique accessories for the home. Let's take a moment to appreciate just a small section of the variety of items of silver that are greatly improved by the presence of enamel.
Here we go.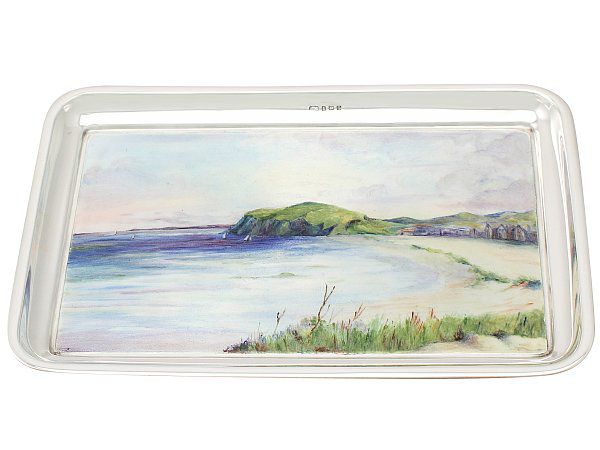 This sterling silver and enamel dressing table tray depicts a coastal scene – a bay with a grassed cliff, sailboats sitting on the calm water, and subtle dunes along the sandy beach. Such a stunning illustration makes this tray a wonderful item of décor, both as a standout piece and a functional item placed throughout the house. The design featured on this item matches scent bottles within our selection also!
SKU: A3000
Price: GBP £2,250.00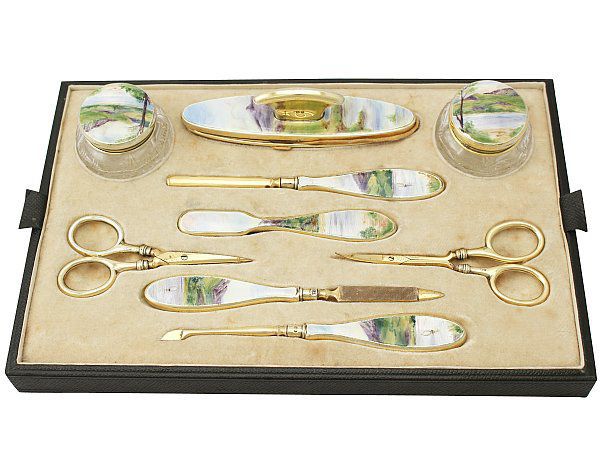 Dressing table sets are difficult to come by, particularly ones in such exquisite condition. This selection of items all features a stunning array of guilloche enamel, cut glass, and sterling silver. When it comes to decorating, dressing table sets fill a space wonderfully and cohesively, especially with the enamelling tying all of the individual pieces together as a complete set.
SKU: A3428
Price: GBP £1,795.00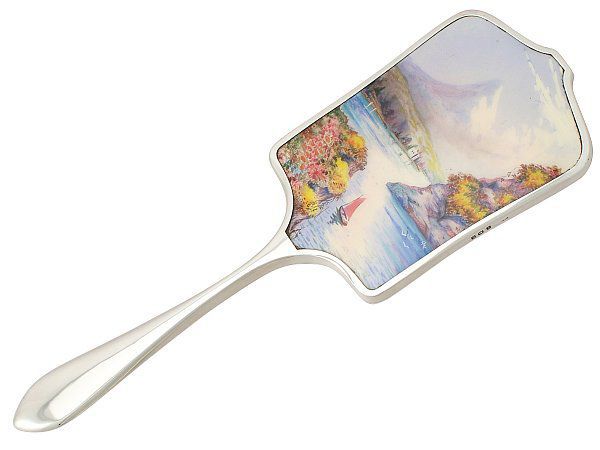 Our final piece of enamel and silver is this gorgeous antique hand mirror. If you're looking to add some traditional glamour to your home space, look no further than this stunning item. Its enamel panel features a ship sailing between colourful floral and foliate enveloped rock formations, with a mountainside town in the backdrop. Truly a beautiful piece, this mirror is waiting for a home to complete.
SKU: A3755
Price: GBP £695.00
No matter what you're looking for to decorate your house, AC Silver has you covered. Our selection of antique accessories for the home is matched by no other, and they're all just waiting for you to browse…