Earrings are a great way to add some personality to your wardrobe. However, it can be difficult to find earrings that not only match your outfit but complement your face. There are so many different trends and styles out there that it can feel overwhelming. From studs to drops, there's a look out there for everyone- but how do you know which suits you?
Firstly, let us say that in 2019, we understand that choosing an accessory based on anything but how much you like it can feel a tad dated. Obviously, the best earrings for you are the ones that make you feel the most confident, regardless of other factors.
Still, if you're looking for specific styles that will emphasise your best features, you're in luck. We've compiled our top tips for choosing earrings that suit you.
Face Shape
One of the easiest ways of finding your perfect earring is to consider your face shape. Like any accessory earrings have the ability to enhance your natural beauty, highlighting impressive cheekbones or other favoured features. However, it's important to choose the right style of earrings for your face shape.
1) Round Face
If you have a round face, then bold is better when it comes to earrings! A round face is possibly one of the easiest to identify as it is circular; widest at the cheekbones with a rounded chin line. To complement this face shape, aim to elongate it. Drop or dangle earrings are perfect for this, especially eye catching angular pieces. The Art Deco style is wonderfully suited to this look. Sharp lines and geometric shapes contrast with the roundness of a face and create balance. As such, round or disc shaped earrings may not be the most flattering.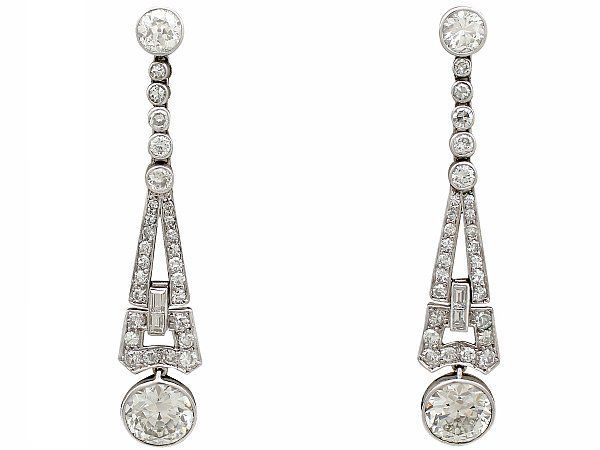 2) Square Face
We're incredibly envious of anyone with a square shaped face- you likely have a fabulous jawline! Here, the width of your forehead and jawline will be noticeable similar. In this case, the most complementary looks involve working with your shape and not against it. Counteract the angles of your face with oversized hoops and other circular styles. These will soften the sharpness of your face- this technique works especially well if earrings extend below the jawline. Angular earrings are one to avoid here, as they have the potential to add more width to your face.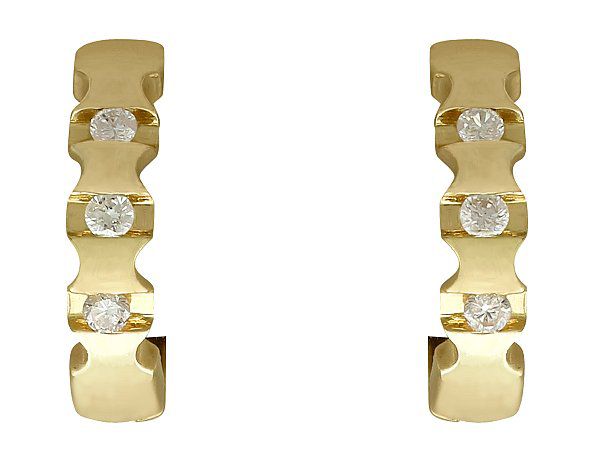 3) Oval Face
For any earring lover, an oval face shape is ideal. Oval faces are highly adaptable, and suit many different styles of earrings. Like round faces, ovals have a soft jawline. However, the key difference is that they are longer than they are wide. Whilst the world is your oyster if you have an oval shaped face, certain earrings styles can really show off your versatility. Long, hanging, earrings will balance your contours, while studs or rounded earrings can broaden your facial arrangement. We love these vintage onyx earrings as they encompass both the rounded and hanging aspects that oval shaped faces pull off to perfection.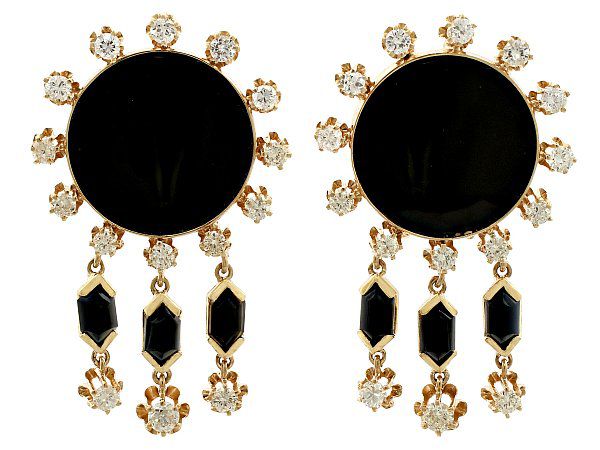 4) Heart Face
Heart shaped faces consist of a wider forehead and a more pointed chin. The most complementary looks for this face shape involve counterbalancing the sharpness of the chin. Do this by opting for teardrop or chandelier style earrings. This works because the wider bottoms of these styles help to fill in the lower portion of your face- see how these antique emerald earrings are almost the inverse of this face shape? The roundness of these earrings can also work to soften the angles of your chin. Slim, drop style earrings are stunning, however if you are looking to draw attention away from the lower half of your face then these may not be the best choice!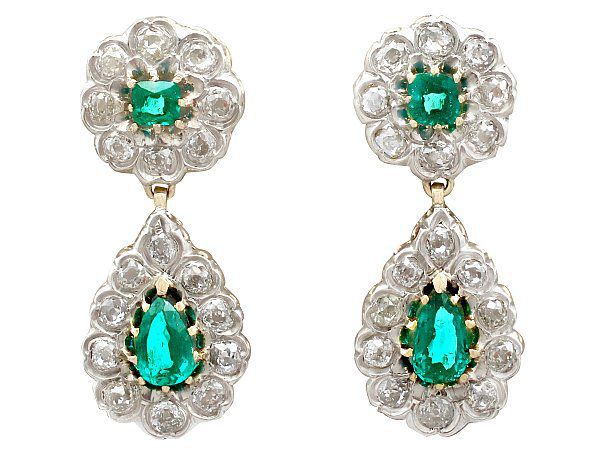 Hairstyle
After your face shape, your hair is one of the main influencing factors in deciding which earrings suit you. Read on to see how you can find earrings that complement your current hair style and type.
1) Pixie Cut
If you have a pixie cut then you're in luck- this is the perfect style for almost any type of earring! This is because the lack of hair means the earrings can really do the talking. With this hairstyle you should take the opportunity to experiment with your style while your earrings have the opportunity to be front and forward. Statement earrings work wonderfully with a pixie cut; we love the drama of these chandelier style earrings. Additionally, their length means that they can frame your face where your hair cannot. If you're not a fan of the ostentatious, then make a stylish but subtle statement by layering your earrings. If you have multiple piercings, create a minimalist ensemble of delicate studs to display all of your favourite pieces at once.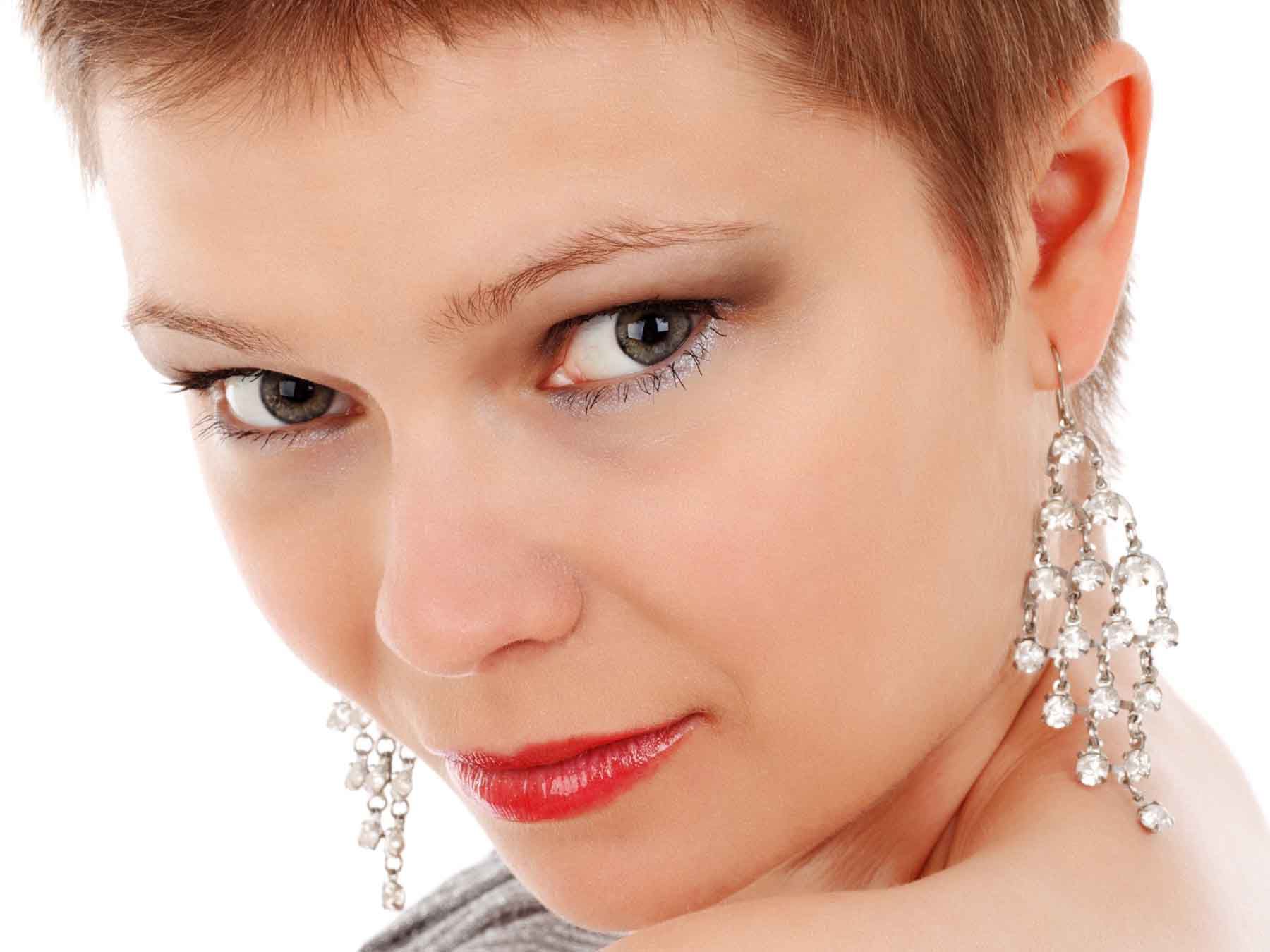 2) Long Hair
If you tend to wear your lovely long hair down, this may distract from any earrings that you might wear. In this case, consider opting for some classic diamond studs for everyday wear. Don't be fooled by their simplicity- this style holds a timeless glamour that is adaptable to any personal style. However, having long hair doesn't just limit you to the simple stud. Vibrant drop earrings look sophisticated no matter what hairstyle you have. We're particularly fond of the way these teardrop earrings have been styled- the pop of colour the stone provides looks wonderful peeking out from behind a curtain of hair.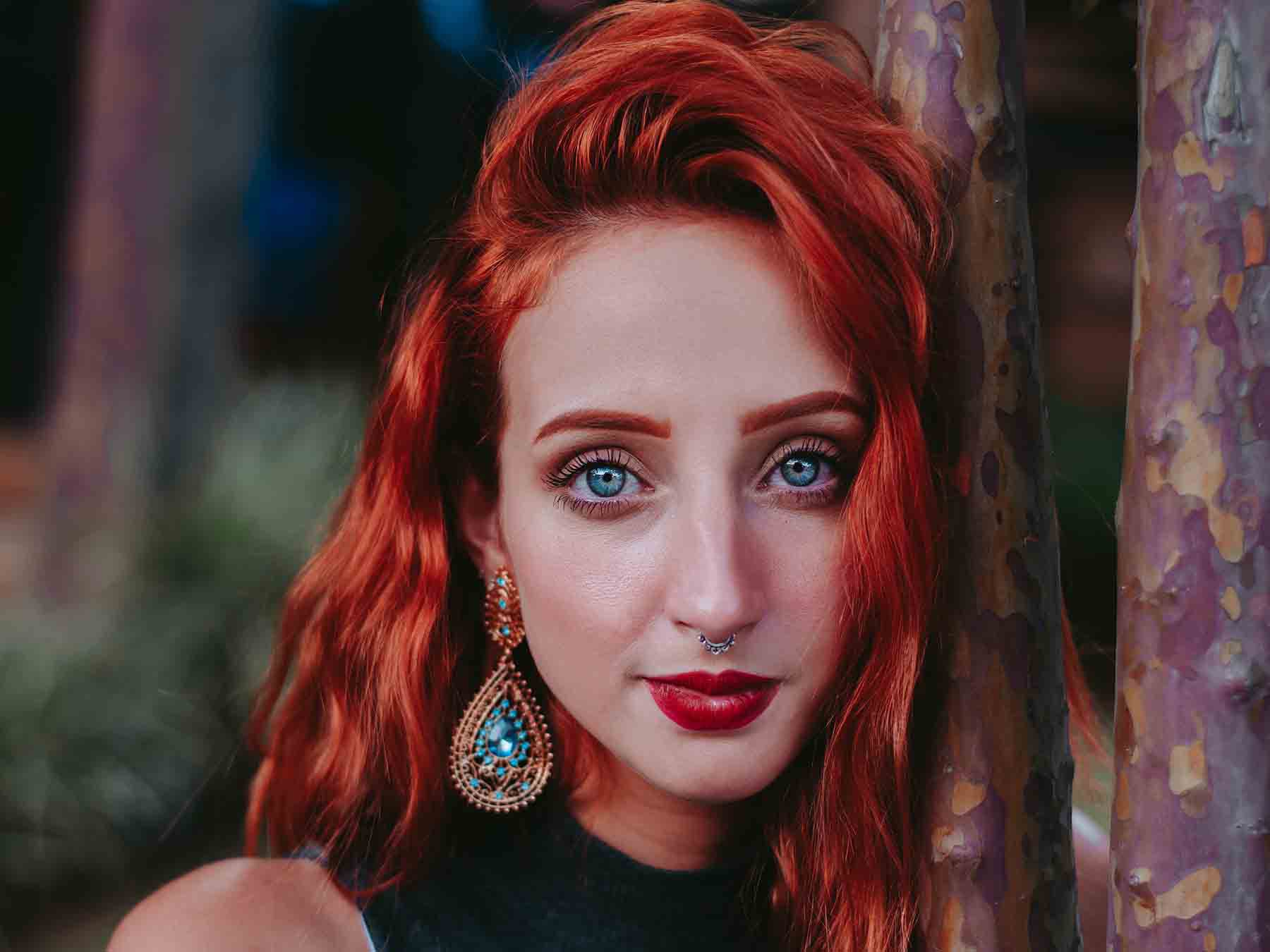 3) Curly Hair
While beautiful, curly hair can be a tricky one to partner with the right earrings. It can often get caught or tangled in them, which isn't ideal if you favour delicate pieces. You're lucky as your natural hair alone makes a statement in itself, however this can really be enhanced with the right earrings. Hoops are the best friend of anyone with curly hair. Their sleek design means that they are far less likely to end up tangled in your mane, meaning you can dance the night away with ease! Additionally, the curved design of the hoop complements natural curls perfectly.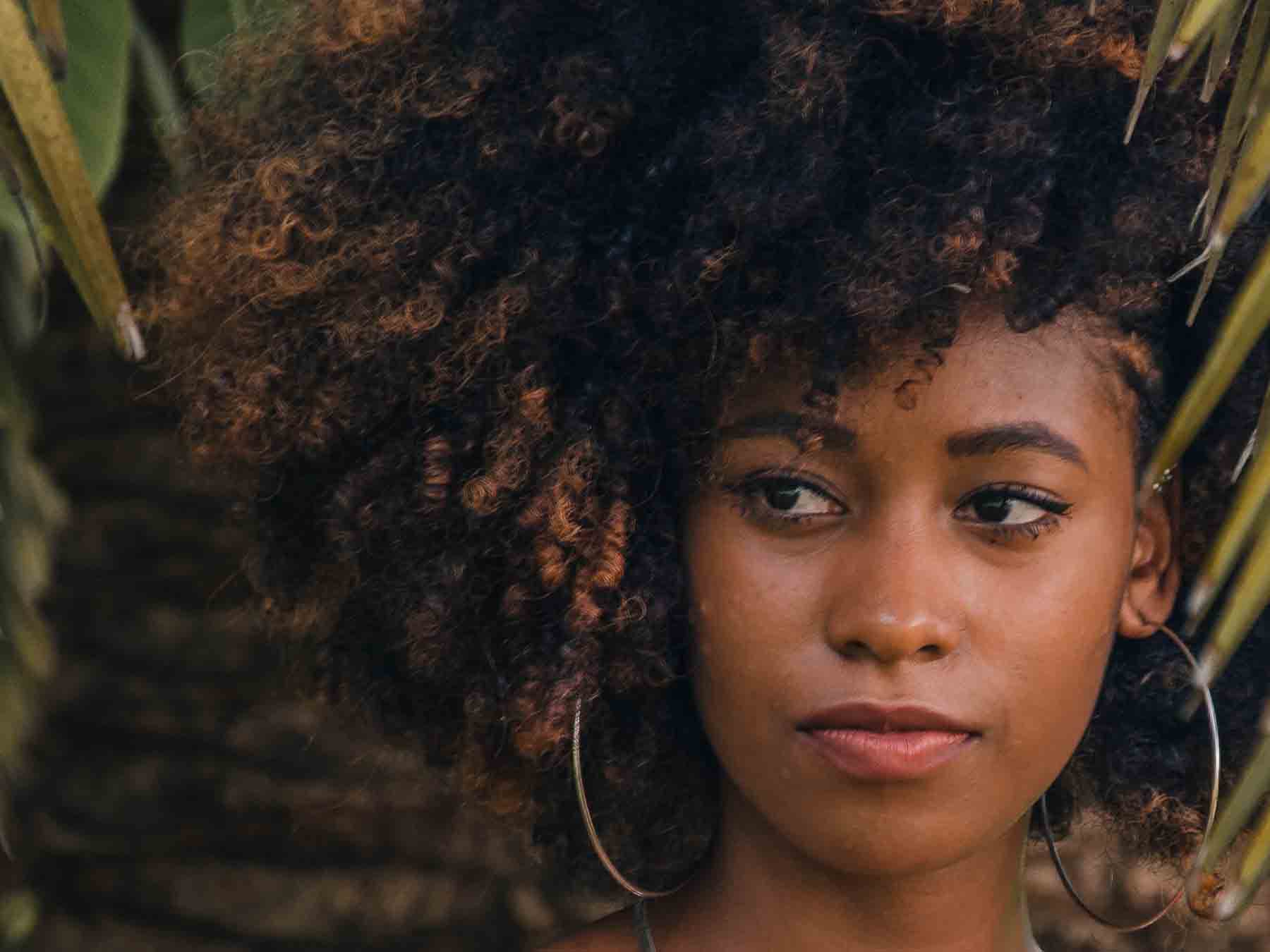 Tips and Tricks
There are many other things to consider when searching for your perfect earrings. Here's a quick round up of a few more tips and tricks.
1) Consider Your Lifestyle
When choosing earrings that suit you, it is important to consider your lifestyle. Some earrings are more compatible with certain lifestyles than others. For example, if you are very sporty then for everyday wear it is probably more practical to opt for a pair of simple studs, as opposed to some dramatic chandelier earrings!
2) Occasion
Before committing to a purchase, ask yourself where you plan on wearing these earrings. If it's to work or the office, then it is perhaps best to employ a more conservative approach. Smaller earrings such as delicate hoops will be perfect for this environment, as they are both timeless and work appropriate. If the event in question is more relaxed (a party or wedding for example) then this is the time to let your personality shine.
3) Glasses
Do you wear glasses? If yes, then it is definitely worth considering how you will pair earrings with these. The trick here is to find earring shapes and styles that create a cohesive look when combined with your glasses. So if your frames are silver rimmed, stick to platinum or white gold with your earrings so as not to make this area of your face look too busy.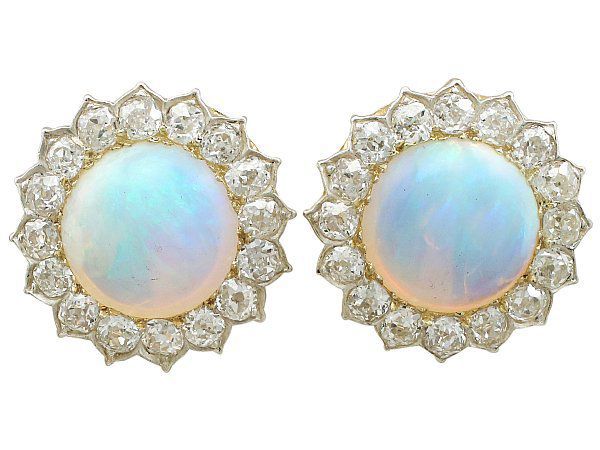 These factors are all important things to consider when choosing earrings that suit you. Matching your earrings to any of these features is a great starting point. However, the most important thing to consider when earring shopping is how confident they make you feel. If you have a pair of earrings you love, don't let anything stop you from wearing them! What's your favourite style of earrings? Let us know below! And if you want more ways to personalise your jewellery choices, check out our blog about what earrings you should wear according to your zodiac sign.