What is a Pinky Ring?
For many this may seem self-explanatory, but the pinky ring is a ring which is worn on your little finger. It doesn't have to be worn on a particular hand, left OR right seems to suffice.
History of the Pinky Ring
Many may think the reinvention of this pinky ring is a recent phenomenon, however they would be wrong.
The oldest recognised pinky rings were signet rings; a European creation dating back to around 1500 AD, consisting of a very intricate reverse carving, typically of a crest, in particular a family crest, onto a flat bezel. The most common metal for this was gold. Such rings were used to stamp the family crest onto the wax seal on an envelope. The true craftsmanship in signet rings is displayed during this imprinting rather than the ring itself.
In modern times there are very few people left who possess the skill necessary to make fully functional signet rings.
Marriage? No thank you…
Even in Victorian times this fad existed. The wearing of such a ring however had different connotations, many men and women who were uninterested in marriage would wear a ring on the little finger of their left hand.
An expression of sexuality
During the 1950's and 60's signet rings were worn to signify membership of the gay community; both lesbians and homosexual men wore such rings. Such a fashion statement meant that people didn't have to confess to their sexuality verbally, and they could simply wear this ring as a symbol of their sexual preference.
The bad guys
In the USA the pinky ring was also a sign of criminal activity; members of gangs would wear such rings to show they were a part of gang culture and crime. Many gangster movies contributed to this association, by depicting the main mob boss adorned with a pinky ring and thus assisting the connection between wearing such a ring and criminal activity.
Much more than just a mummy's boy
Though there may have been a resurgence of wearing pinky rings for women, such rings have been a fairly constant accessory for men as understatement jewellery and plain bands.
Another reason for a man to wear a pinky ring is for sentimental reasons such as in remembrance of his mother, wearing her wedding band on his pinky as it would, most likely, be the only finger it would fit.
Modern Day Pinky
Within the last few years the trend of pinky rings has been on the rise, due to fashion designers like Chloé, adorning models with the rings in their recent campaigns.
The Golden Globes 2014 showcased this trend with celebrities such as Amy Adams, Sarah Hyland and the '12 Years A Slave' actress Lupita Nyong'o (pictured), who in many eyes stole the show with her cape dress and jewellery, including a large pinky ring.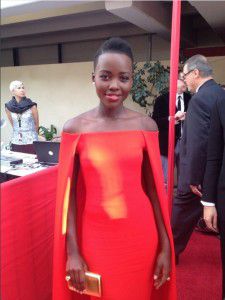 Choosing your Pinky Ring
Do you opt for subtlety or the WOW factor, when selecting your pinkie ring?
If you are wanting to catch the attention of passers by you may want to think big and opt for a grand pinky ring.
With 1.53 cts of diamond you would struggle to find a more impressive pinkie ring, its impressive diamond content is sure to dazzle your little digit.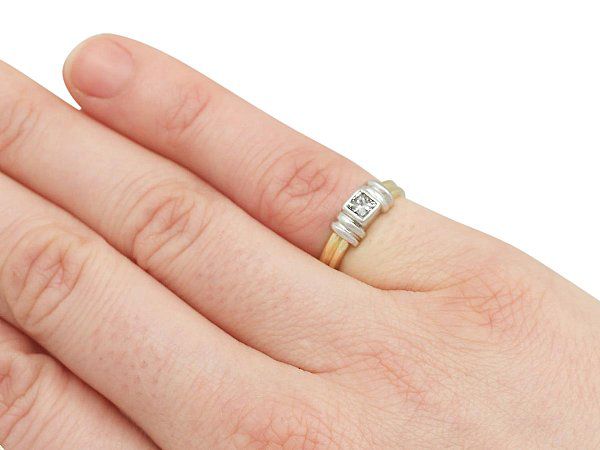 For those who are wanting to make less of an impact, you may want to opt for a smaller diamond, this contemporary ring in created in the Art Deco style and has a 0.32ct diamond.
There are so many pinky rings available it soooo hard to choose! However I was surprised to find so many pinky rings containing fabulous gemstones. Now, I don't hide my emerald obsession so I feel I would prefer a emerald pinky but I couldn't find many to my taste ….
Have you seen any ? (Please share this info with me below)