Whilst most people associate the words 'Tutti Frutti' with hard, colourful sweets, or a Little Richard song by the same name, jewellery fanatics know better. Created by Cartier, Tutti Frutti is a style of jewellery that heavily features colourful stones such as rubies, emeralds, and sapphires, in bright, vibrant tones.
The 'Tutti Frutti' movement.
The beginning of Tutti Frutti jewellery – though it should be noted the style was not given that name until the 1970s – was commissioned in 1901 by Queen Alexandra. She specifically wanted jewellery that would complement a selection of three gowns that she had been gifted by the Vicereine of India at the time. In order to accentuate the colours and nature-oriented motifs of the Eastern styles found in India, Pierre Cartier utilised brightly coloured gemstones, and cut them to show similarities with leaves, berries, and flowers, as was common among Indian items. The finished item was exotic and unique, and brought about the beginnings of the style now referred to as Tutti Frutti jewellery.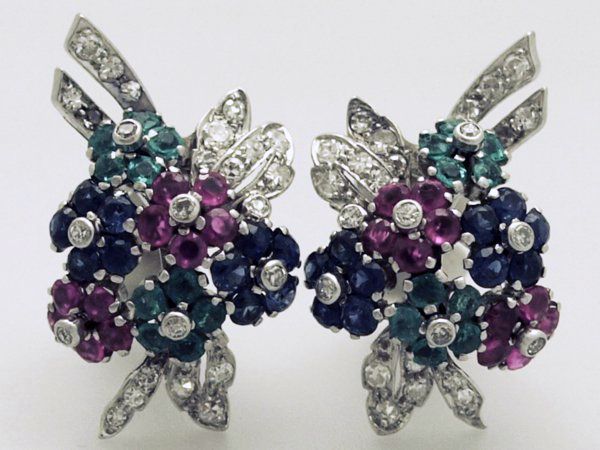 At the turn of the century, the exoticism of India was immensely popular in Britain. Travel both to and around the subcontinent had become significantly more accessible and affordable for the British public, and so tourists were more than eager to follow in the footsteps of Queen Alexandra, buying their own carved gems to match their own colourful gowns. It was common practise for people to travel to India and experience its vastly different culture, purchase fine, carved gemstones such as sapphires and rubies, and then return home. Once home, they would take their new jewellery to a local jewellers and have it reconstructed into something more fashionable and in line with the latest trends, usually featuring platinum or white gold settings, to imitate popular themes in 1920s jewellery.
Another huge influence over the popularity of Tutti Frutti jewellery was socialite and heiress to the Singer sewing machine fortune, Daisy Fellowes. In the 1930s, Fellowes brought several items from her considerable jewellery collection to Cartier, requesting a single, dazzling item be made from them. The result was a necklace consisting of 1031 gemstones, with 832 diamonds, and the rest a combination of rubies, sapphires, and emeralds. The piece was a stunning array of colours in a draping design. Due to her status as a fashionista, style icon, and socialite, Fellowes influenced the popular styles with her Tutti Frutti necklace – although it is rumoured she only wore it once.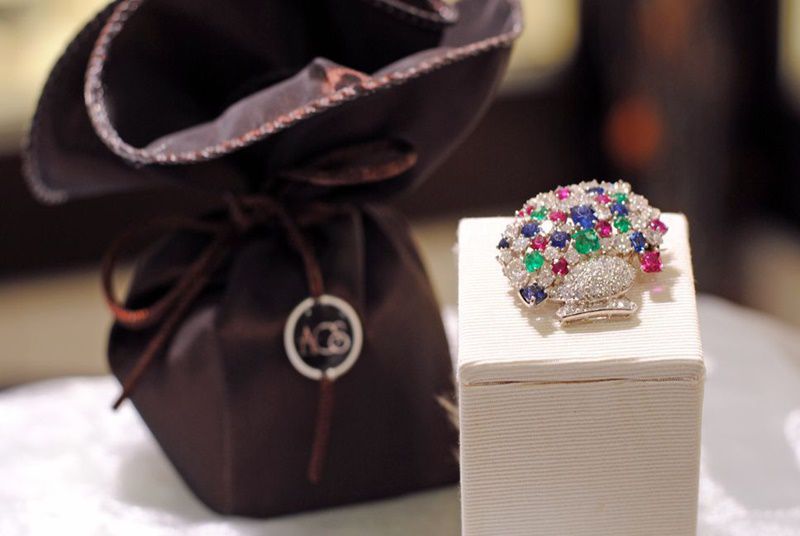 Big, bold gems in vibrant hues
When Fellowes died in 1962, the Collier Hindou – the name given to the design of her necklace by Cartier – was passed down to her eldest daughter. In the 1980s, when the eldest Fellowes' child died, the necklace supposedly passed down again. At an auction in 1991, the necklace resurfaced, this time paired with emerald and diamond pendant earrings. They were predicted to sell at auction for roughly $650,000, but they surpassed that by a phenomenal amount, going for $2,655,172 – a record price for Art Deco jewellery at the time. The bidder was, of course, Cartier themselves. They bought the lot to add to their private collection, and to this day, the Collier Hindou features in many of their exhibitions, catching the eyes of all.
Similar to contemporary society, the socialites were the biggest trend-setters of the early 20th century. People like Daisy Fellowes, Misia Sert, and the Duchess of Windsor were all prominent influencers who were no strangers to flaunting the Indian style, ensuring that Tutti Frutti jewellery remained popular well into the 1940s.
Today, Tutti Frutti jewellery is less common, requiring lots of gemstones – making it quite costly – to obtain, and the vast array of colours is no longer considered the height of fashion for many. There are still plenty, however, who see the value in Tutti Frutti jewellery, whether they are jewellery collectors, sartorial historians, or just fans of anything that holds the beautiful intricacy that this jewellery possesses.