How Does a 1 Carat Ring Look on the Hand?
It is not only the size of the stone which is important when choosing a ring – whether it's for an engagement, a special occasion or simply to treat yourself or loved one, it's essential to pick the perfect ring! 1 carat rings can be subtle, modern and delicate, or they can be ostentatious, bold and show-stopping pieces. This all depends on the cut of the stone, the type of setting, the amount or shape of the gemstone or stones…the variations are endless!
A 1 carat ring can look completely different depending on the person wearing the it. This is firstly because a small hand and slim fingers can make rings look larger than they would on another person's hand by comparison. Secondly, the style of ring which is chosen and setting of the stone can affect how a 1 carat ring looks on the hand. It is important to try the ring on or view the ring before buying wherever possible.
Carat is a term which describes the weight of a gemstone. 1 carat of high quality diamond however, will have smaller dimensions than 1 carat of a less expensive gemstones, such as emerald, amethyst or aquamarine.
1 carat diamond rings come in millions of styles, with the clarity and colour of the diamond being particularly important to the value of the ring. No two rings have identical 1 carat diamonds.
At AC Silver we have a large range of 1 carat rings varying in style and diamond cut. They range from 1 carat solitaire diamonds to 1 carat diamond clusters; from diamond cocktail rings to art deco diamond rings and many, many more!
Choosing which 1 carat ring is right for you depends on personal taste, style and your budget.
1 Carat Solitaire Diamond Engagement Rings
With solitaire diamonds, the size depends wholly on the cut of the diamond. At AC Silver, we have a large range of diamond styles and cuts available; varying from the rare antique old mine cut diamonds to modern brilliant cut diamonds, or the popular Asscher, princess and cushion cut diamonds.
When searching for the right engagement ring, carat size can seem to be crucial. However it is often the setting and cut of the diamond or gemstone that can give the effect of a large stone.
Modern Brilliant Round Cut
The modern brilliant round cut is one of the most popular diamond cuts for solitaire engagement rings. This is due to the large face of the diamond cut, meaning that the diameter of the diamond gives the impression of a larger carat weight. Although the diamond is usually very shallow, the pavillion is heavily faceted and therefore gives off brilliance and sparkle.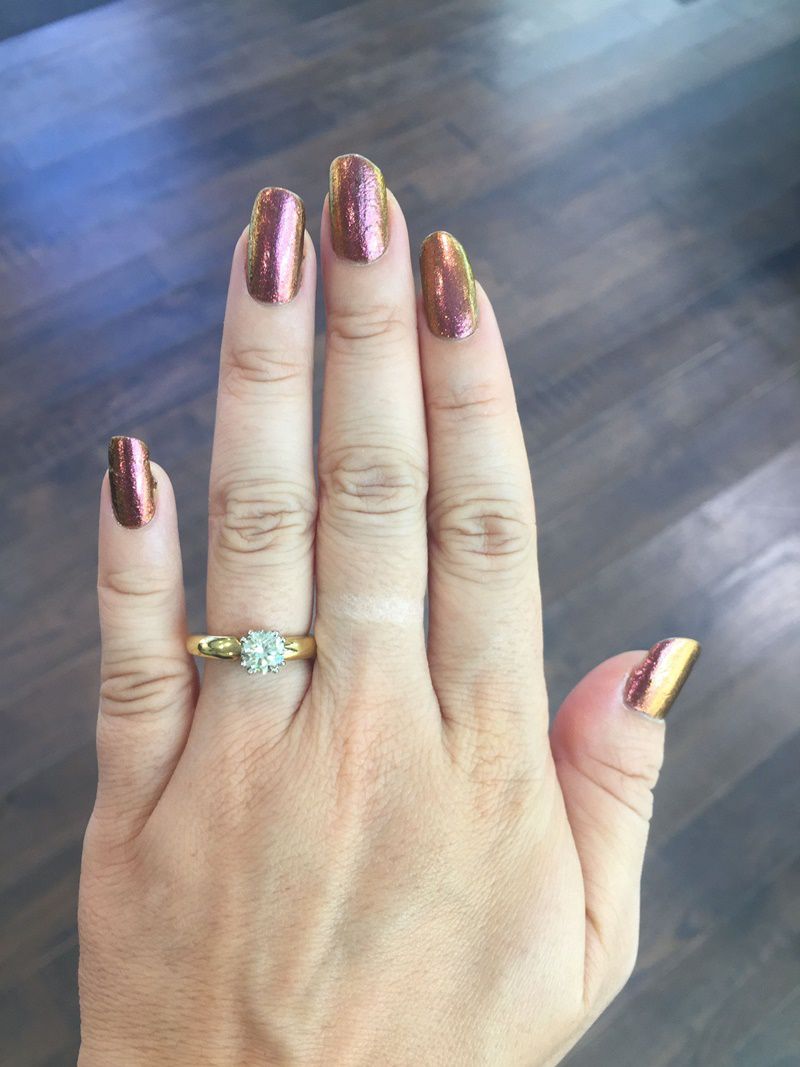 Princess Cut
Princess cut is the second most popular shape of diamond, next to the variety of round brilliant cuts. The princess cut diamond features a square or rectangular shaped face and a highly faceted pavillion, much like the modern brilliant round cut, to achieve a higher brilliance. This results in more sparkle within the diamond. This cut is relatively new (it was created in the 1960s) and coming to prominence recently as an alternative to the more common modern brilliant round cut.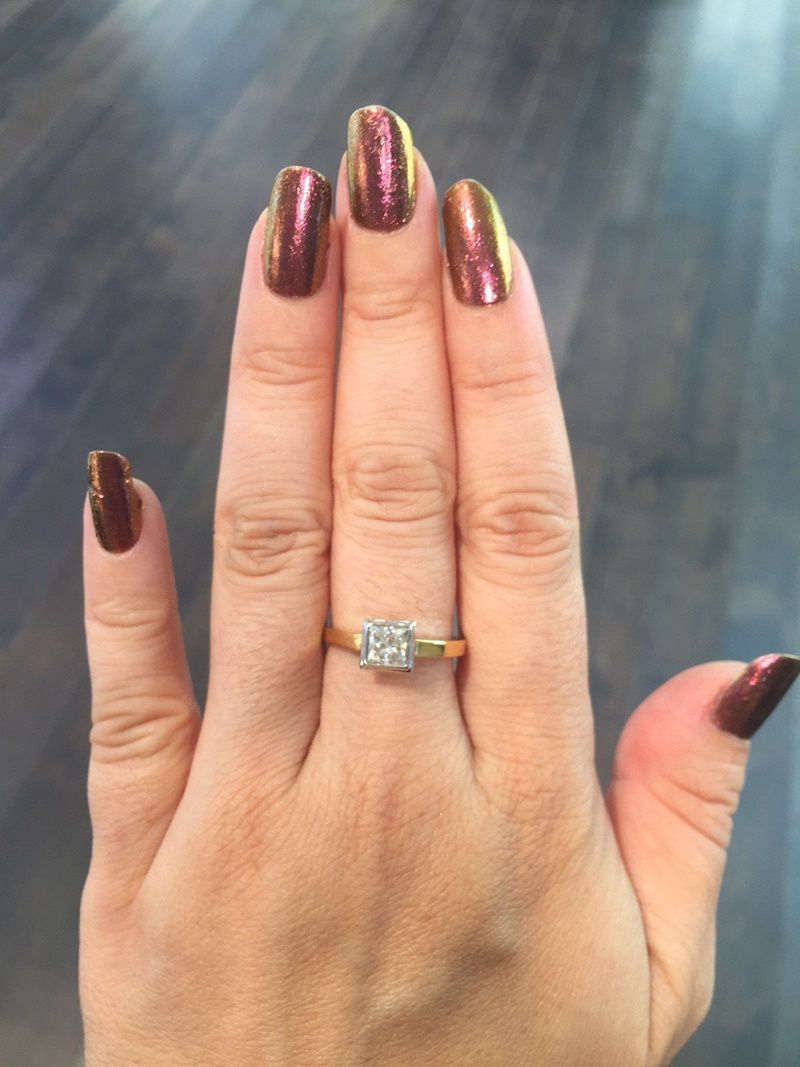 Oval
The oval cut, whether an oval brilliant or oval mixed, also benefits from a large face. This means that a high proportion of the diamond weight is located in the face of the diamond. This example of an oval cut diamond has as a collet setting, meaning that the subtle white setting gold appears to enhance the size of the diamond.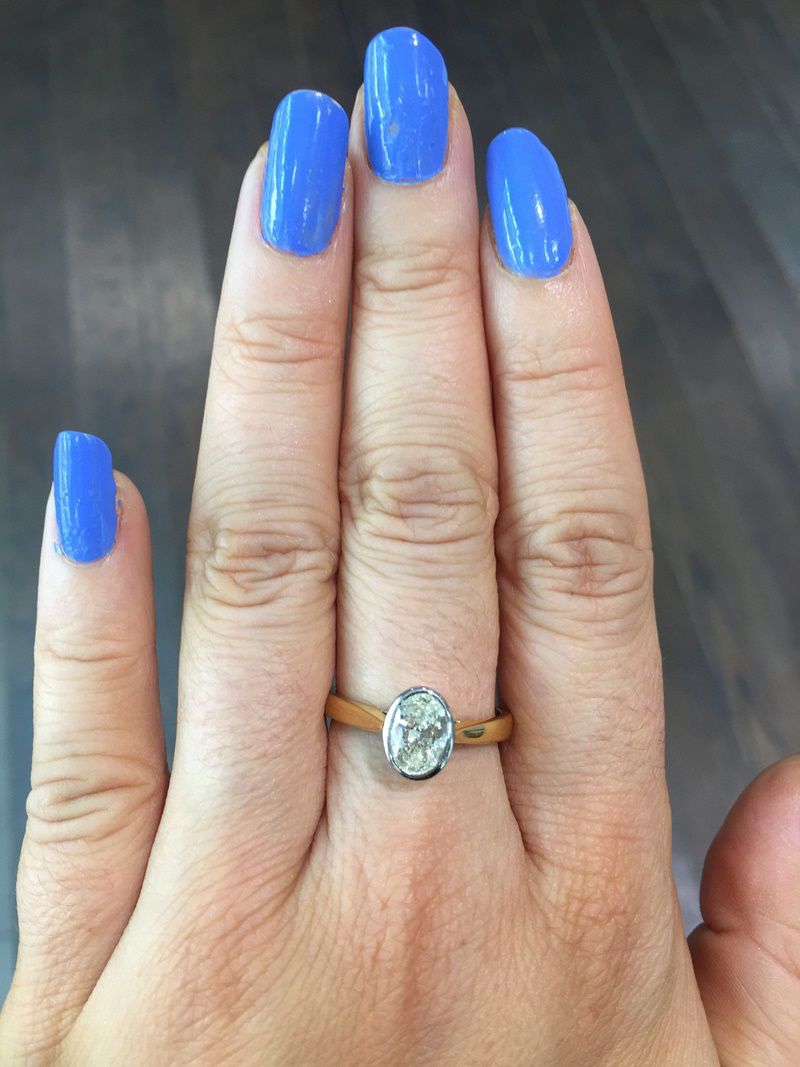 Emerald
The emerald cut is a much older cut than the modern brilliant round and princess cuts. It continues to be a popular choice in vintage and antique rings. The smaller amount of facets mean that emerald cut diamonds do not have as much brilliance, but this cut is still a fantastic choice, especially for those who love art deco style jewellery. Learn about the best settings for emerald cut diamonds.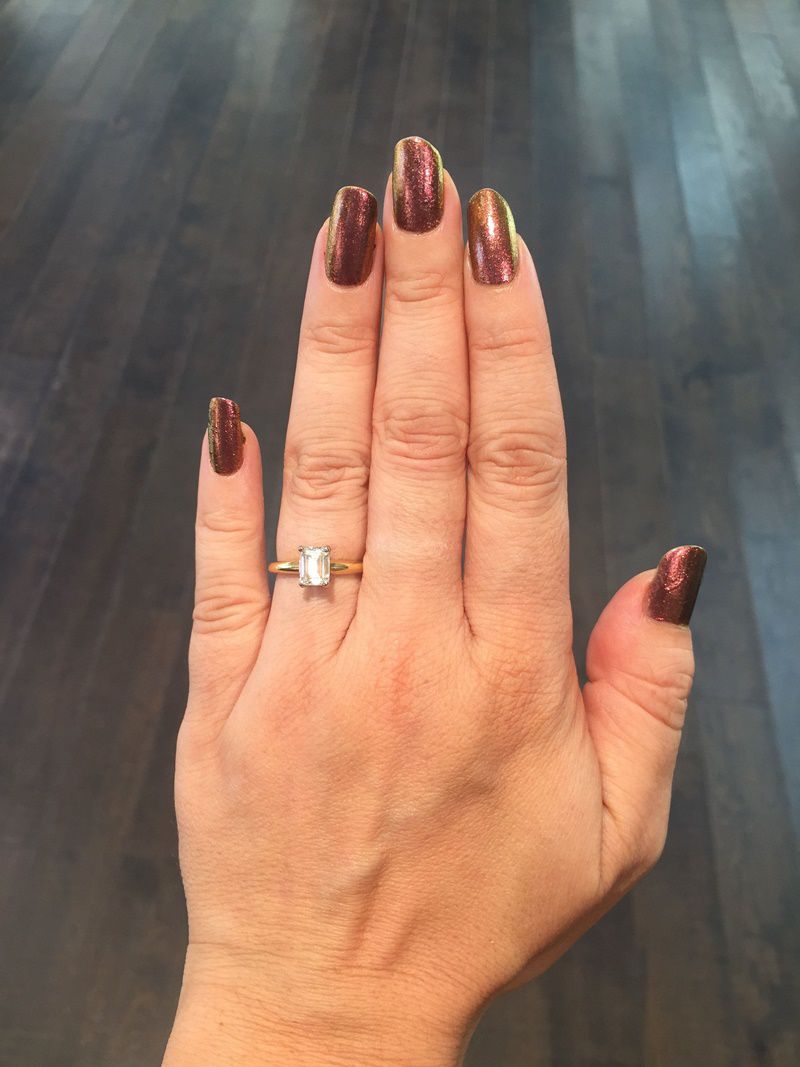 Pear
The pear cut (or pendeloque) is fairly unique. Although it was used frequently in antique and vintage jewellery, pear cut diamond solitaire rings are now more rare than most. This particular ring has a scallop shaped claw setting, providing a dramatic background for the diamond to sit upon.This ring is especially eye catching due to its detailed setting and is an exceptional example of an antique diamond solitaire ring.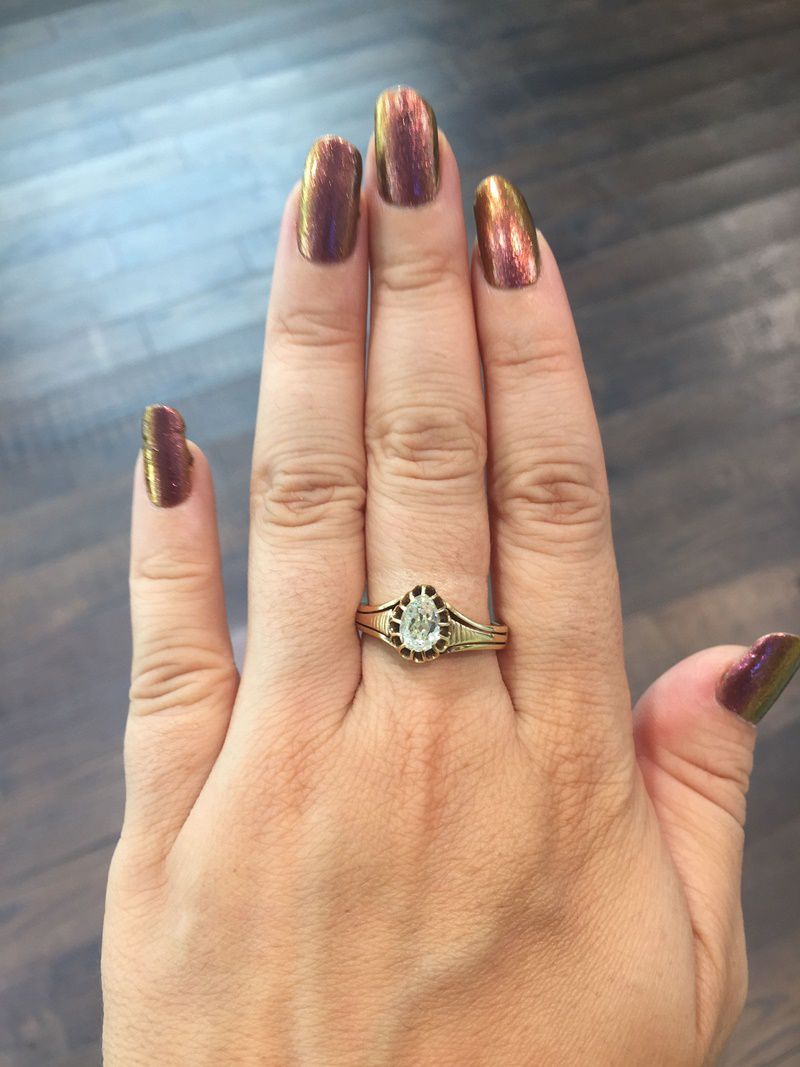 1 Carat Diamond Cluster Rings
The beauty of the cluster ring is that the halo- or the surrounding diamonds- give the impression of a larger diamond. This results in the impression of a higher value piece. The reason for this is that the weight of the 1 carat solitaire diamond is primarily in the setting (facing the wearer) rather than in the underside of the ring. It also means that the ring looks more luxurious. This style is definitely perfect for fans of bling.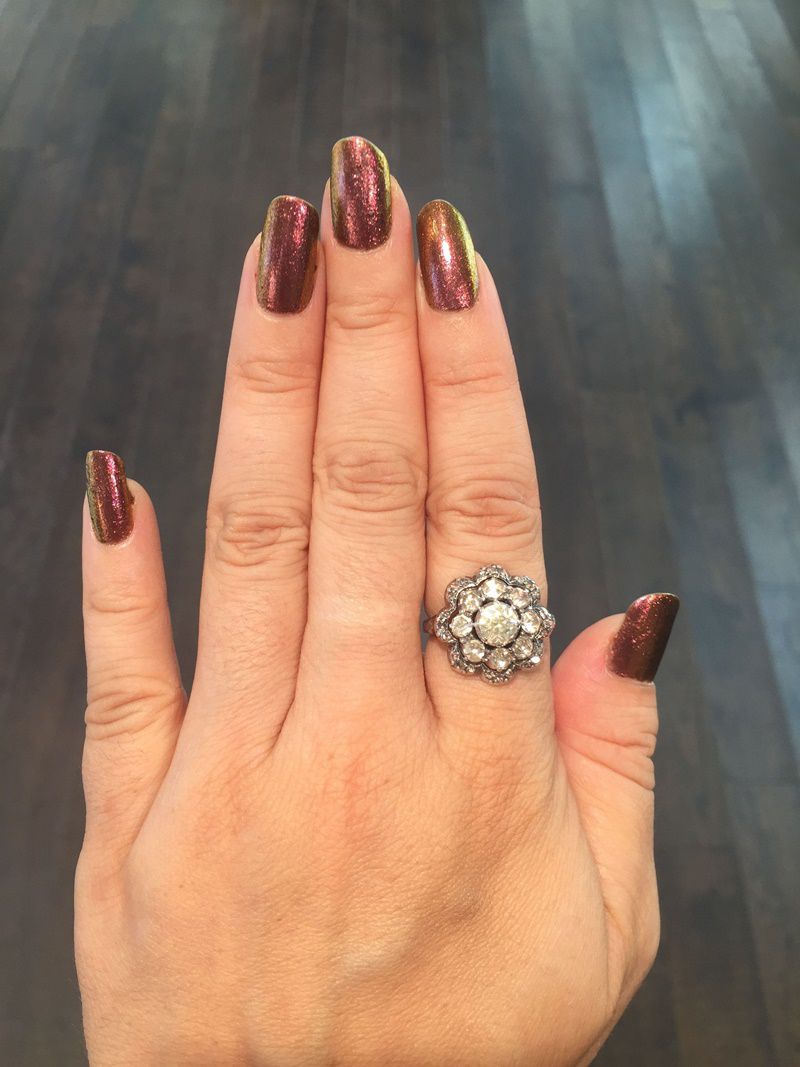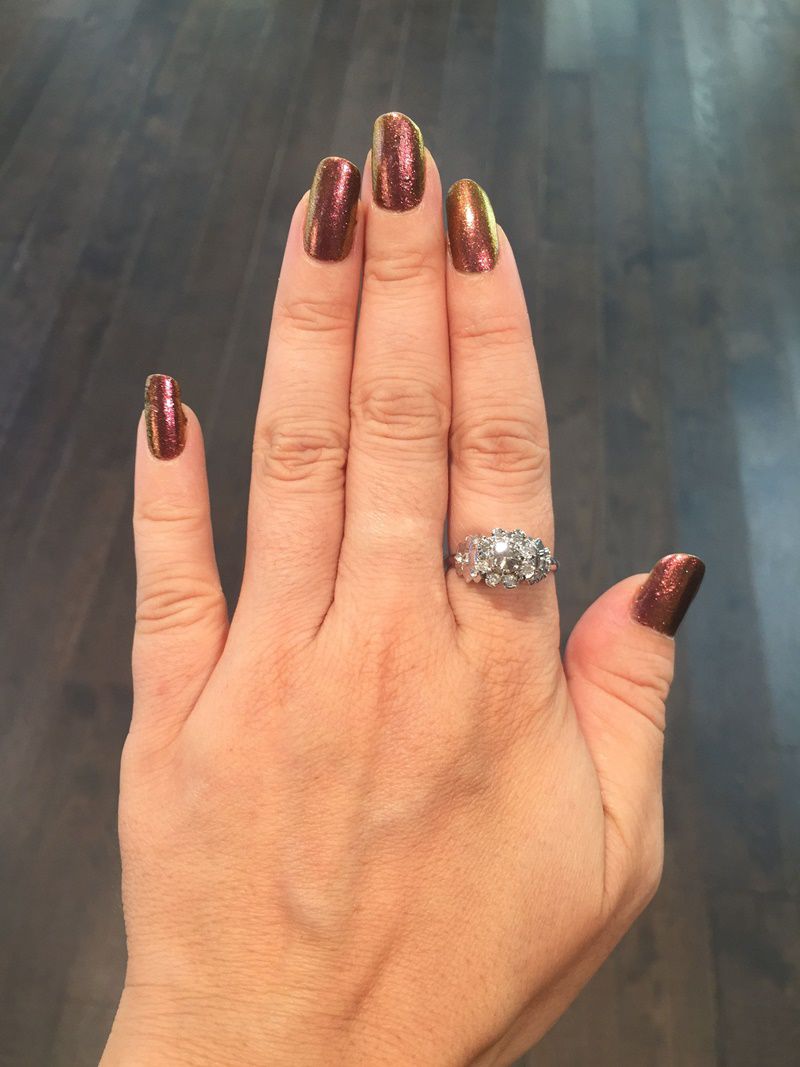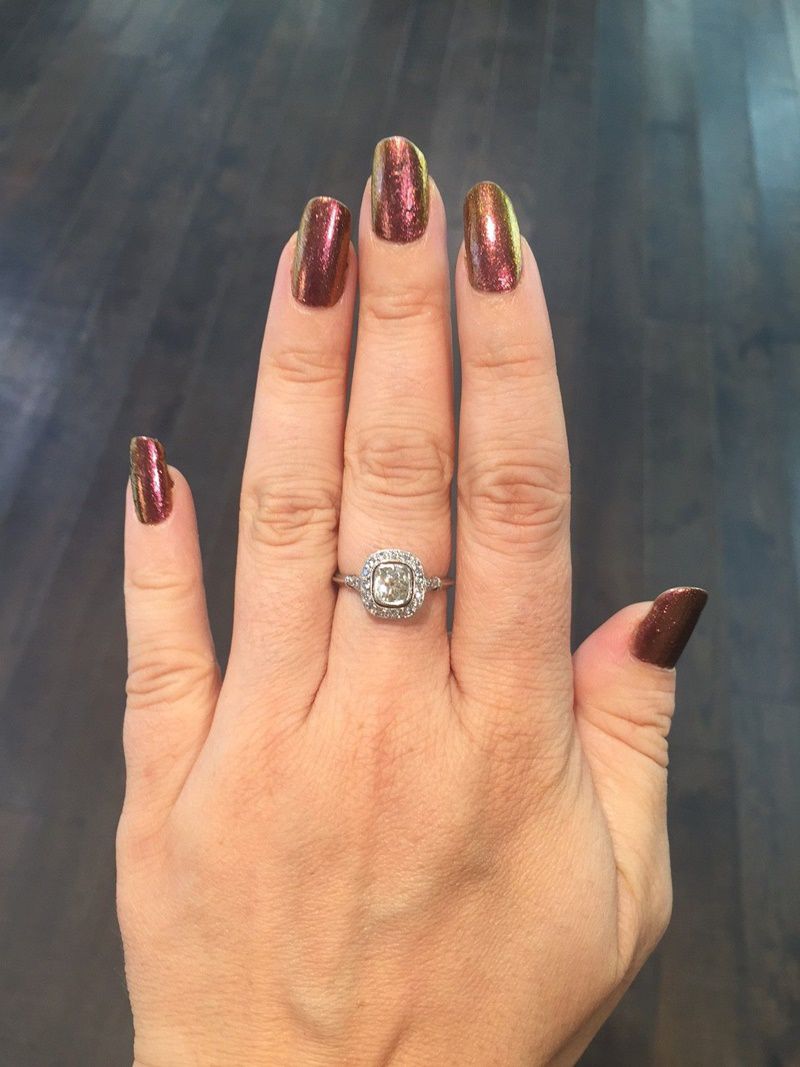 1 Carat Diamond Rings
1 carat diamond rings vary wildly in style. Besides the more traditional solitaire and cluster styles, there are trilogy rings, five stone rings, twists, and a wide variety of cluster shapes; including Victorian heart shaped settings, rectangular art deco settings with milgrain detail, and countless others.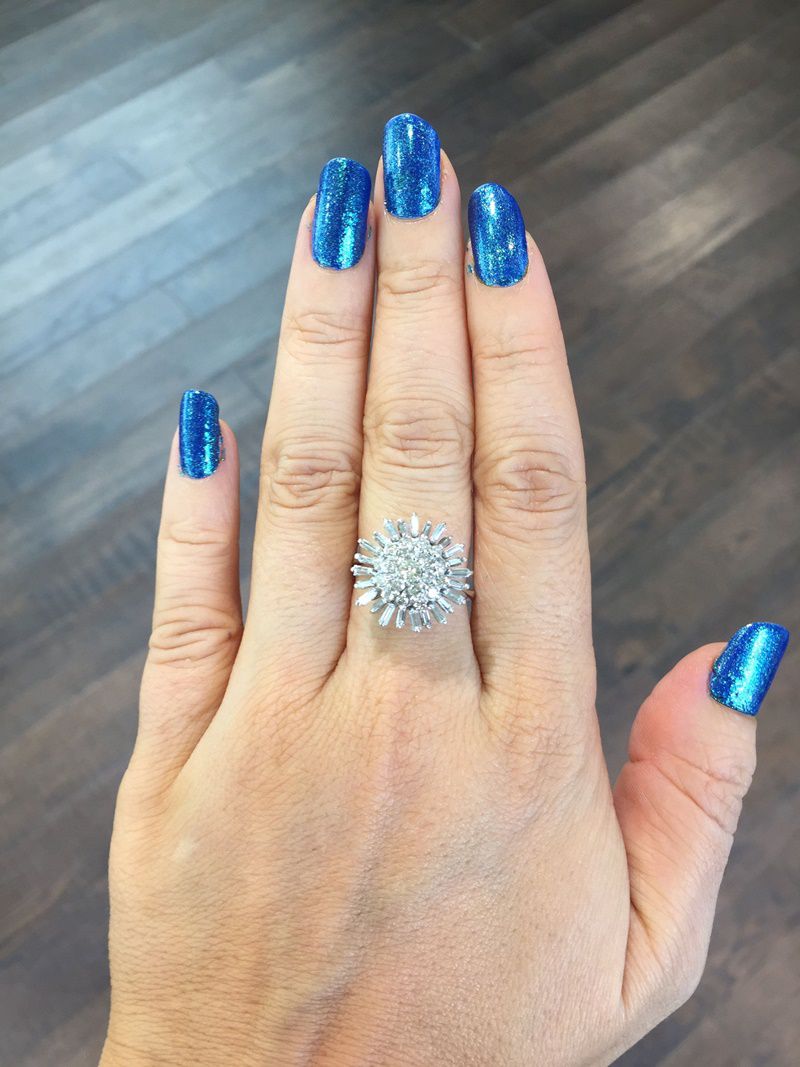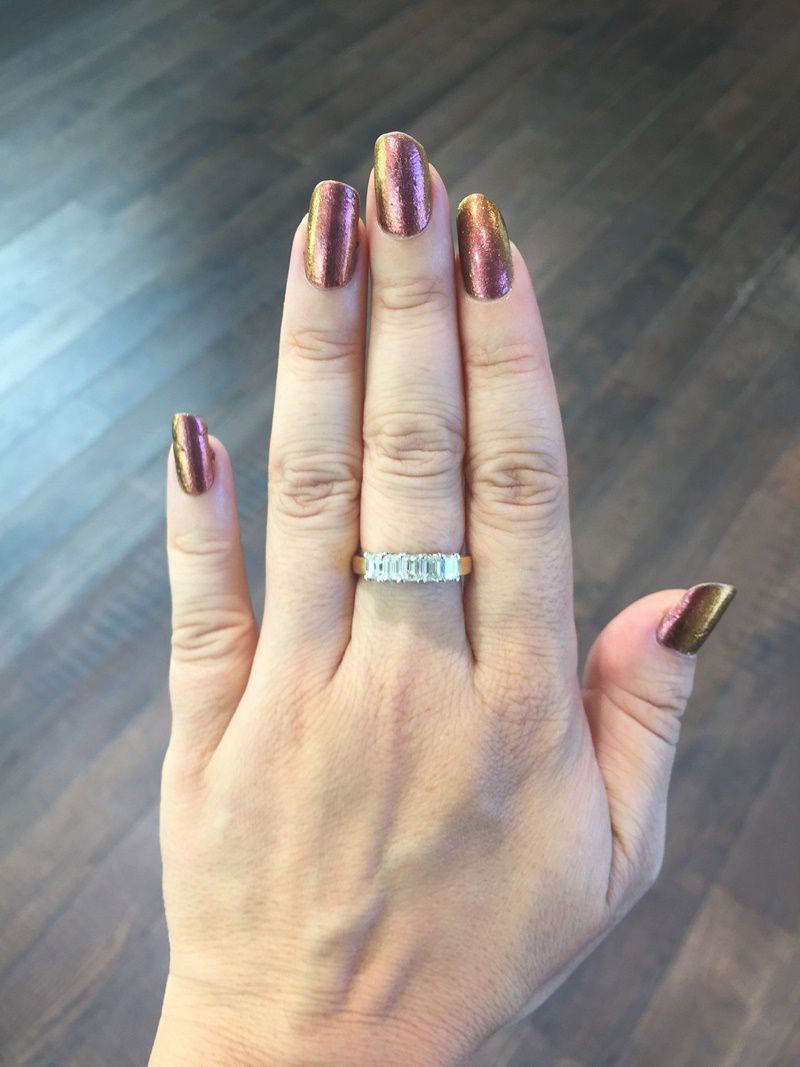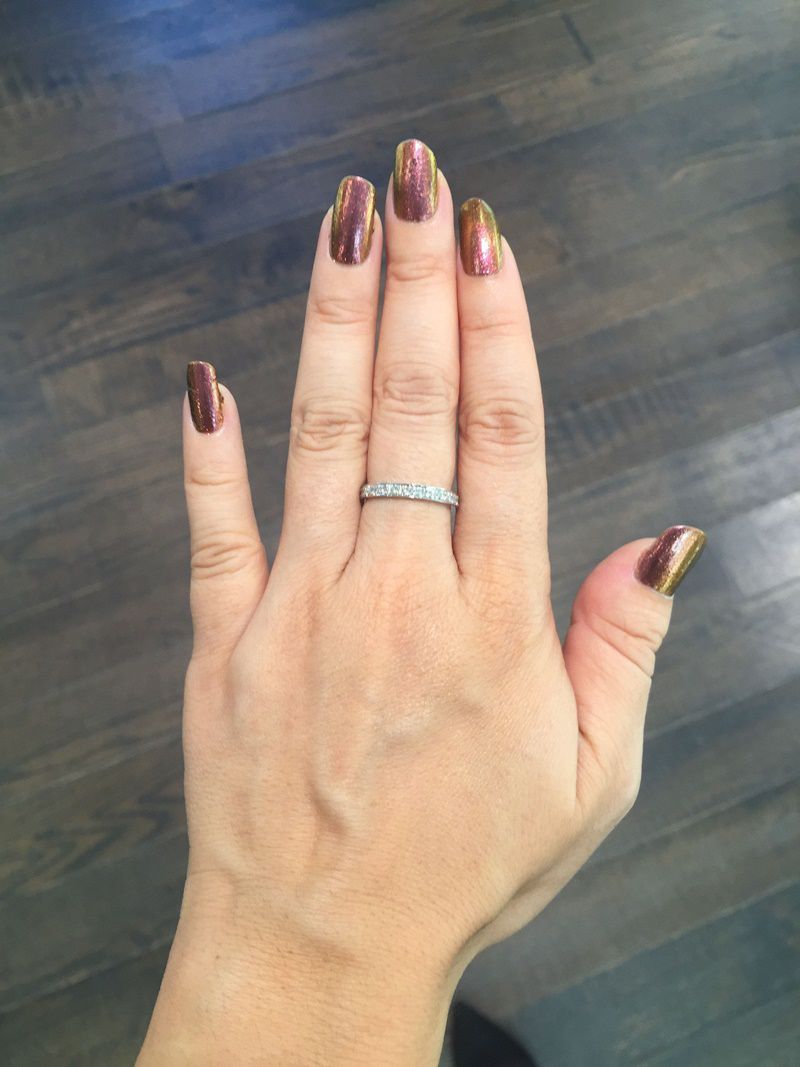 1 Carat Diamond and Gemstone Rings
This style of ring means that due to the presence of stones that are lighter than diamonds, the buyer will be able to attain a larger amount of gemstones for their money. Gemstone engagement rings are incredibly popular and have had a recent resurgence. People tend to have a particular fondness for rings featuring their birthstone, or perhaps those which display their favourite colour.
Sapphire and Diamond Cluster
This 1 carat diamond and sapphire ring is a stunning example of an antique diamond and gemstone cluster ring. It has a unique design which is a perfect choice for an engagement ring. It would be a great alternative for those who aren't excited by solitaire diamonds.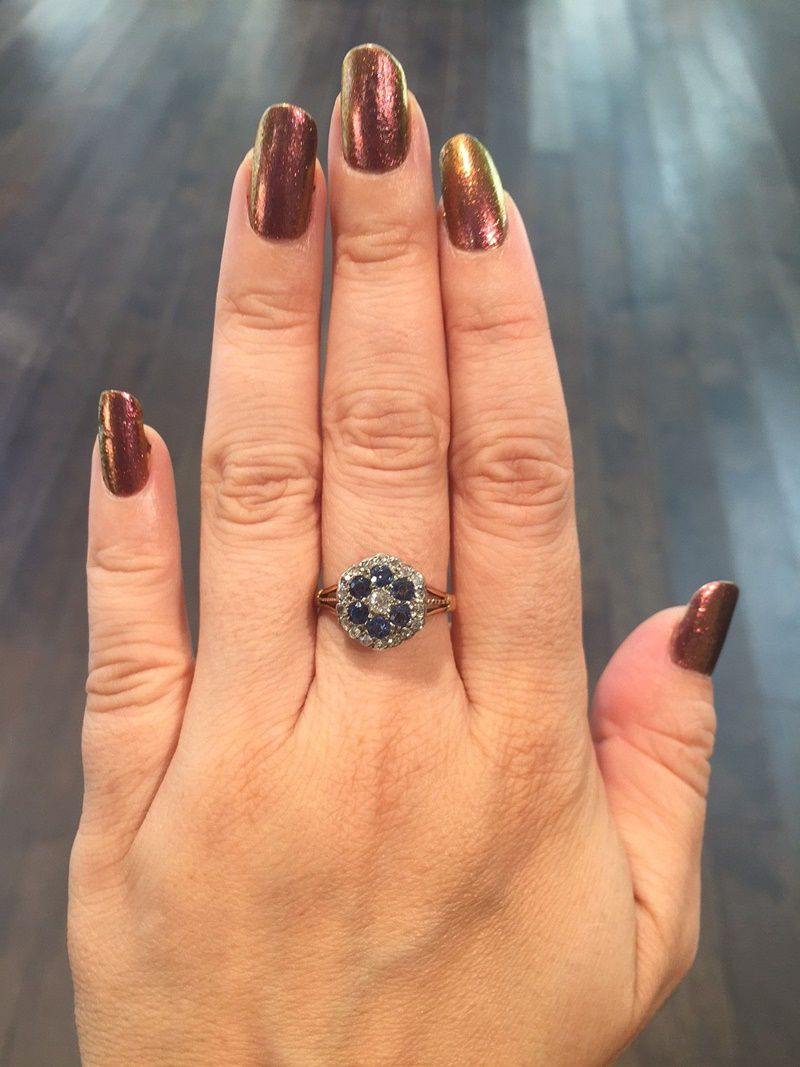 Opal with Diamond Halo
This ring features a large opal, which has a fantastic play of colour. It has a modern appearance due to the fashionable halo style setting diamonds surrounding the opal.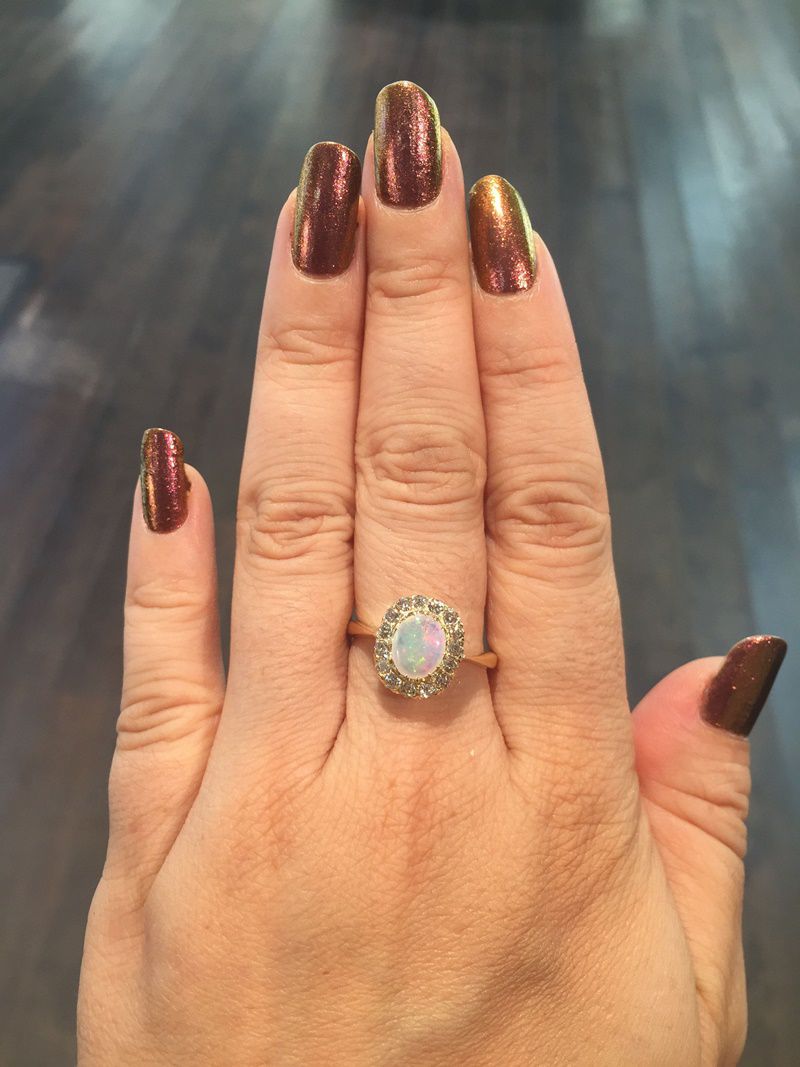 We hope that we have given you a better understanding of how much you can get for your money with a 1 carat gemstone ring. Hopefully we have been able to shed light on the differences in how the 1 carat solitaire diamond can look on the hand of the wearer- after all, that's what really matters when choosing a diamond ring.
At AC Silver we have a large range of 1 carat rings varying in style and diamond cuts. These vary from 1 carat solitaire diamonds to 1 carat diamond clusters, diamond cocktail rings, art deco diamond rings and many, many more!
Whether you choose a 1 carat ring that is simple and sophisticated, or one which is bold and unique: our selection has been curated with our customers in mind. We hope you enjoy browsing our collection and that you find the perfect ring for you or your loved one.