Engagement rings have evolved and seen a lot of changes throughout human history; starting as something more closely resembling a sign of ownership and becoming the ultimate romantic gesture. When the question of what did engagement rings look like in the early 1900s arises, it's easy enough to answer thanks to the quality of craftsmanship that can be found from this time.
Advancements that have been made in the jewellery industry since the mid-1800s allows us to have a huge range of existing examples from a variety of periods, from Victorian jewellery to Art Deco jewellery and beyond. Today, we're focussing on all things 1920s, getting excited about some stunning 100-year-old engagement rings.
What did Engagement Rings Look Like in the 1920s?
In a post-war Western world, culture and society experienced significant upheavals and revolutions that affected all aspects of life. Relative prosperity could be found in the Roaring Twenties, and for women it came with a huge surge in newfound liberation and independence.
During this time, women wore more practical jewellery during the day, with the advancements in jewellery metals meaning they could wear dainty pieces that weren't bulky or heavy. With women taking on more active roles in society and no longer being largely confined to the home, practical light-weight jewellery was needed. In the evenings, however, the Roaring Twenties brought excess and glamour to the highest degree.
So, what does this mean for engagement rings of the time? Well, diamonds galore is the simple answer. The Art Deco era popularised during the 1920s saw intricate designs created from simple geometric shapes being used to create patterns. Engagement rings with this style were the chic new thing, and even today Art Deco rings are exceptionally popular for their architectural aesthetics.
The industrial revolution acted as a catalyst for significant technological advancements in the lead up to the 1920s as well, with gemstone cutting and metalwork becoming more complex than ever. This meant that diamonds had a more crisp and clean cut than their predecessors, creating more sparkle and light refraction. Engagement rings with diamonds from the 1920s featured sharper cuts, and even some newer cuts too.
What Diamond Cut was Popular in the 1920s?
With angular designs and architectural influences being prominent in the 1920s, it should come as no surprise that most of the more popular diamond cuts are also sharp in their shapes.
The emerald cut, for example, maintained popularity from the Victorian era through to the Art Deco period. Emerald cuts typically are used for long gemstones, creating an elongated and elegant effect; step cuts and straight facets keep everything linear in this cut.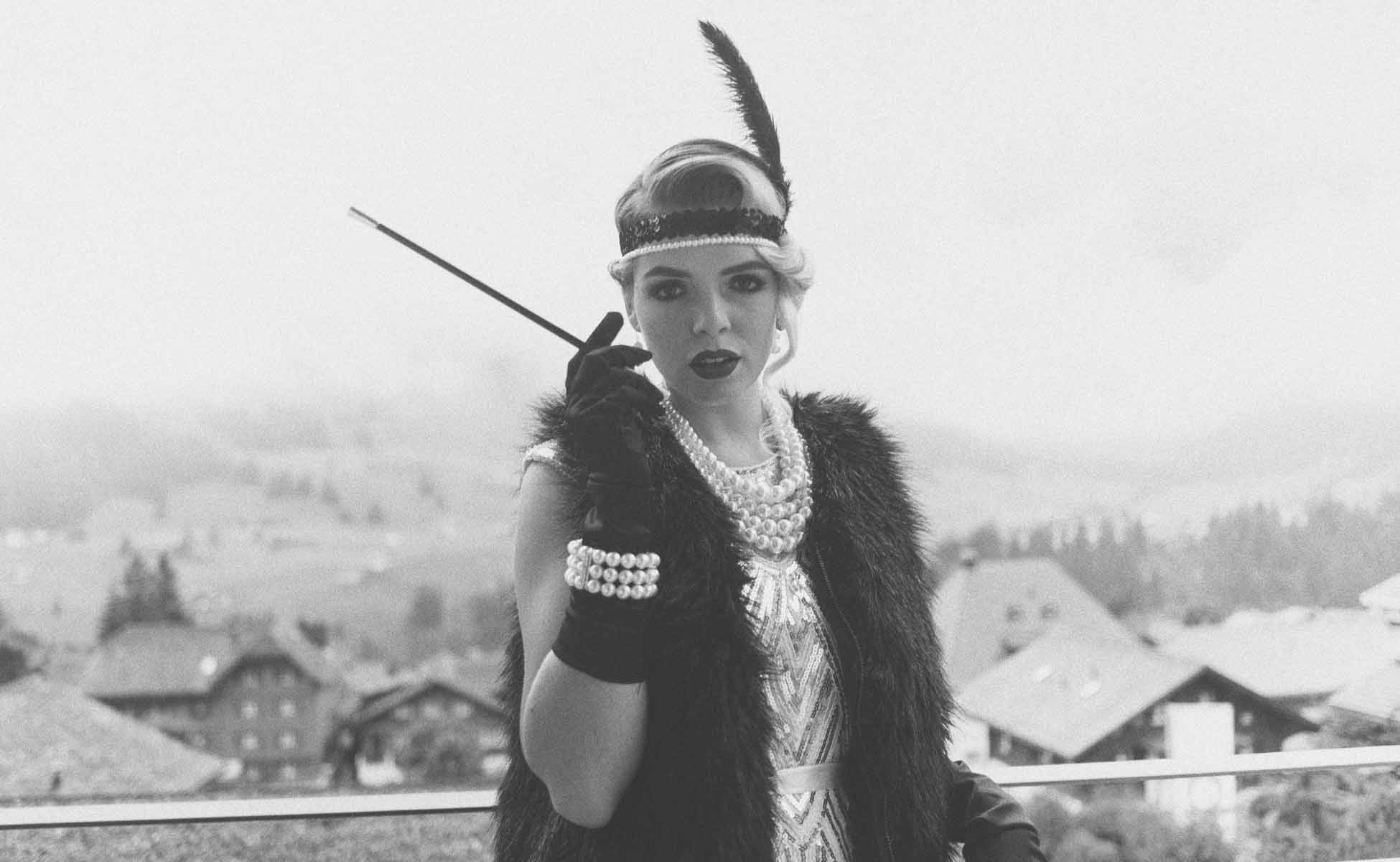 Another immensely popular choice at the time was the Carré cut. This cut was square in shape, with perfectly angular 90֯ corners. The Carré cut features step-cut facets, just as the emerald cut does, ensuring the very geometric interior facets are represented.
Finally, another diamond cut that was highly popular in the Art Deco era is the French cut. Although this cut finds its true origins in the 15th century, it had a resurgence of popularity during the 1920s, where its square shape and multifaceted interior was in-keeping with the contemporary designs.
Keeping these diamonds secure was significantly easier in the Art Deco period than it had been in previous eras thanks to the significant advancements in metalwork.
Engagement Ring Metals in the 1920s
Easily the most popular choice for those who could afford it was to have a platinum engagement ring. In previous years, platinum had been too difficult to work into jewellery and too expensive to use in the same quantities which gold had been used for large Victorian jewellery pieces.
Following the First World War, platinum demand was no longer pushed towards military needs, and was once again available for businesses to create products. Platinum's high melting point made it difficult to work with until the late 1800s, when new tools such as the oxyhydrogen torch made it easier to manipulate the strong metal.
With a metal strong enough to be used in small amounts and hold many gemstones securely available to the wider public, platinum jewellery was the metal of choice for those wanting to sport the dramatic jewellery of the time – engagement ring included.
1920s Art Deco Engagement Rings
It wouldn't be right to talk about jewellery from the 1920s without going for a deep-dive into our own beautiful 1920s Art Deco engagement rings. This period of time saw a whole new level of crafting ability thanks to the innovations in jewellery production that happened following the First World War.
Without further ado, let's start celebrating some of our most beautiful examples of engagement rings from the early Art Deco period.
This mid-1920s example is corker right out of the gate. With a central diamond totalling 3.10 carats, this is definitely a statement engagement ring. Five rows of pavé set diamonds make up the shoulders of this ring, creating a stunning effect of a wall of sparkle and shine.
Crafted entirely in platinum, this sturdy piece of jewellery has all the charm and bombastic beauty that's exactly what you can expect from this time period. More is more in the world of Art Deco diamond jewellery, and engagement rings are no exception; how could you not love it?
While this ring has a yellow gold band, you may have noticed that the setting is not yellow gold; it's actually entirely platinum set, meaning the gemstones are held incredibly securely in place. Platinum was used to great effect during this time period to create intricate patterns and hold more gemstones than ever.
The design seen here is quintessential Art Deco in its shape and style; elongated shapes with myriad angles displaying more diamonds than you can shake a stick at is exactly what the Art Deco period is all about.
This stunning engagement ring takes on a marquise shape in its design, something which became exceedingly popular during the 1920s. The brand-new feel of jewellery during this time meant that the sharper shapes like those you see in marquise clusters gained significant popularity.
This ring features a central 0.40ct diamond set in subtle elevation to the surrounding cluster, allowing for extra light rays to enter it and complete the alluring signature sparkle that everyone wants from their engagement ring. Created with platinum, this unique engagement ring brings security and refraction at a rate that's hard to beat.
Something a lot more demure and understated can be found in this dainty 1920s example of Art Deco style engagement rings. Utilising yellow gold for the band and white gold for the settings allows the diamonds to appear lighter and brighter than they would if set against a warmer metal.
The ring may have a lower carat weight and fewer diamonds than the previous examples, but this doesn't stop it from having a deeply complex design that's typical of the Art Deco era. Combining dainty diamonds with millegrain decoration, this engagement ring manages to carry a beautifully symmetrical design to which anyone would say yes.
This ring is an excellent in-between if you find the initial examples to be over the top and the previous example to be too understated for your liking. Two focal diamonds sit in a vertical stack at the centre of this design, while the setting spirals outwards from each of them towards the rectangular frame.
This ring is certainly a unique choice, without having any diamonds so large that they become something you have to keep away from potential damage. The diamonds are also set in such a way that they are less exposed to anything which could cause scratches or losses to the stones – a great quality in a ring you want to wear every day!
The last ring we'll show off (for now) is this stunning solitaire ring with diamond-accented shoulders. This is another ring which benefits from platinum settings as well as a bezel setting style, meaning these stones are all very strongly held indeed. This is another example which utilises the marquise shape, however here it's been knocked on its side to create something that's more of a suggestion of a marquise shape.
A symmetrical pattern firmly places this ring in the Art Deco category of designs, despite its more rounded shapes (which are not often found in Art Deco jewellery). Square-cut diamonds are even utilised in rotated settings, creating angular kite shapes which add another level of detail and uniqueness to this beautiful engagement ring.
1920s Halo Rings
The halo ring is a design which has had fairly consistent popularity since its inception in the Georgian era. As engagement rings, they became a very popular choice during the Victorian era, where engagement rings evolved into something more closely resembling the designs and styles we still recognise today.
The halo ring's popularity didn't slow down during the Art Deco period, where 'white on white' designs of diamonds with white metals were exceptionally popular. Here are just three of our favourites from our own collection of 1920s halo rings for your consideration.
This beautiful example of a halo ring comes in the form of a central 1.09ct diamond surrounded by ten smaller diamonds. The beauty of this design is that the smaller diamonds simultaneously add sparkle and shine whilst also making the central diamond appear larger and brighter by contrast.
The use of platinum is typical of the era, and the ten-claw setting holding the central diamond in subtle relief to the halo is the best way of getting as much natural light as possible into the stone. With the halo diamonds being collet set, this ring is very self-contained and secure, meaning it would be a good engagement ring choice for someone who doesn't want to worry about the security of their gemstones.
Similar to our previous example, this slightly more humble design has a central 0.52ct Old European cut diamond nestled amongst eight smaller diamonds. Although the halo design here is smaller than some of the rings we've already showcased, it doesn't mean this ring can't pack a punch when it comes to the sparkle factor.
The wider shoulders on this ring gives it added strength, as well as creating more reflective surfaces to add lightness and brightness to the overall appearance of the piece. Having a halo that sits flusher to the finger such as this one is great for anyone with a busy lifestyle who doesn't want their engagement ring to catch on their clothes while they're working or travelling.
This impressive and highly stylised halo ring design is very typical of its time. Despite being rounded in shape during an era streaked with sharp edges and angles, this intricate nature of the settings used in this ring are what give it that signature 1920s Art Deco aesthetic that we all know and love.
The central 0.17ct diamond is in an eight-claw setting in relief to the rest of the design. Using white metal and the elevation of the setting allows this diamond to appear larger and grander than its carat weight might suggest. The subtle decoration of the settings creates layers of texture in this ring; definitely a feast for the eyes that any Art Deco admirer would love.
Are 1920s Engagement Rings Popular Today?
In case it wasn't obvious based on everything you've learned, let's make it clear; 1920s engagement rings are indeed still very popular today. Jewellery from the Art Deco period is celebrated for its timelessness, which is why even today these designs look modern and cutting-edge.
Whether it's the appeal of the age of each piece, the level of craftsmanship and quality that went into their creation, or the unique designs that can be found in an era of revolution; engagement rings from the 1920s are still a hit today.