There are some types of jewellery that simply do not age. Wardrobe classics like the Little Black Dress undoubtedly have their counterparts in the jewellery world. Today, we're spending some time enjoying the simple beauty of timeless jewellery pieces; join us, won't you?
Pearl Strands
Pearl jewellery has been valued for as long as we have been discovering pearls around the world. Something about their simple lustre clearly speaks to us on a primal human level; one of nature's most beautiful offerings. Naturally, strands of pearls all in a row together became an immensely popular jewellery design.
Cast your eyes over any painting of royalty from the last half a century or so and you'll be sure to find them donning a series of pearl strands. Whether it's an understated single strand or a magnificent multistrand necklace or even a pearl choker, rows of pearls are a subcategory of jewellery that's never going out of style.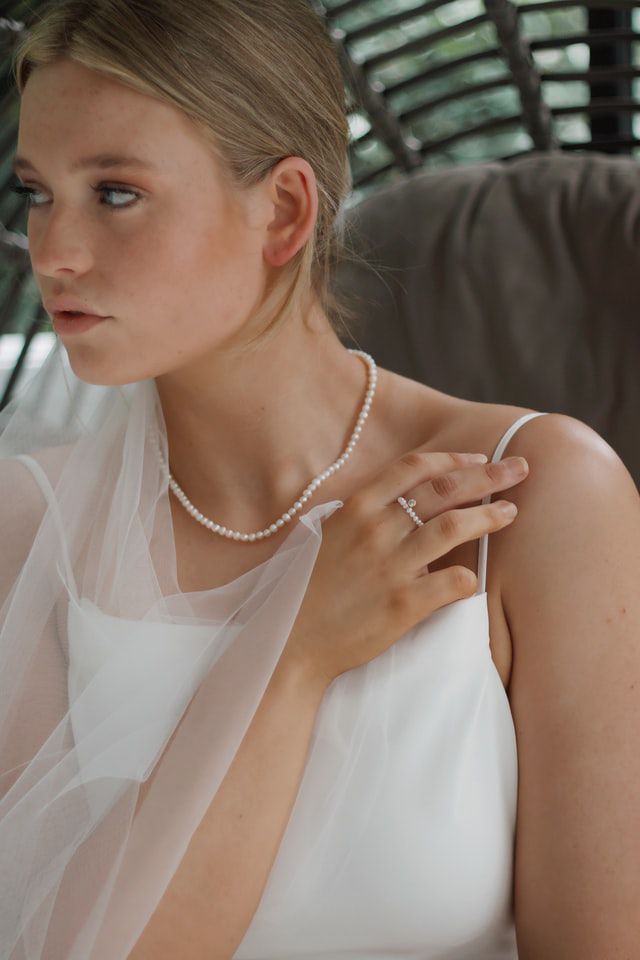 Diamond Solitaire Rings
Although diamond solitaire rings have only been around for barely more than a century, they have quickly cemented themselves as a timeless piece of jewellery. Around the early – mid 20th century, diamond solitaire rings were branded as the engagement ring of choice for anyone wanting to take their marriage seriously.
Thanks to some excellent marketing by diamond dealers like De Beers, the solitaire has been synonymous with proposals and marriage in general. The round cut is the most common for this classic piece of jewellery, but over time different cuts have had their moments of popularity, such as the marquise cut or the princess cut.
Eternity Rings
Keeping it bridal for now, eternity rings are another aspect of jewellery that seem completely classic and timeless. Initially, the eternity ring was a design intended to make use of diamonds too small to be seriously considered for solitaire engagement rings. Instead, a band was embellished with similarly-sized diamonds all around its length.
These rings quickly caught on as the perfect anniversary gift that could reassure brides that their husbands had the family finances well in hand. Today, the eternity ring is often given as an engagement ring or a wedding band, adding a more subtle element of the classic diamond sparkle that's impossible to beat.
Cluster Pendants
When it comes to necklaces and pendants, designs have come and gone, having their sweet moments of being en vogue and then being replaced by the next hot pieces. Cluster pendants, however, are something of a mainstay when it comes to jewellery for the neck and decolletage area.
These pendants display a central gemstone, usually a coloured gemstone like a sapphire, a ruby, or an emerald. The central gemstone is encircled by a ring of other stones – diamonds, most often – and thus a stunning visual is created. The cluster pendant usually sits near the upper decolletage, just below the collarbones. These timeless jewellery pieces are the perfect any-occasion gift like birthdays, anniversaries, or Christmases.
Animal Jewellery
Animals have always been a popular theme of jewellery in every era of its existence. Even in Ancient Egyptian jewellery, animals are a common feature. For this reason, it would be foolish to suggest that animal jewellery is anything other than timeless. In the Victorian era, animal jewellery meant ornate pieces featuring birds, rabbits, cats, and deer above all others.
As time shifts onwards, the type of animal jewellery may change, but the theme of animal related jewellery never ends. Whether it's a jewellery set, a brooch, or a beautifully themed pendant, animals will always be something we hold near and dear, through our jewellery, our clothes, and just about everything else.
And there you have it, a stunning selection of some of the most timeless jewellery pieces that we are lucky enough to feature in our own collections. Which type of classic jewellery is your favourite? Or do you have a favourite that doesn't feature on this list? Let us know!