At AC Silver, we are used to seeing a huge range of jewellery pieces. Everything from Georgian beauties to the most contemporary styles passes through our hands at one point or another, and often they can be somewhat divisive. It's normal for antique and vintage jewellery to either grab you or repel you; it's often so highly stylised and everyone has their preferred tastes.
With that in mind, it's time to check out some of our more unusual eternity rings and see what you think: love or hate?
Bilateral Eternity Ring
This first example is a vintage French piece from 1940. Featuring diamonds, sapphires, and rubies, this ring seems to have it all. On one side, it features three rows of gemstones, one sapphire row nestled between two rows of diamonds. On the other side of the ring, a single row of rubies sits between the platinum setting. I can't say I've ever seen a ring quite like this one. Its design opens it up to multiple different wearing options, which benefits the more selective ring-wearer.
The settings of this ring are designed in such a way that it can be worn a variety of ways. There are hinges on the settings that allow the ring to have an abundance of wearing styles. You can have the sapphire row between two diamond rows, alongside a single diamond row, or on its own, with the diamond rows accompanying the ruby side of the arrangement instead.
What are your thoughts on this innovative creation?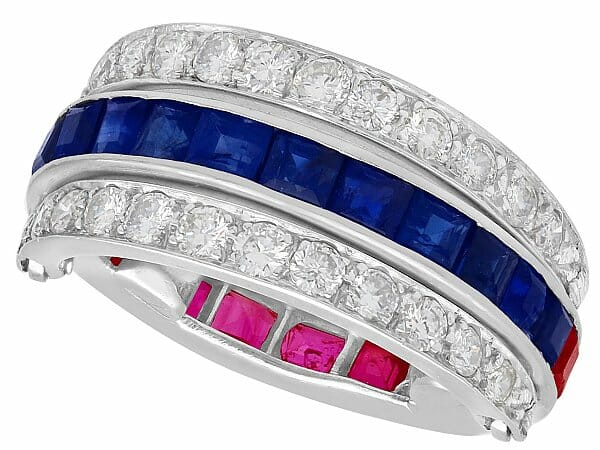 Diamond Full Eternity
This ring, another vintage piece, plays with the sizes of its diamonds to win the title of being unusual. Surrounding the band of this ring are diamonds in two sizes. The larger diamonds are placed at even intervals around the band of the ring, while the smaller diamonds are used to break up the space between the larger diamonds. The setting metal for the band of the ring changes shape in rounded, bubbling forms to stay close to the stones, lending a truly unique shape to this ring.
At first glance, the uniform pattern of this ring is easy to miss, allowing it to appear as some sort of hodgepodge of diamonds freely scattered around the band. This leads to a more playful, carefree appearance than eternity rings usually have. This ring is truly bubbly in form and character, and would be the perfect compliment to a wearer who is equally as bubbly.
Is this a fun twist on a classic in your eyes?
White Gold Half Eternity
Heading to half eternity territory now, we come to a 1990s ring that plays with diamond shape in an usual way. The diamonds in this ring alternate between round-cuts and baguette-cuts. Nine stones in total make up this unique arrangement, alternating between the round and the rectangular. The setting around these stones creates a generous border of white gold around each stone. There's something about the overall look that's created by this setting style that feels very '90s'. The light-hearted mix of rounded and angular shapes is reminiscent of the 1990s vision of the future that the 21st century would surely hold.
Baguette-cut eternity rings have been popular since the 1950s, as have round-cut eternities. However, there aren't many examples that come to mind that combine both of these shapes in this way. The overall effect is something that is at once nostalgic and brand new. Taking you back to the '90s whilst transporting you to the future that was imagined at that time.
Is this a vintage beauty in your eyes?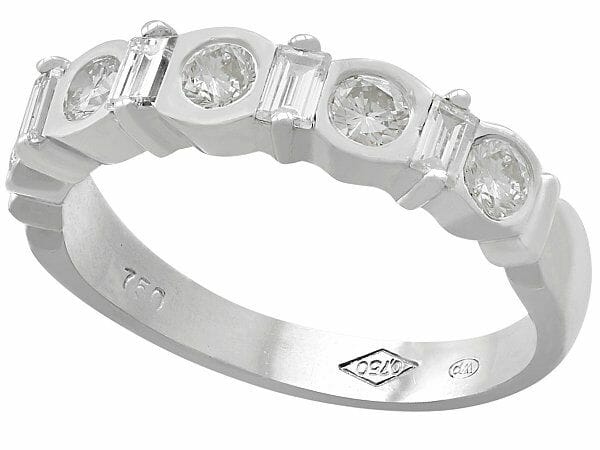 1970s Half Eternity
Another half eternity ring in our selection is this beautiful 1979 yellow gold ring. What makes this an unusual eternity ring is actually the setting far more than the gemstones. The nine diamonds in this ring are all modern brilliant round cut stones, an entirely common cut for any gemstone. The setting around them, however, is described as individual rhombus-shaped collet settings. Just setting the gemstones in this way allows them to appear to be a completely different shape than they are. This is a truly unusual setting style, and it's certainly one I haven't seen often in our thousands of unique pieces.
This is a great half eternity because of its style. The uniqueness of its setting, including thick yellow gold around the entirety of the band, means that it is equally good-looking on a man's hand as it is on a woman's. With eternity rings especially, this is rarely the case as they are uniquely feminine in their style. All in all, this makes for a pleasantly unique ring that's hard to hate.
What do you think about this androgynous anomaly?
Ruby and Diamond Eternity
The unusual thing about this eternity ring is the choice of gemstones. Initially, when eternity rings were first designed, the intention was to use up low-carat diamonds that would be unsuitable for solitaire rings. It's interesting, then, to see the evolution as the style became popular enough to warrant the inclusion of other gemstones. This 1970s eternity ring features twelve rubies and twelve diamonds, something to boast about in any piece of jewellery. The alternating pattern of gemstones creates a unique look that would easily lend this piece to a stack ring formation.
Slimmer eternity rings like this are also somewhat less common when coloured gemstones are involved. Overall, this piece seems like it would look equally right at home alongside a ruby and diamond engagement ring or on its own as a standalone piece. This is the kind of ring that would be a minimalist's statement ring, and that's a special kind of unusual that you wouldn't necessarily expect to see from a 1970s piece of jewellery.
Is it a yay or a nay for this ruby delight?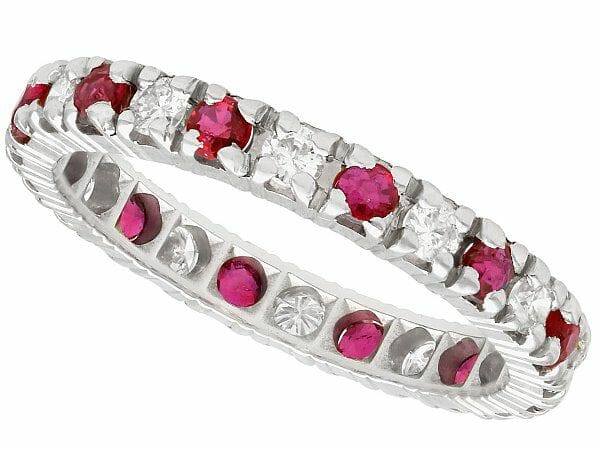 And there we have it, a selection of unusual eternity rings from our vault of diamond-coated delights. We love unusual jewellery, even if it's not entirely to our tastes. What do you make of this range exploring the less common aspects of our special eternities?