Since the initial creation of the diamond tennis bracelet in the early 20th century, it has been a romantic gift that's perfect for any occasion. Styling a tennis bracelet is easy enough, but there are some complications. How should a tennis bracelet fit? Is this vintage piece of jewellery still in style? What outfit should you wear with a tennis bracelet? Today, we'll be answering all this and more in this blog.
Let's check it out.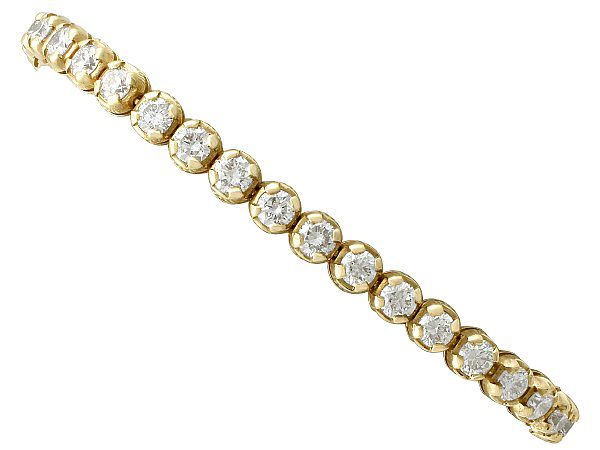 Are Tennis Bracelets in Style?
Let's start with a little bit of tennis bracelet history. The name 'tennis bracelet' became a popular term in the 1970s thanks to pro tennis player, Chris Evert. Mid-match, Evert's diamond bracelet came off, and the match watch paused at her insistence because she deemed it her lucky charm. Even though this US Open match was in 1978, the popularity of this style of diamond bracelet has not slowed down in the 43 years since.
Today, that is still the case, with the diamond tennis bracelet being a mainstay in the luxury jewellery world. A gift like a tennis bracelet can never go out of style, much in the same way that diamond stud earrings or a simple diamond solitaire are always in style.
Now that we've cleared up the question of whether or not tennis bracelets are in style (they definitely are), let's get down to the nitty gritty.
How Should a Tennis Bracelet Fit?
Tennis bracelets are supposed to have a relaxed and somewhat casual fit. They should not be like bangles, where they sit low on the hand, but equally they shouldn't be tight against the skin. Instead, tennis bracelets should allow the wearer to slip one finger between the bracelet and their wrist.
A lot of tennis bracelets can be resized, with the diamond links being removeable so that the bracelet can be made to have a tighter fit. You certainly don't want a Chris Evert situation on your hands, where your bracelet slides off. Especially if you plan on wearing it whilst doing active things like actually playing tennis (possibly not the best idea).
How to Wear a Tennis Bracelet with a Watch
Wearing your tennis bracelet with a watch is easier to do than you might first expect. Firstly, diamond tennis bracelets are designed with the intention to add subtle sparkle to your look, so wearing it right alongside your watch on your wrist is a great option. This looks especially nice with a metal watch that matches the metal from your tennis bracelet. It's a refined and sophisticated way to include diamonds in your everyday looks – doubly so if your watch features diamonds too.
If you wanted to spread out the sparkle, wear your watch on one wrist and your tennis bracelet on the other. This look is especially good if your watch is made with leather rather than metal. It keeps the sparkle of the diamonds on one side and doesn't detract from the more laidback look of the leather itself. There's nothing wrong with wearing a diamond bracelet right alongside a leather watch band, but you may face problems with the delicacy of the bracelet looking mismatched against the comparatively tougher leather strap.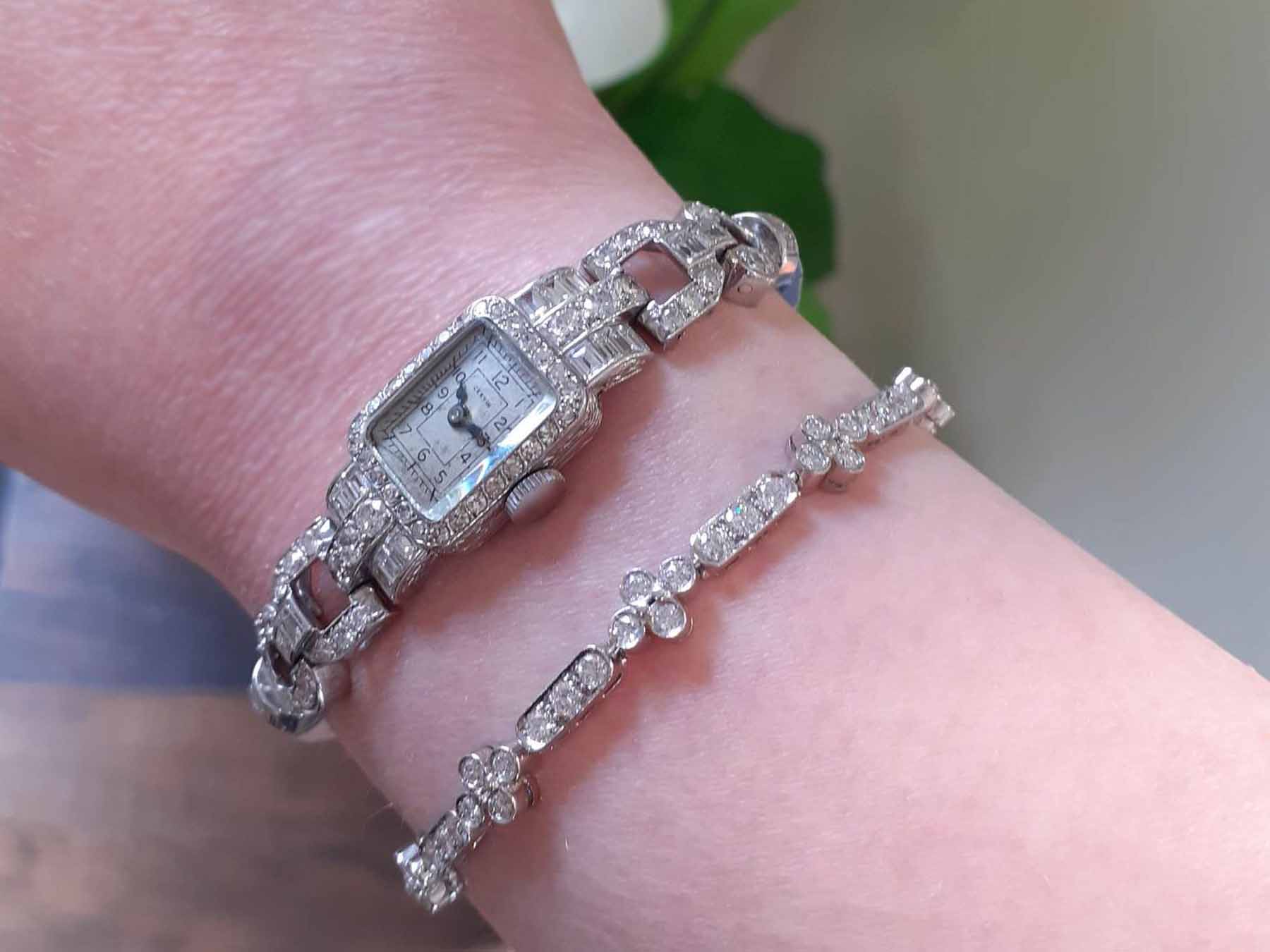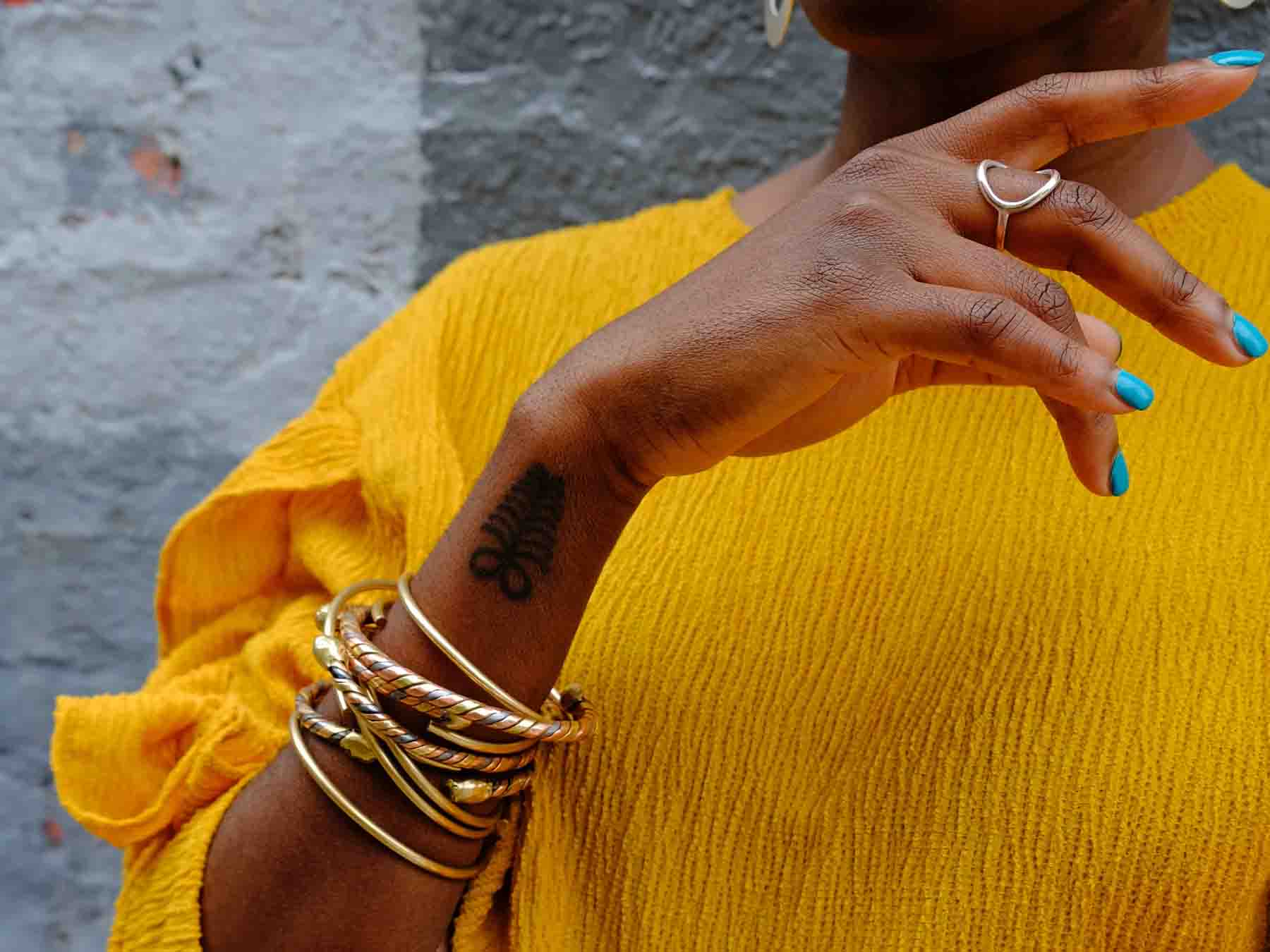 Image courtesy of Mike Von on Unsplash, CC BY CC0 1.0
What Outfit to Wear with a Tennis Bracelet
The beauty of the tennis bracelet is that it's designed for effortlessly chic wearing. This means you can wear them at any time of day, for any occasion, with any outfit. And yes, this includes pyjamas and loungewear. Much like a little black dress or pearl earrings, tennis bracelets are among the elite 'timeless' items from our wardrobes and jewellery boxes that can be celebrated again and again.
You will never go wrong with a string of diamonds elegantly sitting on your wrist, just as you could pair them with a diamond choker and diamond studs and still manage to pull off a casual look and avoid being labelled as overdressed. Use this pic as inspiration and pile your diamonds alongside plain metal bracelets for a cluttered glam.
You can even wear a tennis bracelet to play tennis, just make sure it's securely attached if you do! Thanks to Chris Evert, this stunning piece of jewellery has a name that perfectly fits its delicate balance of chic and casual. Wear it for tennis, wear it for a meal out, wear it for your wedding – just wear it!