Wondering how to wear rings as a man? Men's fashion is often overlooked, but it is every bit as important and relevant as women's fashion. If you're interested in branching out in terms of your accessories and don't know where to start, consider this blog a helpful starting point.
For many centuries in Western cultures, men have worn jewellery, makeup, and high heels as part of their everyday fashion. Over time, fashion trends changed, and in the early-20th century in particular, jewellery for men became unfashionable. Since this time, men's jewellery has been extremely limited, with most men only ever wearing their wedding ring. The new waves of fashion today, however, are far more gender-neutral, with accessories like jewellery being open to men, women, and anyone else.
What Rings Should Men Wear?
Other than wedding rings, it's easy to argue that the ultimate men's ring is the signet ring. Originally worn by men of power in order to place their personal seals on documents and letters, through the centuries, signet rings became a symbol of status in a different way.
Bearing the family crest of the wearer, signet rings were passed down from generation to generation.
The signet ring is another element of antique jewellery that has recently received the gender-bending treatment, with women's signet rings becoming very popular also.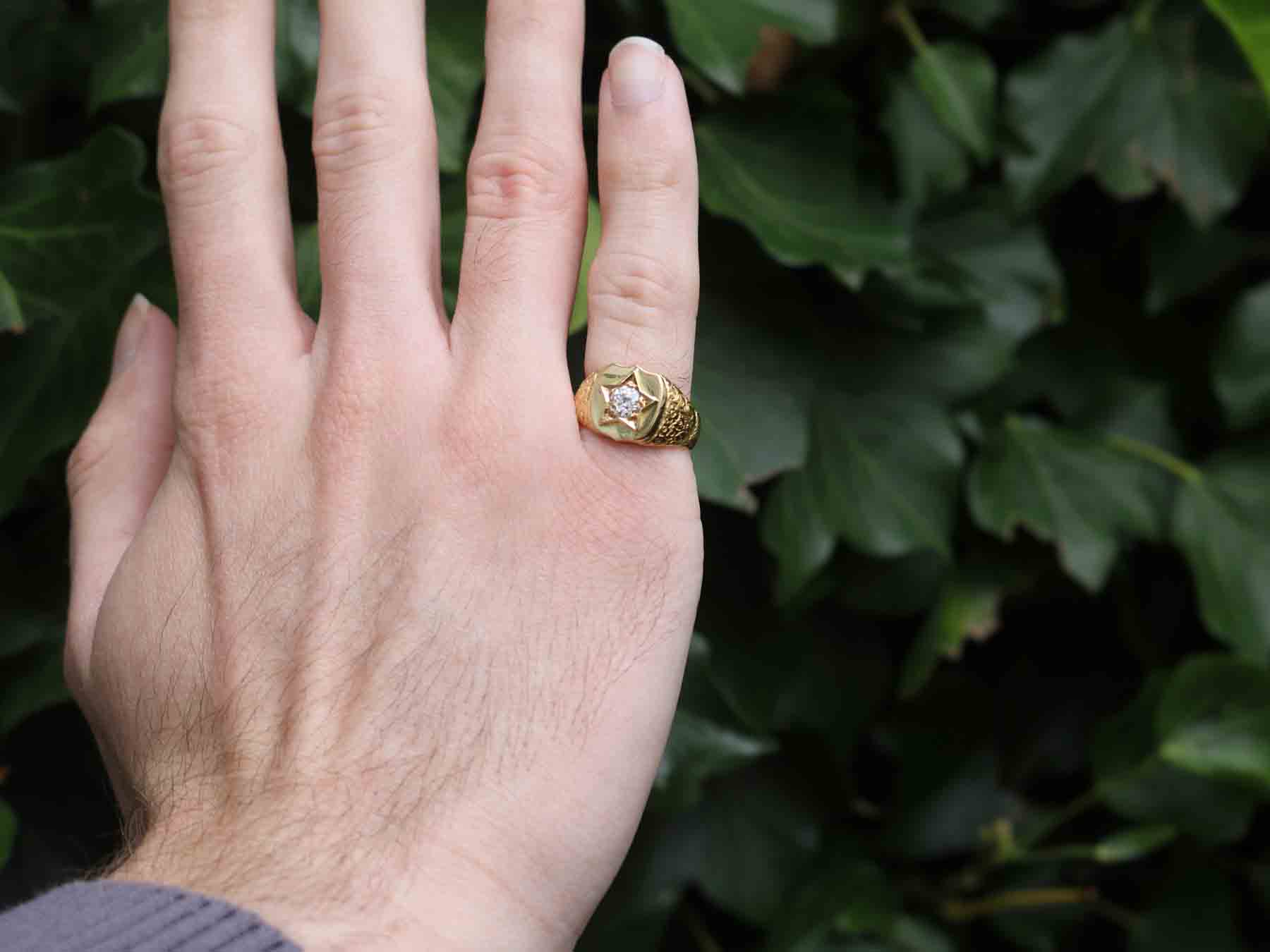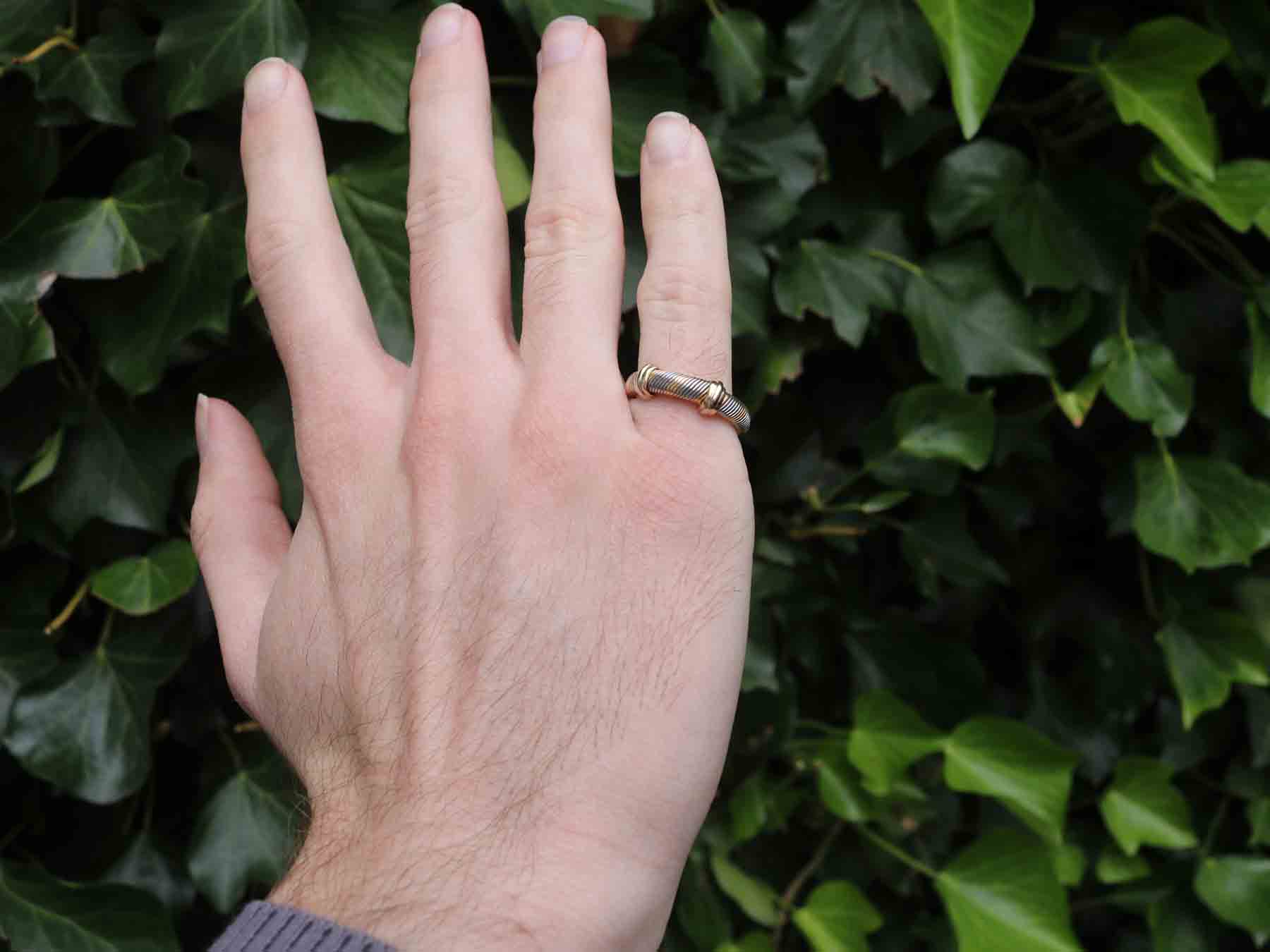 For men that are interested in traditionally masculine designs, plain metal designs are a good way to go.
These can be made with silver, gold, platinum, or other metals like titanium, stainless steel, and tungsten. Strong metals are the ideal choice for men who have hands-on jobs or hobbies as they can withstand a lot of wear and tear.
In terms of designs, you might like hammered metals or carved designs such as Celtic patterns. Ring designs like this are masculine and tough enough to be worn daily and make for a perfect stepping stone into the world of wearing more jewellery.
Slimmer rings, featuring warm gold tones and gemstones, might be the right choice for a man who is comfortable wearing jewellery and wants to branch out with his aesthetics.
Slimline rings are likely to make your hands appear more masculine through the contrast generated between your hands and the design of the ring itself.
Minimalist designs featuring gemstones cut in angular shapes such as the trillion cut (a triangular shape) or square cut are at the cutting edge of contemporary style, making them sure to elevate your look.
Striking a balance between these two styles is easier to do than you might think. Antique and vintage men's rings more often than not combine the use of gemstones and designs that could be interpreted as more feminine with thick bands and metals that allow them to appear very obviously as men's rings.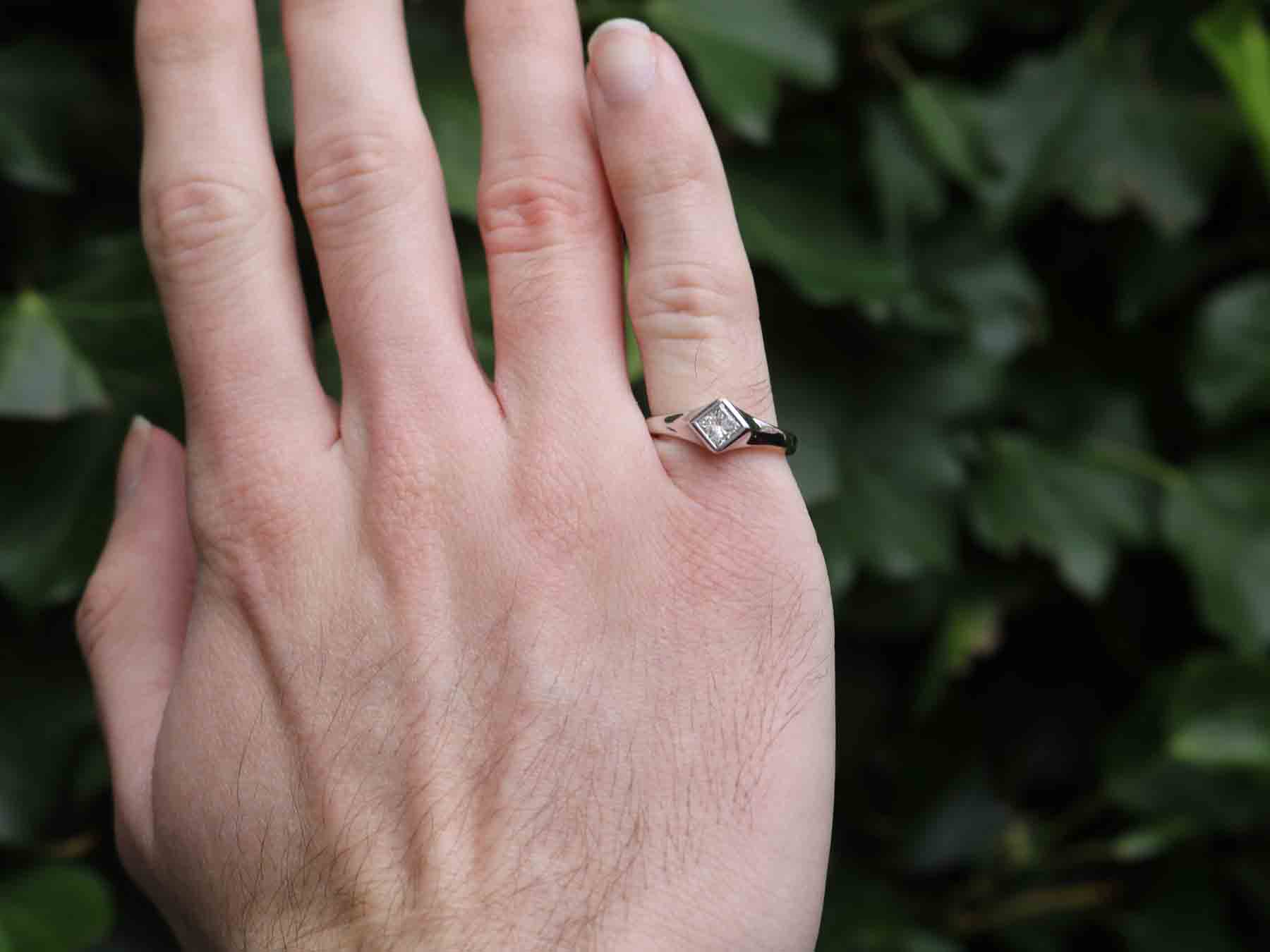 The snake ring, for example, is a classic design that found widespread popularity in the Victorian period. Snake rings were popular well into the 20th century, only falling out of vogue with the new generation coming up in the 1950s and '60s who truly defined the teenage phase of life, doing everything they could to be different from their parents.
There are rings for every type of man. If you like to keep things simple and aren't interested in unnecessary ornamentation, plain bands are the way to go, with only one or two rings per hand. For those who admire the styles of people like Johnny Depp and Jason Momoa, larger statement rings are perfect and more is definitely more. Stacking rings up one on top of the other is another way to adopt this type of style.
How Should Men Wear Rings?
Once you've found the style you're interested in exploring, how do you actually go about wearing the rings? Let's break it down into the different aesthetics and go from there.
Classic Gent's Style
This is for the men who like the fashion and style seen on people like Tom Hardy and David Gandy; classic men's style that finds its roots in London fashion from the mid-20th century. The perfect rings for this style are signet rings, snake rings, and chain rings.
This style looks best with one or two rings per hand as a maximum. These rings would look best worn on the little finger, leaving you with a super-refined look reminiscent of Robert Redford or Paul Newman. Pair them with a suit if you're going to a formal occasion, or dress them down with a cable knit sweater and for a more casual aesthetic.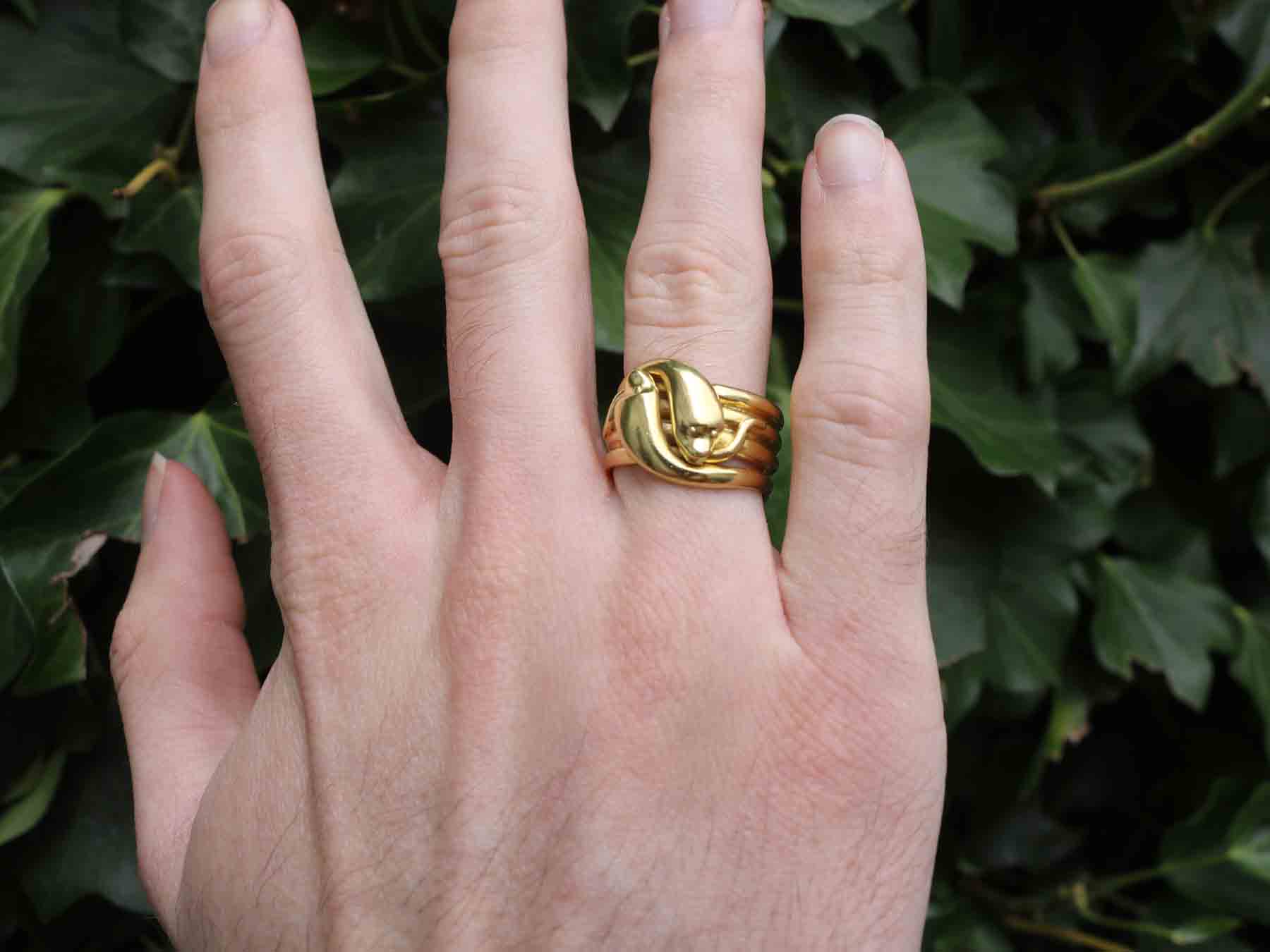 Surfer Cool Style
The Depp fanatics, Momoa lovers, and the Chris Hemsworth wannabes will all appreciate statement rings in bold designs like skulls. Gemstones feature prominently in these types of rings, often featuring stones like turquoise and other colourful materials.
For these guys, more is more, and so stacking your rings and wearing many at once is a good choice. You can wear these rings all over your hands, with large rings looking best on your middle finger. If you want to maximalise this look, wear a thick-banded ring on your thumb and incorporate a bracelet made from leather or an equally tough fabric. This looks suits t-shirts and shorts but also contrasts nicely with a suit.
Fashion-Forward Style
The cutting edge of fashion today can be seen best on celebrities like Harry Styles.
Using Styles as an example, we can establish that the key element of his fashion is that he lets his creativity take hold and presents everything with confidence. If you're interested in imitating this, the best advice to give to you is to follow your heat.
Don't feel limited by what's in the 'men's' section if that doesn't speak to you. Wear your rings how you like and wear them with confidence; you're sure to draw the right kind of attention.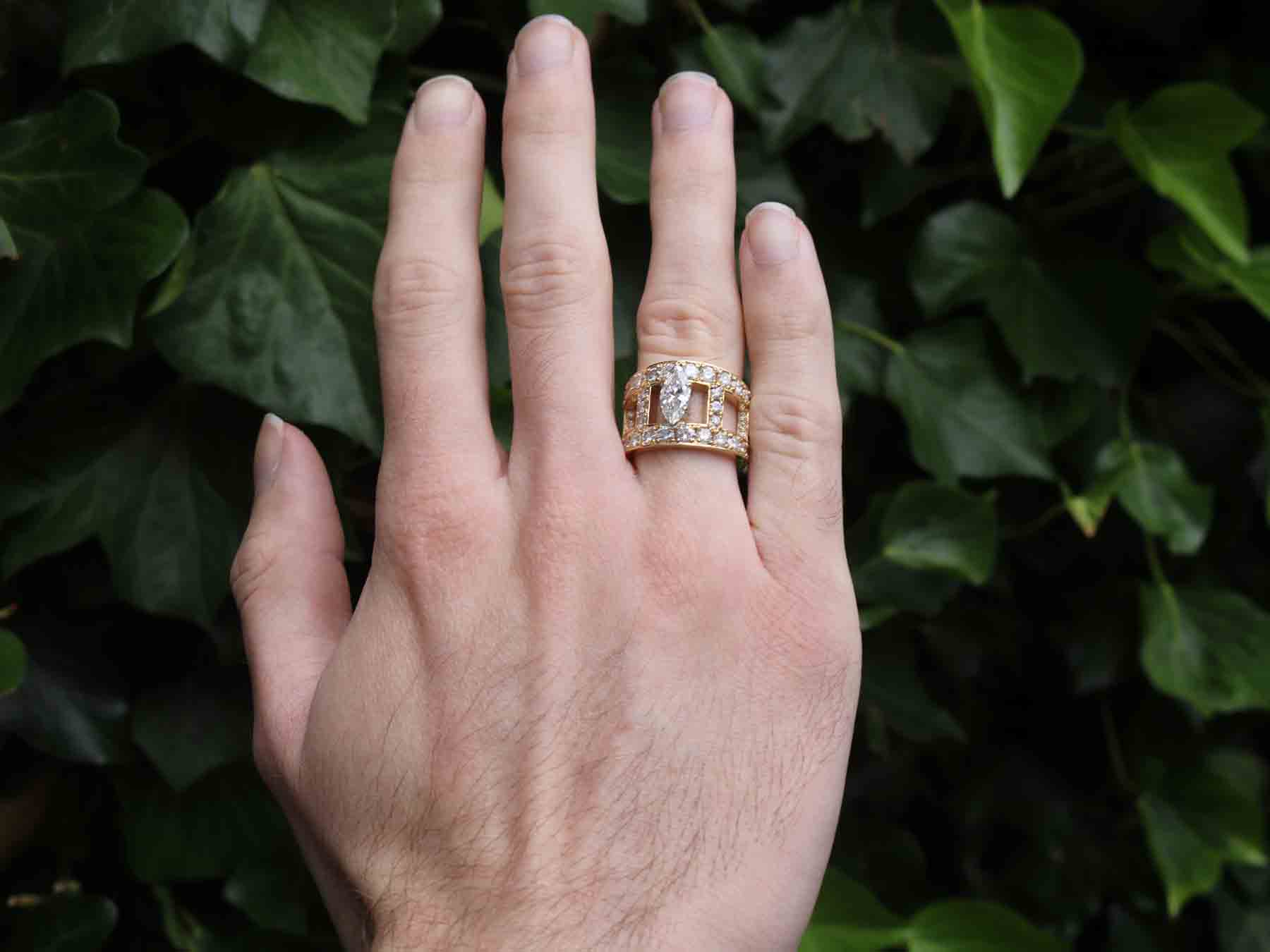 How Many Rings Should a Man Wear?
This question ties nicely into the question we've just covered of how should men wear rings in that it's another subjective moment in fashion. When it comes to aesthetics, everything is subjective, but there's nothing wrong with wanting some direction if you feel you're at the start of a new personal aesthetic journey. Follow the same basic rules we've established above in order to remain consistent to whichever aesthetic you're hoping to pursue.
Classic style works best with only one or two rings being worn. Whether these are chain link rings, rings with twisting metal designs, or bold signet rings. Minimalist fashion is not the same as classic, although you might expect there to be fewer rings being worn here also. Minimalist fashion can incorporate a lot of rings, but all of them will be relatively plain, using similar metals and usually slimline bands.
Creating complete contrast to the minimalist style, many rings are worn in the surfer/ 'cool' style found in grungier aesthetics. You can expect rings on every finger, often with multiples on each. Equally, a single oversized statement ring on one hand paired with multiple rings on the other hand is a good look for someone exploring this aesthetic. Consider which hand is your dominant hand first, and then wear the single statement ring on that hand – it should be more comfortable for you than having lots of rings on the hand you use to write, throw, or shake other's hands.
Ultimately, due to the subjective nature of beauty and appearance, there aren't really any rules you need to follow. Use this blog as a guide to get started and figure out what kind of style you actually like, and then follow the basic conventions of those styles to establish what you should and shouldn't do when it comes to your preferred styles. Good luck, and remember, confidence is truly key.